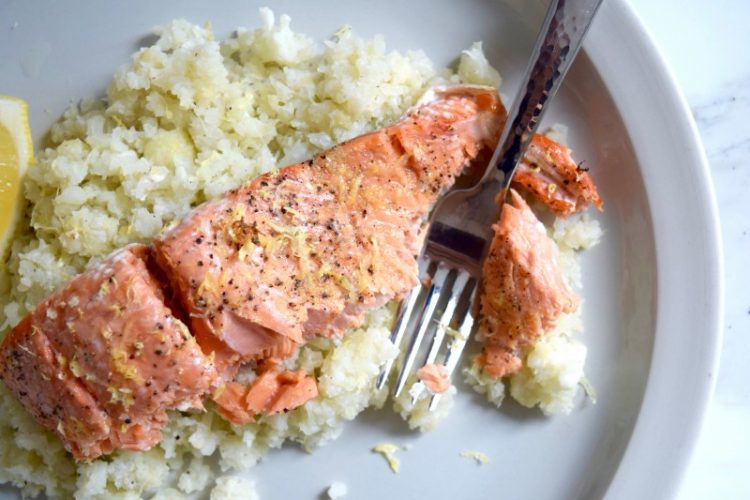 This quick lemon pepper salmon with cauliflower rice will be on your table in 20 minutes, making it perfect for an easy healthy weeknight dinner.
Glow By Marlowe: Healthy Recipes
To help you figure out what to make for dinner when you don't feel like cooking after a long day at work, I created a new playlist on my Youtube channel. It's called Healthy Recipes and is dedicated to delicious, yet simple healthy recipes that are ready 30 minutes or less.
This Lemon Pepper Salmon with Cauliflower Rice is ready in just 20 minutes. If you haven't already, be sure to subscribe to my YouTube channel so you never miss a recipe. The printable recipe is at the bottom of this post.
Lemon Pepper Salmon Benefits
Salmon: is an excellent source of essential omega-3 fatty acids, which provide anti-inflammatory benefits and are crucial to our health. Some of the most noted benefits of adequate omega-3 fatty acid consumption include:
Reduce feelings of depression: Omega-3 consumption has been shown in various studies to reduce symptoms of depression in some people. A small study published in 2011 in the journal Menopause found that when 20 menopausal women with major depression took omega-3 pills (specifically, 2 g of the EPA plus DHA) daily for eight weeks. 70% found their mood improved, and 45% found their depression went into remission. (2) In the journal Acta Neuropsychiatrica, a 2006 study found that low dose DHS/EPA supplements lifted major depression for 15 pregnant women. Other research has found people with adequate intake of omega-3 are at lower risk of depression. (3)
Reduce acne: Omega-3 fatty acids help reduce inflammation in the body…and our skin. Adequate omega-3 consumption can help bring down the bumps and redness associated with acne (4) and is a key part of my Clear Skin Plan to clear acne.
Lemon: Lemons and limes may be rich in Vitamin C, but what makes them unique compared to other fruit is their limonoid content.  Why? They are anti-carcinogenic.
Anti-carcinogen: Limonoids are unique to lemons and limes, and have been shown to help fight cancers of the mouth, skin, lung, breast, stomach, and colon in laboratory tests with animal and human cells. According to USDA research, they can remain in the bloodstream for up to 24 hours in some people. This is significantly longer than most other anti-carcinogens. For example, phenols in green tea or dark chocolate only remain in the bloodstream for 4-6 hours.
The Importance of Wild Seafood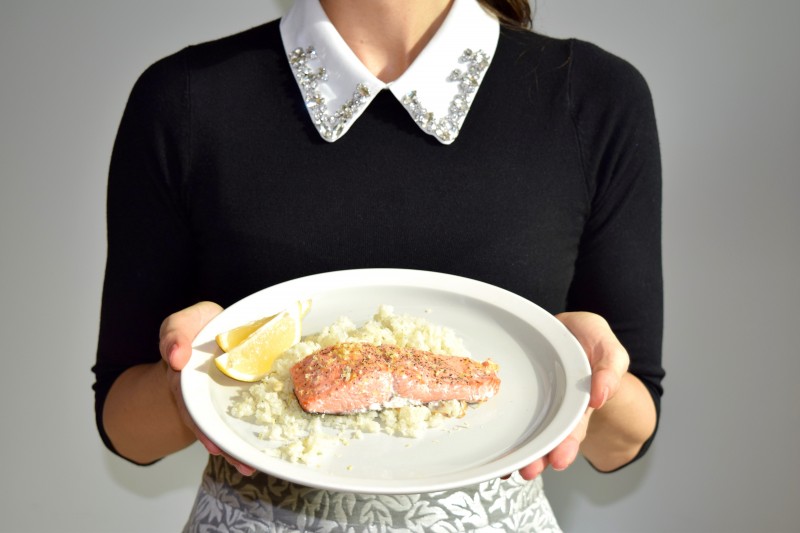 As I explain in my book, The Real Food Grocery Guide, it's important to choose high-quality, wild seafood, to limit exposure to mercury, PCBs, and other toxic chemicals. Personally, I only eat wild seafood, and in small amounts.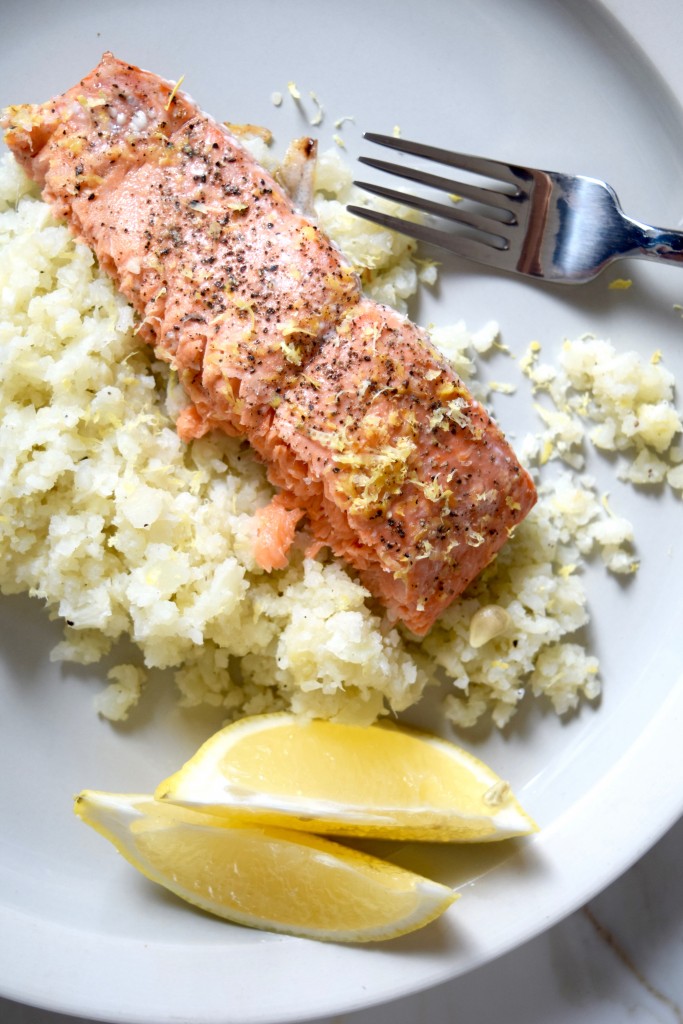 Try This Lemon Pepper Salmon Recipe
If you try this recipe, let me know! Leave a comment, rate it (by clicking the stars in the upper right of the recipe card, below). And don't forget to tag a photo @mariamarlowe or #healthybymarlowe on Instagram or Facebook. I'd love to see what you come up with!
Lemon Pepper Salmon with Cauliflower Rice
Instructions
Preheat oven to 400 degrees Fahrenheit.

Place salmon skin side down on a baking sheet. Using a microplane, zest the whole lemon into a small bowl and set aside. Then, cut the lemon into 4 quarters. Squeeze 1-2 quarters over the salmon.

Next, sprinkle a generous amount of pepper, and a pinch of pink salt over the fish. Then add a generous amount of lemon zest (you don't have to use all of it. You can reserve the rest for the cauliflower rice or another use).

Bake in the oven for 12-15 minutes. (The exact time will depend on thickness of the filets. The thicker they are, the longer the cook time.)

Meanwhile, prepare the cauliflower rice. Place the chopped cauliflower in a blender or food processor and pulse on low speed until a rice like consistency is formed.

Heat a pan on the stove top to medium heat. Add the oil to coat the bottom. Next add the garlic, and let cook for 30-60 seconds until fragrant, than add the cauliflower rice. Add salt, black pepper, and water, mix will then lay out flat on the pan and let cook for 7 minutes, until the cauliflower is soft.

To serve, spoon a generous portion of cauliflower rice on the plate, top it with additional lemon juice and/or lemon zest if desired, then place salmon filet on top. Serve with extra lemon wedges.
Recipe Notes
The smaller you chop the cauliflower, the easier it will be for your blender or food processor to turn it into rice.

Did you make this recipe?
Tag @mariamarlowe on instagram and hashtag #healthybymarlowe for a chance to be featured and win awesome prizes each month.
Clearer Skin in Just 3 Days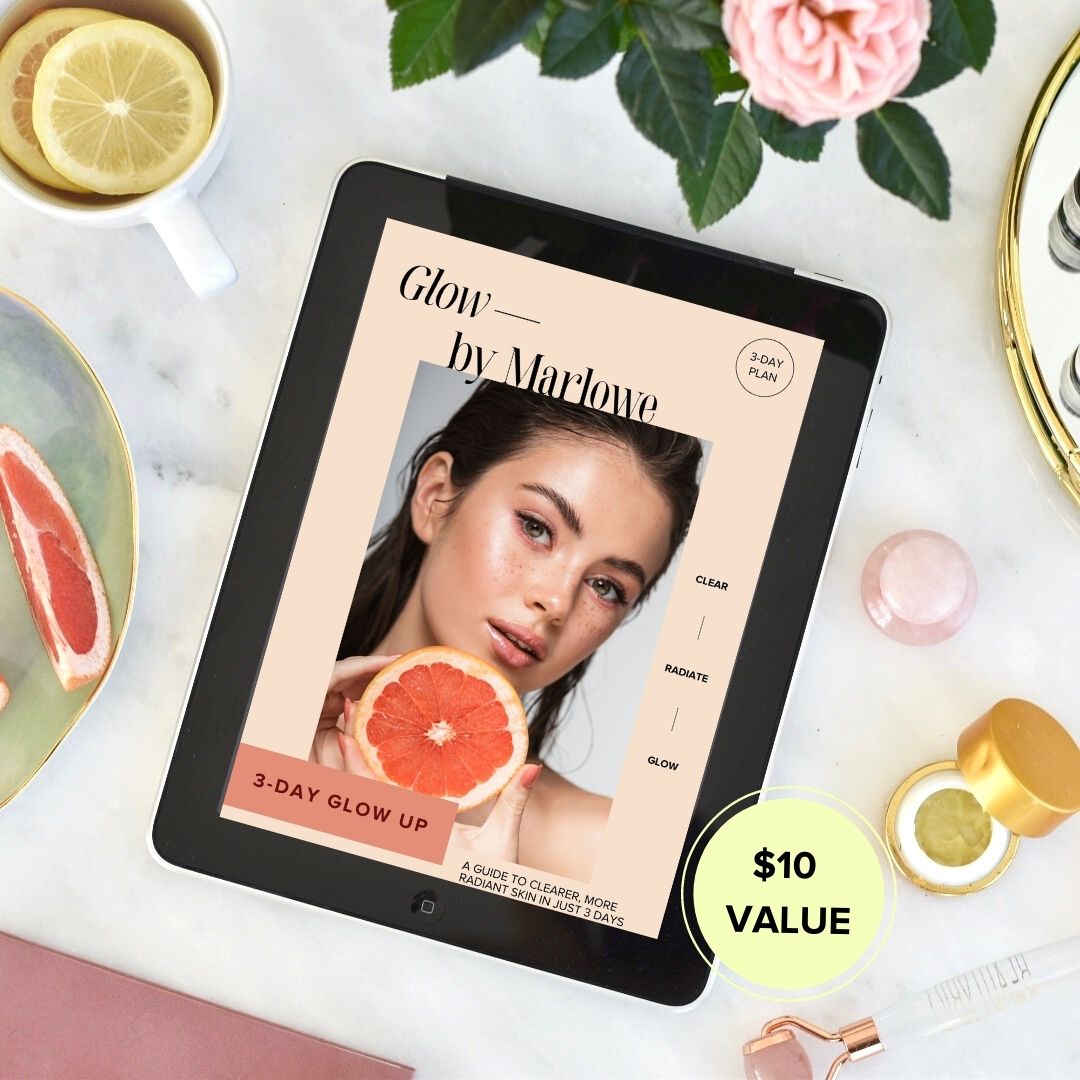 Sign up for my weekly newsletter to get the latest recipes, articles, & podcasts delivered to your inbox.

Plus, you'll receive The Glow Up Guide right away, a delicious 3-day meal plan to reduce redness and bumps, fast.