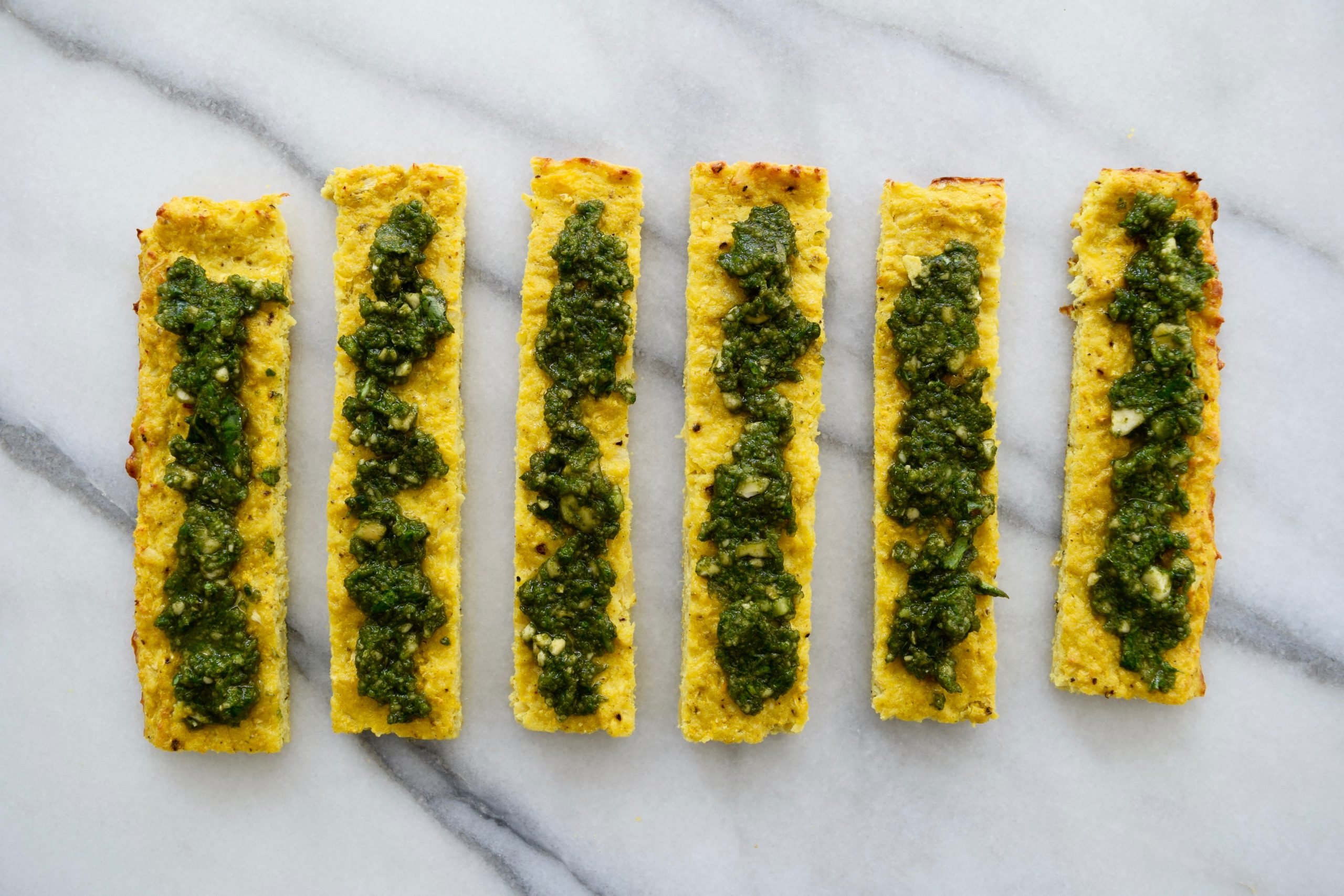 This Golden Garlic Bread recipe, smothered generously with Cashew Basil Pesto, is an easy appetizer that will delight and surprise dinner guests (no bread? no grains? no cheese?) No. This paleo "bread" is made from a vegetable.
What vegetable, you ask?
Cauliflower. While you can use regular cauliflower, I chose to use the heirloom yellow variety, which tastes the same, but is much more festive. Purple cauliflower would be even more fun!
It is a slightly revised take on my original, cauliflower breadsticks (which can also be used as a cauliflower pizza crust or sliced into squares to make "bread").
I added the highly anti-inflammatory turmeric to turn it "golden" and copious amounts of garlic to make it "medicinal" (it may help you fight the flu, but also scare away your boyfriend…either make sure he eats it too, or serve it on girls night :). The nutritional yeast is optional, but recommended, for a "cheesy" flavor.
Best part? Super easy to make. You can also pre-make, and then reheat in a warm oven for a few minutes before serving.
Try this Recipe
If you try this recipe, let me know! Leave a comment, rate it (by clicking the stars in the upper right of the recipe card, below), and don't forget to tag a photo @mariamarlowe or #mariamarlowe on Instagram. I'd love to see what you come up with!
Golden Garlic Bread (Paleo, GF, Veg)
Instructions
Preheat oven to 400 degrees Fahrenheit.

In a food processor (or high speed blender on 1) pulse the cauliflower until it is a rice-like consistency. Remove to a large bowl.

Add almond flour, garlic, turmeric, salt, and pepper, and mix well. Make a well in the center of the cauliflower almond mixture, and add the eggs. Whisk well before mixing in with the rest of the ingredients, until fully combined.

On a parchment-lined baking sheet, spread the mixture out flat, about 1/4 of an inch thick or so. Bake for 25 minutes, or until the edges just start to get golden.

Meanwhile, make the cashew basil pesto. Put garlic in Vitamix or food processor and pulse until chopped. Next add basil, and pulse again until it is broken down into small pieces.

Add cashews and salt, and process on low (1-2 on a Vitamix) so that the cashews are broken into tiny pieces, but still maintain a little texture. Finally, with the motor running, drizzle in the olive oil until completely combined.

When cauliflower bread is done, remove from the oven, slice into sticks (makes about 24), then spoon on the cashew basil pesto (you will have pesto leftover).
Recipe Notes
If you can find it, use yellow cauliflower for a more "golden" bread.
*Soaked cashews create a much creamier consistency, although if you forget, you can still make it with raw cashews.

Did you make this recipe?
Tag @mariamarlowe on instagram and hashtag #healthybymarlowe for a chance to be featured and win awesome prizes each month.
Clearer Skin in Just 3 Days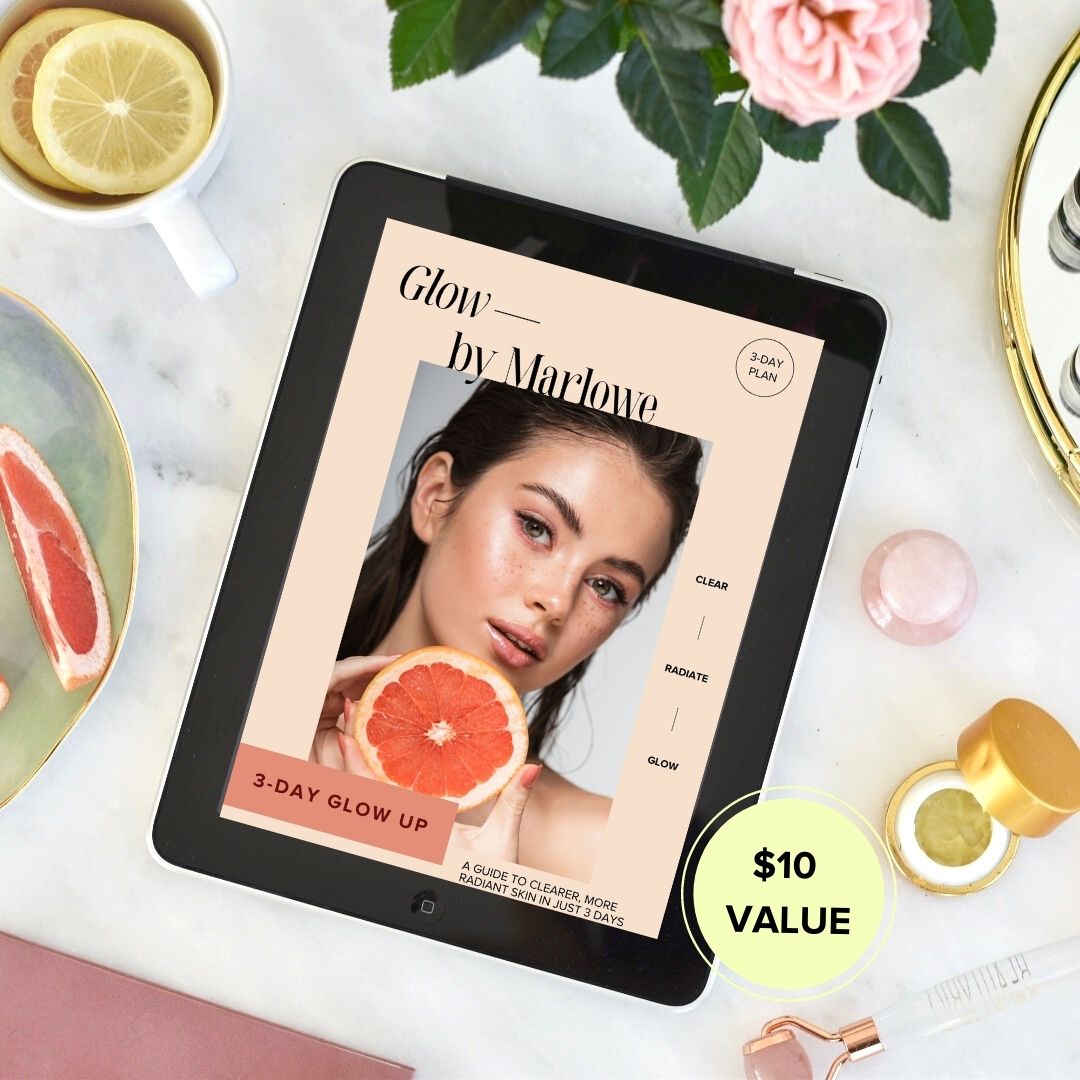 Sign up for my weekly newsletter to get the latest recipes, articles, & podcasts delivered to your inbox.

Plus, you'll receive The Glow Up Guide right away, a delicious 3-day meal plan to reduce redness and bumps, fast.