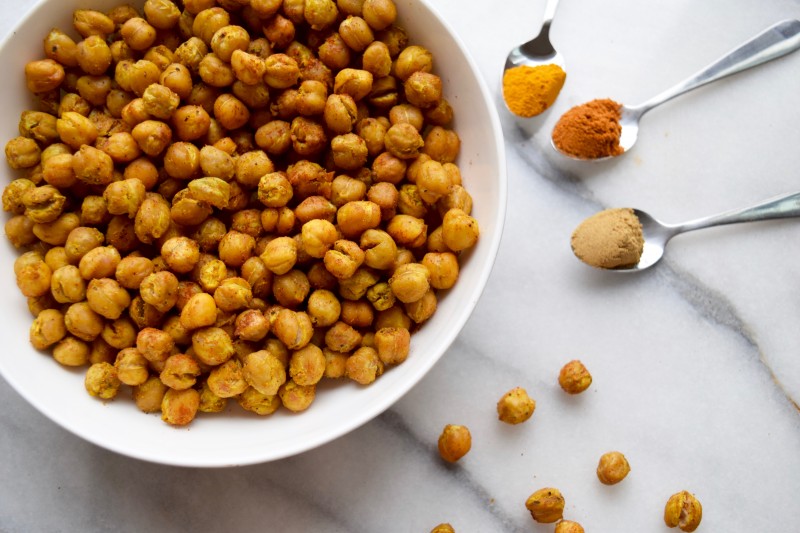 Once you pop one of these crispy curry chickpeas, you won't want to stop.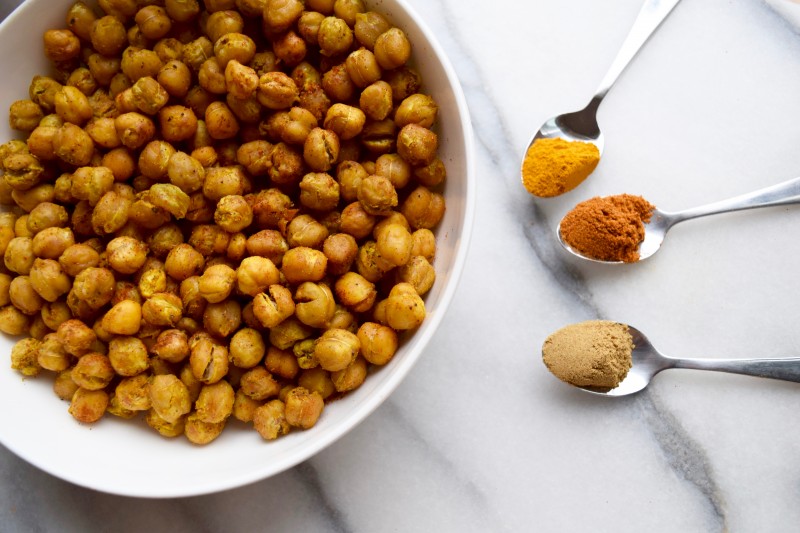 Made with a fragrant blend of spices and perfectly crispy, these chickpeas double as a snack and "croutons" to be thrown on a salad.
Benefits of Crispy Curry Chickpeas
Spices do more than just season our food…they are like nature's medicine cabinet. (I wrote all about their specific benefits in The Real Food Guide to Spices & Superfoods, available as a free download when you purchase The Real Food Grocery Guide. Here is how to access it.)
In the meantime, here are a few excerpts from The Real Food Grocery Guide and The Real Food Guide to Spices & Superfoods.
Chickpeas: Chickpeas are particularly beneficial for digestive health because they consist of up to 75% insoluble fiber. They're also a top source of antioxidants, which slow and prevent cell damage, effectively slowing aging and disease.
Turmeric: Turmeric is a powerful spice that exhibits anti-inflammatory, antiviral, antibacterial, anti-fungal, and anticancer activity. It has been found to help protect against many diseases, such as diabetes, arthritis, Alzheimer's, and other chronic illnesses.
Cumin: Cumin contains powerful antioxidants, promotes healthy digestion, and has anti-carcinogenic properties. Just one teaspoon (2.5 g) delivers 7% of your DV of iron, a necessary mineral for energy and immune function.
Cayenne: Cayenne is a dried, powdered pepper that can be used to add medium heat to any dish. All hot peppers contain capsaicin, which boosts metabolism, decreases appetite, and increases fat burn.
Pink or Celtic Salt: Sodium, when consumed in moderation, helps our bodies conduct nerve impulses, contract and relax muscles, and maintain the proper balance of water and minerals. Unrefined salts like pink or Celtic salt are not heavily processed, so they contain less sodium and more minerals.
Black Pepper: Black pepper improves digestion, promotes intestinal health, and has antioxidant properties. For the best flavor and nutritive qualities, use whole black peppercorns in a mill and grind over a dish just before serving.

How to Eat Crispy Curry Chickpeas
I love to use them as salad croutons, for example on top of this Smashed Kale and Avocado Salad.
Or, you can eat them as a snack right out of the bowl.
The first time I made them, I only used 1 can worth of chickpeas, but I polished them off before anyone else can try them, so I'd say this recipe has a 2 can (or 3 cup) minimum. ☺  
Try These Crispy Curry Chickpeas
If you try this recipe, let me know! Leave a comment, rate it (by clicking the stars in the upper right of the recipe card, below), and don't forget to tag a photo @mariamarlowe or #healthybymarlowe on Instagram or Facebook. I'd love to see what you come up with!
Crispy Curry Chickpeas
Instructions
Preheat oven to 350 degrees Fahrenheit.

Line a large baking sheet with parchment paper. Pour the chickpeas on top and spread them flat.

Add the oil and spices, and use your hands to mix and roll all the chickpeas around, so they are evenly coated.

Make sure the chickpeas are flat in a single layer before putting into the oven.

After about 25 minutes, carefully shake the pan or use tongs to move the chickpeas around, and then continue cooking for another 25 minutes, until crisp.

Can be eaten as a snack, or used like croutons on top of a salad.

Did you make this recipe?
Tag @mariamarlowe on instagram and hashtag #healthybymarlowe for a chance to be featured and win awesome prizes each month.
Clearer Skin in Just 3 Days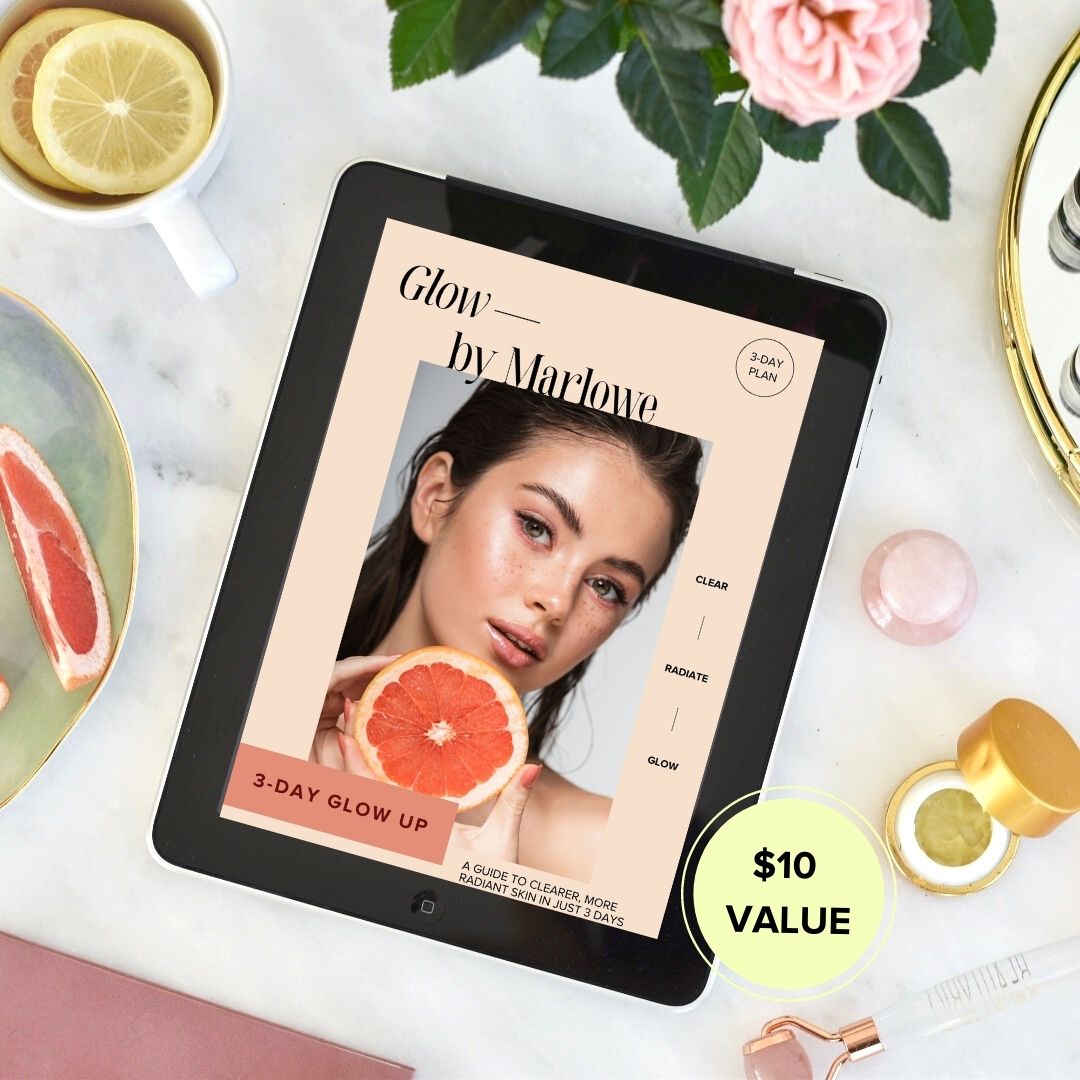 Sign up for my weekly newsletter to get the latest recipes, articles, & podcasts delivered to your inbox.

Plus, you'll receive The Glow Up Guide right away, a delicious 3-day meal plan to reduce redness and bumps, fast.