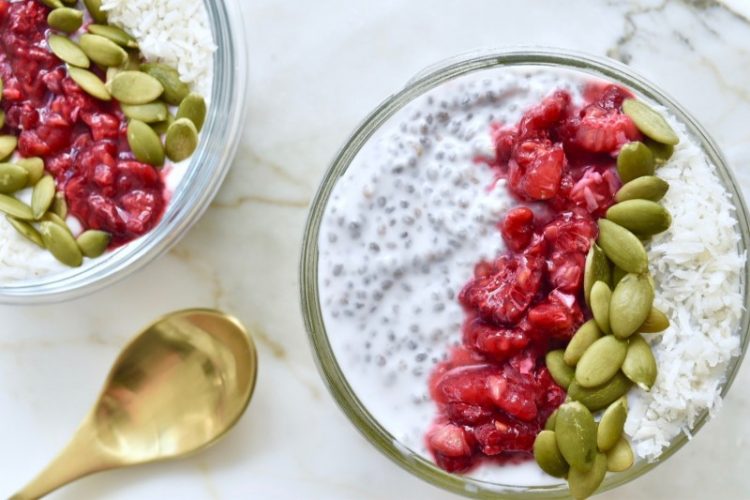 Chia seeds are little beauty powerhouses, but their power isn't truly unlocked until they are soaked.
When you soak them, they absorb up to 10x their weight in water and form a gel that is very colon-friendly if you get my drift. It helps move things along and pulls toxins out while doing so. What this means for you, is better digestion and a flatter stomach.
The seeds are also highly anti-inflammatory, which makes them a great addition to your diet if you have any skin concerns, like blemishes or wrinkles.
Plus, in this Coconut Chia Seed Pudding recipe, high fiber and protein chia seeds are mixed with the healthy fat from coconut milk to make a seriously satisfying breakfast that will keep you satisfied all the way to lunch time, no snacking required.
Now I didn't invent chia seed pudding, but I think I perfected making the simplest, tastiest version. And at a fraction of what it would cost to buy pre-made chia seed pudding, I might add.
Chia seed pudding makes a great breakfast, and if you're a person without a lot of time in the morning, you can make this Sunday night, and have 3 single servings to grab on the go during the week.
You can eat it as is, or top with sliced bananas, fruit, berries, chia seed jam , or crushed nuts and seeds.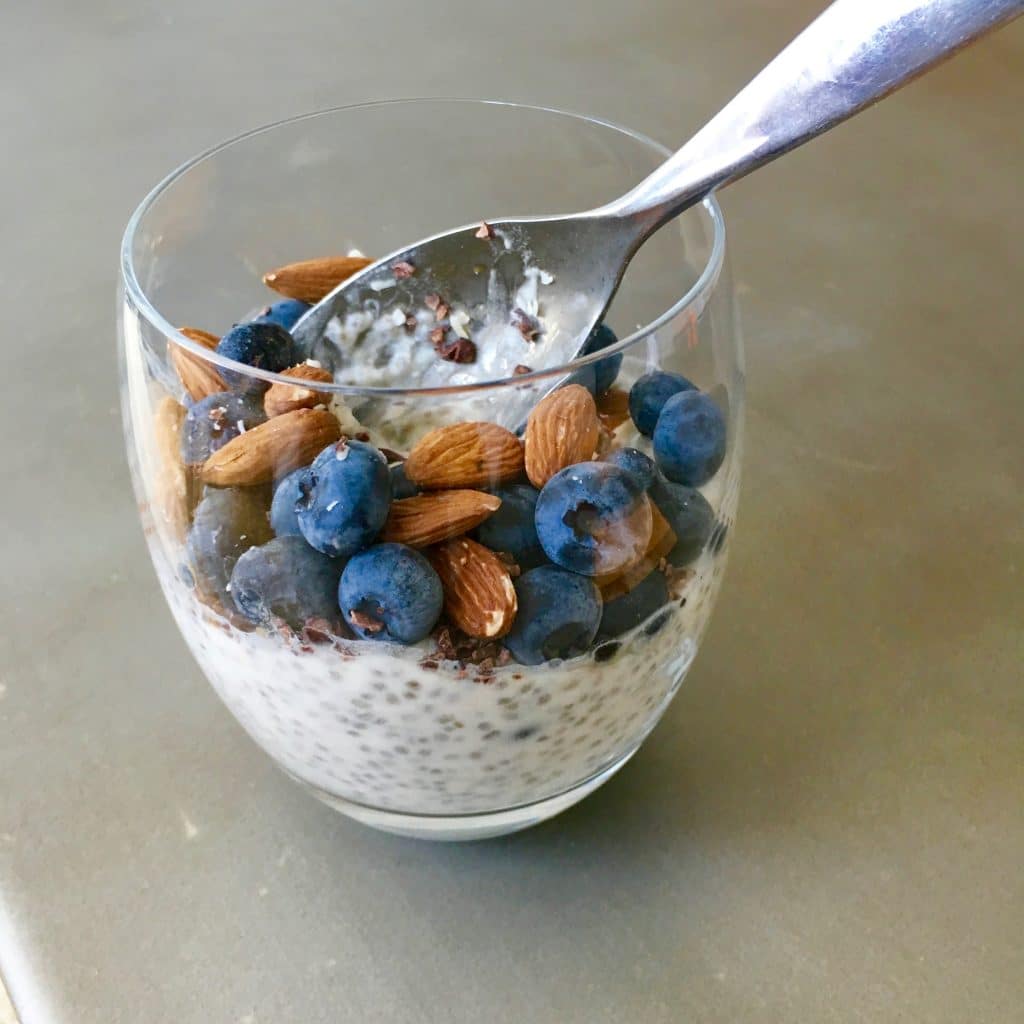 Chia Seed Benefits
high fiber – supports digestion, elimination, and a flat stomach
complete protein
high in anti-inflammatory omega-3 fatty acids, which support clear skin
Coconut Chia Seed Pudding
Instructions
Pour coconut milk into medium-sized bowl. Whisk together with a fork until the consistency is uniform (it will initially be part solid, part liquid).

Add chia seeds and continue to whisk for a good 1-2 minutes, until chia is fully immersed and spread out in the liquid. You can keep it in one bowl, or pour into 3 individual sized containers. Cover and refrigerate for at least 4 hours to thicken. It will become like tapioca pudding.

Top with fruit and nuts before serving (or if you plan to grab it and go, just wait the 4 hours for it to thicken before adding toppings, then cover again and refrigerate until you need it).
Recipe Notes
Will last up to 3 days.
Use any variation of nuts/seeds and fruit you like for topping.

Did you make this recipe?
Tag @mariamarlowe on instagram and hashtag #healthybymarlowe for a chance to be featured and win awesome prizes each month.
Clearer Skin in Just 3 Days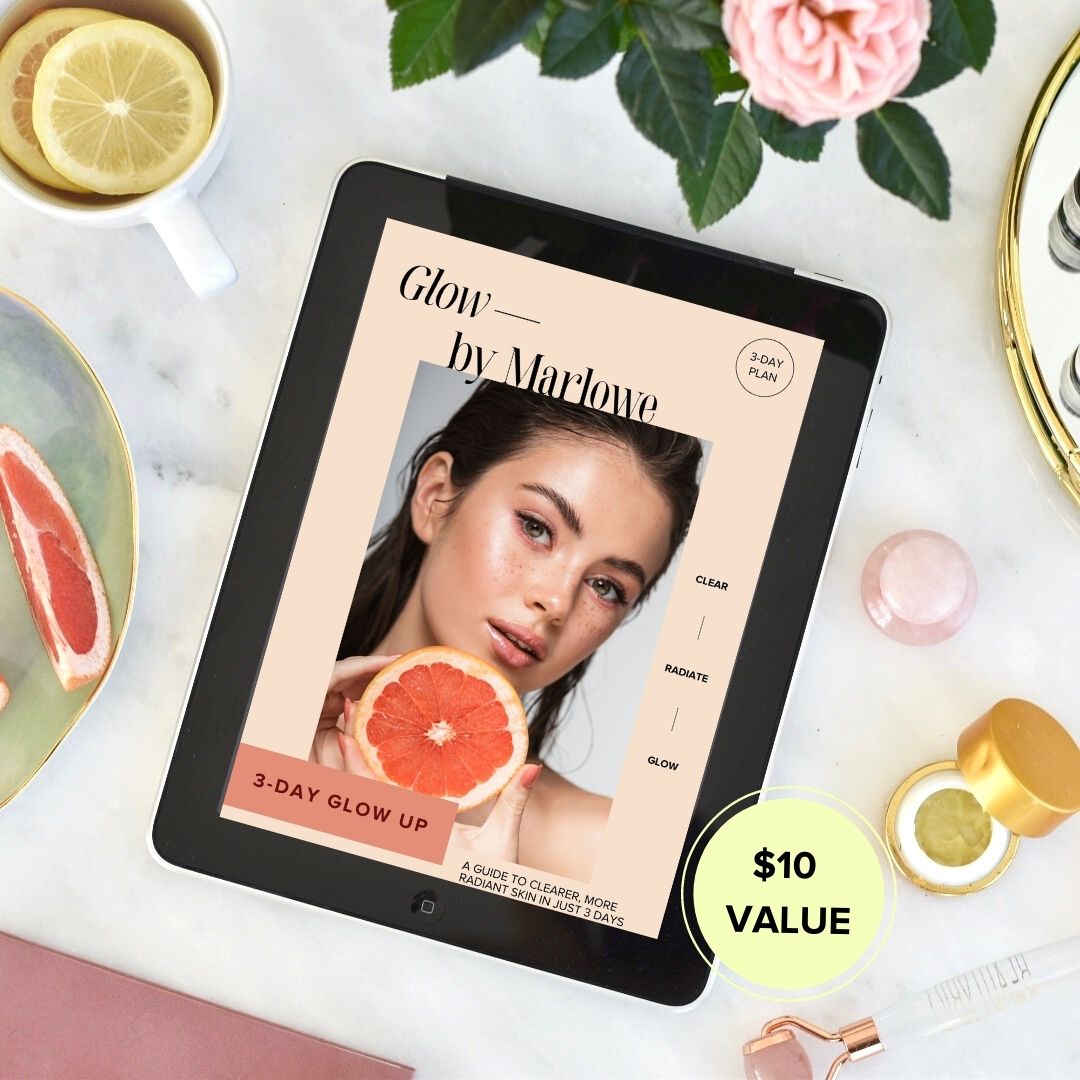 Sign up for my weekly newsletter to get the latest recipes, articles, & podcasts delivered to your inbox.

Plus, you'll receive The Glow Up Guide right away, a delicious 3-day meal plan to reduce redness and bumps, fast.