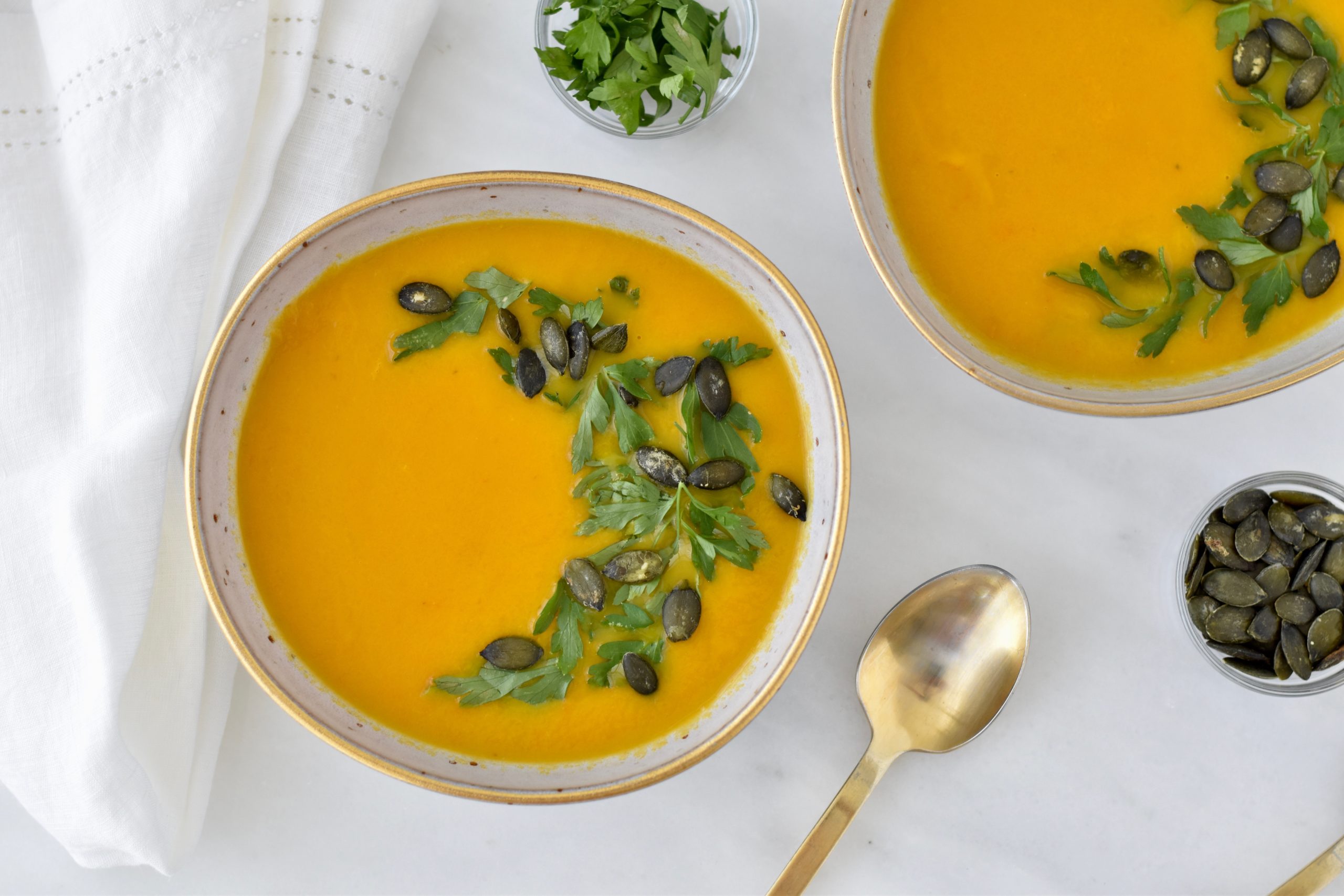 There's nothing more amazing in fall than a bowl of hot soup and some toast. This Carrot Ginger Soup with Avocado Toast is perfect for a chilly night.
This carrot ginger soup recipe comes together super fast. Its thick consistency pairs well with the avocado toast, which is equally creamy and tasty. (If you're like me, you'll want to dip your toast in the bowl to soften it….the best).
I am currently obsessed with the gluten-free bread from Le Pain Quotidien. It's usually sold out by the end of the day (or even mid-afternoon) so make sure you go early in the day to get it.
Health & Beauty Benefits
Carrots: Carrots get their beautiful orange hue from the antioxidant beta-carotene, the precursor to Vitamin A. Once ingested, the beta-carotene is either converted into Vitamin A, or used as an antioxidant to protect cells from the damaging effects of free radicals. Vitamin A is a beauty nutrient, which is necessary for clear, blemish-free skin.
Ginger: Ginger provides anti-inflammatory benefits and soothes the digestive tract. It is also a powerful supporter of the immune system and exhibits antibacterial and anti-fungal effects. In a season full of sniffles, consider adding ginger to your diet on a regular basis to help ward off minor bugs.
Make This Carrot Ginger Soup Recipe
If you try this recipe, let me know! Leave a comment, rate it (by clicking the stars on the recipe card below, just below the image), and don't forget to tag a photo @mariamarlowe or #mariamarlowe on Instagram or Facebook. I'd love to see what you come up with!
Carrot Ginger Soup with Avocado Toast
Ingredients
Avocado Toast (per person)
Instructions
First, make the soup. On the stove-top, heat a large stockpot over medium heat. Add the oil, and then the onion and garlic.

Cook for 2-3 minutes before adding the carrots and ginger. Sweat for an additional 5 minutes before adding the broth.

Bring to a boil, then cover and reduce to a simmer for 15 minutes or so, until the carrot is soft and easily pierced with a fork (the smaller you dice the carrots, the faster they will cook).

Carefully pour the soup into a blender (you'll need to do two batches) and blend until you get a smooth, velvety texture. When blending hot liquids, only fill the blender half way, remove the clear center piece in the lid, place a dish towel over the opening and hold it with your hand as you blend; this way, you'll allow the steam to release.

Pour into a bowl or container, then repeat with the other half.

You can serve as is or garnish with a few chopped basil leaves or pumpkin seeds.

Meanwhile, while the soup is cooking, make the toast. Toast two slices of bread per person. In a bowl, mash together the avocado, red onion, lime juice, red pepper flakes and salt to taste. It should become a chunky, guacamole-type consistency. Slather on toast.

Did you make this recipe?
Tag @mariamarlowe on instagram and hashtag #healthybymarlowe for a chance to be featured and win awesome prizes each month.
Clearer Skin in Just 3 Days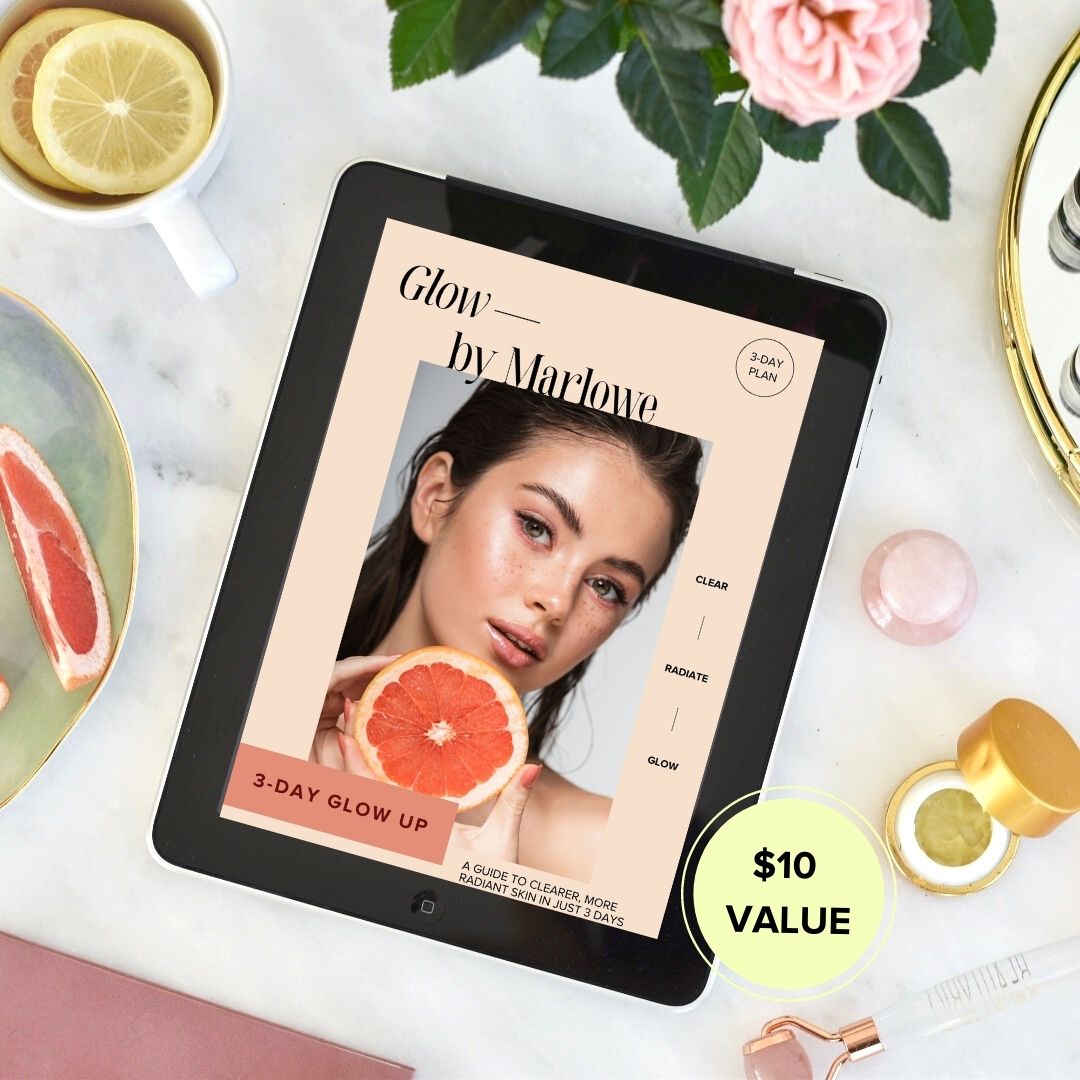 Sign up for my weekly newsletter to get the latest recipes, articles, & podcasts delivered to your inbox.

Plus, you'll receive The Glow Up Guide right away, a delicious 3-day meal plan to reduce redness and bumps, fast.