After interviewing the Chief Scientific Officer of Viome, I decided to try out their stool test kit, which examines every organism in your microbiome in order to make targeted recommendations on which foods to eat or avoid. Here are my results and what you can expect.
What is the Viome Test?
The Viome test is an at-home stool test which identifies and analyzes all of the microbes in your gut. Based on these results, Viome uses Artificial Intelligence (AI) to mine their extensive database of high quality peer-reviewed scientific literature to make targeted nutritional recommendations that aim to optimize both your digestive health and overall health.
How Does the Viome Test Work?
Sign up for the Stool Test Kit. You'll receive a small box in the mail within a week with everything you need to get started.
Once you receive the kit, you'll see it comes with a paper sheet to place over your toilet to make the stool sample process easy and quick. You only need to collect a very small sample in the vial provided. It's quick and painless.
Mail the sample back to the company in the pre-paid mailer provided in your kit.
Download the app and answer the questionnaire. Then, it will be a 2-4 weeks before all of your results come in on the app. You results include:

An Advanced Microbiome View, with a list of all of the microbes in your gut, including bacteria, viruses, probiotics, parasites, eukaryotes, and archaea.
Microbial Richness, the total number of active species in your gut. A higher richness can contribute to the ability of your microbiome to perform a larger variety of functions.
Inflammatory Activity indicates whether or not the microbes in your gut are contributing to inflammation there.
Foods to Avoid includes a list of specific foods which are unhealthy for your gut health and biodiversity. This could be due to a wide range of reasons, including your inability to properly break the food down, the food contains a chemical that is detrimental to your digestion or health, or you have a virus from the food.
Your Superfoods are foods that provide the most benefit to your gut health and biodiversity. These are foods that nourish and support your body and will help you feel your best.
My Supplements includes recommendations for specific strains of probiotics, prebiotics, and other supplements.
Here is a short video I shot unboxing the Viome kit so you can see exactly whats inside and how easy it is to use.
What to Expect: My Viome Review and Results
While I've had tons of digestive problems in the past (bloating, food intolerances, parasites, leaky gut, etc.) at the time of my test, my digestion was pretty good. I'd occasionally get bloated after certain foods (including my favorite chickpeas). My intent for doing the test was to optimize my digestion and health (and to have proof I need to quit chickpeas…I knew they weren't great for me, but was hard for me to give up on my own).
Additionally, I've been dealing with an auto-immune skin condition for about 7 years. I've ignored it for much of the time, as it doesn't interfere with my life, but  am recently inspired to get it into remission.
I'm sharing my most recent Viome results below to give you an idea of what to expect.
Advanced Microbiome View
Under the Advanced Microbiome view, you can see a list of hundreds of different microbes residing in your gut. This includes bacteria, viruses, probiotics, parasites, eukaryotes, and archaea.
You may recognize some of the organisms (for example, a strain of bacteria in the probiotic you take) but most will probably be foreign to you. Taking this to your Functional Medicine Doctor could be helpful.
Ultimately, though, the value of getting a thorough snapshot of your microbiome is that Viome uses this data to make personalized food recommendations, as you'll see below.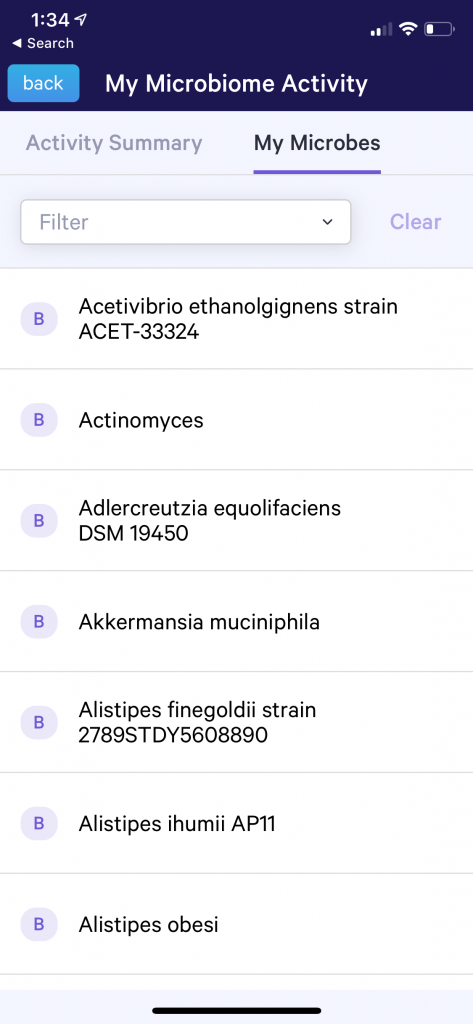 Microbial Richness
The Microbial Richness tab indicates the total number of active species in your sample. If, like me, you were raised on a steady stream of antibiotics, or take them regularly as an adult, you will likely be on the low end of the scale.
While I've managed to avoid antibiotics as much as possible over the past 10 years (to make up for taking them multiple times a year for the first 2 decades of my life and consuming a large amount of conventional animal products, which also exposed me to antibiotics), I was a bit shocked to see my microbial richness on the low side of average.
I've been working hard to improve my microbiome – kissing every dog I see, getting into nature whenever I can, avoiding hand sanitizer, etc. but I apparently still have a lot of work to do.
Research suggests just one course of antibiotics decreases microbiome diversity by 30%. (1) I'm interested to see how my number will change after changing my diet and when I retake the test.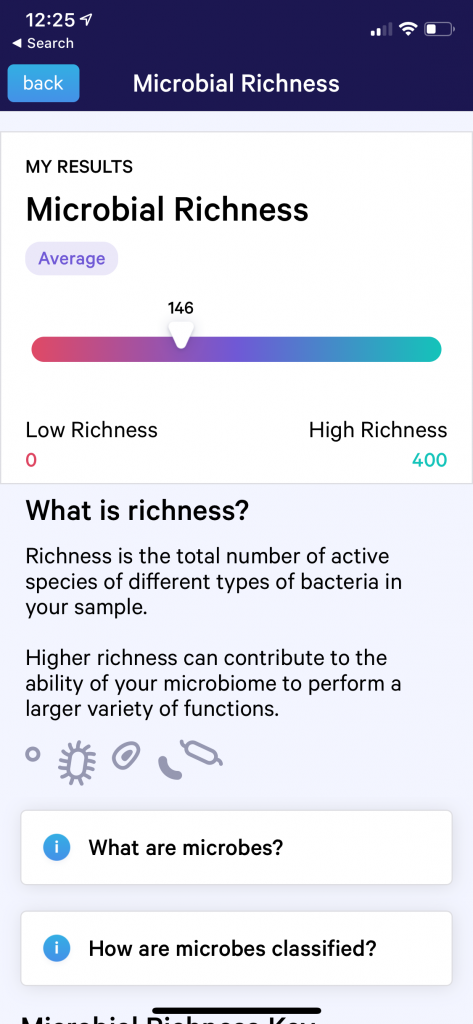 Inflammatory Activity
Inflammatory activity shows inflammation in the gut. I was happy to see my inflammation levels were normal. Note, that this only shows inflammation in the gut, and not body-wide.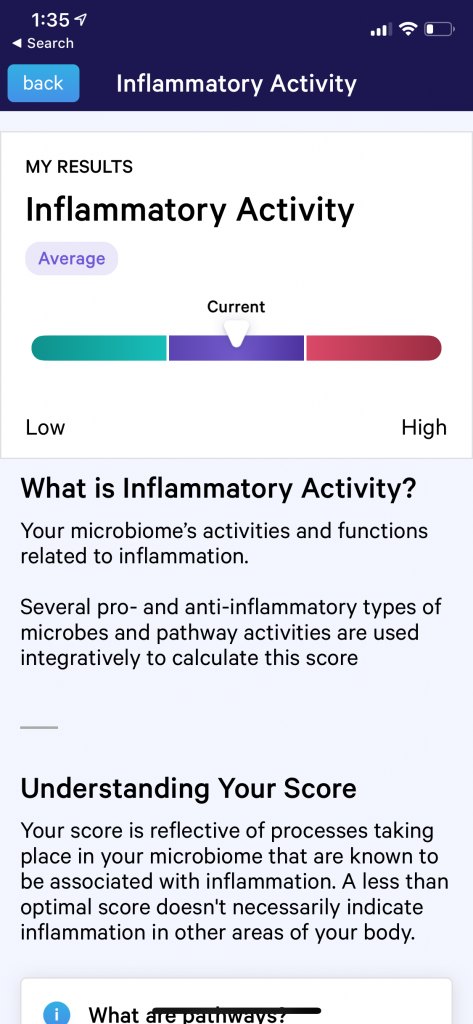 Foods to Avoid
The Foods to Avoid tab is pretty straightforward. These are the foods you want to experiment cutting out of your diet. Viome provides a small explanation for why these don't do well with your microbiome.
I made a few interesting observations on this section.
First, some of the foods I have a strong disliking to, were on here. For example, I love just about every vegetable, but I hate asparagus. It turns out, I'm advised to avoid it because it contains histamine, which can increase my inflammation and worsen my inflammatory score. I feel like my body innately knows this food is not great for me.
Additionally, I used to love bell peppers, but eventually came to strongly dislike and avoid them a few years ago. It turns out, I should avoid them because I have developed "pepper mild mottle virus" which is known to cause disease in bell pepper. Plant viruses in the microbiome could potentially cause immune system activation in humans. (I have an auto-immune condition). Turns out I also have a virus from cucumbers and shallots, too, and so must avoid those as well.
There were only 12 foods for me to avoid (half of which I already did). For the other 6, I do enjoy them, however, I've had a hunch many of them weren't great for me, namely chickpeas, cashews, lentils, and quinoa. Doing the test confirmed my suspicion, and helped me drastically reduce or eliminate them.
My fiance, who has digestive issues, was advised to avoid far more.
It's important to note these recommendations are valid for about 90 days, and then they recommend you retest as your gut heals and your microbiome changes.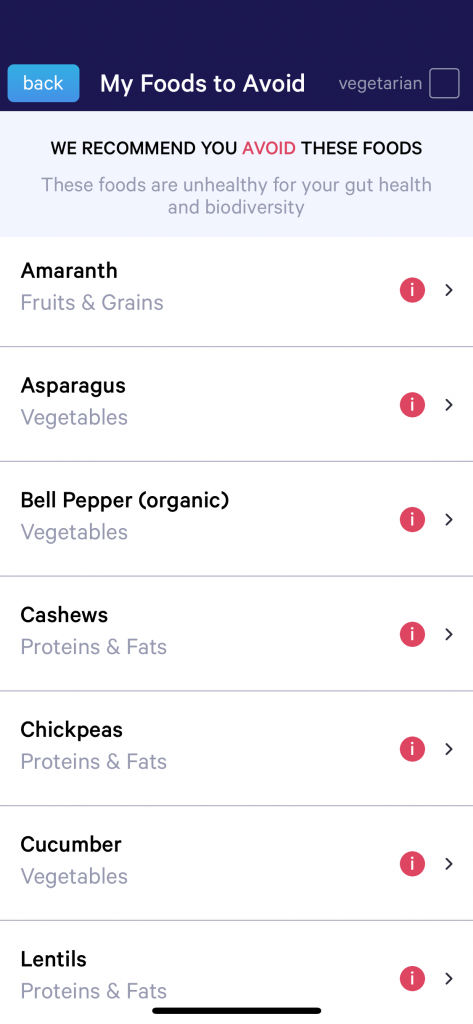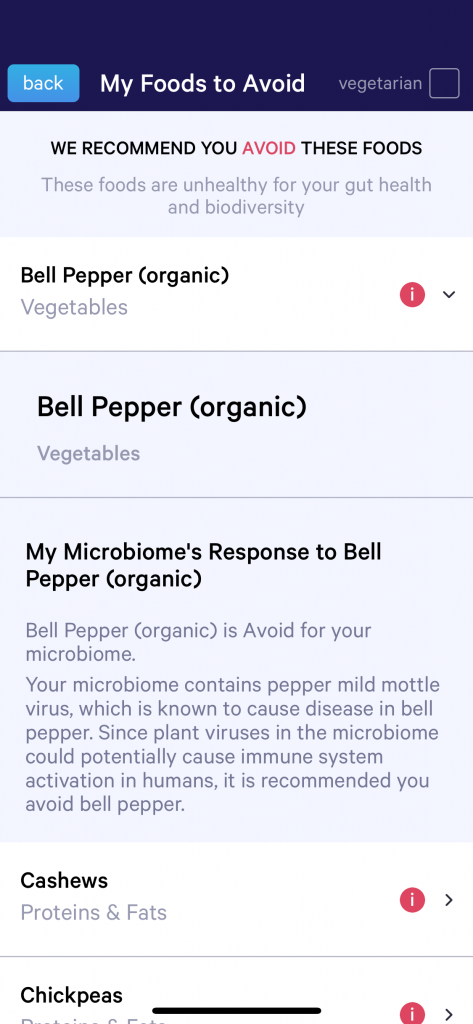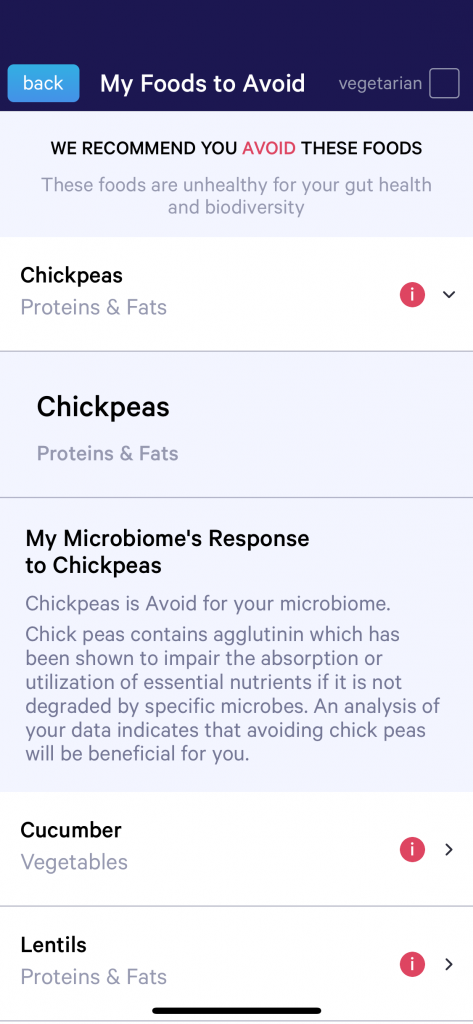 Superfoods
I was relieved to see the superfoods section, which contained many of my favorite foods. I was advised to eat plenty of cruciferous veggies (my faves), wild salmon, green tea, herbs, and turmeric. There were 19 foods on my superfood list, along with a short explanation and links to research on why these foods are well-suited for me and my microbiome.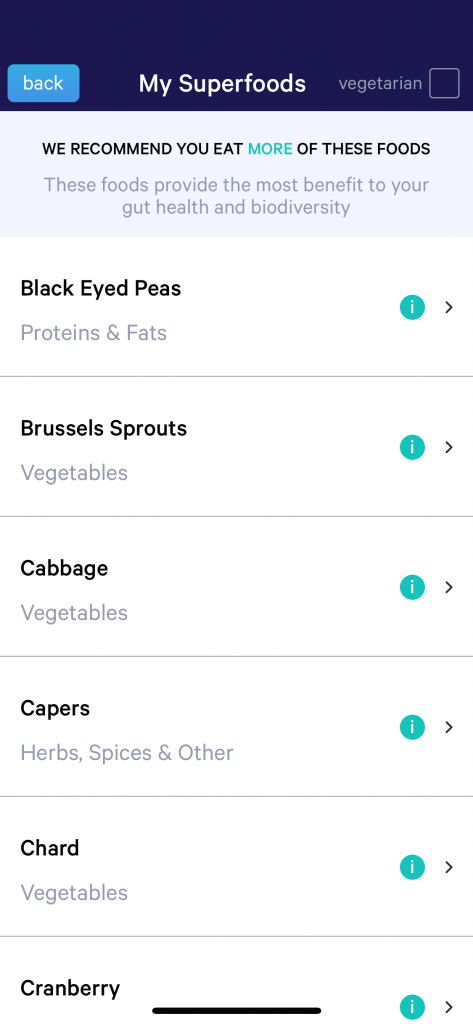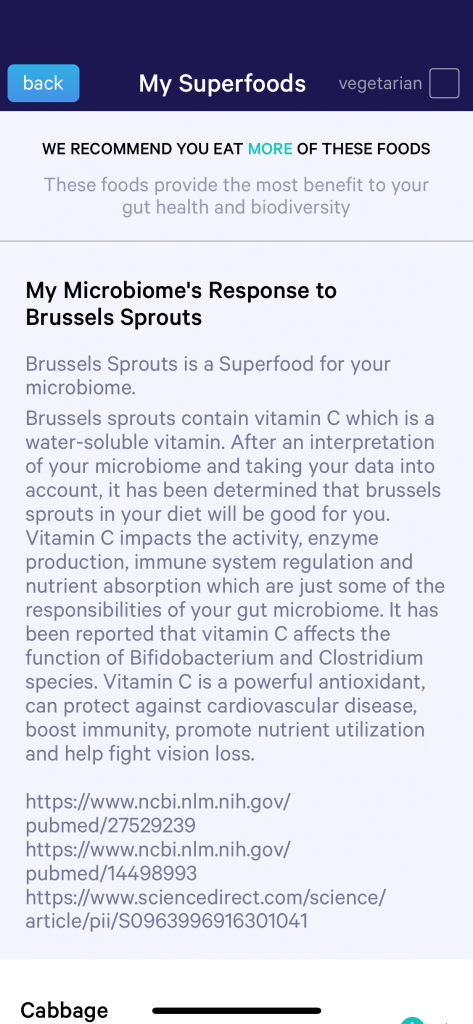 Supplements
The supplements section recommends specific probiotic strains and supplements.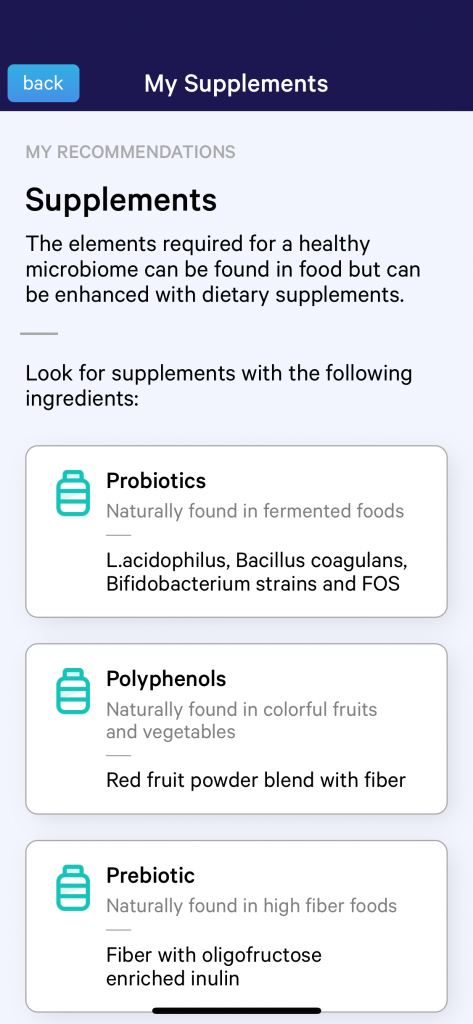 My Foods – Full List
There is also a tab where you can search nearly every food, to find whether it's a superfood, ok to enjoy, limit, or avoid.
While I was only advised to avoid 12 foods, I was told to minimize over 50 other foods, including coconut oil, coconut milk, and coconut meat (which I could live off of) as well as eggs, dates, and sunflower seeds. That was a bit of a bummer, but I've managed to avoid or drastically minimize all of these foods.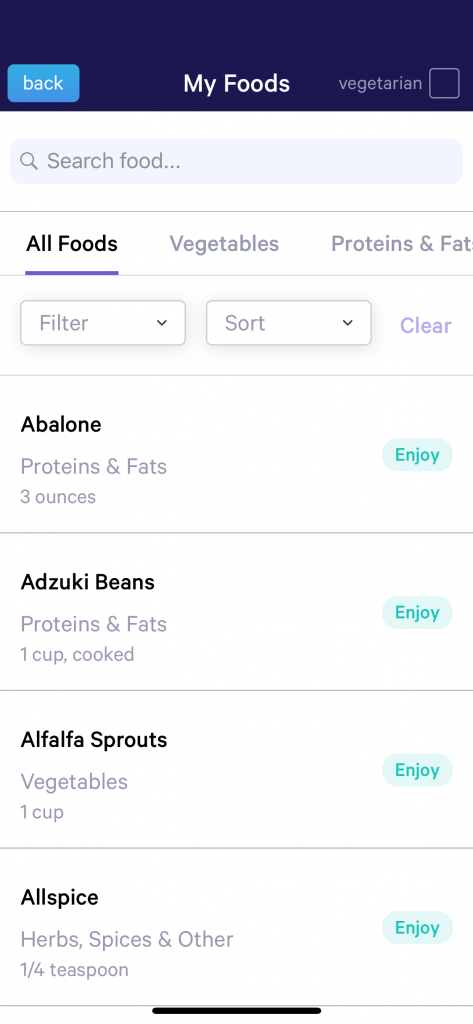 My Results
As of posting, I'm on day 76 of 90 since starting the recommendations.
So far, I have noticed my stomach looks flatter and less puffy, compared to when I was chowing down on chickpeas on a near daily basis.
I've been able to more confidently include high-quality organic, pasture-raised animal products (like bison – I'm supposed to avoid beef) and wild seafood as a replacement for the copious amounts of beans and lentils I was consuming.
The dark circles under my eyes have lightened (although I've also started using a rose quartz roller and rose hips seed oil there, as well).
My energy levels are consistently higher.
I'll be retesting after 90-days, and will keep you updated on my results! If you've tried it, share your experience in the comments below.