Many common snack foods are made with ingredients that can cause breakouts, so the next time you want a snack, choose one of these healthier upgrades, made from ingredients that will help keep your skin clear.
Healthy Snacks For Clearer Skin
Whether you want something sweet, salty, creamy, or crunchy, this list has you covered. You should be able to find all of these at your favorite health foods store or Whole Foods – which you can order online.
Savory, Salty, & Crunchy Snacks For Clearer Skin
Savory Snacks To Avoid
Salty and savory snacks, like chips, crackers, and popcorn are often made with refined vegetable oils, refined carbohydrates, and refined salt. It's best to minimize or avoid these types of ingredients if you have acne and want to improve your skin or your health in general.
Refined vegetable oils – such as canola oil, sunflower oil, corn oil, or soybean oil – are highly processed and are associated with increased inflammation in the body, which can exacerbate acne. Look for products made with avocado oil, olive oil, or coconut oil instead.
Refined carbohydrates – like the flour used in pretzels or crackers – are high glycemic, and a high glycemic diet is associated with an increased risk of acne. Look for whole grains, unrefined carbohydrates, or paleo alternatives (like using almond flour – ground almonds which are higher in protein and fiber than refined flour)
Refined table salt is stripped of its minerals and bleached, making it subpar compared to unrefined salts (such as Celtic salt or Redmond's Real Salt), which contain dozens of minerals and essential trace elements such as magnesium, calcium, potassium, sulfate, and sodium. You'll find a lot of snack foods use sea salt, which is made from evaporated seawater and retains some minerals, making it better than table salt. That said it varies in processing and quality, so I'd give it second place in the salt category. If you use unrefined salt at home for most of your meals and have some table salt when eating out or occasional snack foods, it's not a big deal.
Savory Snacks For Clearer Skin
Look for savory snacks which use unrefined oils and salts. Here are some of my favorites:
Chips:

Siete

Grain-Free Tortilla Chips

– When you want chips, try the Siete brand, made with avocado oil and sea salt. I typically choose

salt-free chips

and then dip them in homemade

guacamole

or store-bought salsa.

Rhythm Superfoods

Kale Chips

– The best-tasting kale chips on the market.

Crackers:

Simple Mills

Seed Crackers or 

Almond Flour Crackers

– The best tasting gluten-free crackers. Dip them in Hummus (store-bought or homemade – for store-bought check the ingredient list) 

Flackers

Flax Seed Crackers

– pair these with hummus or guac for an easy snack.

Bean Snacks:

Brami Beans

– A delicious pickled lupini bean snack from Italy. High protein, high fiber. Snack A++

Artichoke Hearts:

Monterey Farms

Artichoke Hearts

– High in fiber, these tasty snacks will keep you satisfied 'till your next meal.

Olives:

Gaea Organic on-the-go

olive snacks

Popcorn:

Lesser Evil's

Buddha Bowl Popcorn

– Made with organic corn, coconut oil, and pink salt, these are a great choice when you're in the mood for popcorn.

Nuts & Seeds:

Eden Organic Dry Roasted

Pumpkin Seeds

– super flavorful and crunchy. Great on-the-go.

Any nuts or seeds, raw, dry-roasted, or ideally sprouted (which makes them easier to digest and more nutritious).

100% Grass-Fed Meat Sticks: Great on the go! Not all are created equal! I love Chomps
Healthy Sweet & Creamy Snacks for Clearer Skin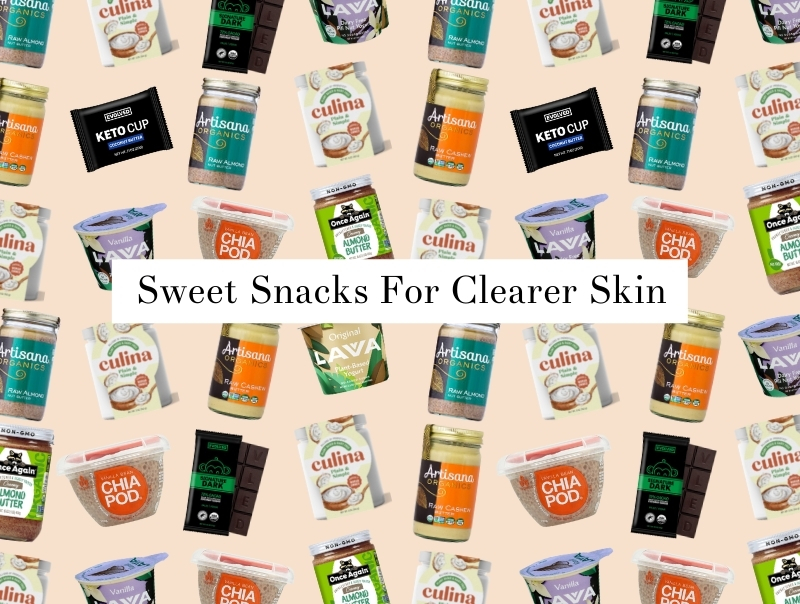 Sweet Snacks To Avoid
I hate to bring the bad news, but sugary treats can indeed be triggering your breakouts! In fact, a high glycemic (high sugar) diet, is associated with acne. Generally, the more refined sugar one consumes, the worse the severity of breakouts. Instead, reach for snacks and desserts sweetened with fruit (like date sugar) or zero-glycemic sweeteners (like pure stevia or pure monk fruit), which keep your blood sugar more stable. Avoid artificial sweeteners and sugar alcohols (for example, erythritol which is often paired with stevia) as they come with their own issues.
Creamy snacks and desserts typically contain dairy, which can lead to breakouts. In fact, research has shown a dairy-acne connection since as early as the 1940s. Luckily, there are plenty of delicious options when it comes to dairy-free creamy snacks. Below are some of my favorites:
Sweet Snacks For Clearer Skin
Here are some of my favorite, dairy-free snacks made with better for you (and your skin!) sweeteners:
Fruit:

Fresh fruit, such as apples, pears, oranges, mandarins, watermelon, cantaloupe, figs, blueberries, strawberries, or bananas. To make fruit a little more fun, pair it with nut butter or dip it in melted dark chocolate.

Nut Butter:

Some of my favorite nut butters include Once Again

Lightly Toasted Organic Almond Butter

, Artisana Organics

Raw Almond Butter

, or Artisana creamy

Cashew Butter

spread over sliced apple or bananas.

Dark Chocolate

: There are so many great options! 

Eating Evolved

Keto Cups

-This healthier take on peanut butter cups is made with elevated fillings – like almond butter, hazelnut butter, and coconut butter, plus they are sweetened with zero-glycemic monk fruit. My favorite is the Coconut Butter Keto Cups.

For a healthier actual peanut butter cup, Choc Zero makes a good one with monkfruit.
Eating Evolved Chocolate Protein – these bites contain 10G of collagen protein per serving for the win! I like the hazelnut ones.

Eating Evolved

Dark Chocolate Bars

– You're spoiled for choice with these dark chocolate bars. Some are sweetened with coconut sugar, while others – with Keto in their name – are sweetened with monk fruit. My personal favorites are the

Almond Butter Filled

,

Keto Nut Butter

, and

Cashew Butter Filled

.

Choc Zero dark chocolate chips are great.

Chia Pudding:

ChiaPod Chia pudding

Avo Toast:

Avocado – sprinkle with salt and red pepper flakes and eat with a spoon, or smash it onto your favorite gluten-free toast.

Yogurt: Coconut or other non-dairy yogurts such as Culina (my absolute to-die-for favorite. It's so thick and creamy) or Lavva pili nut yogurt. Add some fresh berries and nuts and seeds on top for added antioxidants and protein.
If you try one of these healthy snacks for clearer skin, let me know how you liked it in the comments below.
Want More Recommendations?
Was this post helpful? If so, you'd probably love my book, The Real Food Grocery Guide, which teaches you how to select the healthiest foods in every aisle of the grocery store.
For more tips on eating for clear skin, check out my Clear Skin Meal Plan, a proven, science-backed program and meal plan to help clear your skin from within.