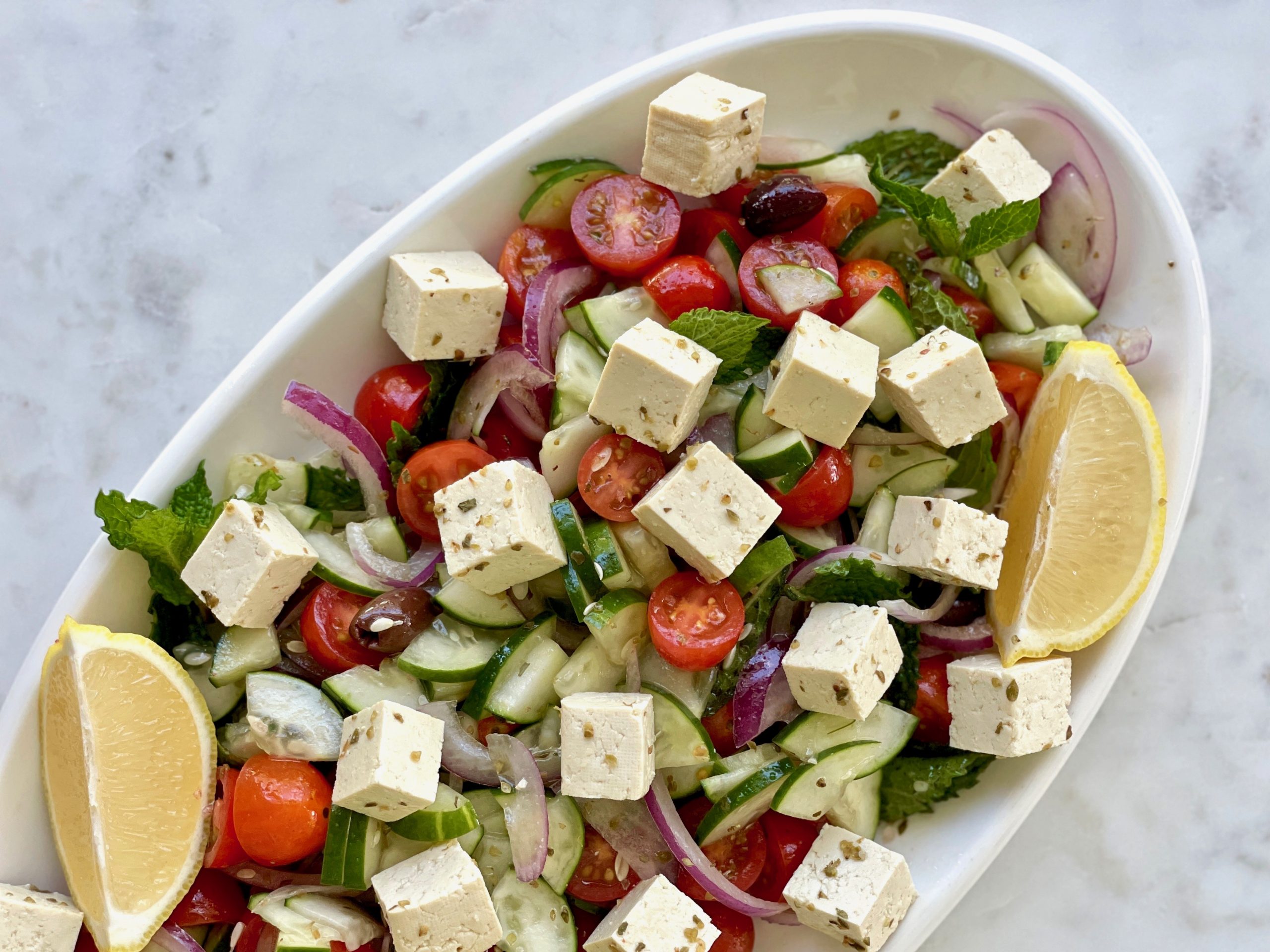 This vegan feta cheese recipe tastes just like feta cheese and is perfect on top of a Greek salad. It's made with 4 simple ingredients and requires minimal effort to make.
Simply press the excess water out of extra-firm tofu, cube it, marinate it, and it's done. How easy is that?
Vegan Feta Ingredients
Tofu: Extra-firm tofu gives us a feta cheese texture with minimal effort. Simply dice and marinate. Even better, if you can find it, use fermented tofu (which is even firmer and my personal favorite). When buying tofu, always choose organic tofu to avoid GMOs.
Lemon Juice: Lemon juice provides the tang that is characteristic of fermented foods like cheese. It also provides a Vitamin C boost and a plethora of phytonutrients and antioxidants which support clear, glowing skin from within.
Oregano: Oregano does more than give this tofu flavor. It's a surprisingly antioxidant-rich spice that has antibacterial and anti-inflammatory effects. Just a pinch packs a punch.
View this post on Instagram
Vegan Feta Cheese (That Tastes Just Like Feta)
Total Time
1

hour
30

minutes
Instructions
First, press the tofu: Lay out a clean kitchen towel, wrap up tofu in it and put a heavy book on top for 30 minutes.*

Next, combine lemon juice, oregano, and salt in a shallow container and mix well.

Once the tofu is done being pressed, slice it into cube-sized pieces and add to the container with marinade. Then close the container with a lid, shake it up and let it sit for at least an hour. The longer, the better.

Serve over greek salad or any salad of choice.
Recipe Notes
* This step is key to press out excess water so the tofu absorbs the maximum amount of the marinade.

Did you make this recipe?
Tag @mariamarlowe on instagram and hashtag #healthybymarlowe for a chance to be featured and win awesome prizes each month.
Why dairy-free vegan feta cheese?
Because of a wealth of data, it is widely acknowledged that dairy consumption is associated with acne. So, this dairy-free alternative is a delicious choice that gives you the taste of feta, without the risk of a dairy-related breakout. For more dairy-free alternatives, check the recipe section of my website.
Clear Skin Recipes
Want more skin clearing recipes? Check out my Clear Skin Plan, a science-backed, doctor-approved program and meal plan to clear acne naturally through dietary and lifestyle changes. If you've tried everything else to no avail, it's time to get to the root causes and support your skin from within.
Clearer Skin in Just 3 Days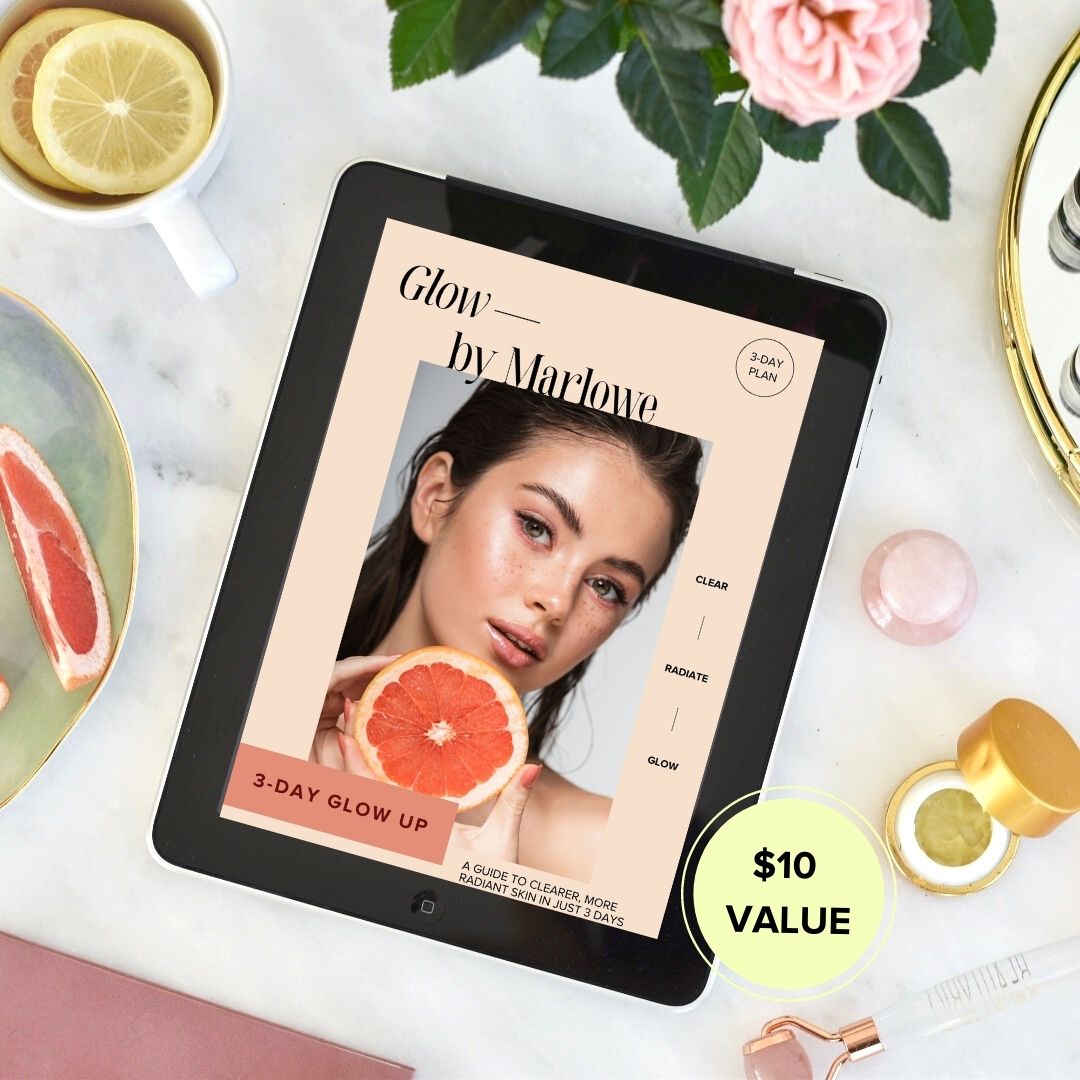 Sign up for my weekly newsletter to get the latest recipes, articles, & podcasts delivered to your inbox.

Plus, you'll receive The Glow Up Guide right away, a delicious 3-day meal plan to reduce redness and bumps, fast.