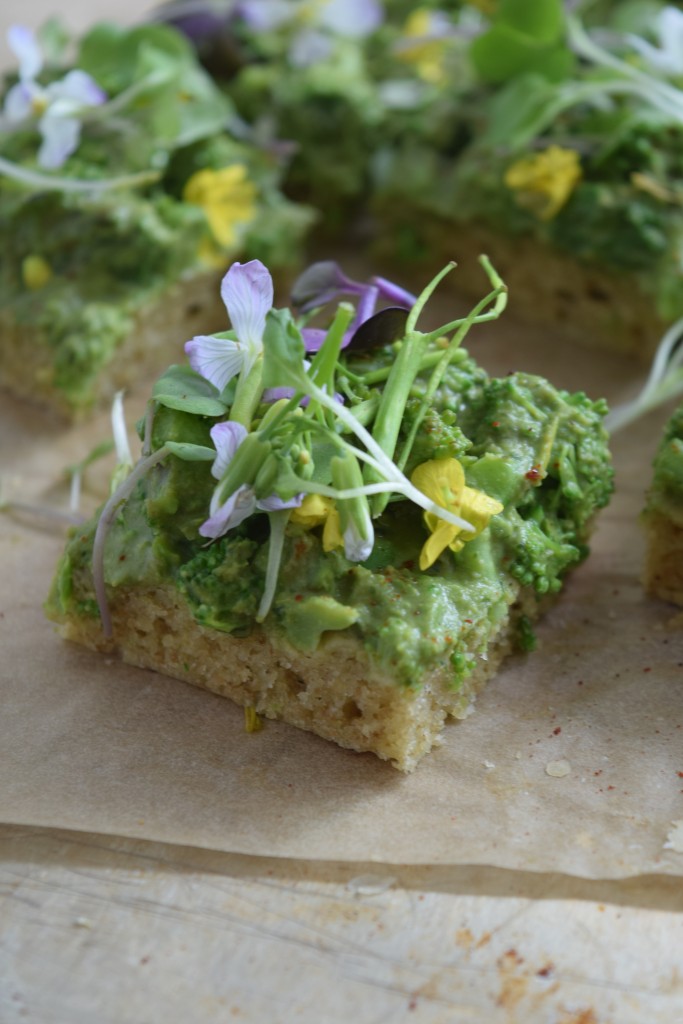 This Paleo Broccoli Pesto Pizza is so easy to make and will have you looking forward to dinner time.
The quick and easy crust is made from the Simple Mills mix, primarily from almond flour, making it grain-free and gluten-free. The dairy-free yet creamy broccoli and basil-pea-pesto topping will have everyone going back for seconds. The best part? It's ready in less than 30 minutes!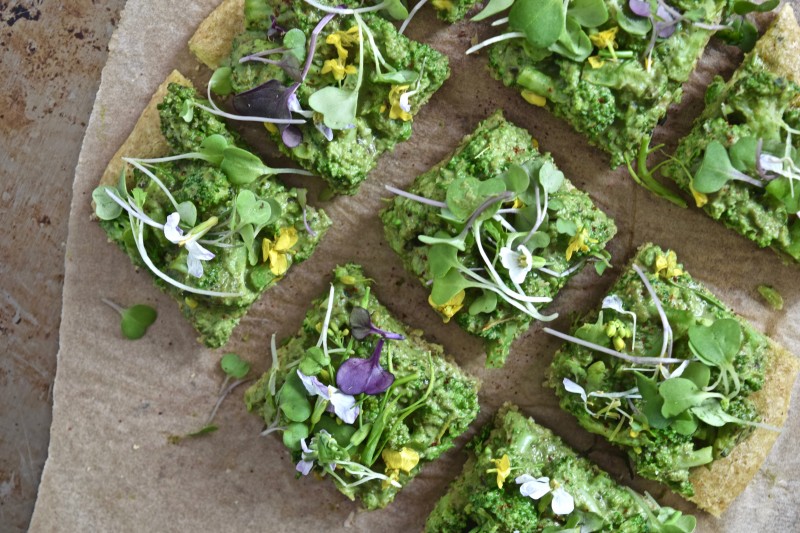 Shop This Recipe
Fresh produce
I typically get my produce at the farmer's market, but Amazon Fresh has fast delivery on organic produce in a pinch.
I love adding broccoli sprouts, or other sprouts on top for an added nutritional boost.
The edible flowers add a fun little pop of color, but of course are not crucial for the recipe if you can't find them. I get them at the farmers market, they are very inexpensive. The yellow flowers are brassica or broccoli flowers, and the pinkish ones are radish flowers.
Packaged goods
For the dough, salt, olive oil, and any other packaged goods, I always get them at Vitacost, which is typically 25-50% cheaper than grocery store prices, for the same organic and natural brands. I've linked to my preferred brands below:
For dough, I love to use the Simple Mills Artisan bread mix. Out of all the gluten-free bread mixes I've tried, Simple Mills has the best ingredients and tastes amazing.
For salt, I primarily use Himalayan pink salt, which contains dozens of trace minerals, and adds beautiful flavor to every dish.
For olive oil, I have tried so many, and find this Gaea olive oil to be my favorite. I like that it is in a dark glass bottle to protect the antioxidants in the oil, its a nice deep yellow color, and it is very tasty. I find compared to other olive oils, it's truly high quality at a good price. You could also use avocado oil instead.
For apple cider vinegar, I prefer Bragg's Organic Raw Apple Cider Vinegar. It's unfiltered and contains the "mother".

Try This Broccoli Pesto Pizza Recipe
If you try this recipe, let me know! Leave a comment, rate it (by clicking the stars in the upper right of the recipe card, below), and don't forget to tag a photo @mariamarlowe or #healthybymarlowe on Instagram or Facebook. I'd love to see what you come up with!
Paleo Broccoli Pesto Pizza
Ingredients
Instructions
First, make the crust. Heat oven to 350° F.

Whisk eggs, water, oil and vinegar in a large bowl. Add baking mix; combine well. Let dough sit 4 minutes (dough will thicken).

Divide dough into two equal portions and place on greased or parchment-lined cookie sheet. Run hands under water to moisten to prevent sticking and shape into two 7" circles. Bake 15 minutes.

Meanwhile, make the pea pesto. Combine all pesto ingredients in a blender, and blend on high until smooth. Set aside.

Then, blanch the broccoli: Bring a large pot of water with a pinch of salt to a boil. Fill a large bowl with water and 2 cups of ice and place on the side. Add the broccoli florets to the pot of boiling water, cook for 90-seconds to 2 minutes, until bright green. Use a slotted spoon to remove the broccoli to the ice bath to cool down and stop cooking. After 2 minutes, drain, and in a bowl, combine the broccoli and pesto and mix well.

When the flatbreads come out of the oven, spread the broccoli/pesto mixture on top. Return to the oven for another 5 minutes.

Remove from the oven, garnish with red pepper flakes, basil leaves, or sprouts, if desired. Cut each flatbread into 12 squares.

Did you make this recipe?
Tag @mariamarlowe on instagram and hashtag #healthybymarlowe for a chance to be featured and win awesome prizes each month.
Clearer Skin in Just 3 Days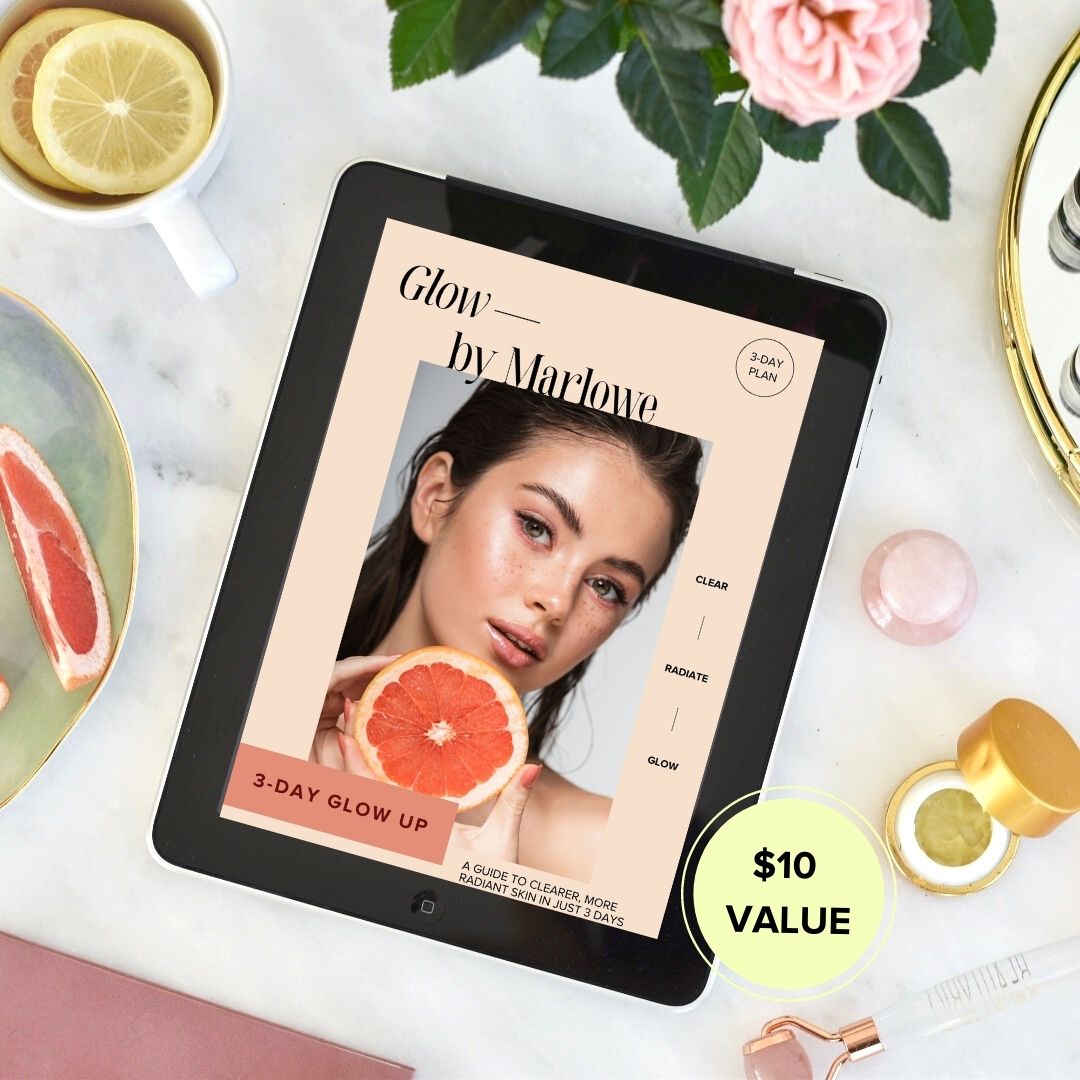 Sign up for my weekly newsletter to get the latest recipes, articles, & podcasts delivered to your inbox.

Plus, you'll receive The Glow Up Guide right away, a delicious 3-day meal plan to reduce redness and bumps, fast.