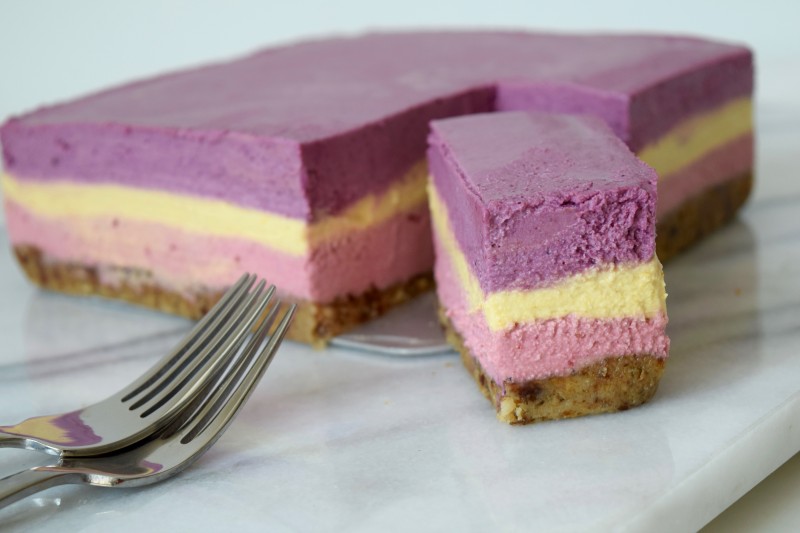 This colorful Superfood Rainbow Cheesecake will wow your guests at your next party! Beyond its insta-worthy appearance, its creamy, whipped mousse-like texture is delicious.
A base of cashew and coconut cream make this healthier treat decadent. Frozen raspberries, mango, and blueberries add color, fiber, and vitamins, while superfood powders give it an additional nutrient boost!
This was featured on the Vitacost.com blog (my favorite place to buy name brand healthy groceries at a 25-50% off grocery store prices) where you can shop for all the dry ingredients.

Try this Superfood Rainbow Cheesecake
If you try this recipe, let me know! Leave a comment, rate it (by clicking the stars in the upper right of the recipe card, below), and don't forget to tag a photo @mariamarlowe or #healthybymarlowe on Instagram or facebook. I'd love to see what you come up with!
Rainbow Superfood Cheesecake
Ingredients
Instructions
For the crust, whiz walnuts in high-speed blender until they make a powder, than add dates and salt and process again until combined. The mixture should stay together when squeezed in your hand. Line the bottom of a 5-or 6-inch cheesecake pan with shredded coconut, then use your fingers to press in walnut mixture into the bottom of pan and up the sides of the pan for the crust. Both should be about 1 cm thick.

For the filling, drain cashews, and then throw all ingredients (Not including the frozen fruit and superfruit powders) into a high speed blender and process on high for about 2 minutes, until completely smooth.

Divide evenly in three separate portions (about 1 ¼- 1 ½ cups each): You can leave one portion in the blender, put the other two in two bowls.

To make the first layer, add the raspberries and goji powder if using. Blend until uniform red/pink color is achieved. Pour on top of the crust and freeze while you make the next layer.

Clean out the blender, then add one portion of the coconut-cashew cream filling, and the mango and turmeric if using. Blend on high until smooth. Remove the pan from freezer, and pour the mango layer on top of the raspberry layer. Return to the freezer while you repeat with the blueberry/maqui layer.

Once all layers are done, place pan in freezer for at least 2 hours, to firm up before serving.
Recipe Notes
*To get the cream, refrigerate a can of coconut milk overnight. The cream will float to the top, while the water will sink to the bottom of the can. Flip the can over, and open it upside down. Pour out the water and reserve for another use. Scoop out the thick white coconut cream for use in the filling.

Did you make this recipe?
Tag @mariamarlowe on instagram and hashtag #healthybymarlowe for a chance to be featured and win awesome prizes each month.
Download Real Food Remedies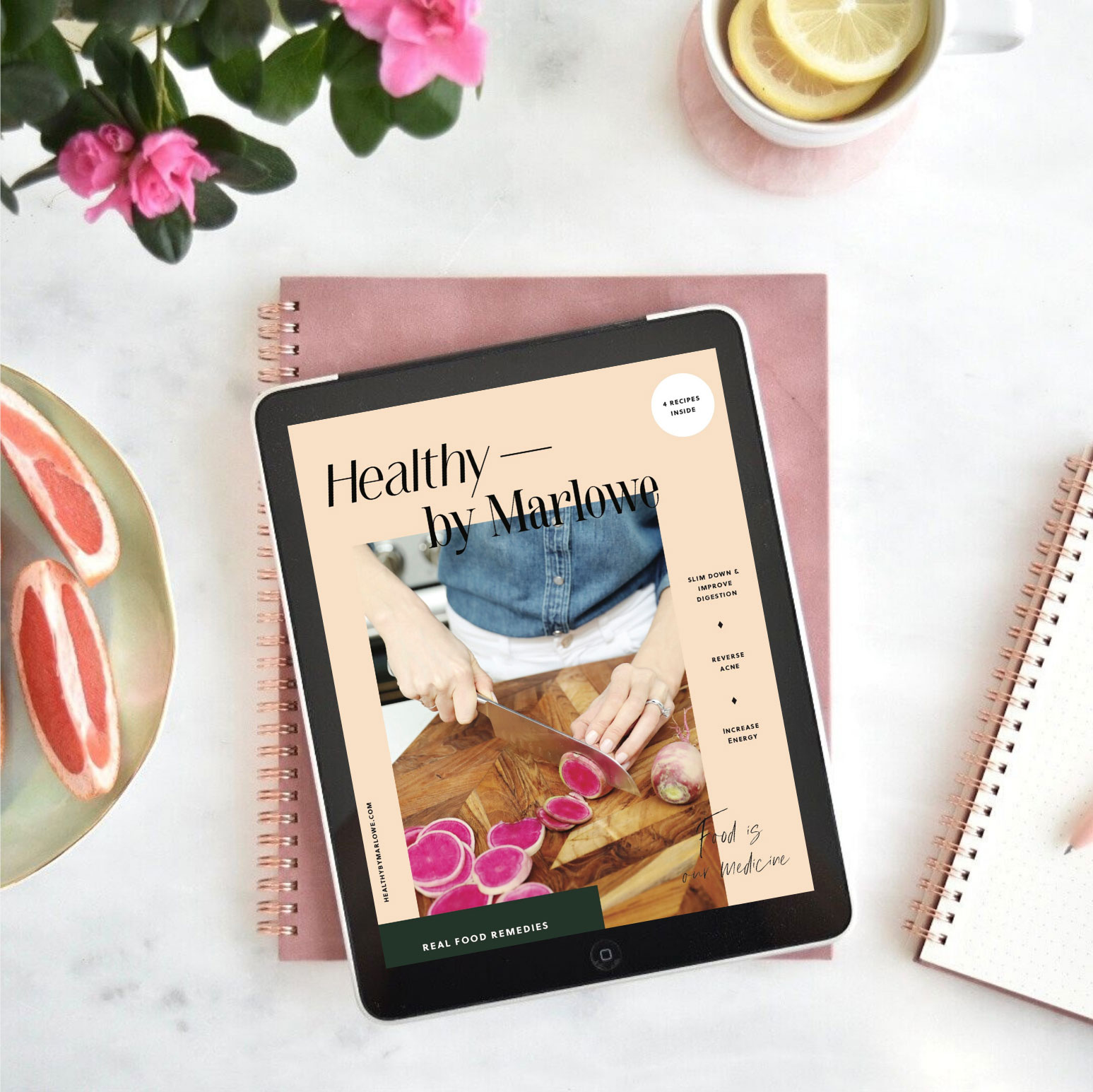 Sign up for my weekly newsletter to get the latest recipes, articles, & podcasts delivered to your inbox.

Plus, you'll receive Real Food Remedies right away, a guide to the top foods & recipes to help you slim down, banish digestive issues, reverse acne, & feel more energized.