Everything tastes better in a bowl. Especially a Rainbow Bowl.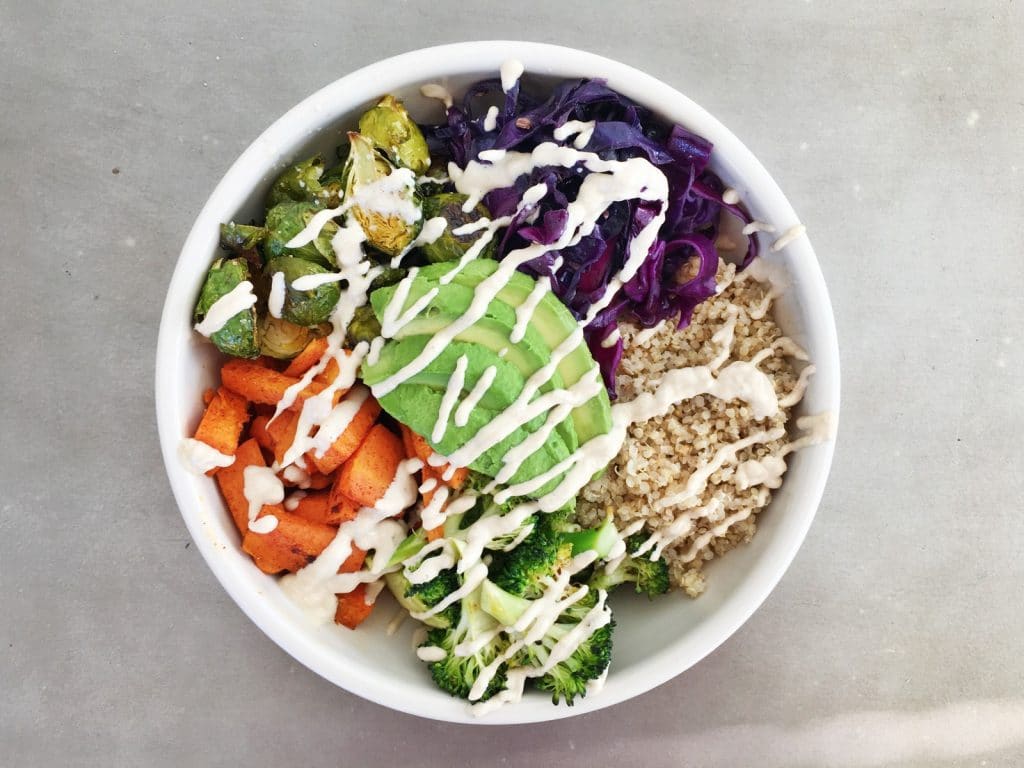 They say we eat with our eyes, so this rainbow bowl recipe is sure to delight.
Depending on which veggies you choose, this can be ready relatively quickly. (For example broccoli cooks in about 10 minutes on 450 F, while brussels sprouts or cauliflower will take at least 25-30 minutes). Since I like a nice mix of veggies, I roast large batches of the longer cooking ones on the weekend, and then just reheat (in the oven or stovetop) throughout the week.
You can also use any spices you like to roast the veggies. Personally, I'm a big believer in it being impossible to go wrong with a little olive oil, pink salt, and garlic powder. Pretty much every veggie I've ever met tastes good with that combo. But, then, you can get more adventurous with cumin, turmeric, paprika, cayenne, chipotle powder, and the like.
Rainbow Bowl Recipe
For this bowl I used:
Quinoa
Garlic & Red Pepper Roasted Broccoli
Steamed Carrots
Garlic-y Roasted Brussels Sprouts
Fennel Seed Sauteed Purple Cabbage
Fresh Sliced Avocado
Lemon Tahini Dressing
Recipe for each component of this rainbow bowl recipe, below.
Preheat oven to 450F, and bring a steamer pot of water to a low boil.
In a bowl, toss Brussels with about 1/4 tsp. garlic powder, 1/4 tsp. pink salt, and 2 tsp. olive oil. Lay out flat on a baking sheet and place in oven for 15 minutes.
In same bowl used for Brussels, toss broccoli florets with about 1/4 tsp. garlic powder, 1/4 tsp. pink salt, and 2 tsp. olive oil. After the brussels sprouts have roasted for 15 minutes, take the sheet out of oven, add the broccoli by laying it out flat next to the sprouts on the baking sheet, and return to oven for 10 minutes (so Brussels will cook for 25 minutes total).
Meanwhile, in the steamer pot, steam carrots for about 10 minutes, until carrots are tender. Set aside.
While Carrots are cooking, saute the cabbage. In a large pan, heat pan over medium low. Add fennel seeds and minced garlic, allowing to cook for 1-2 minutes, until fragrant. Add the purple cabbage, water, then salt, and allow to cook down, for about 7-10 minutes, until bright purple and tender. (This is called water sauteeing.. you could instead saute traditionally with oil if you choose).
In a small bowl, with a fork, whisk together tahini, water, and salt, until fully combined. Next add in lemon juice, and a pinch of fresh ground black pepper and oregano if using. Whisk well until fully combined.

To serve, in three bowls, divide the quinoa and veggie ingredients equally, and place in each bowl one by one. Top with sliced avocado and dressing.
Use any roasted or sauteed veggies you like here! Make large batches of veggies, and store in separate containers. Then, to reheat, lay out each veggie in a row on a baking sheet and place in a warm oven (about 300F) for 10 minutes or so, until warmed through. Better than microwaving, and you'll still be able to assemble a beautiful bowl.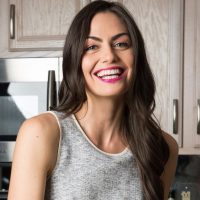 Maria Marlowe
Maria Marlowe is a holistic nutrition and wellness coach who uses real food to help her clients improve their health, weight, and skin. She offers a 28-day healthy eating meal plan that teaches you how to batch cook, as well as one to clear up acne. Her most popular program is EatSLIM, a 10-week online group glass that guides participants to develop healthy eating habits that stick – and lose weight, boost their metabolism, improve their digestion, and quit sugar.
She writes healthy and delicious plant-based recipes for her popular blog. She is also the author of the #1 New Release on Amazon, The Real Food Grocery Guide, the most practical guide to selecting the healthiest foods, without going broke, which has been praised by Dr. Oz and InStyle magazines. You can find her on instagram @mariamarlowe.