If you want to impress your holiday guests, whip up this (surprisingly easy to make) Pomegranate & Coconut Crepe Cake.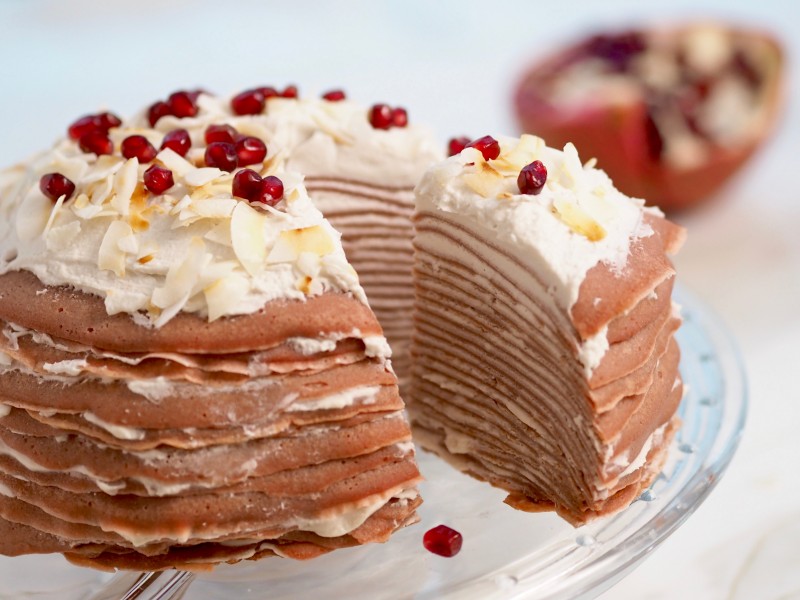 Save on Healthy Ingredients
This gluten-free crepe cake is made primarily from cassava flour and coconut milk.
The best place to buy these – and any other healthy, non-perishable items – is at Vitacost. I do all my non-perishable shopping there, as they offer the healthiest brands at 20-50% less than what you'd pay at a health food store, saving me literally thousands of dollars a year.
Try This Recipe
If you try this recipe, let me know! Leave a comment, rate it (by clicking the stars in the upper right of the recipe card, below), and don't forget to tag a photo @mariamarlowe or #mariamarlowe on Instagram or Facebook. I'd love to see what you come up with!
Pomegranate & Coconut Crepe Cake (gluten-free)
Instructions
First, make the crepe batter. In a large bowl, combine the eggs, water, coconut oil, and vanilla. Mix well, then add the dry ingredients: cassava flour, beet powder, and salt, and mix again using a hand mixer for 1 minute until thoroughly combined and a thin batter forms.

Cover and put the batter in the fridge while you make the coconut whip cream: combine the coconut cream, maple syrup, and vanilla in a medium-sized mixing bowl. Use the hand mixer to whip together. Refrigerate until ready to use.

Heat a large skillet over medium low heat. Once hot, pour 1/3 cup batter into the center of the pan. Immediately tilt the pan in a circular motion to swirl the batter to make a thin round crepe shape (about 8 inches across).

Cook for 1 minute, or until easy to flip, cook for an additional 45 seconds and then remove to a wire rack to cool and then a plate. Repeat with remaining batter. (Makes about 25 crepes total).

If you have two pans, do two crepes at once to save time.

When all crepes are cooled and ready to assemble: put one crepe on the cake stand you want to use. Then add a thin layer of coconut whip cream (all the way to the edges), place another crepe on top and repeat with remaining crepes. Once you get to the top, add a generous dollop of the coconut whip cream, then top with pomegranate and shredded coconut.
Recipe Notes
*When coconut milk is refrigerated, it will separate into a cream layer and a liquid layer. For this recipe, you only want the cream. When ready to use, flip the can upside down, open it, pour out the liquid (reserve for another use), and then scoop out just the cream for this recipe.

Did you make this recipe?
Tag @mariamarlowe on instagram and hashtag #healthybymarlowe for a chance to be featured and win awesome prizes each month.
Clearer Skin in Just 3 Days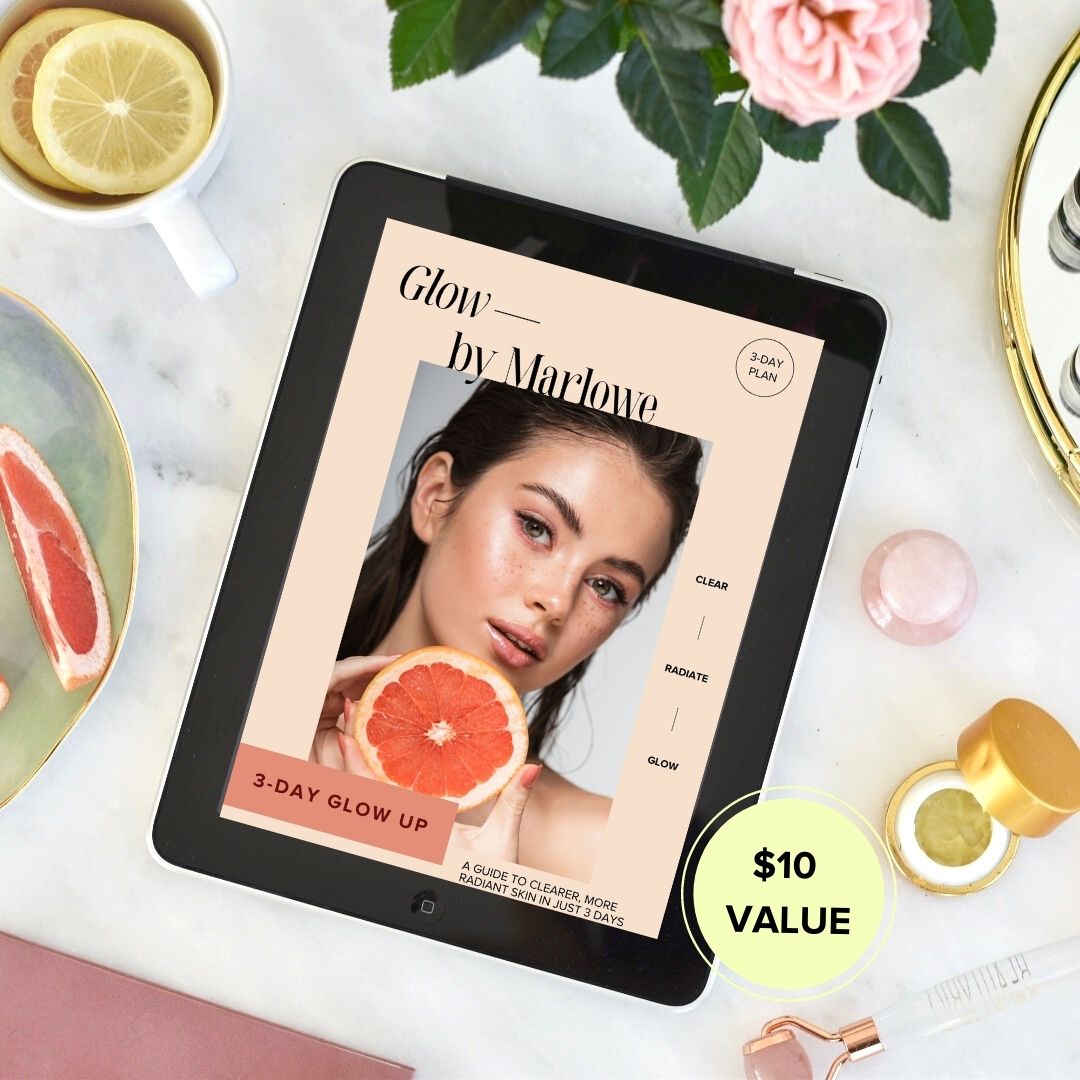 Sign up for my weekly newsletter to get the latest recipes, articles, & podcasts delivered to your inbox.

Plus, you'll receive The Glow Up Guide right away, a delicious 3-day meal plan to reduce redness and bumps, fast.