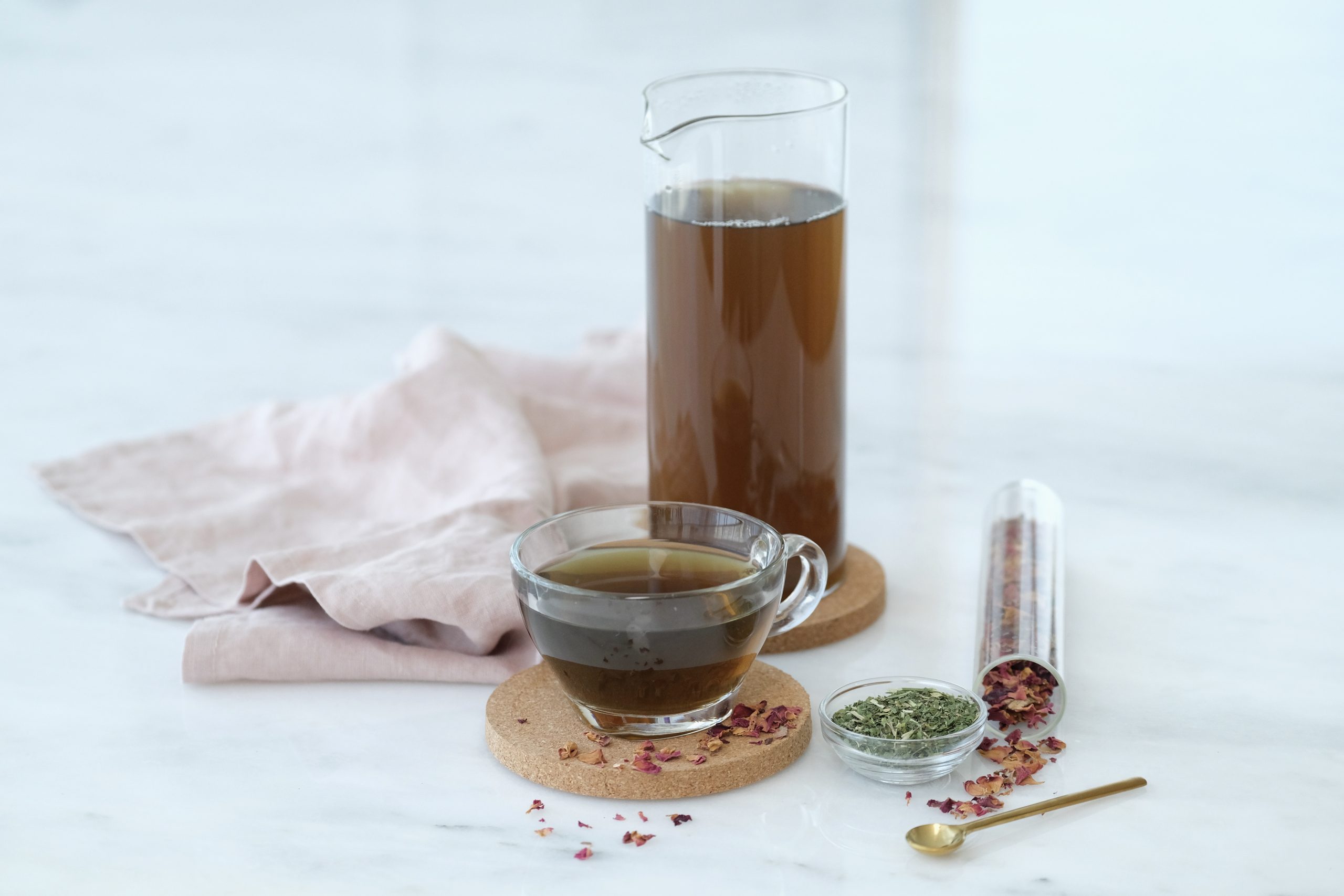 This medicinal Nettle & Rose Hips tea helps to clear acne and other inflammatory skin conditions when drank regularly.
The key to unlocking the skin clearing and nourishing benefits of nettle is to make a decoction – a form of tea in which the herbs are boiled in water for a long period of time (in this case an hour). This allows the tough nettle leaf to release more of its skin-nourishing nutrients – which you'll miss out on by doing a quick steep of a nettle tea bag.
It's super simple to make, and quite tasty, whether served hot or cold. If you'd like to serve it cold. Simply let it cool to room temperature before pouring over ice or refrigerating.
Benefits Of Nettle & Rose Hips Tea
Nettle: Nettle is well-known for its beneficial effects on the skin. In fact, while researching nettle, I found an article published in the Associated Medical Journal in 1854, extolling how a simple nettle decoction drank daily healed even the most recalcitrant of inflammatory skin conditions and rashes. (1) Nettle is rich in antioxidants including polyphenols, which protect against inflammation and disease. Antioxidants help to protect the skin from free radical damage, keeping it healthy, clear, and ageless. (2, 3, 4) Some preliminary research suggests it may also aid in blood sugar regulation, which is critical for clear skin. (5)
Nettle And Rose Hips Tea
Total Time
1

hour
5

minutes
Ingredients
3

Tbsp.

loose leaf nettle tea

5-6

cups

water

1

Tbsp

loose leaf rose hips

or 2 rose hips tea bags
Instructions
For a tea pot with strainer: Add 3 tablespoons of nettle to your strainer. Then add water to your tea pot and place the strainer inside.

Alternatively: Add water to a medium-sized saucepan along with the nettle.

Bring the pot of water to a boil, then reduce the heat to low and let it simmer for an hour, or until the water reduces by close to half.

Once your nettle tea is done steeping, add the rosehips to the teapot and let steep for another 3 to 5 minutes. If using a pan, strain the herbs out before serving.

Drink it hot, or let it cool to room temperature before refrigerating it or pouring it over ice. This makes at least 3 servings, so it can also be enjoyed later. You can reheat the nettle tea later if you prefer it warm.

Did you make this recipe?
Tag @mariamarlowe on instagram and hashtag #healthybymarlowe for a chance to be featured and win awesome prizes each month.
Clear Skin Recipes
Want more skin clearing recipes? Check out these 5 Drinks For Clear Skin and my Clear Skin Plan, a science-backed, doctor-approved program and meal plan to clear acne naturally through dietary and lifestyle changes. If you've tried everything else to no avail, it's time to get to the root causes and support your skin from within.
Clearer Skin in Just 3 Days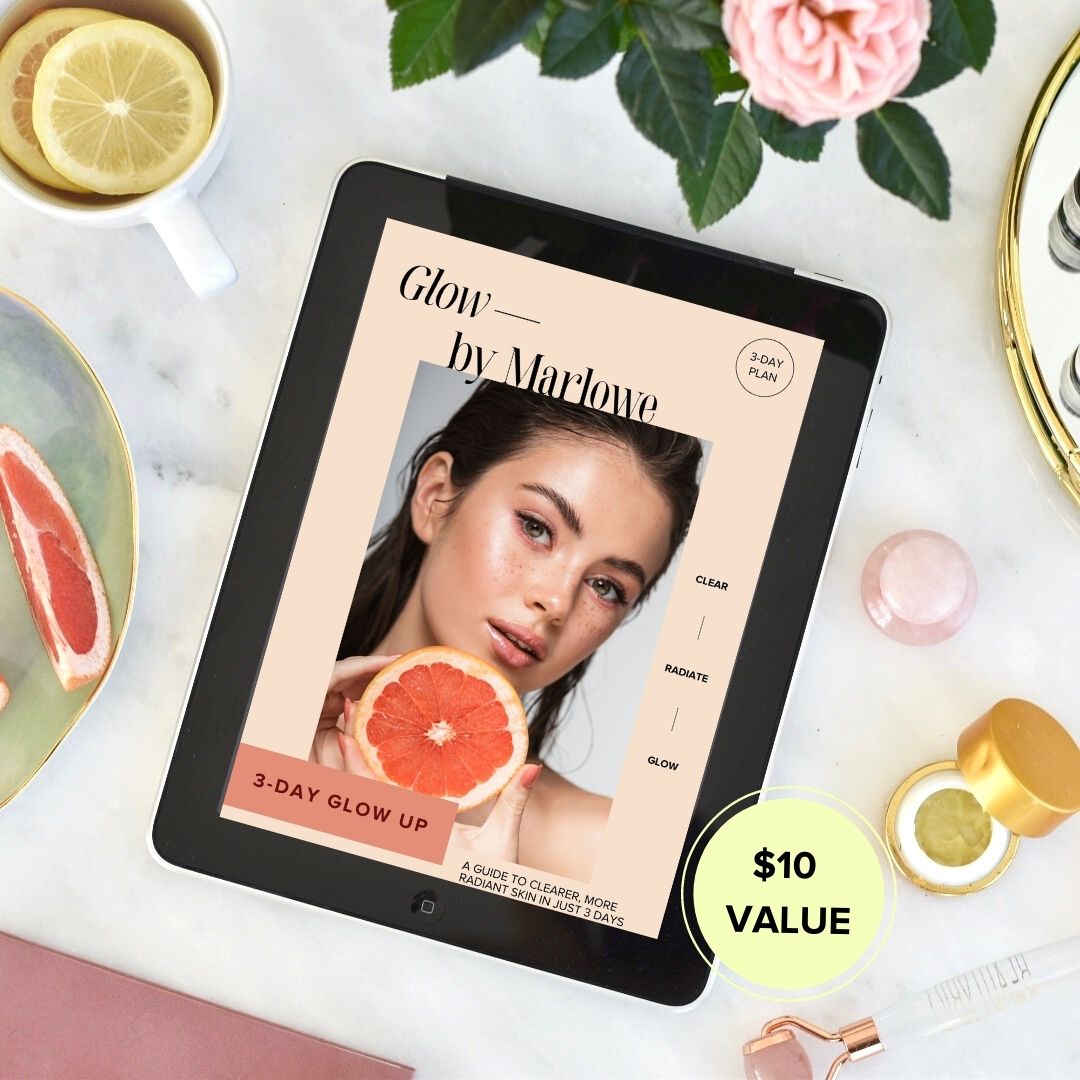 Sign up for my weekly newsletter to get the latest recipes, articles, & podcasts delivered to your inbox.

Plus, you'll receive The Glow Up Guide right away, a delicious 3-day meal plan to reduce redness and bumps, fast.