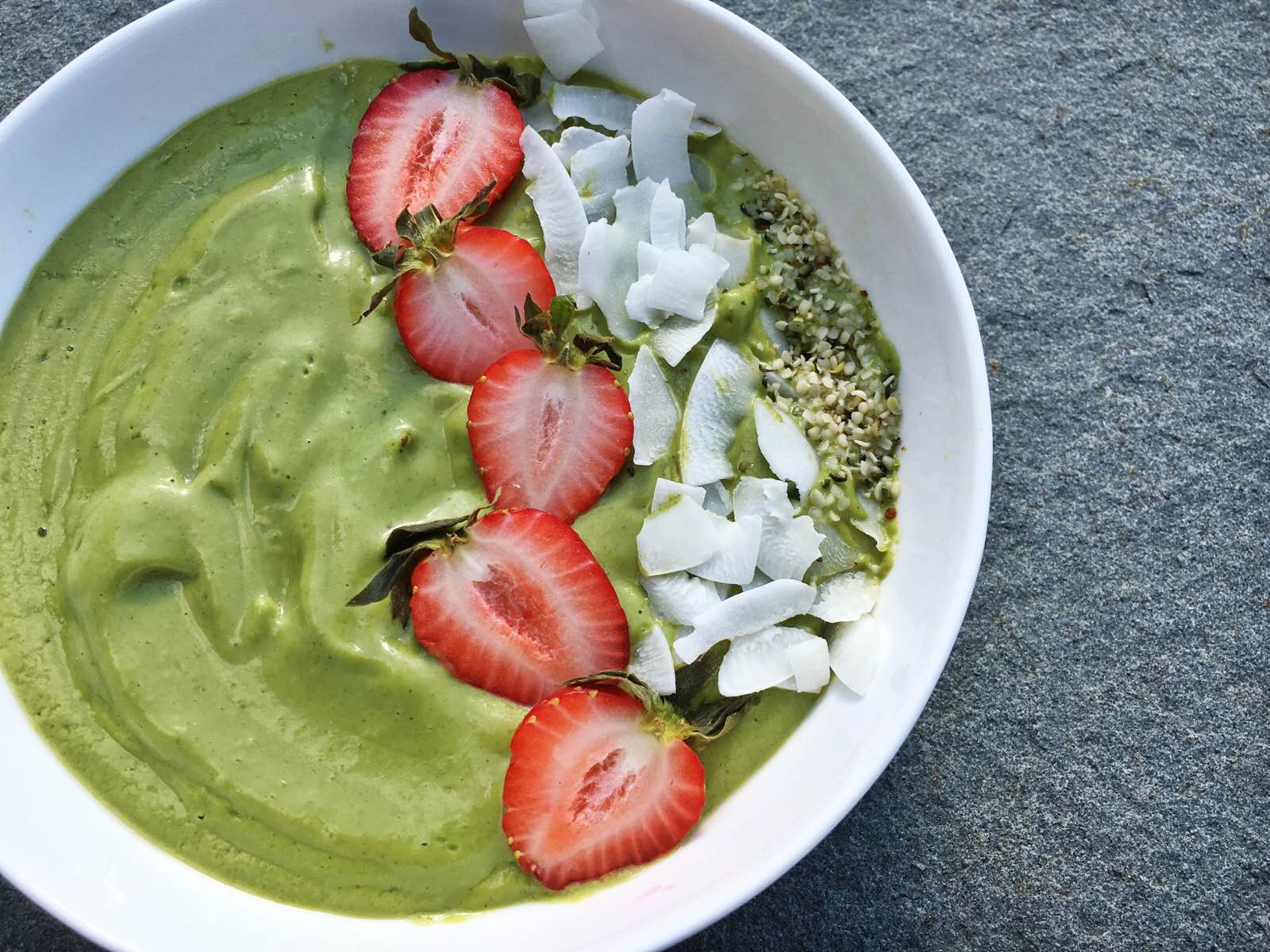 A delicious, energizing, yet calming new breakfast choice.
When it comes to healthy breakfasts there are a few "go-to" options that people typically turn to: fruit, oatmeal, or smoothies. Recently, though, I have been loving smoothie bowls.
Smoothie vs Smoothie Bowl
I prefer smoothie bowls to smoothies for a few reasons:
Eating with a spoon versus slurping with a straw automatically slows you down, forcing you to savor and enjoy your meal a littler better.
By adding toppings to a smoothie bowl, you are also forced to chew, which is preferable, as it starts the digestive process.
When made with frozen fruit, it tastes like ice cream, and when made with avocado, it tastes like pudding. It almost feels like you're eating dessert for breakfast…which is a fun way to start your day in my book.
Matcha Tea Benefits
This particular smoothie bowls utilizes matcha tea…a form of powdered green tea that offers a plethora of benefits:
Stress Reduction: Despite having a small amount of caffeine, matcha tea is calming on the body (versus coffee, which can increase your anxiety and give you the jitters). Studies show matcha tea assists in reducing physiological and psychological stress.
Antioxidant Protection: Antioxidants can protect your body from free radical damage, help reverse the effects of inflammation, and perhaps even aid in cancer prevention. Matcha tea is extremely high in antioxidants. One of the most powerful antioxidants unique to green tea is EGCG. A 2003 University of Colorado study found that drinking 1 cup of matcha green tea has 137 times the amount of antioxidant EGCG compared to a conventional cup of green tea, however other tests have suggested a more modest benefit, of only about 2-3 times the amount found in regular green tea.
Weight Loss: The same powerful antioxidant, EGCG, that may offer disease prevention, also supports a healthy metabolism, which can aid in weight loss. A 2005 study in the American Journal of Clinical Nutrition showed that participants who drank green tea extract daily dropped almost twice as much weight in 12 weeks as participants who didn't.
Matcha versus Green Tea
Matcha is a form of powdered green tea, which is traditionally whisked into a cup of hot water, so that you end up consuming the whole leaf, unlike when using a green tea bag, in which the leaves are steeped in hot water and then discarded.
Because you consume the whole leaf when drinking matcha, you end up with more antioxidants and benefits versus traditional green tea.
Try This Matcha Smoothie Bowl
If you try this recipe, let me know! Leave a comment, rate it (by clicking the stars in the upper right of the recipe card, below), and don't forget to tag a photo @mariamarlowe or #mariamarlowe on Instagram or Facebook. I'd love to see what you come up with!
Matcha Smoothie Bowl
Ingredients
Topping
seeds (pumpkin, sunflower, or hemp)
Instructions
Place all smoothie ingredients in a blender and blend on high until smooth.

Pour into a bowl and top with your favorite toppings.
Recipe Notes
Use the search bar to find my homemade hemp milk recipe, or use store bought.

Did you make this recipe?
Tag @mariamarlowe on instagram and hashtag #healthybymarlowe for a chance to be featured and win awesome prizes each month.
Clearer Skin in Just 3 Days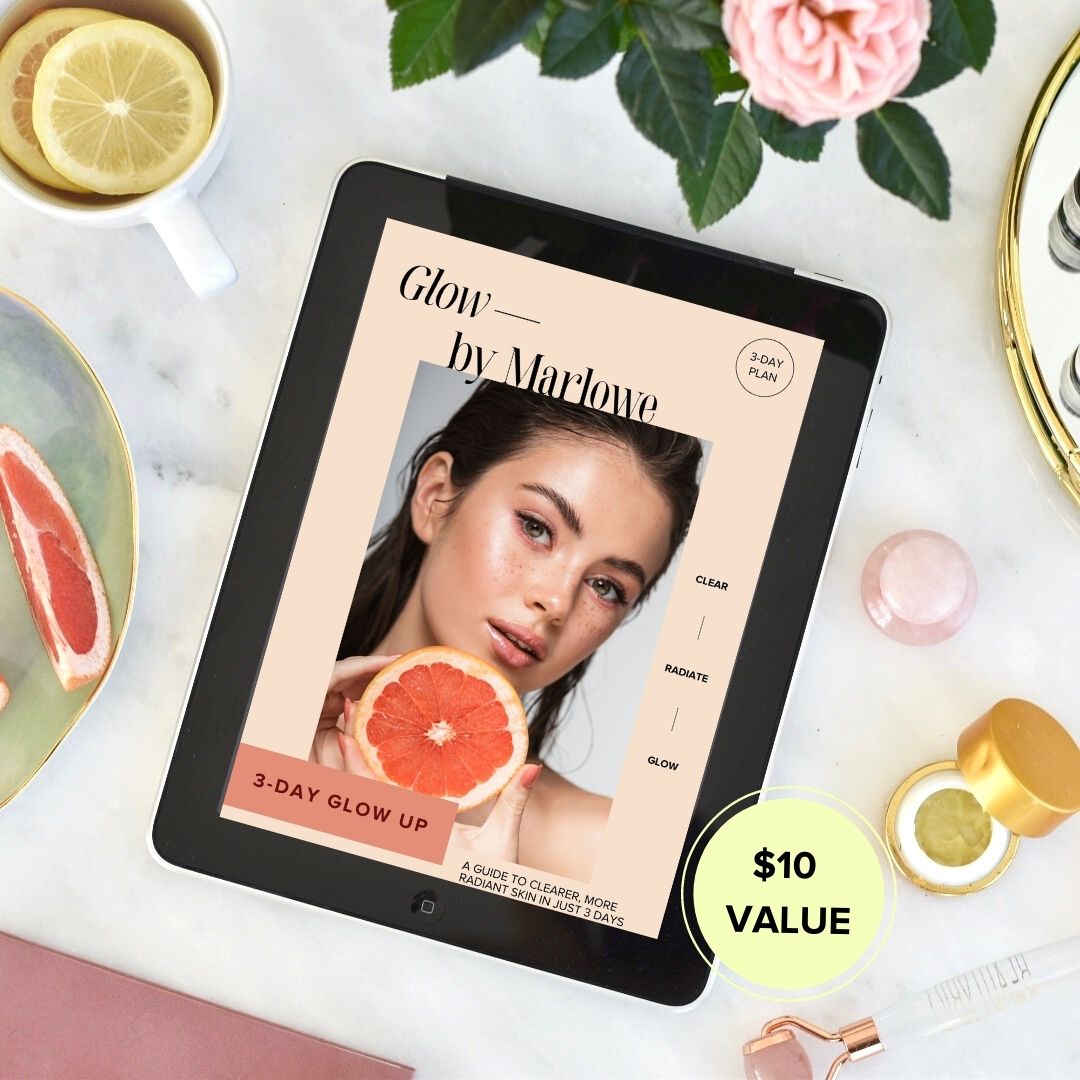 Sign up for my weekly newsletter to get the latest recipes, articles, & podcasts delivered to your inbox.

Plus, you'll receive The Glow Up Guide right away, a delicious 3-day meal plan to reduce redness and bumps, fast.