Who says you need to eat something sweet for breakfast? You don't, and you're better off with something like this low glycemic spiced cauliflower Paleo breakfast bowl, loaded with veggies, protein, and healthy fat that will keep you fueled for hours and hours.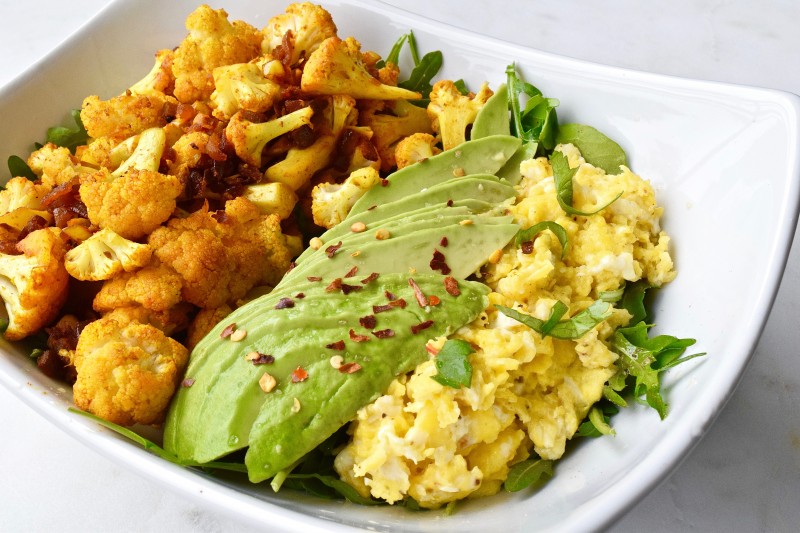 Shop This Paleo Breakfast Bowl
I get my produce from my local farmer's market, but Amazon Fresh and Whole Foods are great options to save time and have organic produce shipped to your door!
Simply Organic Spices
I love this brand of organic spices, they are always the freshest, most vividly colorful and most flavorful. Some of my favorites are oregano, basil, thyme, and rosemary (feel free to experiment with this recipe!).
Get them for 25% or more off at Vitacost.
Avocado Oil
Avocado oil is great for high-heat cooking because it's much more heat-resistant than coconut oil or olive oil. It can withstand temperatures up to 520°F.
I use Primal Kitchen Avocado Oil, which is 36% off at Vitacost.
Organic Eggs
Ideally, eggs should be organic and pasture-raised to ensure the chickens have been raised and fed as naturally as possible, giving you the healthiest eggs.
Get a dozen organic eggs for $5.21 from Amazon Fresh.

Try This Paleo Breakfast Bowl
If you try this recipe, let me know! Leave a comment, rate it (by clicking the stars in the upper right of the recipe card, below), and don't forget to tag a photo @mariamarlowe or #mariamarlowe on Instagram or Facebook. I'd love to see what you come up with!

First, make the cauliflower: Heat a medium or large sized skillet over medium heat. Add enough oil to lightly coat the bottom of the pan, and when hot, add the onion, garlic, and spices, except salt and pepper. Cook for 3 minutes before adding the cauliflower along with 1-2 tablespoons of water. Let cook for 7-10 minutes until soft, stirring occasionally.

Meanwhile, prepare the bowl by adding the arugula and lightly dressing with olive oil, lemon juice, salt and pepper, to taste. When cauliflower is done, put it on top of the arugula.

Clean the pan and return to stove top (or you can skip cleaning, the eggs will look a little darker from the spices, but they will pick up the flavor of the spices). Crack the eggs into a bowl and scramble with a fork. Turn the pan to medium heat, add a teaspoon of oil to the pan, then when hot, add the eggs. Season with a pinch of salt and pepper. Use a fork to stir once in a while, for a few minutes, until eggs are yellow and cooked fully through. Add to the arugula/cauliflower bowl.

Top with sliced avocado if desired.
Nutrition Facts
Low Glycemic Spiced Cauli Paleo Breakfast Bowl
Amount Per Serving
Calories 300
Calories from Fat 90
% Daily Value*
Total Fat 10g 15%
Cholesterol 93mg 31%
Sodium 446mg 19%
Potassium 719mg 21%
Total Carbohydrates 14g 5%
Protein 7g 14%
* Percent Daily Values are based on a 2000 calorie diet.
If you have some on hand, you can top with fresh chopped parsley or herbs if desired.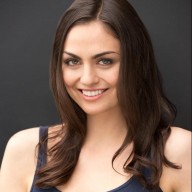 Maria Marlowe
Maria Marlowe is a holistic nutritionist and wellness coach who uses real food to help her clients improve their health, weight, and skin. She offers meal plans, ongoing group workshops both in NYC and online, and writes healthy and delicious recipes for her popular blog. She is also the author of The Real Food Grocery Guide, the most practical guide to selecting the healthiest foods, without going broke. Praised by Dr. Oz and InStyle magazine, it was a #1 new release on Amazon.