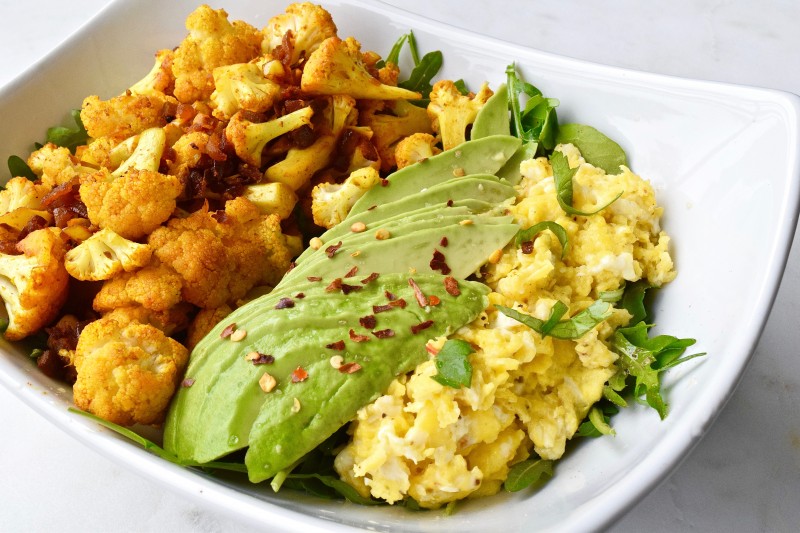 Who says you need to eat something sweet for breakfast? You don't, and you're better off with something like this low glycemic spiced cauliflower Paleo breakfast bowl, loaded with veggies, protein, and healthy fat that will keep you fueled for hours and hours.
Shop This Paleo Breakfast Bowl
I get my produce from my local farmer's market, but Amazon Fresh and Whole Foods are great options to save time and have organic produce shipped to your door!
Simply Organic Spices
I love this brand of organic spices, they are always the freshest, most vividly colorful and most flavorful. Some of my favorites are oregano, basil, thyme, and rosemary (feel free to experiment with this recipe!).
Get them for 25% or more off at Vitacost.
Avocado Oil
Avocado oil is great for high-heat cooking because it's much more heat-resistant than coconut oil or olive oil. It can withstand temperatures up to 520°F.
I use Primal Kitchen Avocado Oil, which is 36% off at Vitacost.
Organic Eggs
Ideally, eggs should be organic and pasture-raised to ensure the chickens have been raised and fed as naturally as possible, giving you the healthiest eggs.
Get a dozen organic eggs for $5.21 from Amazon Fresh.

Try This Paleo Breakfast Bowl
If you try this recipe, let me know! Leave a comment, rate it (by clicking the stars in the upper right of the recipe card, below), and don't forget to tag a photo @mariamarlowe or #mariamarlowe on Instagram or Facebook. I'd love to see what you come up with!
Low Glycemic Spiced Cauli Paleo Breakfast Bowl
Instructions
First, make the cauliflower: Heat a medium or large sized skillet over medium heat. Add enough oil to lightly coat the bottom of the pan, and when hot, add the onion, garlic, and spices, except salt and pepper. Cook for 3 minutes before adding the cauliflower along with 1-2 tablespoons of water. Let cook for 7-10 minutes until soft, stirring occasionally.

Meanwhile, prepare the bowl by adding the arugula and lightly dressing with olive oil, lemon juice, salt and pepper, to taste. When cauliflower is done, put it on top of the arugula.

Clean the pan and return to stove top (or you can skip cleaning, the eggs will look a little darker from the spices, but they will pick up the flavor of the spices). Crack the eggs into a bowl and scramble with a fork. Turn the pan to medium heat, add a teaspoon of oil to the pan, then when hot, add the eggs. Season with a pinch of salt and pepper. Use a fork to stir once in a while, for a few minutes, until eggs are yellow and cooked fully through. Add to the arugula/cauliflower bowl.

Top with sliced avocado if desired.
Recipe Notes
If you have some on hand, you can top with fresh chopped parsley or herbs if desired.

Did you make this recipe?
Tag @mariamarlowe on instagram and hashtag #healthybymarlowe for a chance to be featured and win awesome prizes each month.
Clearer Skin in Just 3 Days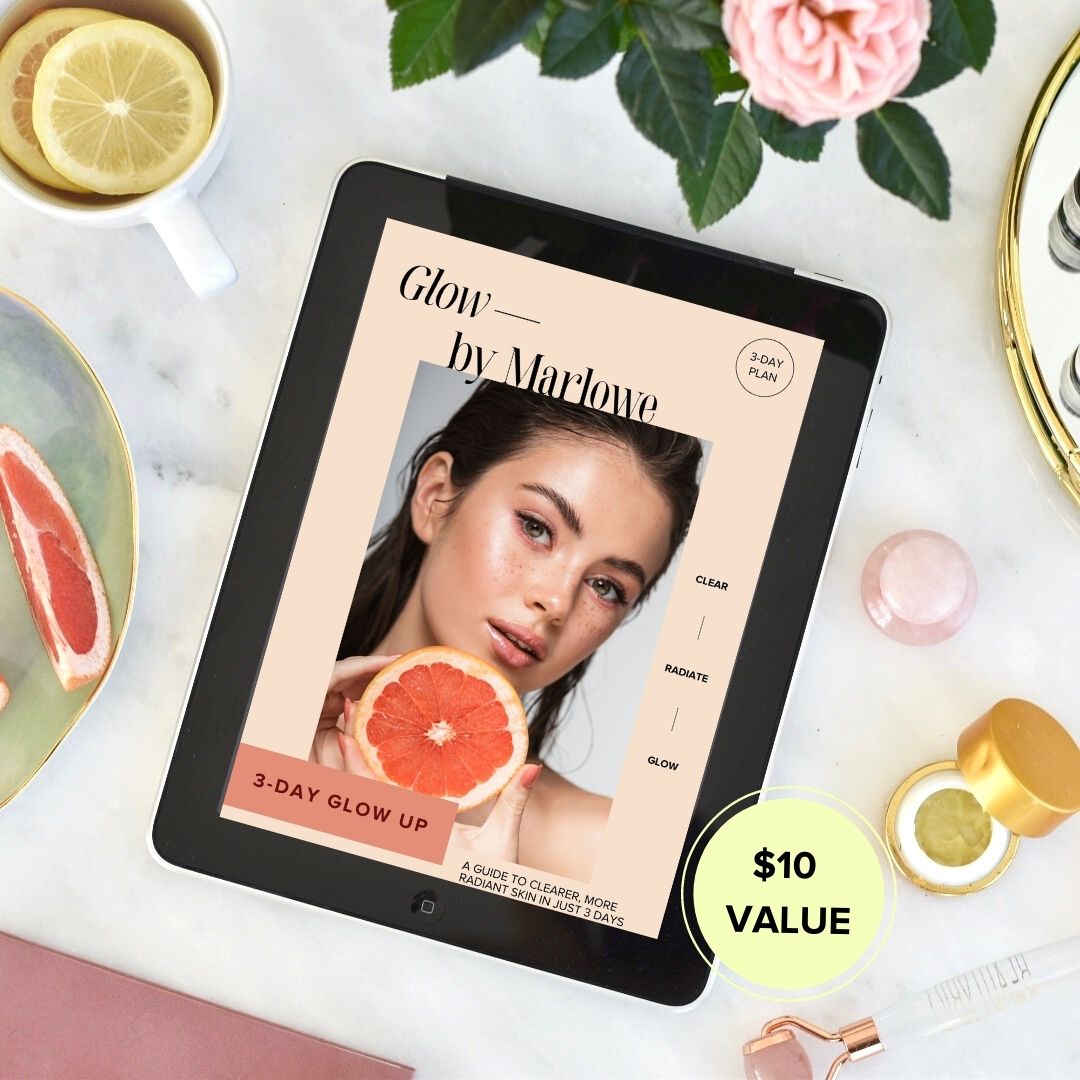 Sign up for my weekly newsletter to get the latest recipes, articles, & podcasts delivered to your inbox.

Plus, you'll receive The Glow Up Guide right away, a delicious 3-day meal plan to reduce redness and bumps, fast.