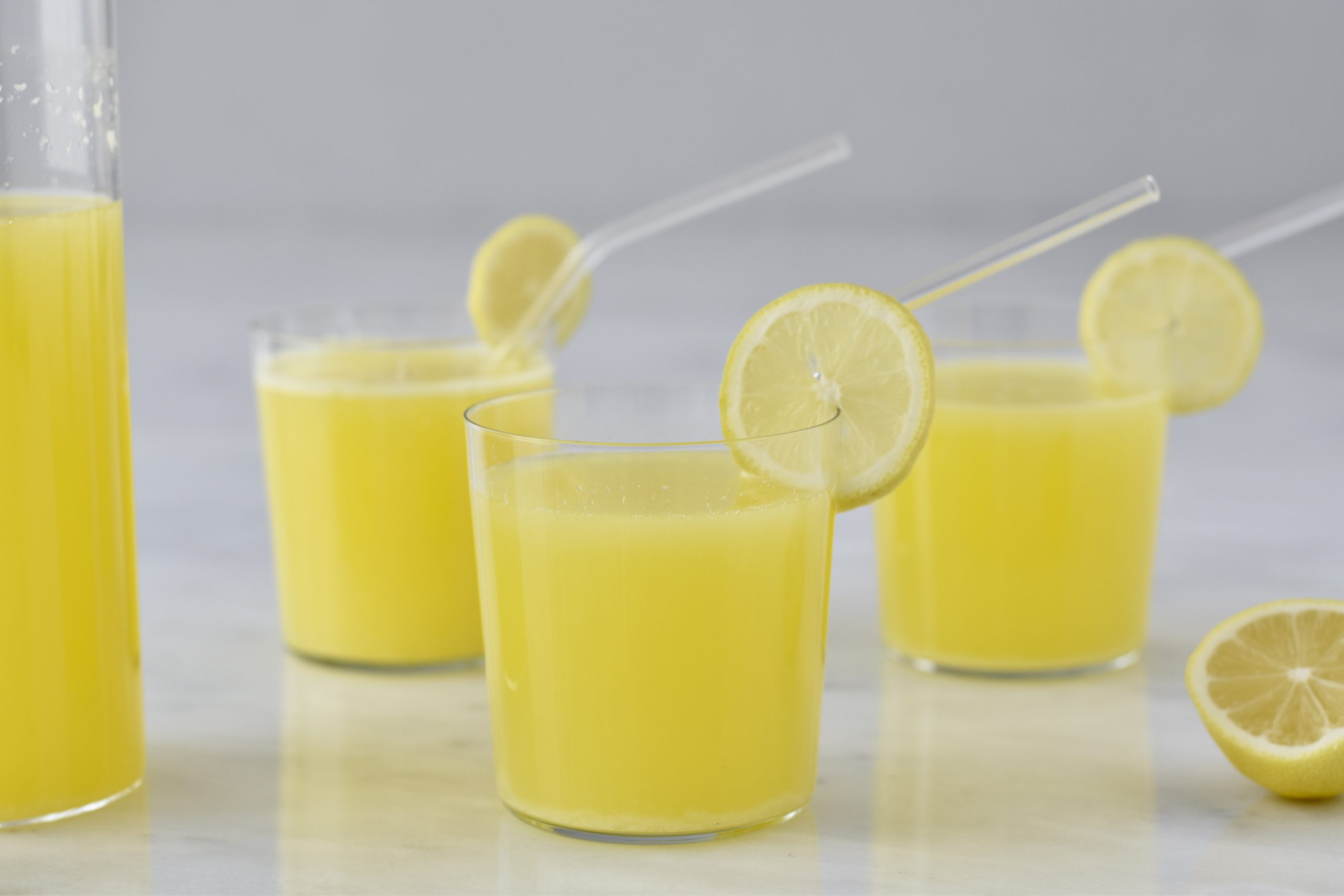 Glow Glo Juice got its name from its Day-Glo color and ability to give you a healthy glow.  Made with lemon peel, orange, and ginger, it provides a refreshing beauty and immunity boost.
Health Benefits Of Glow Glo Juice:
Rich in Vitamin C: Vitamin C protects and supports your collagen, and supports immunity.
Anti-inflammatory: Ginger helps to reduce inflammation (like redness and blemishes) and supports immunity.
Antioxidants: There are a variety of antioxidants in this beauty beverage, but an important one is limonene, which is concentrated in lemon peel. It's a particularly potent antioxidant because it stays in the body longer than many other antioxidants, like the ones found in green tea or cocoa. Antioxidants combat free radicals to keep your skin clear and wrinkle-resistant. Limonene is even being studied for its cancer-fighting potential.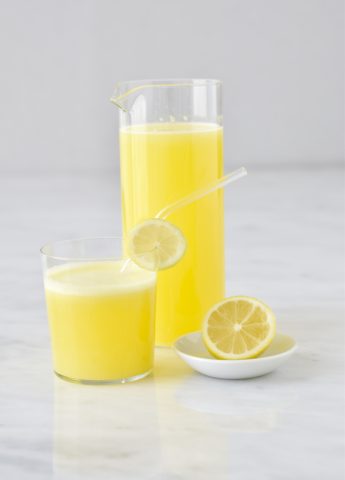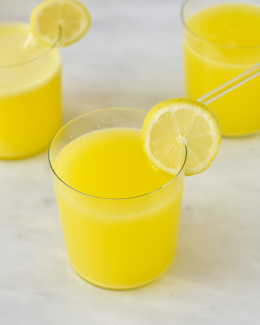 Glow Glo Juice
Ingredients
2

lemons

peeled, retain the peel of 1 lemon, remove white pith

1

orange

peeled

1

inch

fresh ginger

peeled

3

inch

fresh aloe (optional)

clear gel only

1.5-2

ltr

water
Instructions
Slice the lemons into quarters. Pop the flesh out and into the blender. Use a paring knife to carefully remove most of the white pith from the peel of one (or both) of the lemons. This prevents bitterness and increases the intensity of the color of the final juice

Slice the orange into quarters, and pop the flesh out, into the blender, along with ginger and enough water to hit the fill line.

If you're using aloe, which is optional, cut away the green leaves to reveal the clear inner gel. Sometimes there are yellow areas or yellowish liquid directly underneath the green leaves which should also be cut away and discarded. Add only the clear gel to the blender.

Blend for about 20 seconds, until most of the solids disappear. Let the juice sit for 5 minutes, you'll see the sediment settle, and the color turn from pale yellow to bright, almost neon yellow.

Use a spoon to hold back the foam while you pour through a fine-mesh sieve into glasses or a large pitcher.

Drink as is, over ice, or chill in the fridge before serving.

Did you make this recipe?
Tag @mariamarlowe on instagram and hashtag #healthybymarlowe for a chance to be featured and win awesome prizes each month.
Clear Skin Recipes
Want more skin-clearing recipes? Check out these easy and tasty Drinks For Clear Skin. Also, check out my Clear Skin Plan, a science-backed, doctor-approved program and meal plan to clear acne naturally through dietary and lifestyle changes. If you've tried everything else to no avail, it's time to get to the root causes and support your skin from within.
Clearer Skin in Just 3 Days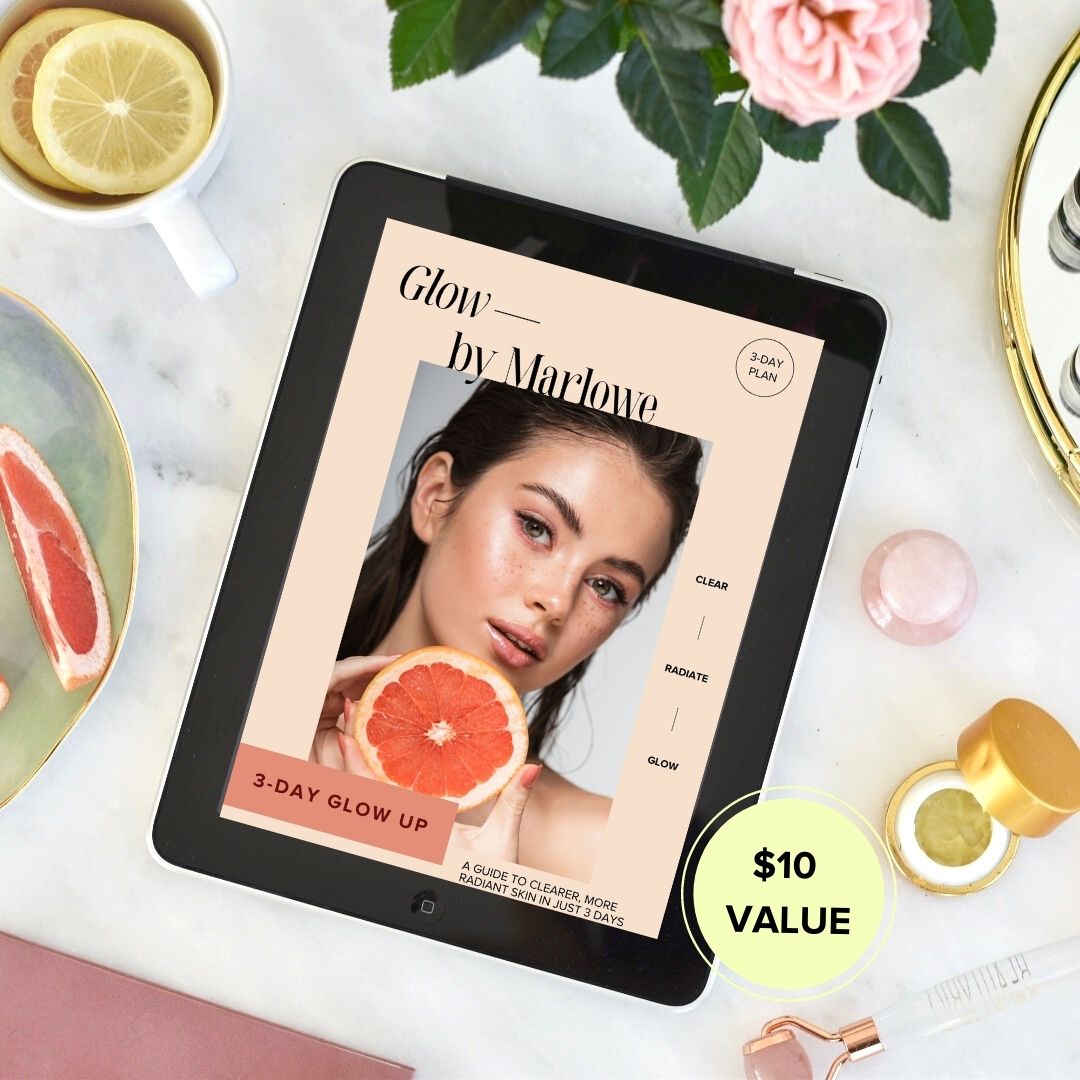 Sign up for my weekly newsletter to get the latest recipes, articles, & podcasts delivered to your inbox.

Plus, you'll receive The Glow Up Guide right away, a delicious 3-day meal plan to reduce redness and bumps, fast.