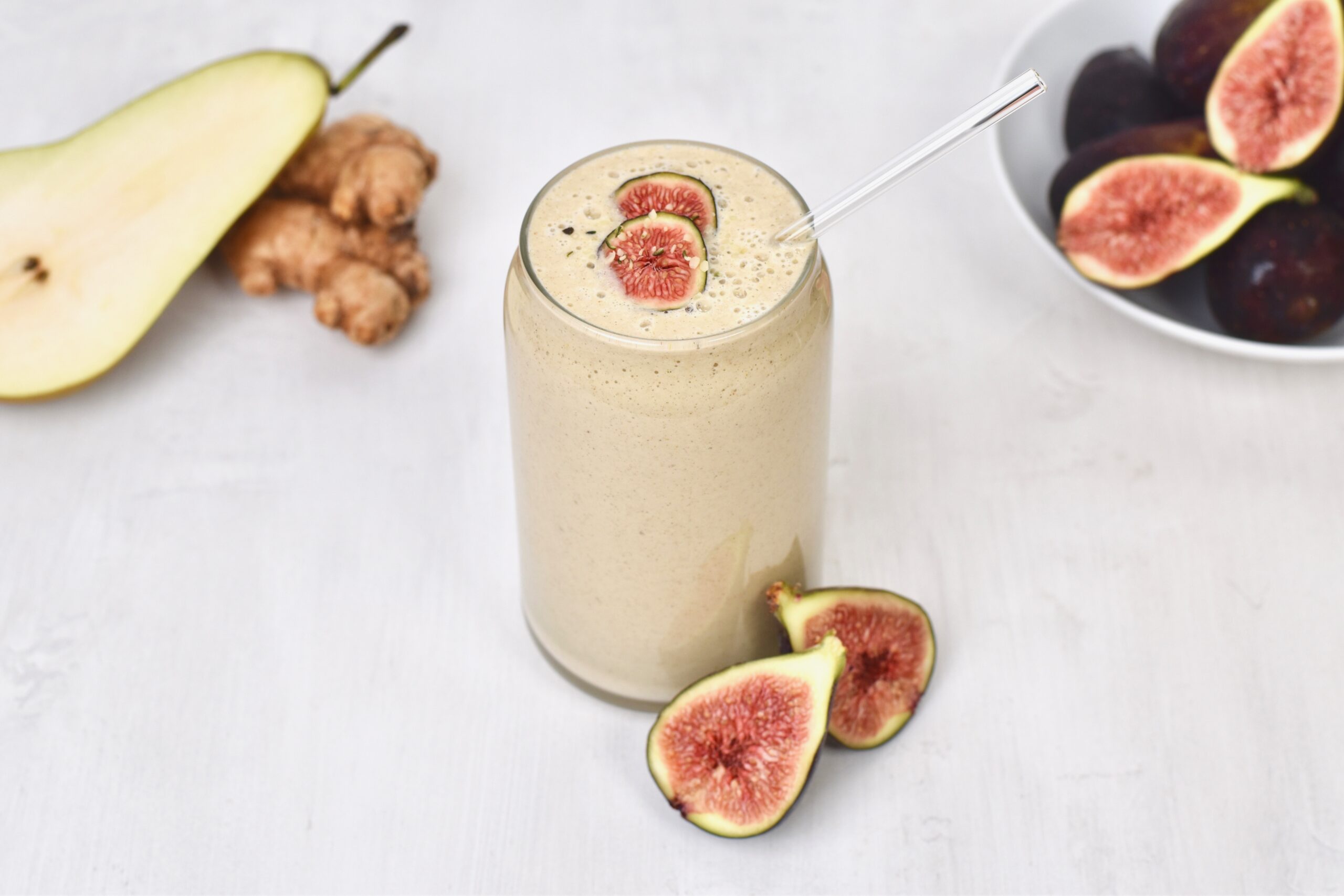 Take your blender out of hibernation for this creamy Vanilla Cinnamon Fig Winter Smoothie.
Ingredient Spotlight
Non-Dairy Greek Yogurt adds creaminess and a probiotic boost. Any unsweetened plain non-dairy yogurt, or even vanilla non-dairy yogurt would work. I like Culina brand coconut yogurt.
Pear is in season fall through winter, and adds a nice dose of fiber (6 grams) which helps to make the smoothie creamy and filling. For the best tasting smoothie, make sure it's ripe!
Fig imparts its distinct floral and sweet taste while providing an extra gram of fiber and small amounts of various minerals.
Ginger adds a warming zing to the smoothie, while supporting digestion and reducing inflammation.
Hemp seeds are a nutritional powerhouse. They provide complete plant-based protein (10 grams per 3 tablespoon serving) and omega-3 fatty acids (3 grams per 3 tablespoon serving), which helps to reduce inflammation. They also offer a variety of B-vitamins and 25% DV of zinc, 20% DV of iron, and 45% DV of magnesium. Personally, I like to use these in place of protein powder, but if you don't have them on hand, swap in your favorite protein powder (ideally one minimally processed and unflavored, or vanilla flavored).
Collagen Peptides add another 7 grams of complete protein. Research shows consuming collagen regularly may aid in skin hydration and elasticity, and also strengthen hair and nails. Be sure to choose grass-fed collagen. This is the one I personally use, as it's the best one I've found on the market: high quality, grass-fed, and pasture-raised. Plus the company is woman-owned, and always nice to support fellow women in business! Use the code MARLOWE for 15% off.
Cinnamon aids in blood sugar balance. Research shows that keeping your blood sugar stable is helpful in the reduction of acne.
Vanilla extract makes everything taste better.
Cinnamon Fig Smoothie
Instructions
Place all ingredients in a Vitamix or high speed blender and blend on high for 30 seconds - 1 minute
Recipe Notes
*The smoothie is designed to be delish at room temperature (if you don't want something cold on a winter morning!) but if you prefer an icy smoothy, simply replace 1/2 cup water with 1-1/2 cups ice instead.
*For a sweeter and creamier smoothie, instead of using 1 full pear, use 1/2 pear + 1/2 of a banana - fresh or frozen. 

Did you make this recipe?
Tag @mariamarlowe on instagram and hashtag #healthybymarlowe for a chance to be featured and win awesome prizes each month.
Clearer Skin in Just 3 Days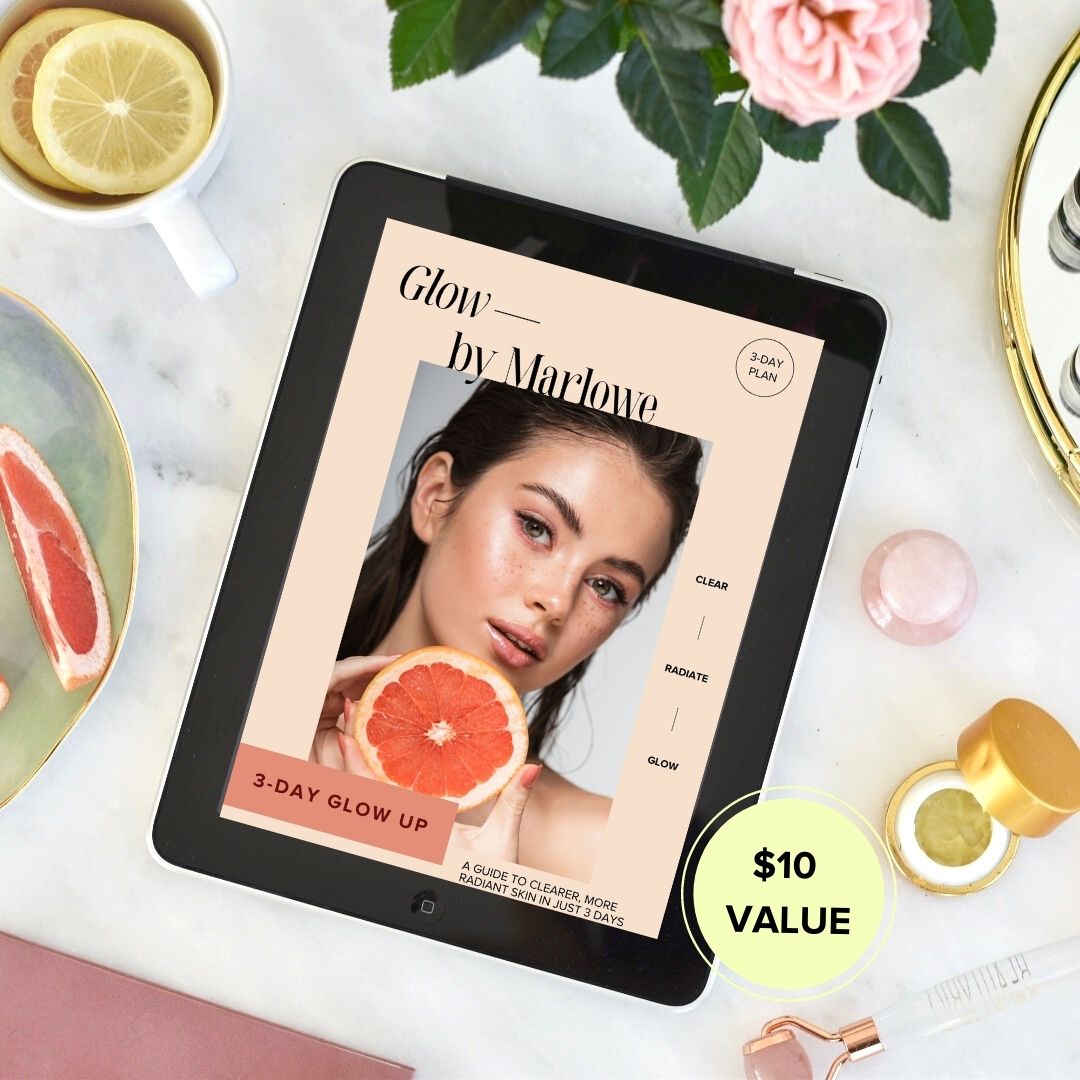 Sign up for my weekly newsletter to get the latest recipes, articles, & podcasts delivered to your inbox.

Plus, you'll receive The Glow Up Guide right away, a delicious 3-day meal plan to reduce redness and bumps, fast.