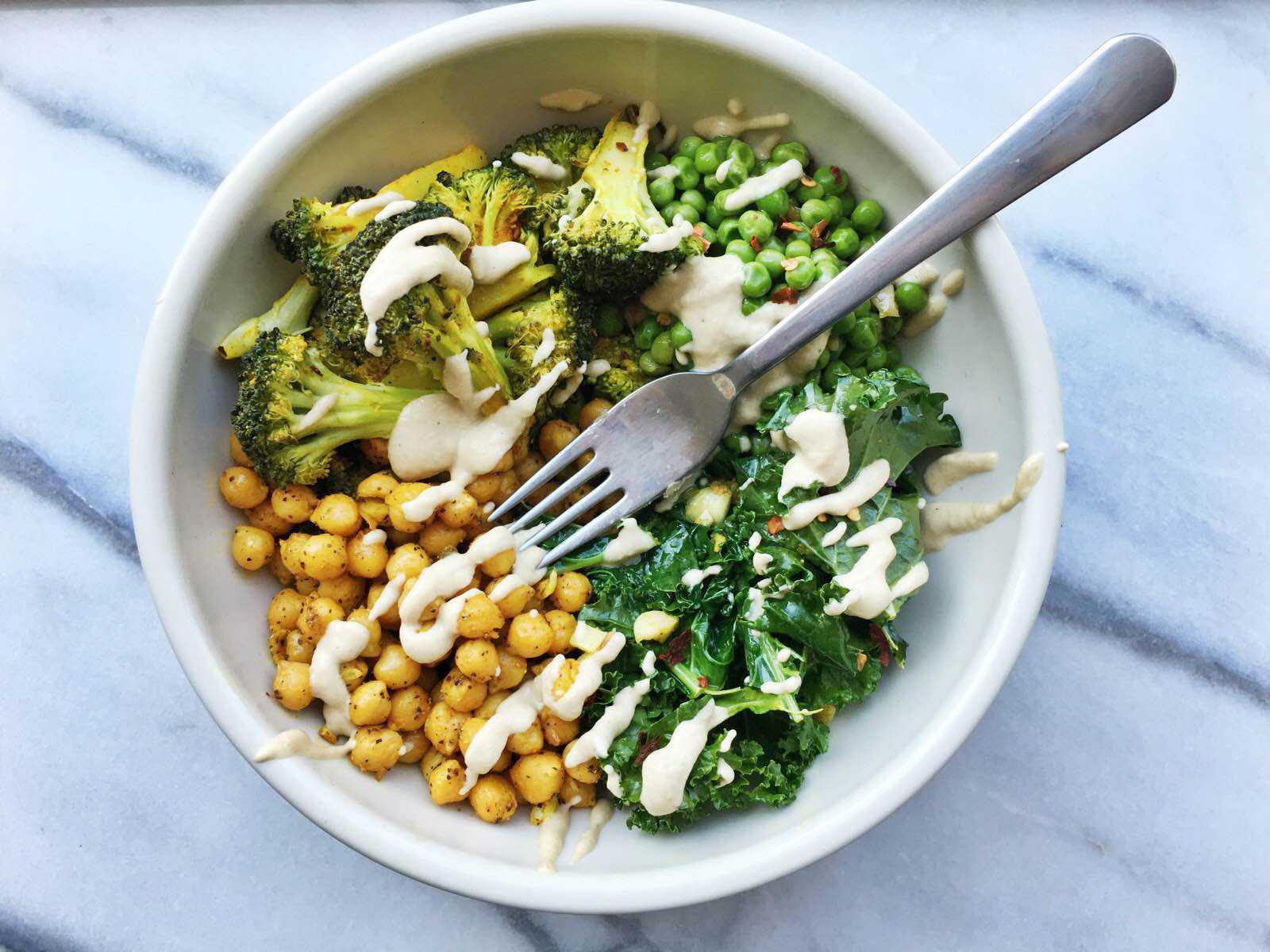 A green veggie bowl recipe with more protein than a steak!
Earth Day Recipe
Earth Day is April 22nd, a day to celebrate the fact that our individual choices have an impact when it comes to protecting the environment.
If you've been following me for a while, you know I'm always talking about how your food choices affect everything in your body, from your skin, to your migraines, to your heart disease and cancer risk, and everything in between.
It turns out, what you eat also affects the environment. 
The Meat & Climate Change Connection
According to the Environmental Protection Agency (EPA) "greenhouse gases from human activities are the most significant driver of observed climate change since the mid-20th century."
The livestock industry contributes 18% of all green house emissions to our environment, according to a report by the Food & Livestock Organization of the United Nations. The livestock industry is comprised of any animal farms, such as those used to raise meat or dairy animals.
Choosing to eat less meat not only supports your own health (as high meat consumption is linked to a number of chronic disease, from heart disease to certain cancers..I'll be sharing tons of studies and research on this topic in my forthcoming, Real Food Guide, to be published April 2017!), it also contributes to less meat production, and therefore less greenhouse gas emissions. 
(If you find yourself craving a movie night this weekend, watch the eye-opening Leo DiCaprio produced documentary Cowspiracy, for a closer look at how the livestock industry is linked to climate change.)
More Protein than a Steak!
The suggested serving size for steak is 3-4 oz, which would be either 22 or 30 grams of protein, respectively.
This green veggie bowl recipe contains 32g of protein!
1 cup chickpeas = 15 g protein
1 cup peas = 8 g protein
1 cup broccoli = 3 g protein
1 cup kale = 3 g protein
1 Tbsp. tahini= 3 g protein
Add that all up and BOOM, you've got yourself 32 grams of plant based protein. Side of heart disease not included 🙂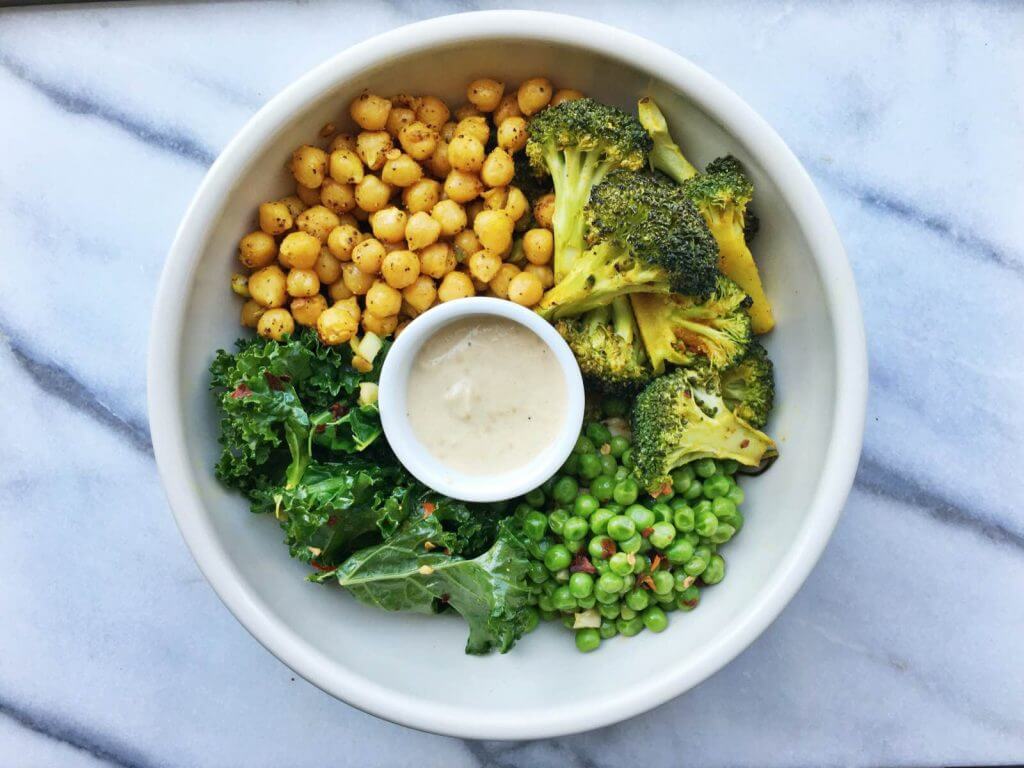 Green Veggie Bowl
Instructions
Pre-heat oven to 400 degrees.

If using frozen peas, pour into a bowl with room temp water to defrost while you prep remaining ingredients.

In a bowl, toss broccoli with 1-2 tsp olive oil, garlic powder, and 1/4 tsp. red pepper flakes. Lie out flat on a baking sheet, and bake for 10-15 minutes until bright green yet still slightly crisp. When done, remove to your bowl.

Meanwhile, drain the peas and saute: heat a pan over medium heat, add just enough oil to cover the bottom of the pan (about 1-2 tsp.), then add 1 clove minced garlic and 1/4 tsp. red pepper flakes, and peas. Cook for about 3-4 minutes, until thoroughly warmed through. Remove to bowl.

Next saute the chickpeas: You should still have a little oil / water from the peas in the pan so no need to add more if this is the case. (If your pan is dry, add a touch of olive oil). Add 1 clove minced garlic, turmeric, cumin, black pepper, and cayenne. Allow to cook about 30 seconds until fragrant, than add the chickpeas and stir well. Cook for about 3-5 minutes, until thoroughly warmed through. Remove to bowl.

Next, quick saute the kale: Add just enough oil to cover bottom of pan, then add 1 clove minced garlic, 1/4 tsp. red pepper flakes, and kale. Saute until bright green, about 2-3 minutes. Remove to bowl.

All your veggies should be in your bowl now.

To make the dressing: in a small bowl, whisk together tahini and water with a fork for about 1 minute, until it becomes a uniform, creamy dressing consistency. Season with salt and pepper to taste.

Pour dressing over your bowl, and enjoy!
Recipe Notes
*To save time, you can cook the chickpeas, peas, and kale together at one time. Just add all the garlic and spices at once, with those 3 ingredients and stir well.

Did you make this recipe?
Tag @mariamarlowe on instagram and hashtag #healthybymarlowe for a chance to be featured and win awesome prizes each month.
Clearer Skin in Just 3 Days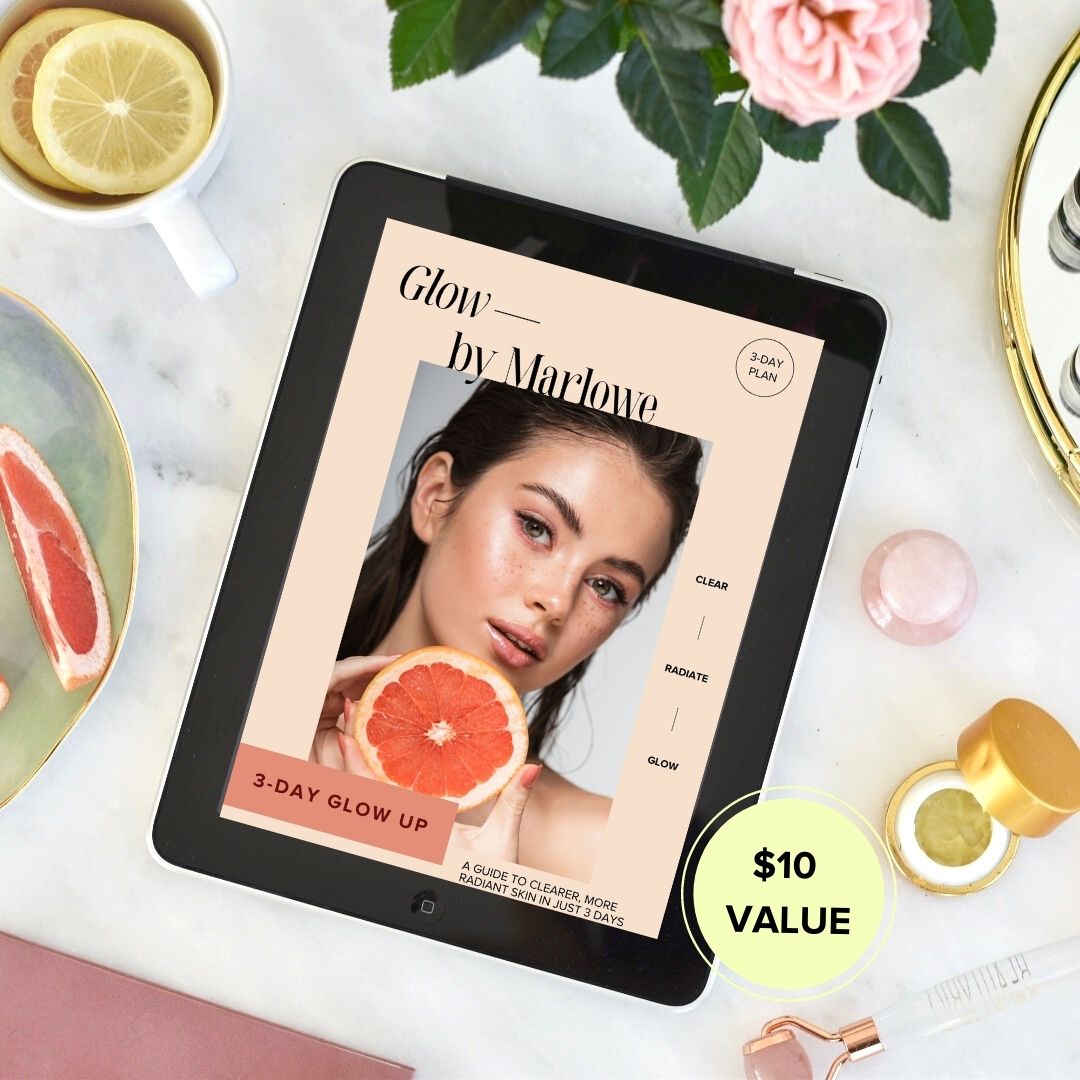 Sign up for my weekly newsletter to get the latest recipes, articles, & podcasts delivered to your inbox.

Plus, you'll receive The Glow Up Guide right away, a delicious 3-day meal plan to reduce redness and bumps, fast.