Craving sweets? Try these 5-minute Double Dark Chocolate No-Bake Brownies made with simple, whole ingredients.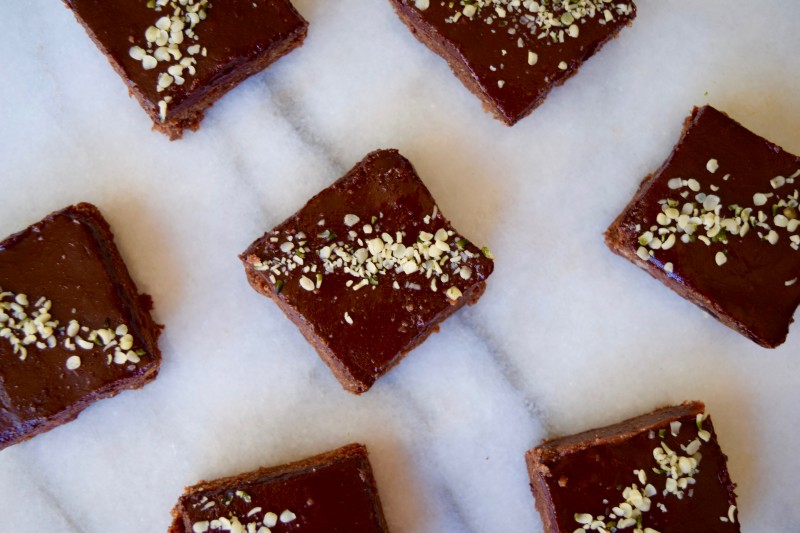 One of my top tips for getting over a sweet tooth is to switch to fruit to satisfy a desire for sweetness. But when you're craving a brownie (or other decadent dessert), I get it, an apple isn't always going to cut it.
Enter, fruit-sweetened desserts like these Double Dark Chocolate No-Bake Brownies.
Made with almond flour, cacao and dates, and topped with a fudgy dark chocolate sauce (which firms up into a frosting if you refrigerate) this is one easy, fruit-based dessert.

Try These Double Dark Chocolate No-Bake Brownies
If you try this recipe, let me know! Leave a comment, rate it (by clicking the stars in the upper right of the recipe card, below), and don't forget to tag a photo @mariamarlowe or #mariamarlowe on Instagram or Facebook. I'd love to see what you come up with!
Make the brownie: add all no-bake brownie ingredients to a blender and blend on high until a dough like consistency is formed. Press the dough into a 6x6 inch cheesecake pan or baking dish (or hey, even a glass tupperware), to make the square shape.

Remove from the pan (just push bottom up for cheesecake pan, or flip over baking dish/tupperware) and put on a plate.

Make the chocolate sauce topping: In a bowl, mix together sauce ingredients until fully combined. Using a spoon or spatula, spread the sauce on top of the brownies. If you want a more frosting like consistency, refrigerate for at least an hour, to firm up the sauce.

To serve, cut into squares, and sprinkle with hemp seeds, if desired.
*If maple syrup was in your fridge, warm it quickly, gently on stove top or in microwave. If it is cold, it will cause the coconut oil to clump.
You can skip the chocolate sauce topping, the brownies by themselves are delicious.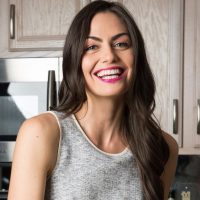 Maria Marlowe
Maria Marlowe is a holistic nutrition and wellness coach who uses real food to help her clients improve their health, weight, and skin. She offers a 28-day healthy eating meal plan that teaches you how to batch cook, as well as one to clear up acne. Her most popular program is EatSLIM, a 10-week online group glass that guides participants to develop healthy eating habits that stick – and lose weight, boost their metabolism, improve their digestion, and quit sugar.
She writes healthy and delicious plant-based recipes for her popular blog. She is also the author of the #1 New Release on Amazon, The Real Food Grocery Guide, the most practical guide to selecting the healthiest foods, without going broke, which has been praised by Dr. Oz and InStyle magazines. You can find her on instagram @mariamarlowe.