For night's you don't want to cook, this quick meal will save you from bad takeout.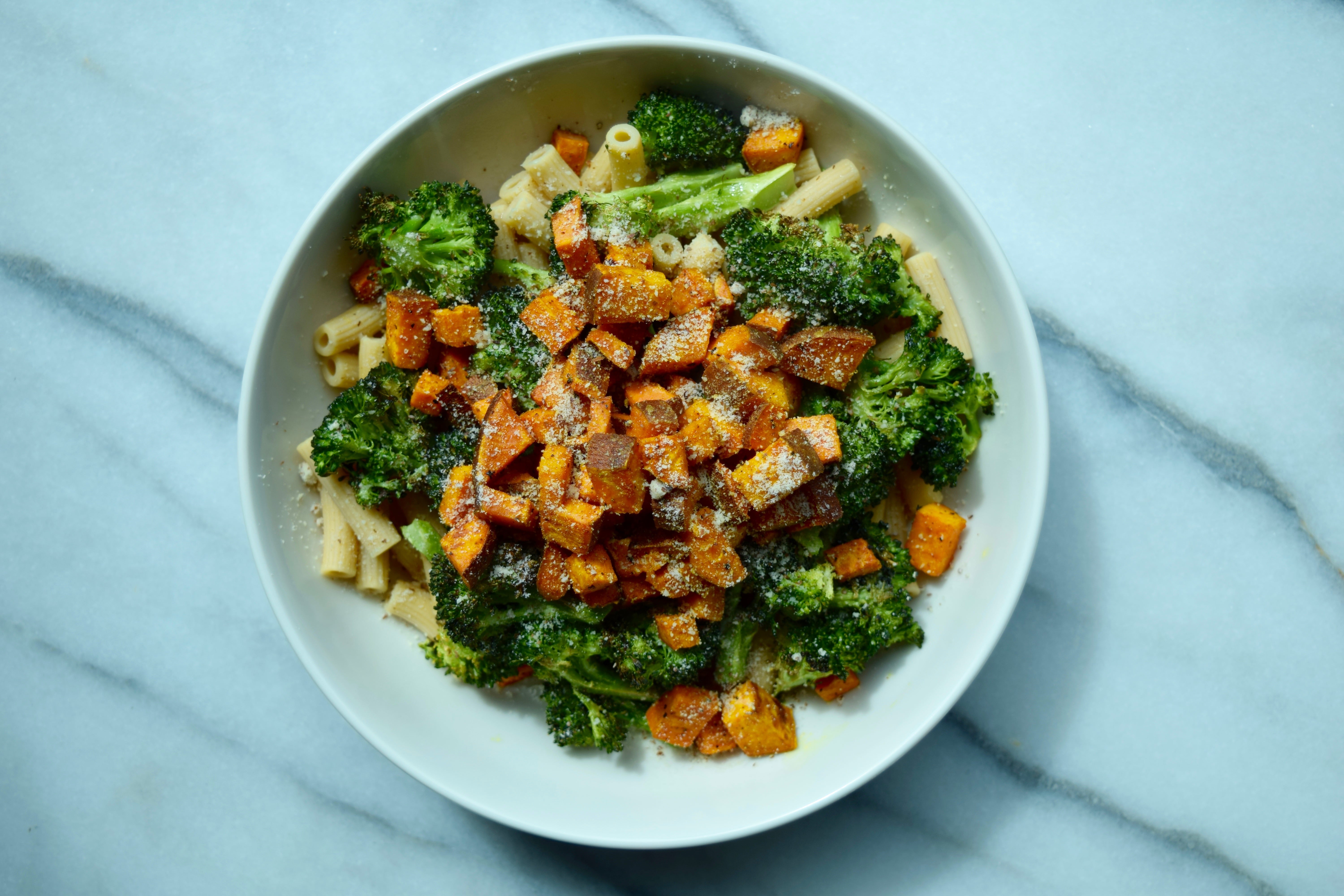 I'm a huge fan of alternative pastas – those made from beans or lentils – especially when they are the vehicle to get more veggies in.
Chickpea Pasta
I've tried just about every variety of bean and lentil pasta, and I personally love chickpea pasta. It's extremely high in protein and fiber, making it extra filling. For example, a 2 oz (dry) serving of Banza chickpea pasta has an impressive 14g of protein and 8g of fiber.
Pile on Veggies
This is meant to be an easy, fuss-free dish, so use copious amounts of whatever vegetables you have on hand. (Shoot for at minimum 2-3 cups veggies). As for cooking them, steam, saute, or roast them. The trick to making the veggies roast quickly is to cut them in small pieces. (For example, that's what I did with the sweet potato, which was ready in just 20 minutes). Also, don't forget to add flavor – saute with garlic and onions, or sprinkle with herbs and spices after steaming or before roasting. You could try:
sauteed onions and summer squash
sauteed baby spinach (or any greens) and garlic
sauteed garlic and mushrooms
roasted broccoli and sweet potatoes
steamed frozen veggies (you could even put the steamer basket over the pot you use to cook the pasta!)
steamed broccoli and carrots
Also, if you have fresh herbs on hand, such as basil or parsley, chop it up and throw that on at the end, just before serving for even more flavor (and health benefits!)
Genius Cheese Swap
Replace grated cheese with a sprinkle of almond flour and pink himalayan salt. The fat from the almonds mixed with the saltiness from the pink salt makes for a delicious dairy-free alternative. It looks and tastes just like grated cheese!
Where to Find Chickpea Pasta
Chickpea pasta is popping up beyond just the health food store, in some more progressive grocery stores. But, I personally prefer to buy my dry goods online, because they are typically significantly cheaper than a regular supermarket or health food store.
The brands I prefer is Banza. It comes in a variety of pasta shapes.
You can find them on Thrive Market for over 25% off retail price (use the link to get 20% off your first 3 orders!).

The Recipe
If you try this recipe, let me know! Leave a comment, rate it (by clicking the stars in the upper right of the recipe card, below), and don't forget to tag a photo @mariamarlowe or #mariamarlowe on Instagram or Facebook. I'd love to see what you come up with!
Preheat oven to 400 degrees Fahrenheit.

Put a pot of water on the stove to boil for the pasta.

Chop sweet potato into small, 1-cm cubes. Lay out on a baking sheet, drizzle with olive oil, garlic powder, salt, and pepper. Toss well, and arrange sweet potatoes in a single layer with space in between pieces, so they cook evenly. Put in the oven and cook for 20 minutes, turning half way through.

Chop the broccoli into bite-size florets, lay out on a second pan, drizzle with olive oil, garlic powder, salt, and pepper. Toss well, arrange in a single layer with space in between, and put it in the oven for about 20 minutes.

When the water is boiling, add chickpea pasta. Cook for 9 minutes. Drain.

Put the pasta in a bowl, top with the sweet potato and broccoli once they're ready.

Top with a drizzle of olive oil, salt, pepper, and almond flour (if you wish).
Feel free to add whatever spices you like when roasting. Try adding turmeric and cumin on the sweet potatoes, or oregano and thyme.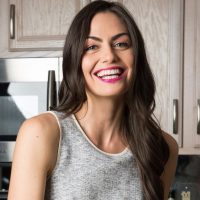 Maria Marlowe
Maria Marlowe is a holistic nutrition and wellness coach who uses real food to help her clients improve their health, weight, and skin. She offers a 28-day healthy eating meal plan that teaches you how to batch cook, as well as one to clear up acne. Her most popular program is EatSLIM, a 10-week online group glass that guides participants to develop healthy eating habits that stick – and lose weight, boost their metabolism, improve their digestion, and quit sugar.
She writes healthy and delicious plant-based recipes for her popular blog. She is also the author of the #1 New Release on Amazon, The Real Food Grocery Guide, the most practical guide to selecting the healthiest foods, without going broke, which has been praised by Dr. Oz and InStyle magazines. You can find her on instagram @mariamarlowe.