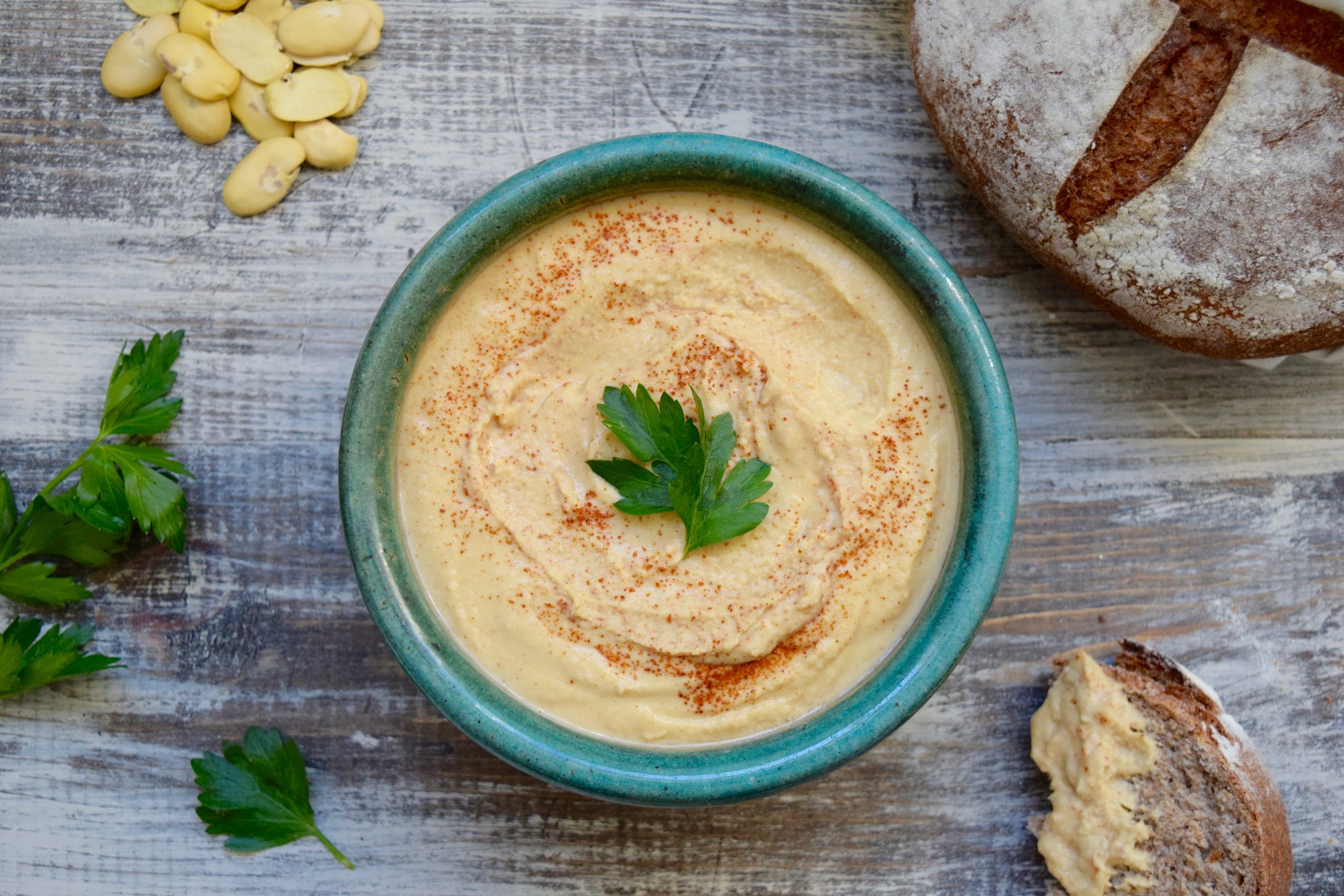 Bessara is like the Moroccan version of hummus…and it's just as delicious and addictive.
What is Bessara Made From?
Starting with fava beans (aka broad beans) as a base, this simple bessara recipe only has a few additional ingredients: garlic, lemon juice, olive oil, and spices, including cumin, paprika, cayenne, and salt.
If you like hummus, you'll definitely love this bessara recipe.
How is Bessara Eaten?
In Morocco, bessara is served with bread.
I recommend either slathering it on a slice or two of high quality gluten-free toast, eating it with a spoon, dipping veggies in it, or, thinning it out with additional water to make it into a soup (which is another way it's served in Morocco).
Now here is something that may surprise you: Bessara is typically eaten for breakfast …and while it may seem strange to eat bean dip or soup for breakfast in America, here is why it's a good idea: This will keep your blood sugar balanced (unlike the typical sugar-laden cereals and baked goods), which means your energy will be consistently high throughout the day, and you'll be less likely to want to snack in between meals.
Whether you eat it for breakfast, lunch, dinner, or a snack, this is one recipe you'll want to make over and over again!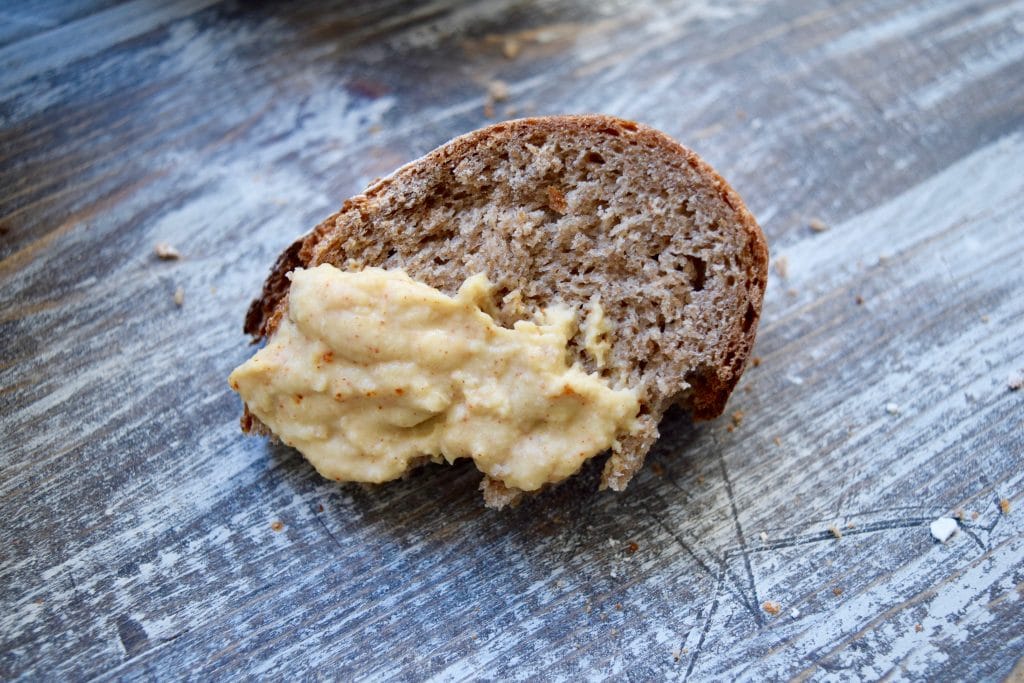 Beauty & Health Benefits of Fava Beans
Fava beans are bursting with nutrients. 1 cup provides a hefty 13 grams of protein, 9 grams of fiber (36% of the recommended DV), and a decent amount of vitamins and minerals, including 44% DV of folate, 14% DV of iron and 18% DV of magnesium. So what does that mean?
First and foremost, fava beans will fill you up and keep you satisfied. You won't want to snack in between meals. Plus, the high fiber content contributes to healthy digestion.
Folate is a B vitamin critical for health, and a deficiency is associated with a higher risk of blood disease and for pregnant women, a higher chance of giving birth to a child with birth defects. (Note that the CDC recommends women of childbearing age to supplement with folic acid – not just eat folate rich foods – to prevent this). It aids in the production and repair of DNA, and supports nervous system function, cardiac function, and red blood cell production.
Iron is needed for energy. If you're feeling fatigued and exhausted all the time, you may be low in this mineral. Magnesium supports bone health, aids in digestion and elimination, relieves muscle aches, and even helps calm your nerves and promote feelings of relaxation.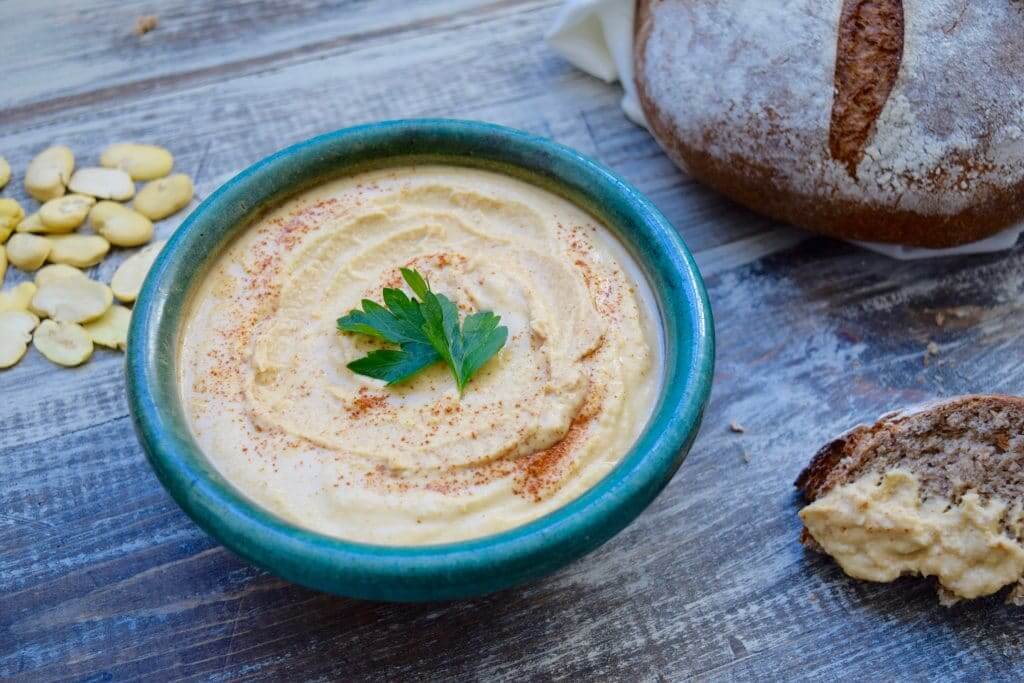 Bessara
Ingredients
Garnish (as you like)
Instructions
If you have a pressure cooker, add the beans to the pot, cover with 2 inches of water, and cook on high pressure for 5 minutes. Remove from heat and let the pressure release naturally (about 10 minutes). If you don't have a pressure cooker, add them to a regular pot and cover with 2-3 inches of water. Bring to a boil over high heat, then reduce heat to medium and simmer until tender, about 1 hour.

Reserve about 1 cup of the cooking liquid and set aside. Drain the rest of the beans, then add to a blender, along with all remaining ingredients (except garnish).

Blend on high, until a smooth and creamy consistency is formed. If you prefer a thinner consistency, you can add the reserved liquid to thin it out, 1 tablespoon as a time, as you like.

Taste and adjust any seasonings as you like.

You can serve right away, by pouring into a bowl and adding garnish, or you could also reheat in a small pan on the stove top, so that it is served warm. Traditionally it is served warm with bread.
Recipe Notes
Turn this into a soup by reserving all the cooking liquid, and adding it into the blender about a half cup at a time, until your desired soup-like consistency is formed.

Did you make this recipe?
Tag @mariamarlowe on instagram and hashtag #healthybymarlowe for a chance to be featured and win awesome prizes each month.
Clearer Skin in Just 3 Days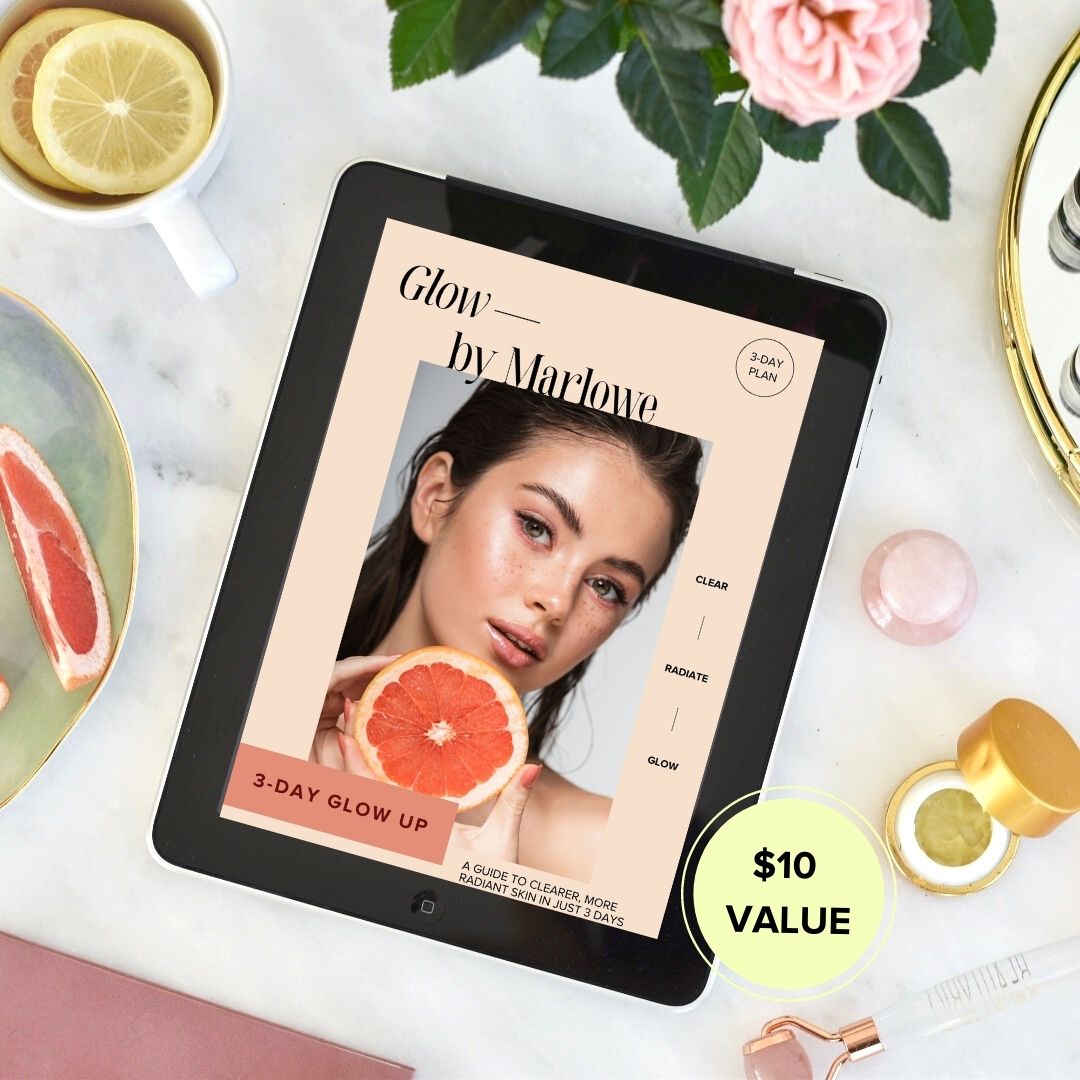 Sign up for my weekly newsletter to get the latest recipes, articles, & podcasts delivered to your inbox.

Plus, you'll receive The Glow Up Guide right away, a delicious 3-day meal plan to reduce redness and bumps, fast.