If you're sick of salads but still want to get your greens in this winter, try this bright and flavorful Baby Kale & Lemon Detox Soup.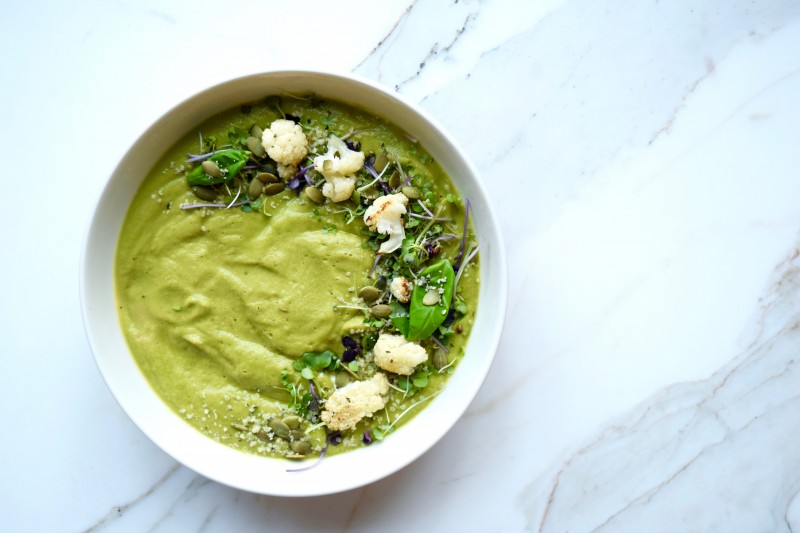 This soup is filling, thanks to the addition of fiber-rich cannellini beans and roasted cauliflower. (They also give it a creamy texture, without dairy).
Cauliflower and kale, both members of the cruciferous vegetable family, support our bodies natural detox functions, reduce inflammation, and aid in cancer prevention. Topping it with radish, broccoli, and wasabi sprouts as I did in the photo, adds even more cruciferous veggies to the mix.
Lemon brightens up the flavor and basil makes it taste super fresh.
Sort of like salad turned into soup – which tastes better than it sounds!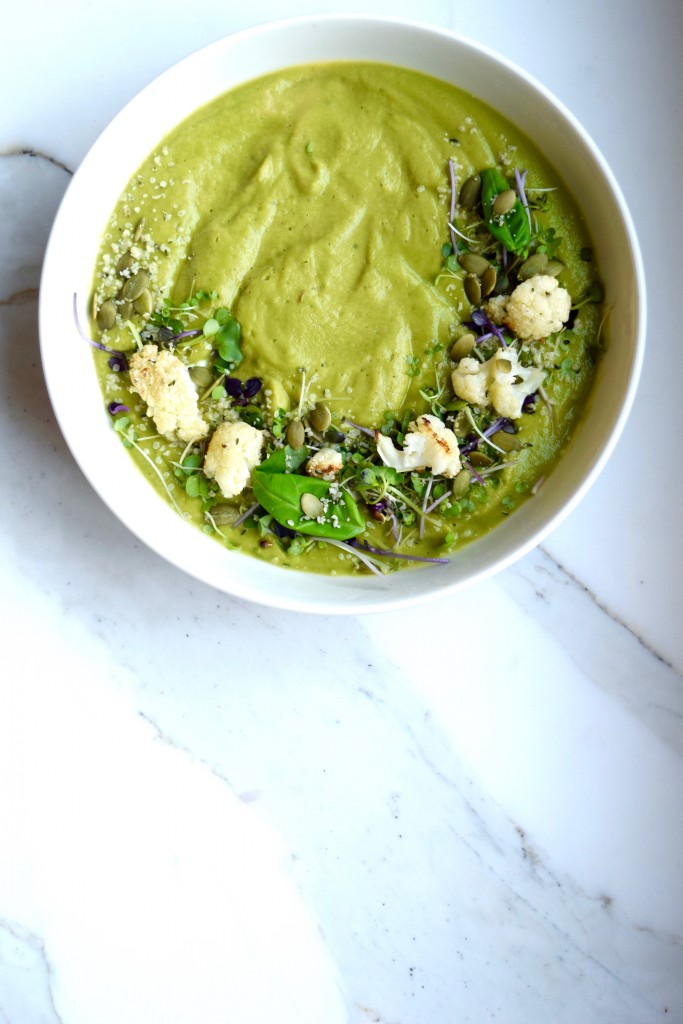 Try This Baby Kale & Lemon Detox Soup Recipe
If you try this recipe, let me know! Leave a comment, rate it (by clicking the stars in the upper right of the recipe card, below), and don't forget to tag a photo @mariamarlowe or #mariamarlowe on Instagram or Facebook. I'd love to see what you come up with!
sprouted greens

(like broccoli, radish, or wasabi sprouts)
sprouted greens

(like broccoli, radish, or wasabi sprouts)
Preheat oven to 425 degrees Fahrenheit.

Lay chopped cauliflower out on a parchment lined baking sheet, drizzle with about 1 tablespoon of avocado or olive oil, and a pinch of pink salt. Roast for 35 minutes. If you'd like to garnish your soup like in the picture, reserve and set aside about 3/4 cup of the roasted florets.

In a large stock pot over medium heat, heat 2 Tablespoons of avocado or olive oil. Then, add onion, garlic, and thyme. Cook for 5-7 minutes before adding the veggie broth, cannellini beans, and roasted cauliflower. Simmer another 10 minutes.

Pour about half of the broth and veggie mixture into a blender, along with 2 cups of baby kale or arugula, half the basil, about half of the lemon juice and a pinch of salt.

Use extreme caution when blending hot liquids. Put the lid on the blender, but remove the center piece of the lid to allow steam to escape. Firmly press and hold a clean dish towel over that center opening with the palm of your hand and blend until smooth. Pour into bowls.

Repeat with other half of the soup and remaining greens, lemon and pinch of salt.

Pour into bowls, then top with your favorite garnishes, if desired.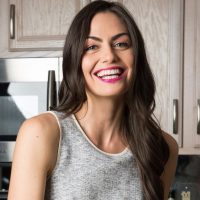 Maria Marlowe
Maria Marlowe is a holistic nutrition and wellness coach who uses real food to help her clients improve their health, weight, and skin. She offers a 28-day healthy eating meal plan that teaches you how to batch cook, as well as one to clear up acne. Her most popular program is EatSLIM, a 10-week online group glass that guides participants to develop healthy eating habits that stick – and lose weight, boost their metabolism, improve their digestion, and quit sugar.
She writes healthy and delicious plant-based recipes for her popular blog. She is also the author of the #1 New Release on Amazon, The Real Food Grocery Guide, the most practical guide to selecting the healthiest foods, without going broke, which has been praised by Dr. Oz and InStyle magazines. You can find her on instagram @mariamarlowe.