Delicious, organic, healthy meals…delivered.
While I do enjoy cooking, sometimes it's nice for someone else to do it for you. And it's even better when it doesn't require you to do the dishes.
There has been so much buzz around Sakara, a plant-based organic meal delivery service based in NY, but now shipped nationwide. It's been written up in Vogue, and Instagram-ed by just about every supermodel, so I thought it was time I gave it a try.
I was a bit skeptical at first, since A-supermodels are better known for chowing down on celery sticks than delicious meals, so the fact they are all in love with the line doesn't automatically ensure it would taste good, and B- they don't really give you too much insight into what they will be delivering until it arrives at your doorstep.  But, boy, was I blown away.
First off: the food is beyond delicious.
At first I was imaging soggy pre-packaged meals like those you find in grab-and go cafes or juice bars, which really don't sound appetizing. But, what Sakara delivers is more like (healthy) restaurant-worthy dishes from a Le Cordon Bleu trained vegan chef of a friend if she got fancy in the kitchen and simply wanted to drop off her creations. The food is beyond fresh. It's not soggy. And the food is not your typical simple healthy stuff…it actually has flavor, and the menu is well thought out and inventive. This is not stuff you'd be making at home.
Secondly: It's actually healthy.
The line eschews animal products and gluten, and really only uses the cleanest ingredients: Tons of veggies,  greens, good fats, and plant-protein. It's all real food, no artificial stuff or chemicals here. No fake healthy ingredients here, like whole wheat or agave.
Thirdly:  It's so easy.
You literally just open the package, and voila. It was actually refreshing and nice to have all my meals prepared ahead of time instead of having to think about what I was going to eat. I love to cook. I really do. But sometimes, I just get into autopilot at the grocery store, and just buy the same things over and over. I end up making the same things pretty often, and I do realize I sometimes spend a good chunk of the day cooking, when I can spend it on other things. While any of the meals can be served cold, they can also be gently warmed.
Sample Menu
When I ordered for one day here is what I got:
Breakfast: A creamy sweet potato bowl with cacao nibs, slivered almonds and blueberries. So good, I tried to recreate it myself (it wasn't nearly as good though!) This was the first time I had sweet potato for breakfast, and honestly was a bit skeptical. But this was fantastic and filling.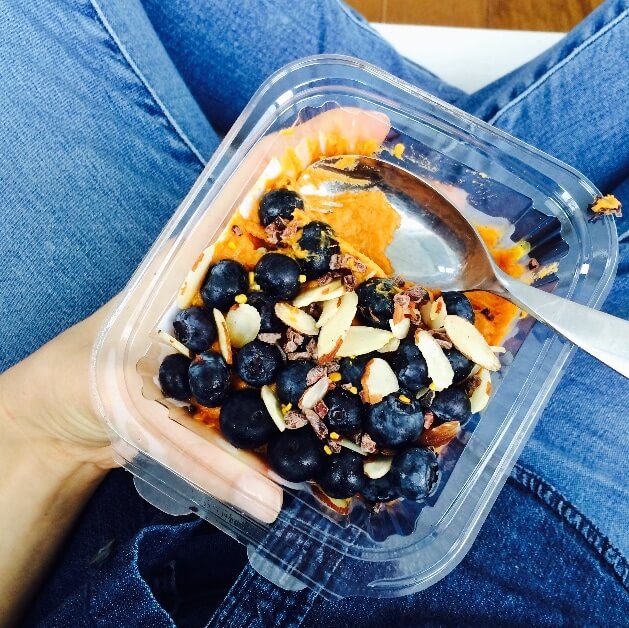 Morning Water: Rose and Alkaline H20 – tastes like you're drinking a flower. Not sure if this is good or bad. While I do like the idea of it, personally I prefer straight water, but I was able to finish it easily.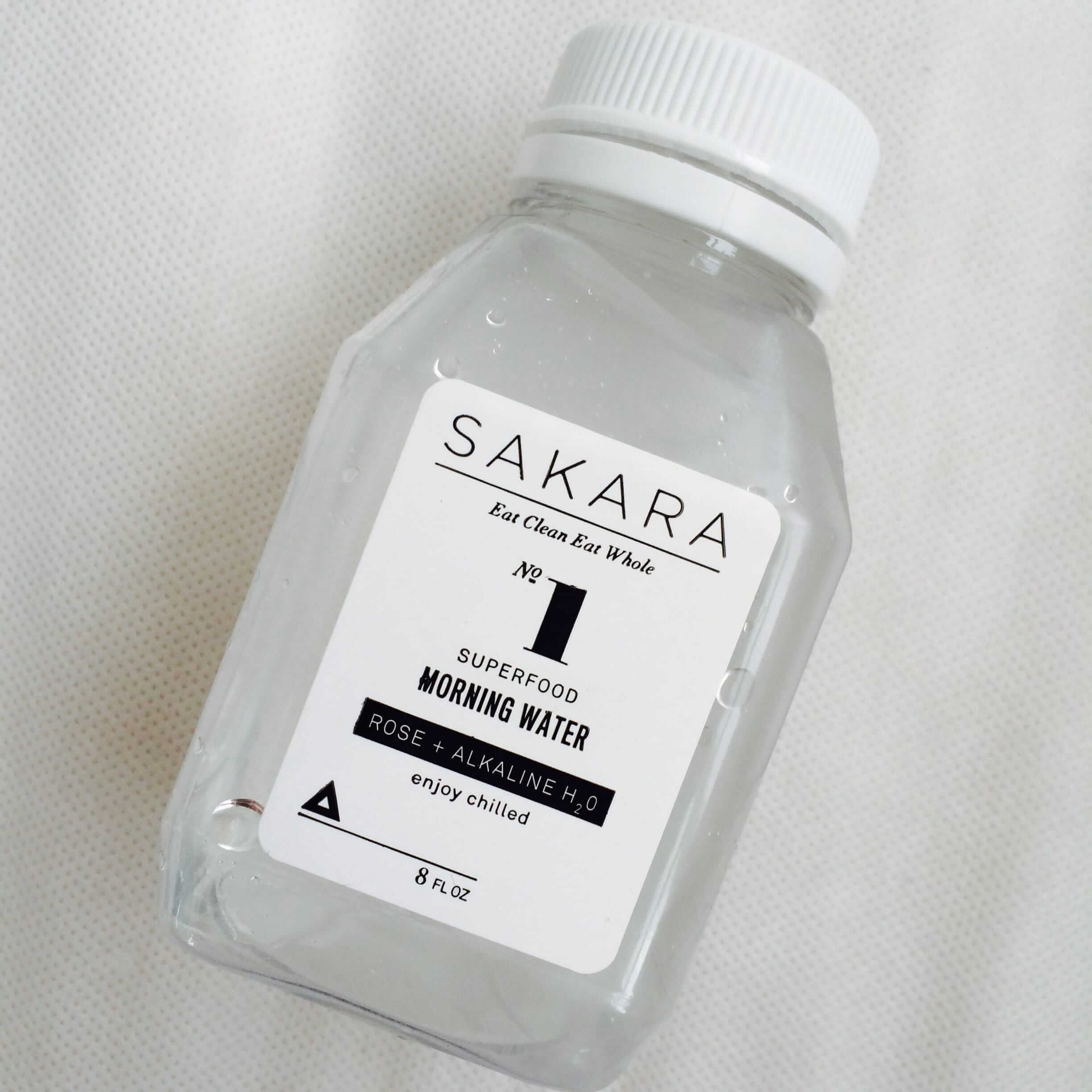 Lunch: A massive red beet burger with a sprouted grain and seed "bread." I make my own beet burgers from scratch, which are warm, so I wasn't sure how much I'd like this cold, raw version of it. One bite, and I was hooked. I loved the bread. This was hearty, but didn't leave me feeling heavy afterwards. and the salad? You know I like BIG salads, and while it looked tiny in the container, it was indeed huge when it came out of the box. The dressing was some sort of lemon poppyseed thing, which I loved, because at home it's typically just olive oil and lemon for me, so it was nice to have something different.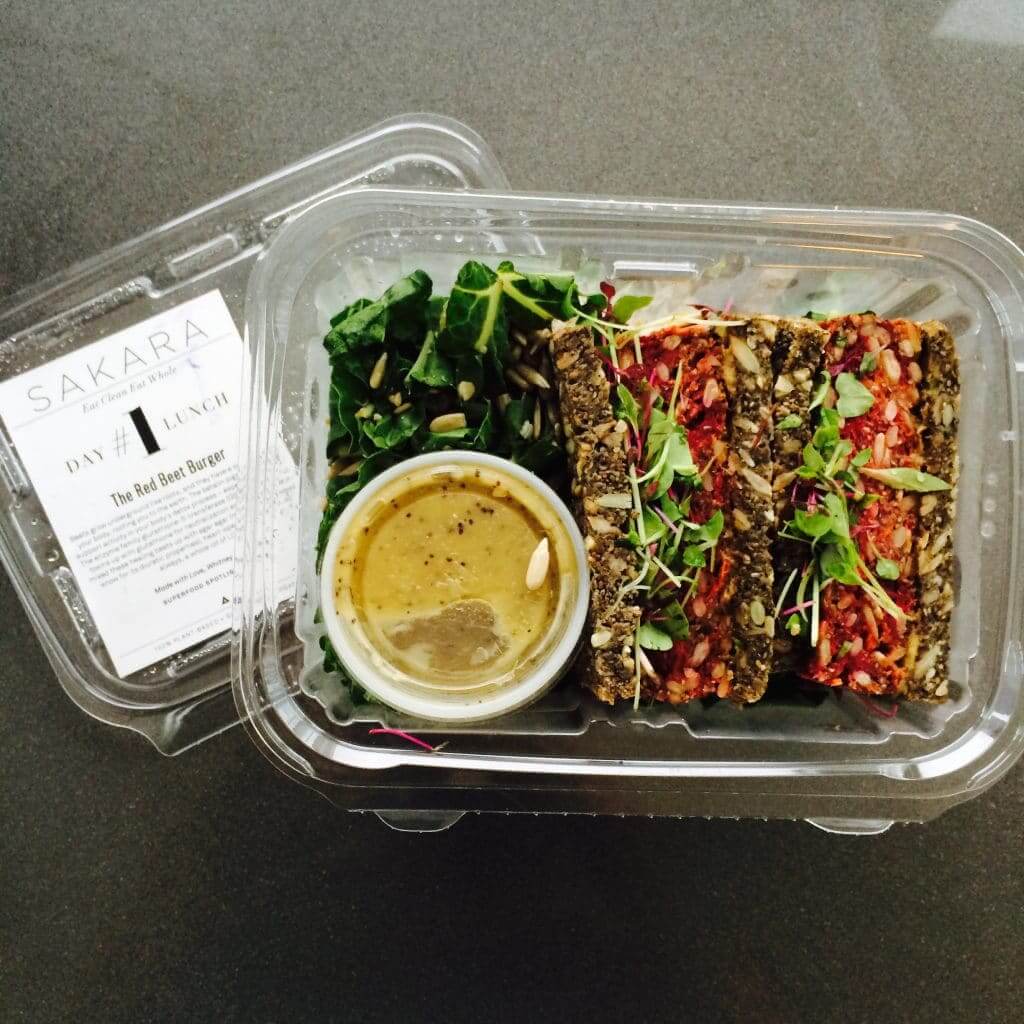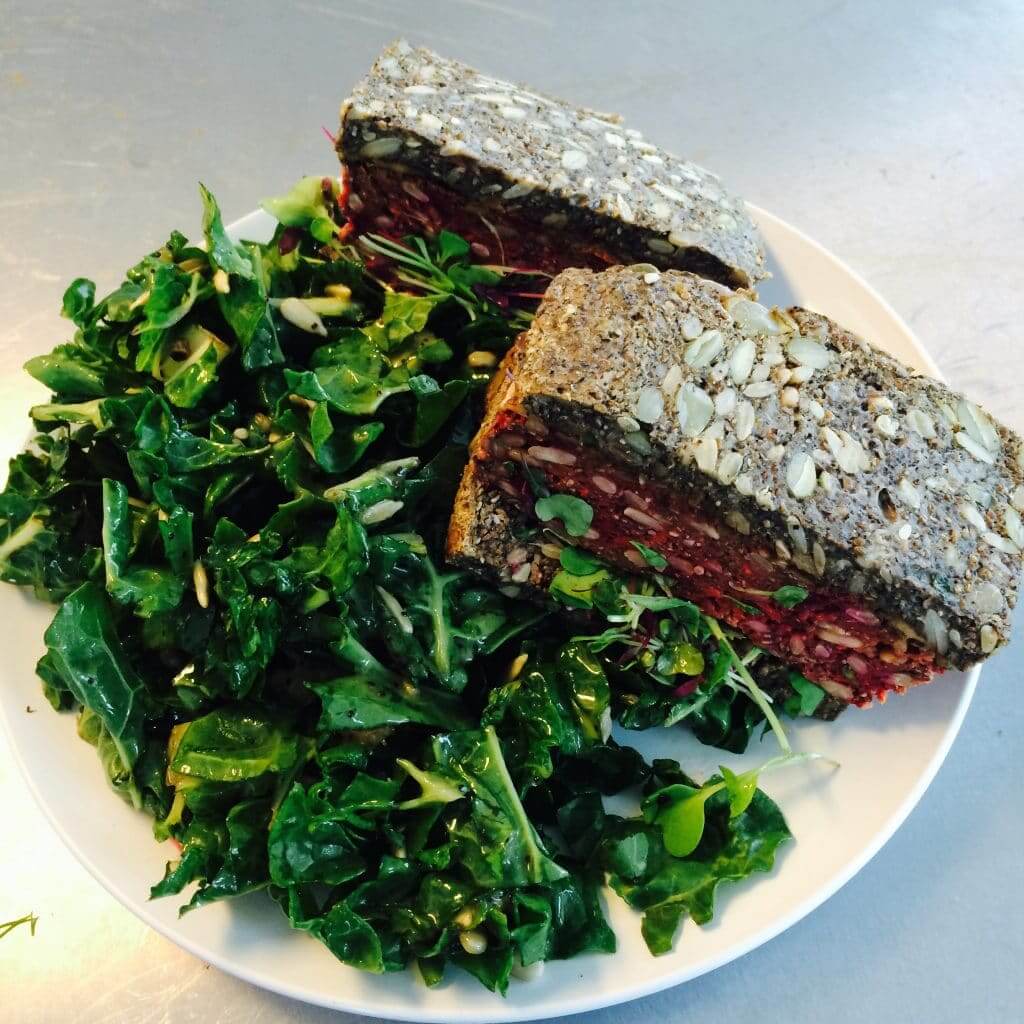 Dinner: I wasn't sure this would taste good. After all, it was sort of a weird mix of ingredients: plantains, blueberries, tomatoes, and beans? It did not disappoint though. I was practically licking the dressing container.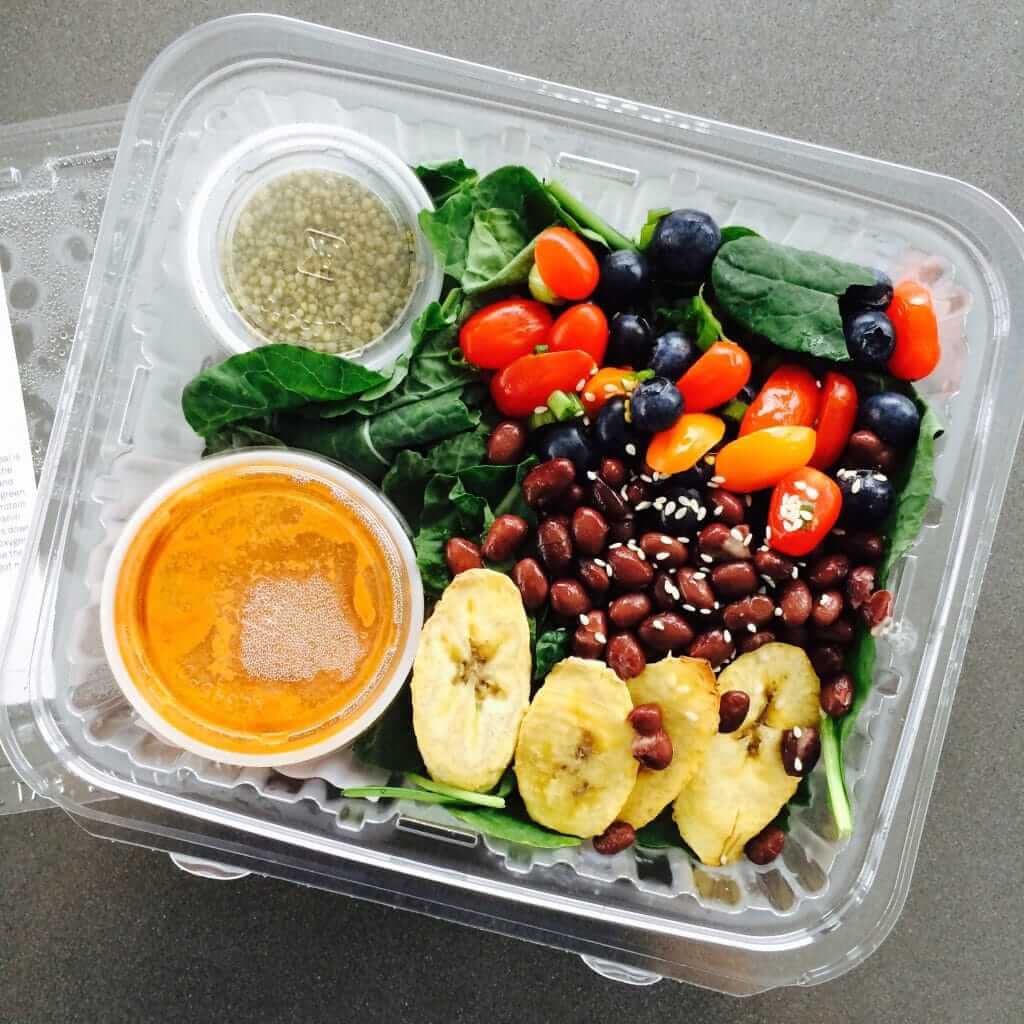 Night Water: This I could drink by the gallon. Chlorella + H2o. It's really easy to make yourself. Simply dissolve a little bit of chlorella powder in water. Chlorella is a great detoxifier.
Detox Tea: A few detox tea bags were also included. I'm not sure what was in the tea, but it was delicious.
All in all, I was super impressed with the quality of the food, the inventiveness of the menu, and the fact that I didn't have to think about meal planning at all!
Order Yours
Sakara offers 3, 5, 10, and 20-day organic meal delivery programs nationwide, and you can choose between breakfast, lunch and dinner, or all three! (I recommend lunch + dinner)
Use the Sakara Coupon Code XOMARIA for 20% off your first order at sakara.com

Have you tried Sakara? What did you think? Leave a comment below.