Prepared to be amazed. Veggie burgers can sometimes be a little dry or dense, but this beet burger recipe delivers one that is moist and surprisingly light. The texture is perfect, the spices just right, and every single ingredient is as clean as can be. Win.Win.Win.
Typically, when I make beets, I just roast them and eat them on their own or on top of a spinach salad. But, since I had an abundance of beets in my fridge (I can't walk past a Whole Foods or Farmer's Market without going in), I decided to try something new.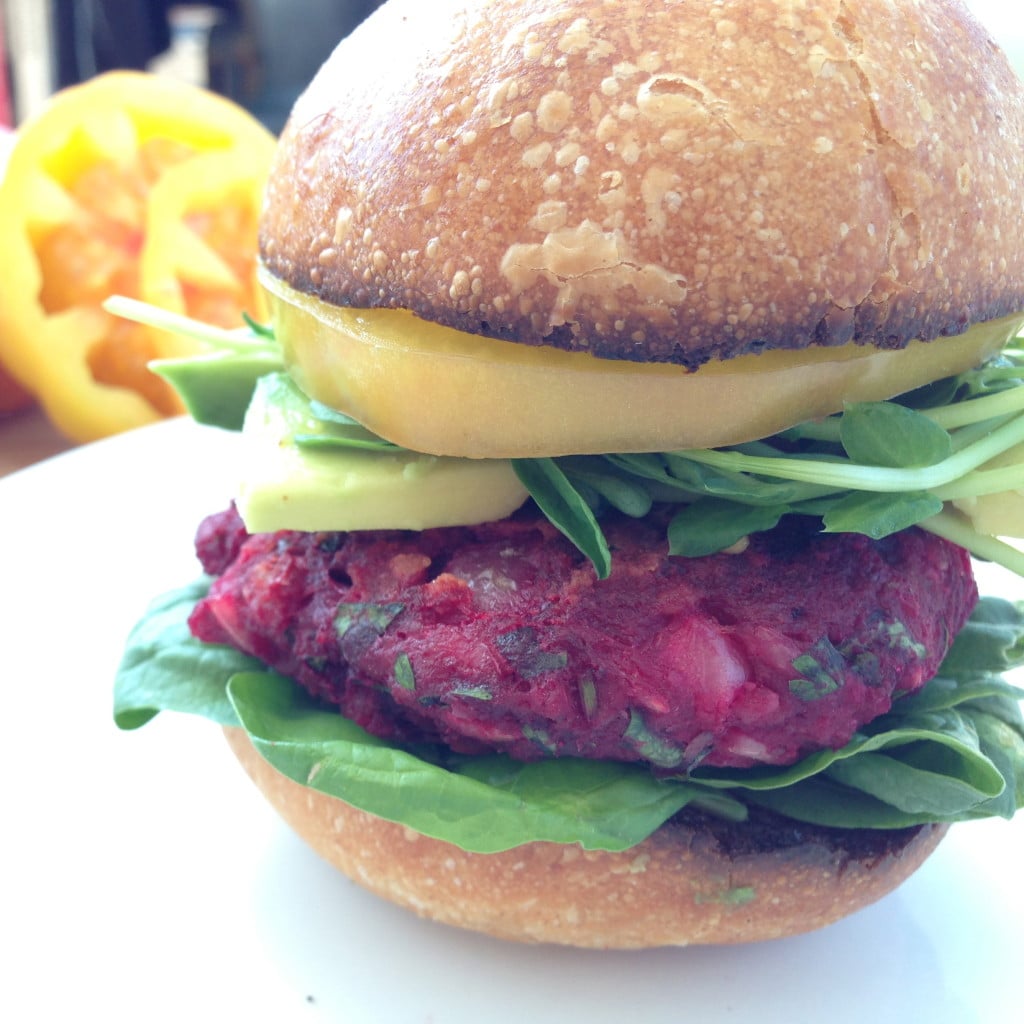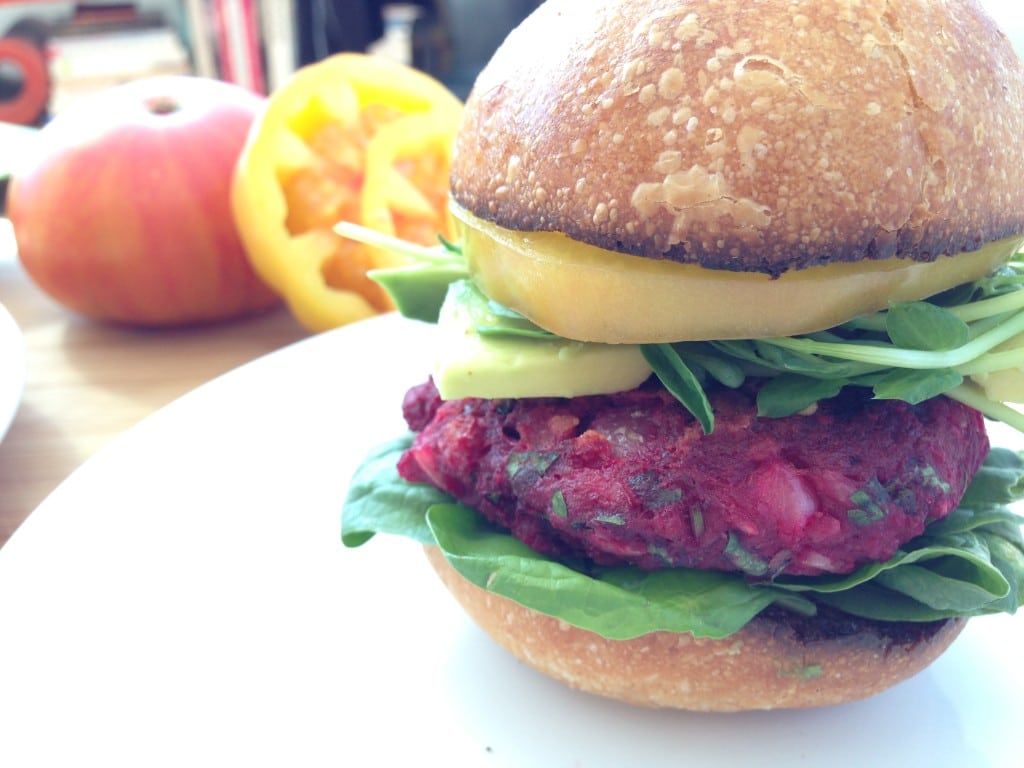 NOTE: While the recipe itself is quite quick to make, it assumes you already have cooked brown rice and roasted beets on hand, which both take about 40 minutes to cook (but less than 5 minutes to prep). So, I would suggest making the brown rice and roasting the beets earlier in the day, or even the day before, so they are ready to go when it's burger time.
Both beets and brown rice are great foods to make larger batches of, and save for use in other dishes throughout the week. So, even though this recipe calls for 1 beet and 1 cup of cooked brown rice, I would make more, and save the rest for salads and side dishes.
If you've been searching for the a good veggie burger recipe, you must try this and let me know what you think by leaving a comment below.
Enjoy it!
1. Combine flax and water in a small bowl, set aside.

2. Preheat broiler to high.

3. Split rolls in half, drizzle with a touch of olive oil, and arrange in a single layer on a baking sheet. Broil 1-2 minutes on each side or until lightly toasted. Let cool on a wire rack.

4. Reduce oven temperature to 400°.

5. Sauté onions quickly with olive oil: heat pan over medium low, add oil, and when ready, add onions, and cook a few minutes, just until translucent.

6. Meanwhile, throw walnuts into a blender (a bullet blender works well), and process just a few seconds until they become like a powder. Remove to a large bowl. Next, pulse beet in blender, just a few seconds, until it is pureed. Pour into that same bowl.

7. Now, add the onion, brown rice, brown rice flour, parsley, and spices to the walnut/beet mix. Stir until all ingredients are well combined.

8. Next, stir the mustard into the flax mixture, and then add that to the beet/brown rice mixture. Mix until combined.

9. Using your hands, roll a scoop of the mixture into a ball between your hands, then press into a patty, and 2 ½ inches across and 1 cm or so high. Repeat 7 times, to make 8 patties. Use gloves if you have them, to avoid getting beet juice on your hands.

10. Heat a large skillet over medium-low heat. Add oil to pan; swirl to coat. Carefully add 4 patties to pan; cook 2 minutes. Flip and cook other side for 2 minutes. Transfer patties to baking sheet. Repeat procedure with remaining 4 patties. Place baking sheet in oven; bake patties at 400° for 5 minutes.

11. Place bottoms of bun on a flat surface. Top each with spinach, a beet burger, mustard, avocado, sprouts, and the top of the bun.
*Tastes great without a bun, too. Pile it up with avocado, and tomato, or simply dip it in mustard.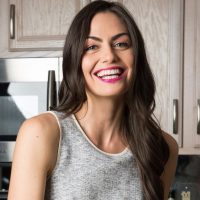 Maria Marlowe
Maria Marlowe is a holistic nutrition and wellness coach who uses real food to help her clients improve their health, weight, and skin. She offers a 28-day healthy eating meal plan that teaches you how to batch cook, as well as one to clear up acne. Her most popular program is EatSLIM, a 10-week online group glass that guides participants to develop healthy eating habits that stick – and lose weight, boost their metabolism, improve their digestion, and quit sugar.
She writes healthy and delicious plant-based recipes for her popular blog. She is also the author of the #1 New Release on Amazon, The Real Food Grocery Guide, the most practical guide to selecting the healthiest foods, without going broke, which has been praised by Dr. Oz and InStyle magazines. You can find her on instagram @mariamarlowe.