Thank you to Biosil for sponsoring this post. As always, all opinions are my own.
This Glowing Summer Skin Checklist includes foods, supplements, natural skincare, and sun protection recommendations for gorgeous, hydrated, glowing skin all summer long.
Food For Glowing Skin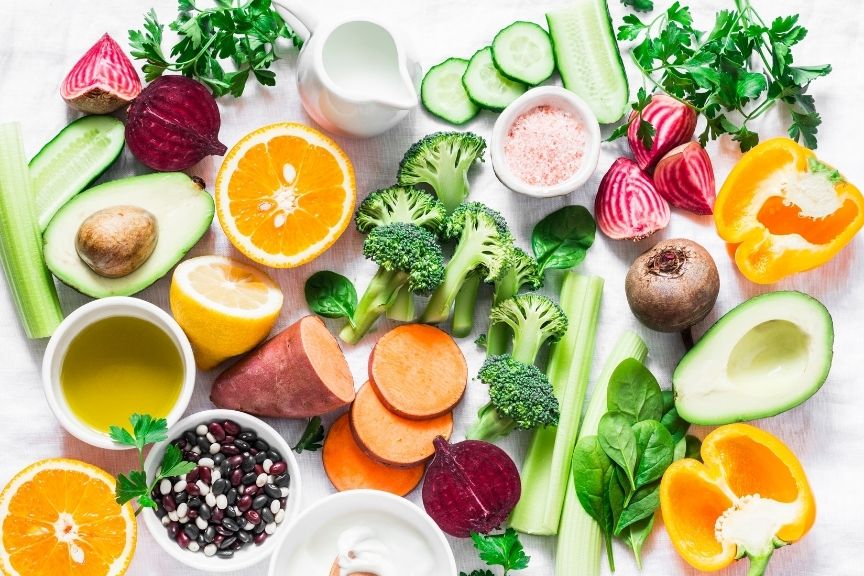 When it comes to glowing summer skin, eat the rainbow for added sun protection and antioxidants. 
Red: Lycopene-Rich Foods
Lycopene is a powerful antioxidant that gives many red fruits and veggies their color. When consumed regularly, it can also give you some protection against the sun's UV rays. (1) While it is no match for topical sunscreen, incorporating red foods into your diet regularly may provide a little extra photoprotection. 
Foods to try: Tomatoes, sun-dried tomatoes, red bell peppers, watermelon, guava, pink grapefruit
Orange: Beta-Carotene-Rich Foods
Beta-carotene is an orange pigment and antioxidant that has also been shown to offer our skin protection against damage from the sun's UV rays when consumed regularly. (2) Additionally, an interesting small study found that consuming a variety of carotenoid-rich fruits and veggies for just 6 weeks induced a perceptible change in the skin's appearance and coloration, giving it what we would call a healthy glow. (3)
Foods to try: Carrots, sweet potato, butternut squash, cantaloupe, red kuri squash
Yellow: Carotenoid-Rich Foods
Yellow foods also contain carotenoids and contribute to healthy, glowing skin.
Foods to try: Yellow bell peppers, apricots, nectarines, mangoes, golden beets
Green: Chlorophyll-Rich Foods
Dark leafy greens provide a number of health benefits, but when it comes to summer skin specifically, they may help provide protection against sun damage, skin wrinkling, and even skin cancer, thanks to their wide variety of antioxidants and phytochemicals, including carotenoids, lutein, and zeaxanthin. (4, 5, 6)
Foods to try: Kale, Swiss chard, spinach, arugula, bok choy, collard greens 
Blue, Purple, Black: Anthocyanin-Rich Foods
Anthocyanins are a particularly potent and powerful form of antioxidants found in dark-pigmented fruits and veggies. Antioxidants help protect against free-radical damage (for example, caused by UV rays) and keep our skin looking clear and ageless. They are currently being studied for their role in cancer prevention, including skin cancer. (7)
Foods to try: Blueberries, blackberries, plums, red cabbage, red and black grapes
Supplements For Glowing Skin
Our diet should be the main source of nutrients, but supplements can help fill in any gaps and even provide a beauty boost for glowing summer skin. 
Collagen-Producing Supplement: Biosil is on my counter all year long, as it not only helps your body naturally produce more of its own collagen but protects the collagen you do have from degradation. In the summer, when it can be hard to escape the sun, even indoors, it's important to protect your collagen. For more on why I love Biosil, check out this article: Can A Collagen Supplement Reverse Wrinkles?
To try it yourself, use code MARIA20 for 20% off your first order on biosilusa.com
Omega-3 Supplement: Omega-3s are essential fatty acids that reduce inflammation and support clear, moisturized, and glowing skin. Because they're found in a narrow range of foods (primarily in fatty fish and seeds), it's easy to not consume enough. Signs of omega-3 deficiency include dry skin, acne, and other inflammatory skin conditions, and brittle nails, to name a few. Check out this article for more deets on omega-3 deficiencies and what to do about it.
This is my favorite algae omega-3 supplement.
Skincare For Glowing Summer Skin

When it comes to skincare, less is more in my opinion. Here are my top picks to add to your glowing summer skin checklist:
Gentle Natural Skincare: Your skin deals with a lot in the summer including chlorine pools, saltwater oceans, UV rays from the sun, and air-conditioning all day inside. All of these things can dry your skin out, strip it of its natural oils, and make it a little more sensitive. Instead of a 10-step skincare regimen or lots of harsh drying chemicals, consider going easy on your skin with gentle, natural ingredients that nourish and moisturize. 
FACE: I am a fan of gentle cleansers and products with minimal ingredients. Some of my favorites come from Primally Pure. My must-haves include the fancy face serum, which has helped reduce hyperpigmentation from acne spots, and my absolute must-have moisturizer, all year round.  Your skin will drink it in, and while it's deeply moisturizing, it's not heavy and won't clog your pores or leave you sweating in the summer. Use code MARIA12 for 12% off your order.
BODY: This is liquid gold, and I slather it on after a shower. 
Fake Bake: Sure get some sun for Vitamin D each day, but if you're looking for a deep golden tan (which is a sign of sun damage!), try a self-tanner instead. I love this one. No streaks, looks and fades incredibly naturally, and lasts for weeks. It's also odorless, dries super fast, and it's made with organic ingredients.
Suncare For Glowing Summer Skin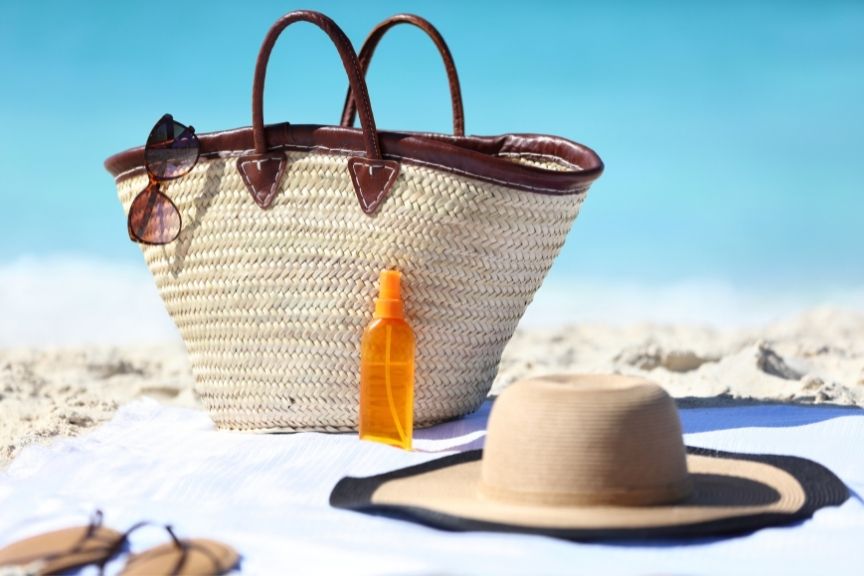 Of course, we can't talk about a glowing summer skin checklist without mentioning suncare. Here are my recommendations:
Wear a hat whenever you're outside: I've adopted this habit now that I live half the year in Dubai, and not only does it protect your skin, it makes you look chic and pulled together all of the time. I love these hats (order smaller than you think). 
Face Sunscreen: Check out EWG's Guide To Sunscreens for more tips on how to choose the healthiest sunscreens. My personal picks:
 

Pratima Neem Face Sunscreen:

It goes on so silky and doesn't make you sweat. If you just want sunscreen, this is my favorite. 

SuperGoop CC Cream:

Supergoop is the creator of cult-favorite sunscreens. This CC cream has a little bit of coverage and is 100% mineral-based. 
Body Sunscreen: Personally, I use body sunscreen as the last resort. Instead, I prefer to avoid the sun in the harsh mid-day hours, find shade as much as possible, and cover my skin with long sleeves and long skirts. But, for days when I will be more exposed to the sun, I use a natural EWG-approved sunscreen.  
I have been using this one for years, but again, only on days I know I'll be in the sun for a long period of time. I like it because it scores well on EWG and is easy, affordable, and readily available. Like most mineral sunscreens, it is a little thick so rub it in well.