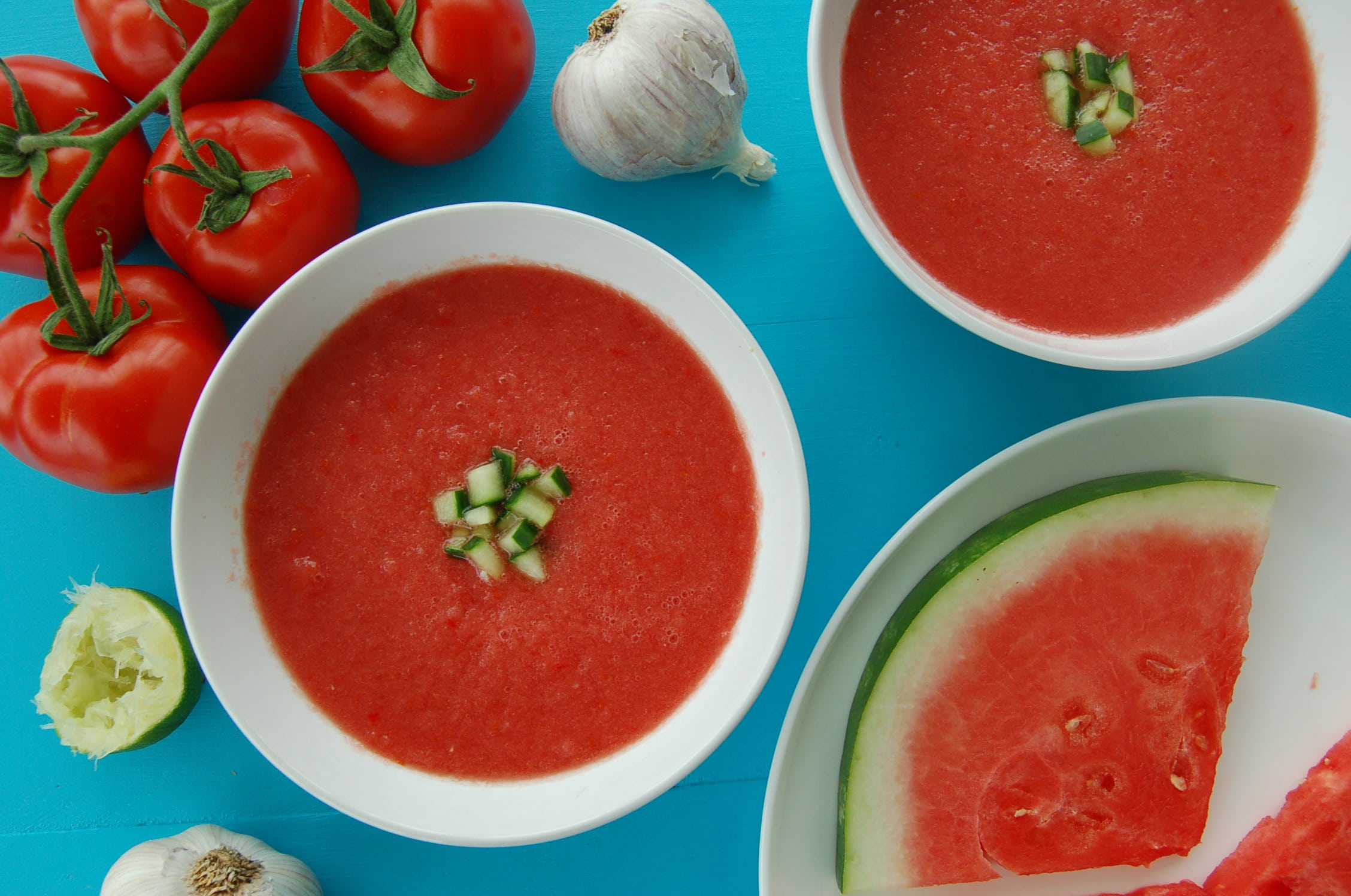 Watermelon Gazpacho = Summer in a Bowl
Watermelon gazpacho is a refreshing twist on the classic cold summer soup recipe. It's a perfect appetizer for a summer soiree as it's easy to make ahead and has to be chilled anyway. Plus, hello, it's absolutely gorgeous! Just look at all that lycopene! (a.k.a the super powerful antioxidant that gives watermelon its rosy red hue and it's anti-aging benefits).
This version has a nice little kick thanks to chile pepper, and the sweetness of the watermelon is balanced by the lime juice.
It comes together quickly, you simply throw everything in a blender…my favorite type of recipe!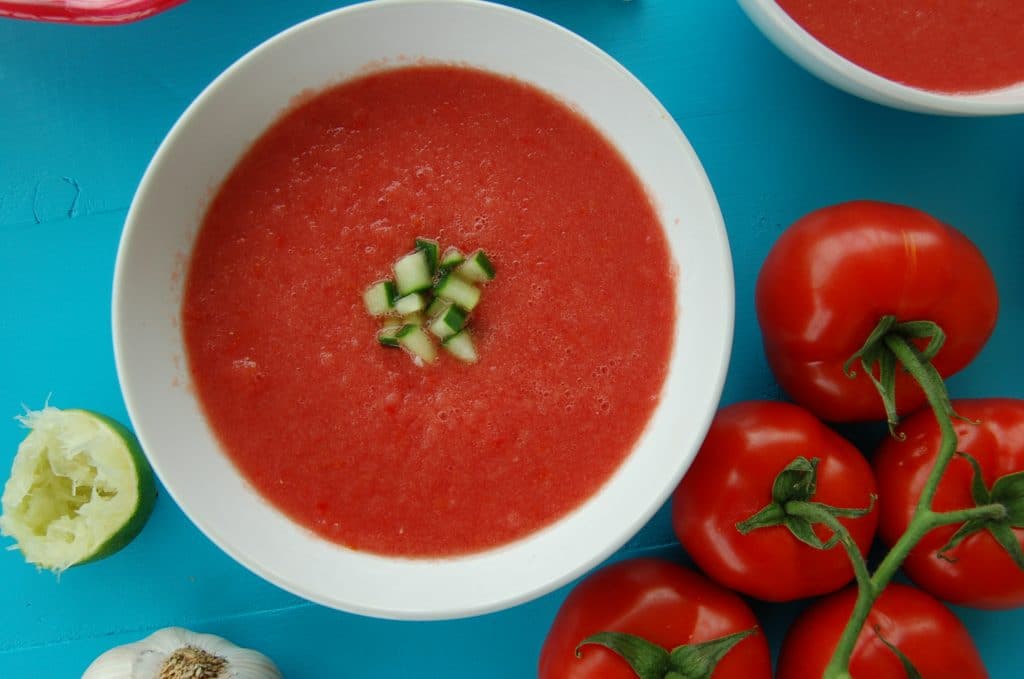 Watermelon Gazpacho
Instructions
Place watermelon, 1 1/2 cups cucumber (reserve rest for garnish), tomatoes, red chili pepper, garlic and lime juice in a Vitamix or high speed blender. Blend on medium until all ingredients are fully incorporated.

Taste, and add more lime juice 1 tsp at a time if needed to balance the flavor if your watermelon is very sweet. Salt and pepper to taste.

Chill in the refrigerator for at least 30 minutes before serving.
Mint Oil (optional)
Place mint and oil in a blender and blend until fully incorporated.

After gazpacho has chilled, pour into bowls, top with diced cucumber and drizzle with mint oil.
Recipe Notes
This is the perfect party dish, and can easily be made ahead.

Did you make this recipe?
Tag @mariamarlowe on instagram and hashtag #healthybymarlowe for a chance to be featured and win awesome prizes each month.
Clearer Skin in Just 3 Days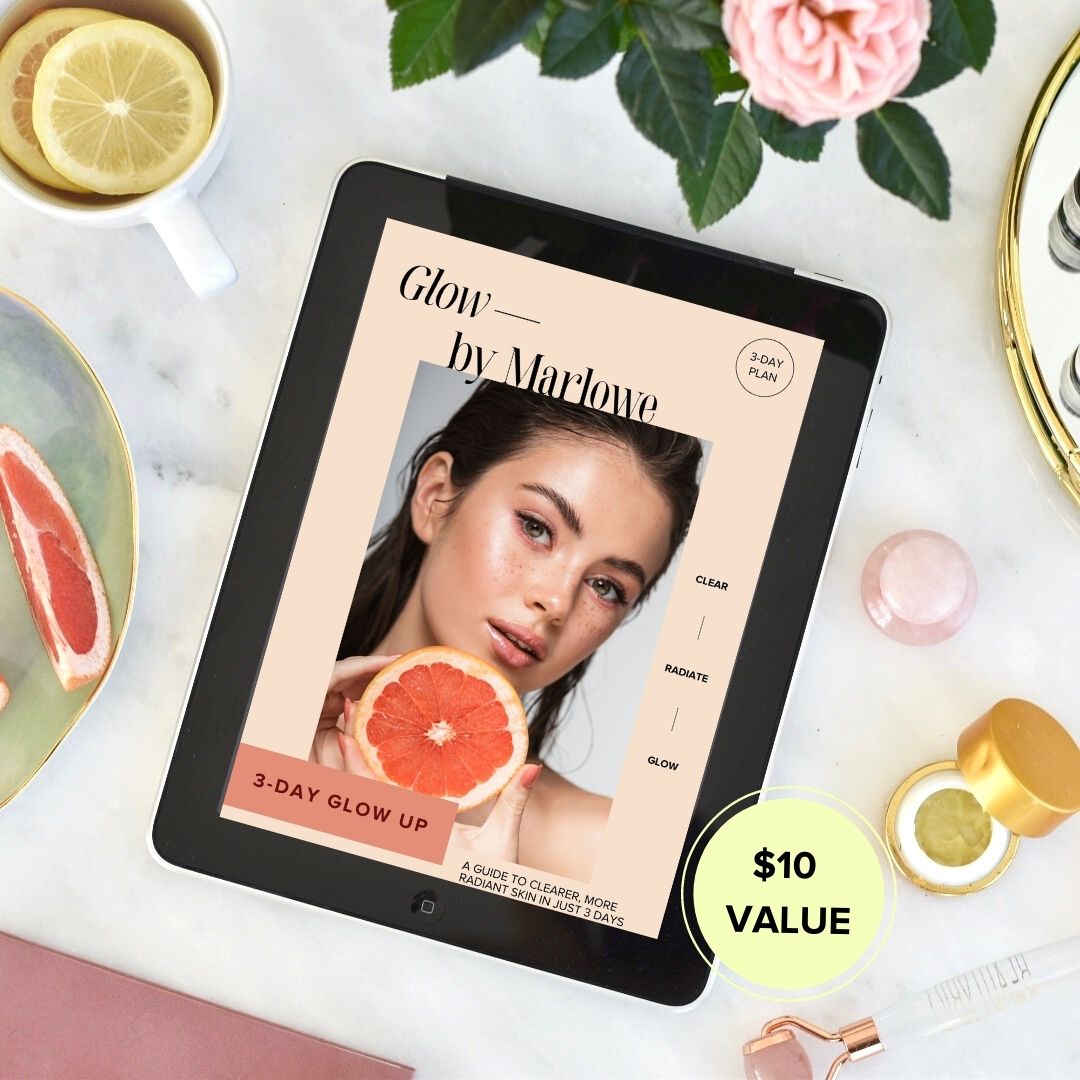 Sign up for my weekly newsletter to get the latest recipes, articles, & podcasts delivered to your inbox.

Plus, you'll receive The Glow Up Guide right away, a delicious 3-day meal plan to reduce redness and bumps, fast.