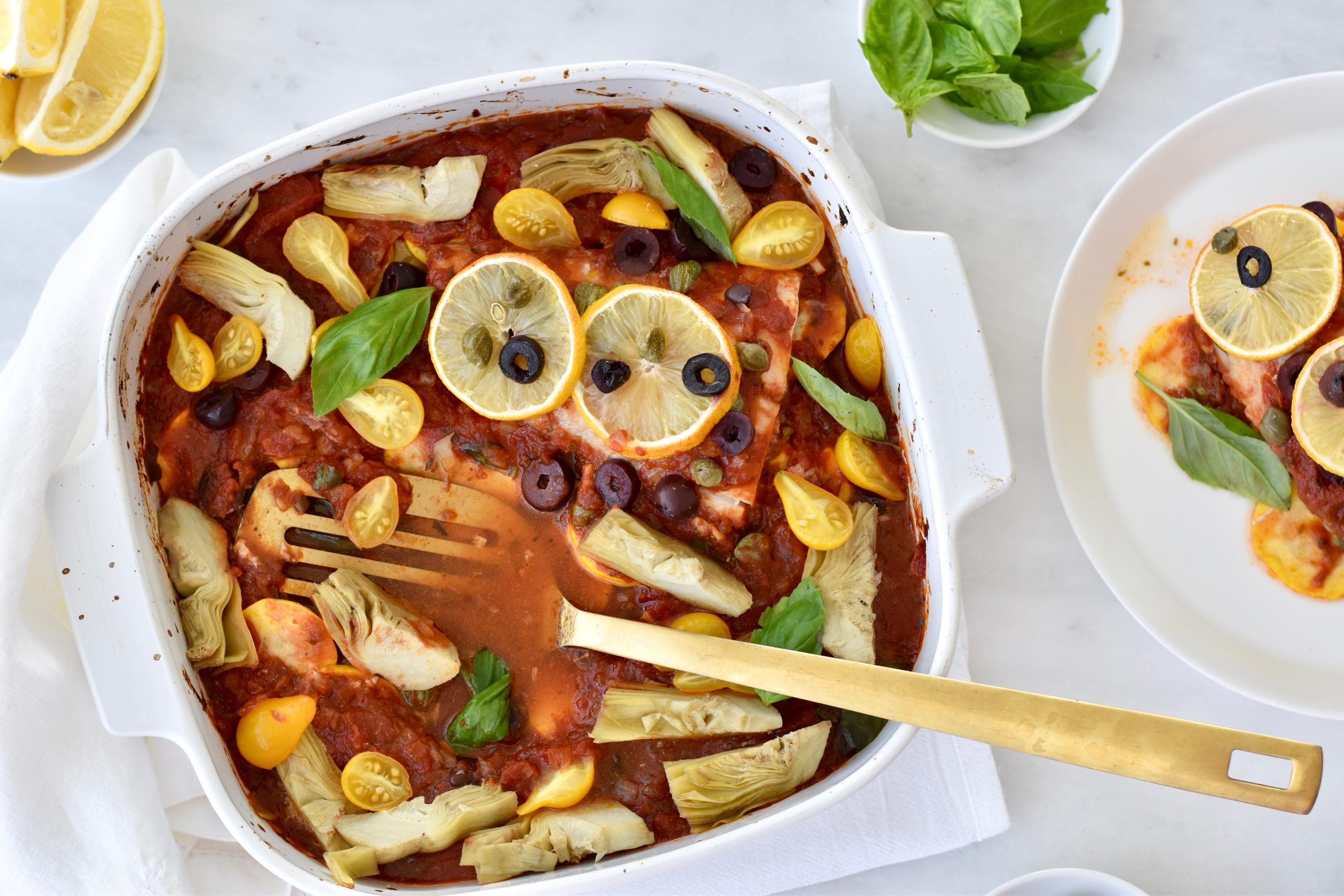 Meet your new favorite weeknight dinner: Tomato Basil Cod with Mediterranean Vegetables.
If you love Mediterranean ingredients – like olives, capers, tomatoes, and basil- then you'll love this dish. Thinly sliced zucchini, artichoke hearts, and tomatoes are nestled into a flavorful tomato sauce spiked with olives and capers, along with succulent pieces of wild-caught cod, that flakes perfectly with a fork. Every bite is infused with flavor.
Personally, I always love adding fresh onions and garlic and dried oregano to store-bought tomato sauce to add both flavor and nutrition, but you could skip that step if you use a good tomato sauce that is already well-flavored.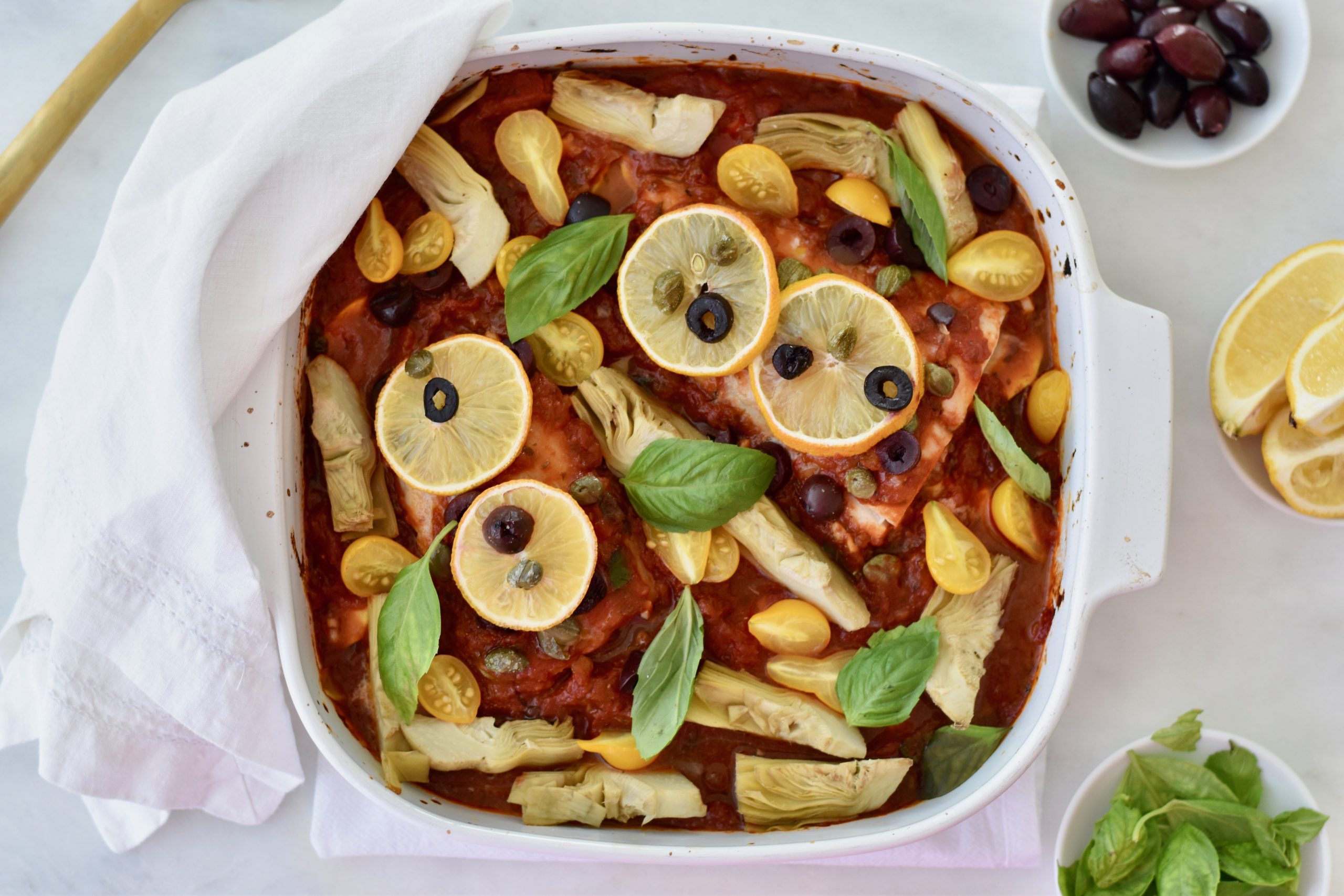 It's incredibly easy to make and is a crowd pleaser. I make this for a lot of my dinner parties as it is so easy (and scales up easily – you just need a bigger pan (or two).
If you like, pair it with plain rice, or a lemon basil rice pilaf for a complete meal.
Tomato Basil Artichoke Cod
Instructions
Preheat the oven to 400 F.

Heat a pan over medium heat. When it's hot, add the oil, then the onions, garlic, capers, olives, and oregano. Let them cook for 2-3 minutes before adding the tomato sauce, salt, and pepper. Cook until it bubbles, another 3 minutes or so.

Pour half the sauce into an oven-safe baking dish, layer in the sliced zucchini, artichoke hearts, and sliced tomatoes. Toss it well. Then flatten out the veggies and add the cod on top. Pour the remaining sauce over the entire dish. Then top each filet with 2 slices of lemon and sprinkle the remaining capers and olives on top of the whole dish.

Bake for about 20 minutes, or until the fish flakes easily with a fork (the time will vary depending on size and thickness of the fish).

Garnish with fresh basil to serve.

Did you make this recipe?
Tag @mariamarlowe on instagram and hashtag #healthybymarlowe for a chance to be featured and win awesome prizes each month.
Clearer Skin in Just 3 Days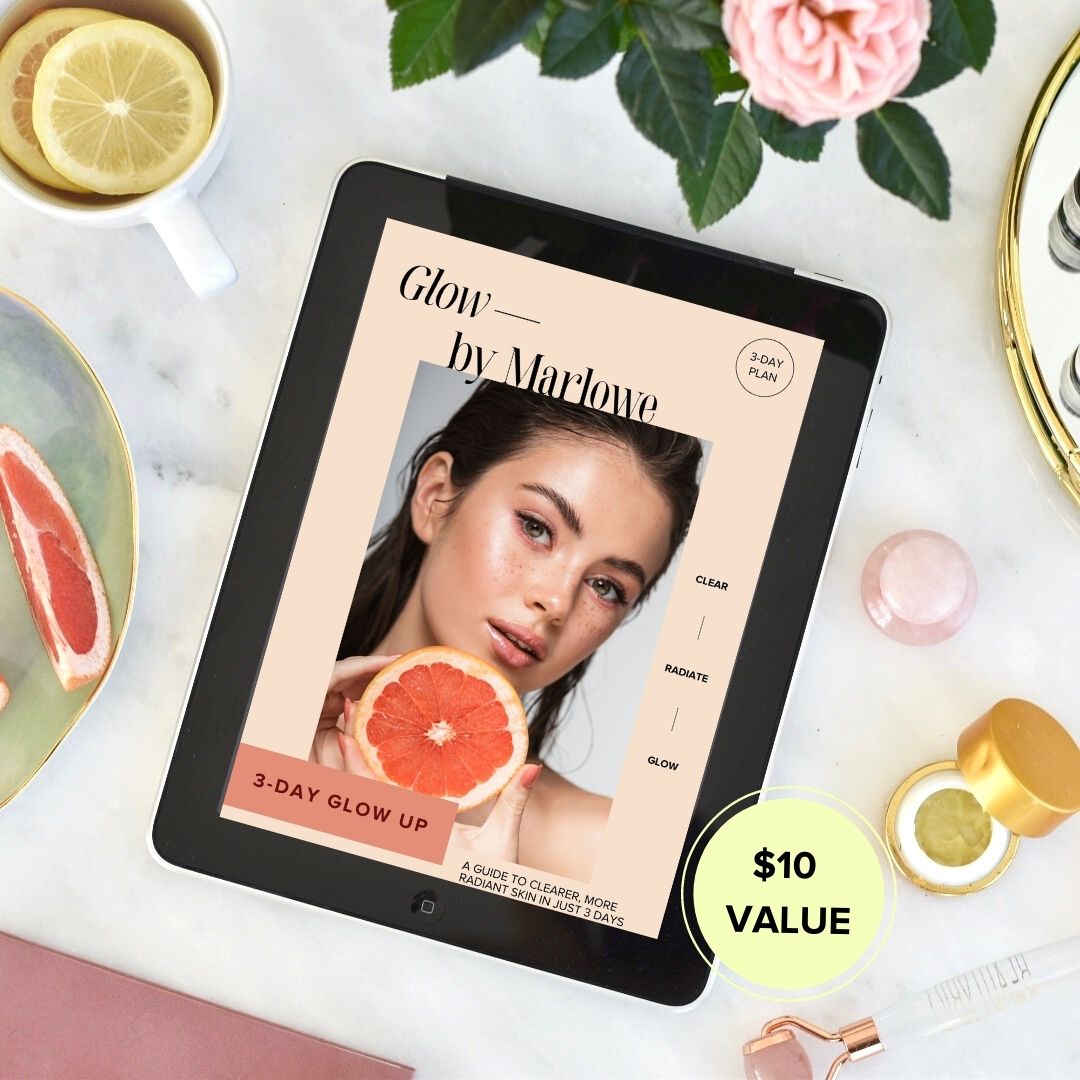 Sign up for my weekly newsletter to get the latest recipes, articles, & podcasts delivered to your inbox.

Plus, you'll receive The Glow Up Guide right away, a delicious 3-day meal plan to reduce redness and bumps, fast.