This delicious wild salmon with mango salsa is a go-to in my kitchen. Ready in under 15 minutes, it's perfect for a weeknight, despite the fact it's fancy enough for a dinner party.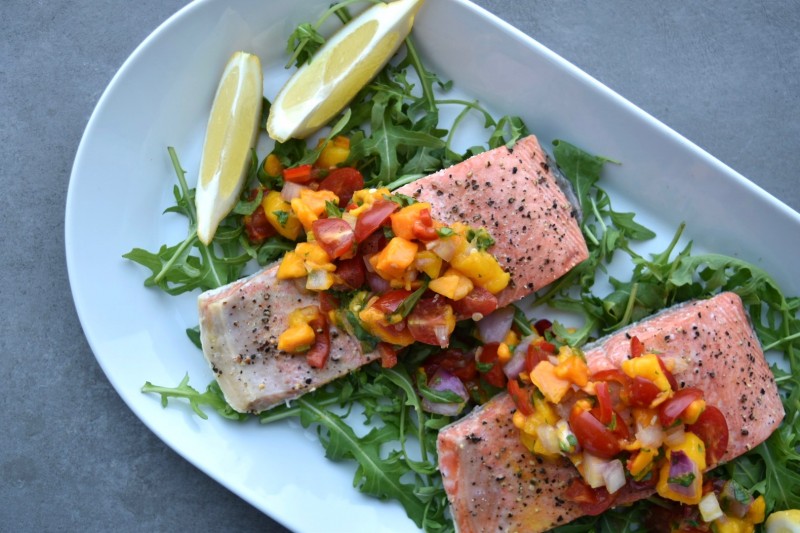 NOTES:
It's important to choose wild salmon over farmed. Farmed salmon is not a health food. I typically get it from Whole Foods, or you can buy frozen in bulk from an online source like Vital Choices. If using frozen (which is a great and economical choice!) be sure to that completely by letting it sit in refrigerator overnight or using this quick thaw method using a bowl of cold water.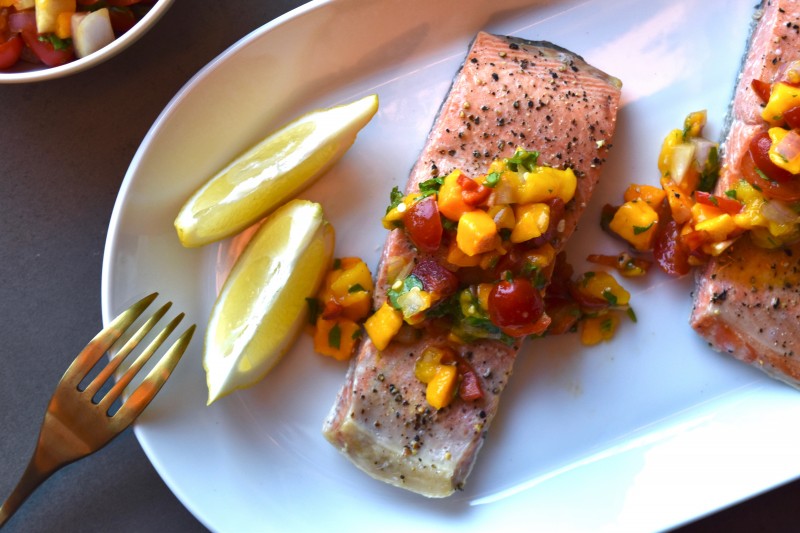 Preheat the oven to 375 degrees Fahrenheit.

Line a baking sheet with parchment paper. Place the salmon on the baking sheet, and squeeze a quarter of a lemon over each filet. Top with a pinch of pink salt and black pepper. Once the oven has reached the right temperature, bake for 12-15 minutes, until thoroughly cooked.
While the salmon cooks, in a large bowl, toss all of the mango salsa ingredients together until thoroughly combined.

When salmon is done, remove to a serving plate, and top with mango salsa.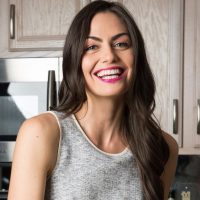 Maria Marlowe
Maria Marlowe is a holistic nutrition and wellness coach who uses real food to help her clients improve their health, weight, and skin. She offers a 28-day healthy eating meal plan that teaches you how to batch cook, as well as one to clear up acne. Her most popular program is EatSLIM, a 10-week online group glass that guides participants to develop healthy eating habits that stick – and lose weight, boost their metabolism, improve their digestion, and quit sugar.
She writes healthy and delicious plant-based recipes for her popular blog. She is also the author of the #1 New Release on Amazon, The Real Food Grocery Guide, the most practical guide to selecting the healthiest foods, without going broke, which has been praised by Dr. Oz and InStyle magazines. You can find her on instagram @mariamarlowe.