The best natural skincare for acne-prone skin is gentle yet effective. Here are my top picks for natural skincare products that have helped keep me and my clients acne-free for years.
Why Conventional Acne Treatments Don't Work
As many of you may know, my battle with acne started when I was 16 and persisted for years, despite the many over-the-counter and prescriptions creams, infomercial acne products (Proactiv I'm talking about you), and visits to countless dermatologists.
My acne never fully cleared through these traditional routes. When trying a new product or approach to treating my acne, I was often told my skin would "get worse before it gets better." While it would indeed get worse, it didn't get better.
It turns out that the conventional approach of treating acne with harsh topicals isn't sufficient. Neither is it as effective as their marketing claims have you believe.
For the vast majority of people who suffer from acne, diet and lifestyle play a bigger role than anything in their vanity cabinets.
The peels, acids, and scrubs are too harsh and can end up damaging your skin more than helping it. In addition, they don't address the underlying issues that are triggering the acne, to begin with.
How to Treat Acne Naturally & Effectively
Acne-prone skin requires a two-pronged approach to clear up:  both internal (diet, which has the power to start or stop breakouts) and external (natural skincare that is gentle yet effective).
For people with chronic acne, you won't see true success without addressing both.
The Best Natural Skincare for Acne-Prone Skin
After years of trial and error personally, working with a top natural and organic facialist in New York City, and speaking with the most modern and progressive dermatologists, I've found a natural skincare regimen that works wonders for acne-prone skin.
It's the exact skincare regimen that I share in my Clear Skin Plan, that when paired with proper diet and lifestyle changes to address the internal causes for acne, has delivered outstanding results for hundreds of women.
Here are the best natural skin care products and routine for acne-prone skin: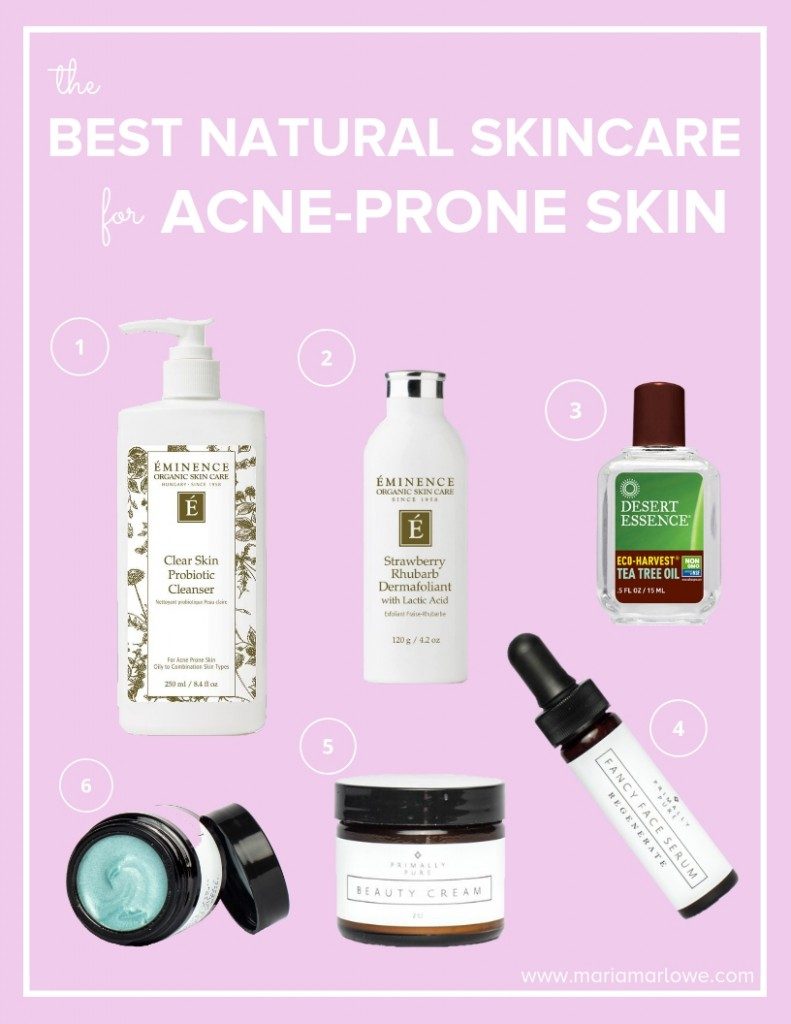 WASH
In the palm of your hand, mix one pump of Eminence Probiotic Cleanser (1) with 1-2 shakes of the Strawberry Rhubarb Dermafoliant (2) powder. Massage into your entire face in circular motions, using light pressure, for 1 full minute. Rinse with lukewarm water.
TREAT
If you have an eruption or bump dab it with a drop of tea tree oil (3) (test your skin first to test for sensitivity- most people are fine with its full strength, but if you are particularly sensitive, dilute it in a drop or two of jojoba oil.)
To fade scars, even out your complexion, and give it a clear and luminous glow, apply 2-3 drops of Primally Pure Fancy Face Serum to the entire face. This stuff is like magic.
MOISTURIZE
My absolute must-have moisturizer year-round is Primally Pure Beauty Cream. Your skin will drink it in. And, while it's deeply nourishing and moisturizing, it's not heavy and won't clog your pores. Their newer Blue Tansy Beauty Cream offers additional anti-inflammatory and anti-aging benefits.
Use code Maria10 for 10% off your Primally Pure order.