The way to whiten your teeth naturally and fast just got easier.
There are so many teeth whitening products on the market, but many of them use harsh chemicals. Thankfully, it is possible to visibly whiten your teeth using natural products free of harsh chemicals.
Hyperbiotics Activated Charcoal Probiotic Toothpaste To Whiten Teeth Naturally & Fast
You guys know how much I love Hyperbiotics probiotics for gut health, so, when I learned they had a new Activated Charcoal Probiotic Toothpaste, I just had to try it. I have already been using their PRO-Dental probiotic (which I am mildly obsessed with, so I had to do a separate post).
Hyperbiotics Activated Charcoal Probiotic toothpaste is unlike any you've tried before. Not only does it contain activated charcoal and probiotics, but it's also free of a number of chemicals commonly found in toothpaste, which can compromise both your oral and overall health. It's also black and doesn't foam, yet is an incredibly effective toothpaste.
How Hyperbiotics Activated Charcoal Probiotic Toothpaste Works
Activated Charcoal Whitens Teeth Naturally: Activated coconut charcoal comes from coconut shells and is a natural way to polish and whiten your teeth without the harsh bleaches and abrasive chemicals typically used in whitening products. It has the ability to remove wine, coffee, tea, and tobacco stains quickly and effectively. I've seen a number of charcoal powders on the market in recent years, and have even tried them. But they are generally hard to pour and are an absolute mess. The Hyperbiotics Activated Charcoal Probiotic Toothpaste comes already combined. So there's no need to mix your toothpaste and a messy powder.
Probiotics Improve Oral Health & Freshens Breath: Just as we have a microbiome in our gut, we also have one in our mouth. An overgrowth of undesirable bacteria can cause stinky breath and even gum disease. This toothpaste contains a number of probiotic strains that help you maintain healthy teeth and gums by increasing the number of good bacteria and reducing the number of "bad" bacteria.
Essential Oils Naturally Flavor It: Essential oils of spearmint and tea tree give it a fresh, but not overpowering flavor.
Xylitol Naturally Sweetens It & Protects Your Teeth: Xylitol prevents bacteria from sticking to your teeth and also helps you maintain a neutral pH. Cavities are formed when bacteria in your mouth feed on the sugar you ate, creating acid which wears down the enamel. Xylitol, although sweet, does not break down the same way as sugar, and helps maintain the neutral pH.
What You Won't Find In It: This toothpaste doesn't contain these controversial ingredients, commonly found in conventional products:

Fluoride
Detergents (SLS)
Foaming agents (So no, the toothpaste won't foam – which is a good thing!)
Preservatives
Tricolosan
Artificial additives
Hyperbiotics Activated Charcoal Toothpaste Review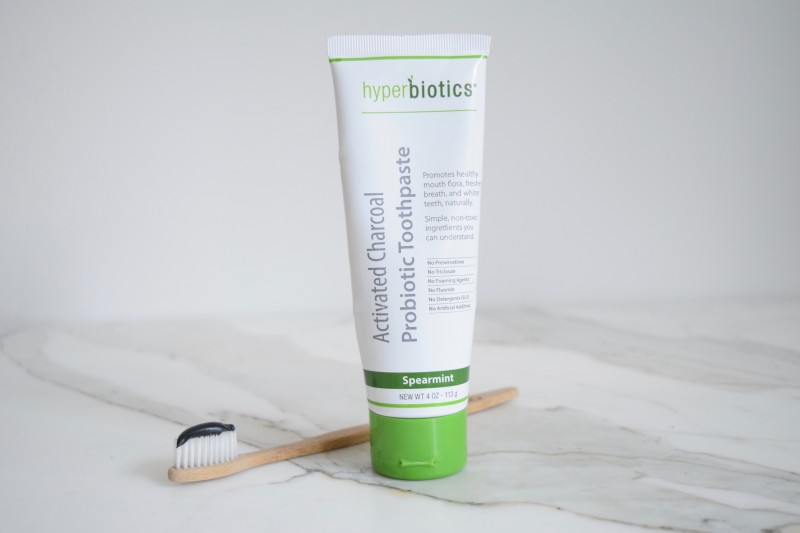 I've been using the toothpaste for about a month now, and overall, I feel my teeth are whiter, my breath is fresher and my mouth feels squeaky clean!
Like I mentioned earlier, this toothpaste is probably unlike any you've tried before. What's more, is it's sure to whiten your teeth naturally and fast.
Be ready for a blackout: Because the charcoal is black, your mouth will temporarily be blackish gray while you're brushing it. Seems strange at first, but you're all back to normal once you rinse with water.
And no foam: The biggest difference I noticed is that it doesn't foam like conventional toothpaste. You'll be used to this if you use natural toothpaste. But if you use regular toothpaste with foaming agents, this may seem weird to you at first. But afterward you'll get used to it and realize your mouth feels so much cleaner.
It's gentle: While charcoal has a reputation of being tough on enamel, the company claims it is gentle enough to use up to twice a day, every day. I have been using it every day, and sometimes twice a day, don't feel any sensitivity. Neither do I notice any enamel issues. If you're concerned or have sensitive teeth, you may want to try once a day, or even every other day.
Overall, I am OBSESSED with my new oral care routine of this toothpaste and their chewable oral probiotic.
Hyperbiotics Discount Code
If you'd like to try it for yourself, Hyperbiotics has so generously offered 25% off to my readers.
Go here to order and use the Hyperbiotics discount code HYPERMARIA to get 25% percent off your entire first order.
(Don't forget to pick up their chewable PRO-Dental Probiotic for complete oral health and their regular PRO-15 probiotic for your gut!
Disclosure: Although this post is sponsored, all opinions are my own. I discovered and purchased Hyperbiotics on my own. Because I found them so effective, reached out to the company to offer a discount code for my readers. If you use the discount code on hyperbiotics.com, you'll get a discount, and I receive a small commission.