Beyond it's breathtaking beauty, Jackson Hole, Wyoming is known more for it's burgers than it's kale salads and organic juice. But have no fear, I've got the best restaurants for you to keep it healthy while visiting this rustic western town.
Healthy Jackson Hole
Jackson Hole is home to pristine mountain ranges, rivers, lakes, and wilderness. The air is so fresh and clean, I made sure to breathe extra deep when I was there. (PS did you know that simply inhaling the air in forest or tree-laden areas can help you feel more relaxed? That's because trees release a chemical that lowers certain stress hormones in the body (1)).
There are a variety of activities, from hiking, to white water rafting, to biking, to horse back riding, to canoeing to keep you busy and active during your trip. But, when it comes to eating healthy food, the options were limited, although NOT non-existent.
As always with traveling, a little bit of google searching and happycow.net searching will often give you a number of hot leads to find good options no matter where you are.
Here are my top picks for healthy restaurants in Jackson Hole.
Liberty Burger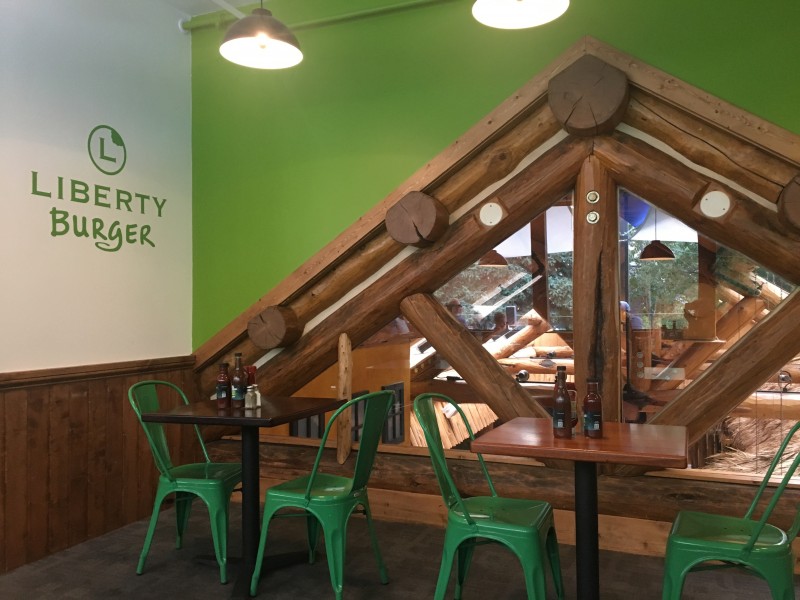 Right next to Lotus is Liberty Burger, a chain of burger joints, that happens to have a delicious veggie burger, called Woodstock. I didn't want the bun, or any of the salads they had, so I looked at the ingredients in the different menu items and made my own plate. This was the veggie burger over wild arugula, with avocado and quinoa, and their poppy seed dressing. It was so delicious, I had it two days in a row.
They of course have meat options here. Unfortunately, they don't serve organic meat, but they do serve wild, grass-fed bison. According to the company, they are raised without antibiotics, stimulants, or hormones and their high protein meat is lower in fat and calories than beef or chicken. If you do eat meat, you may want to try it, as my friend who tried the bison burger enjoyed it.
Thai Me Up
This Thai restaurant and beer brewery was a welcome site after 7 hours of trekking through the mountains. We were famished and over-ordered at this place.
My favorites were the spring rolls, made with fresh and crisp veggies wrapped in rice paper. I had a bite of someone's Pad Thai and it was really good, with lots of red cabbage and cilantro and veggies in there. I had the yellow curry, which was made with turmeric and ginger, and I really liked it. I chose it because turmeric and ginger provide anti-inflammatory benefits, and I was a bit burnt from being in the sun and hiking all day.
Pearl Street Market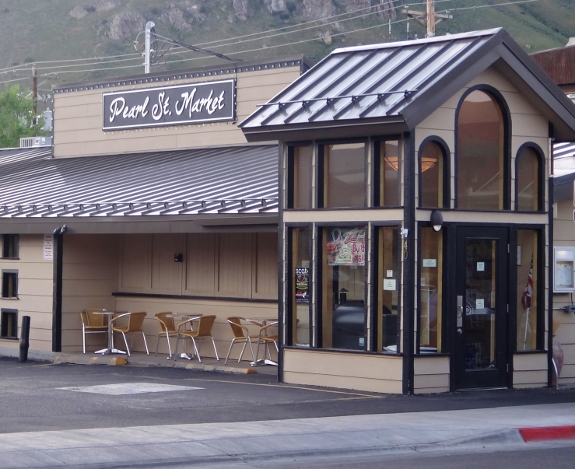 Pearl Street Market is a small grocery store that had a number of healthy, and even organic snack options – including things like Mary's Gone Crackers and Hu chocolate. We had stocked up on dry snacks for the hikes in LA, but this would have been a good place to get them.
They also have a deli that serves soups, salads, and sandwiches, which I didn't try, but I did see they have a superfood salad that sounded pretty good.
Jackson Hole Grocer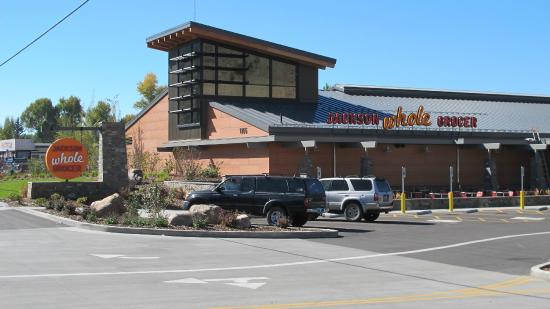 A short drive from the main square, Jackson Hole Grocer has a wider variety of groceries, and even has a juice and smoothie bar (that uses organic and local ingredients when possible).
They have a large selection of organic fruits and veggies, which could be helpful if you're staying in a house while visiting Jackson and plan to cook. According to the store website, their meat "has "never-ever" been treated with antibiotics or added hormones." And they only sell sustainable seafood.
If you're planning to cook while in Jackson, check this place out.
Farmers Market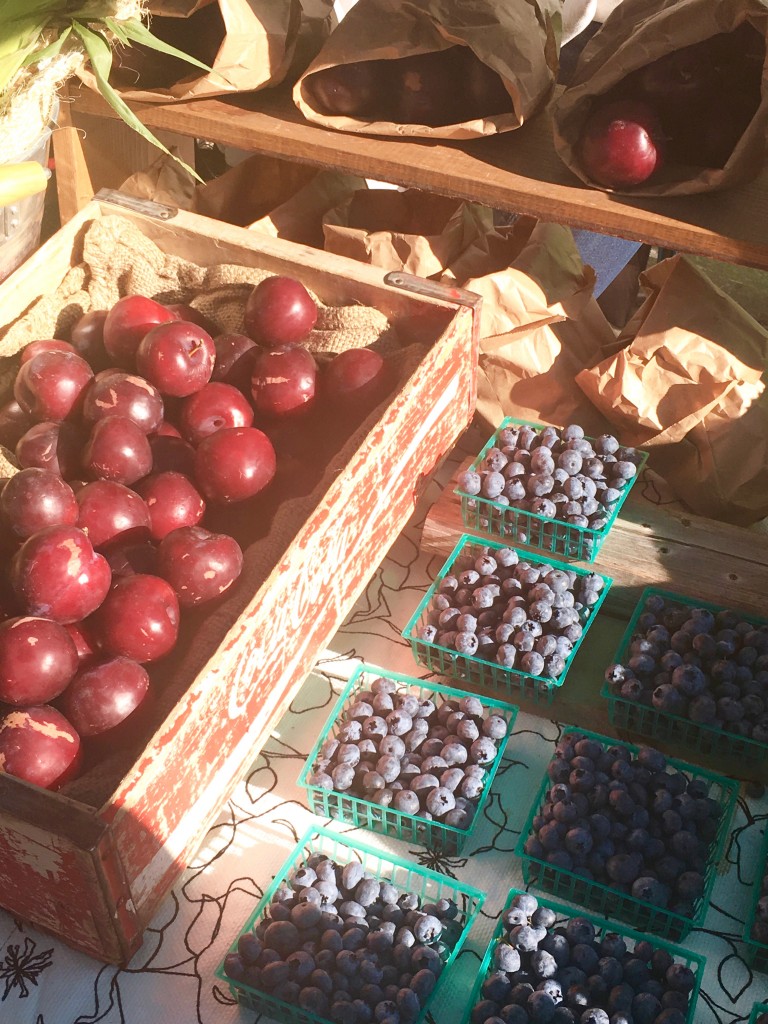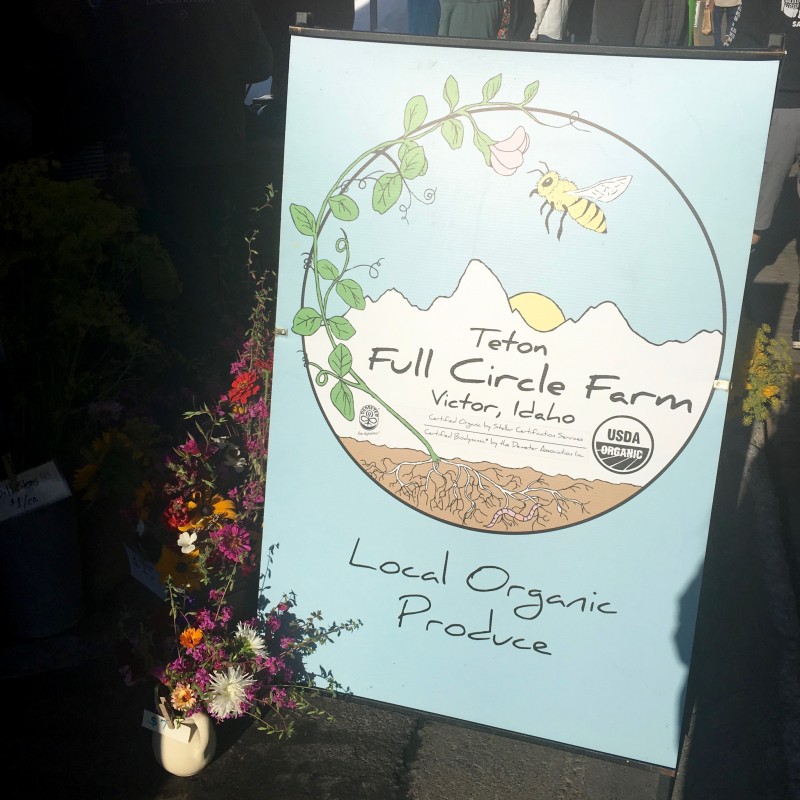 I was pleasantly surprised to wake up to a Saturday morning farmer's market, with a variety of organic produce options. When on vacation, I love to pick up fruit, like berries, peaches, nectarines, apples, or whatever is in season, to keep in the room to supplement breakfast or as a snack.
Do You Have a Healthy Restaurant in Jackson Hole Recommendation?
Do you have any recommendations for healthy restaurants in Jackson Hole, Wyoming? Or, Vegan restaurants in Jackson Hole? Or, Vegetarian restaurants in Jackson Hole? Share them in the comments below.