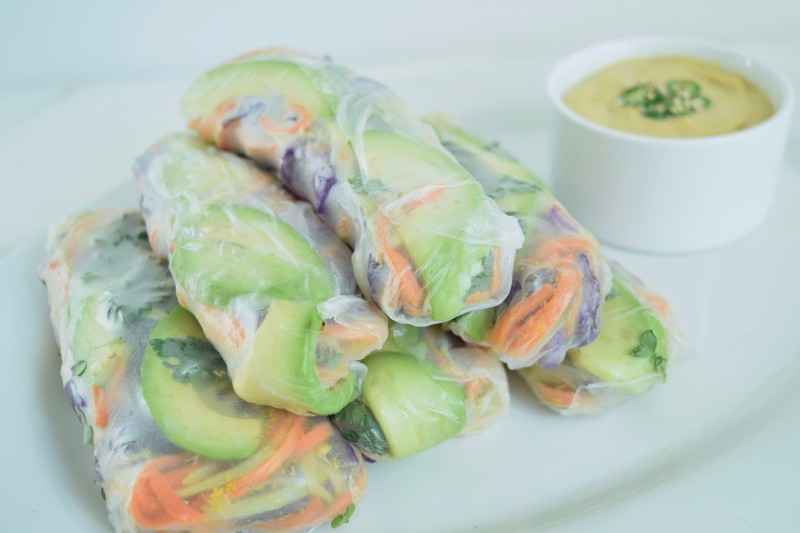 Anything wrapped in rice paper tastes better in my book, and these ginger veggie spring rolls are no exception.
While you can keep the veggies raw, I personally prefer them cooked. Here, I just did a quick saute of julienned veggies with ginger for some added flavor (and anti-inflammatory benefits).
How to Julienne Veggies Like a Boss
I use a julienne peeler, which is less than $10 on amazon, to get nice thin slices of veggies, which makes all the difference! If you don't have a spiralizer, this is a quick, easy, and cheaper way to get nice long thin strands, perfect for raw or cooked preparations. (And this is way easier/better than using a knife to julienne!)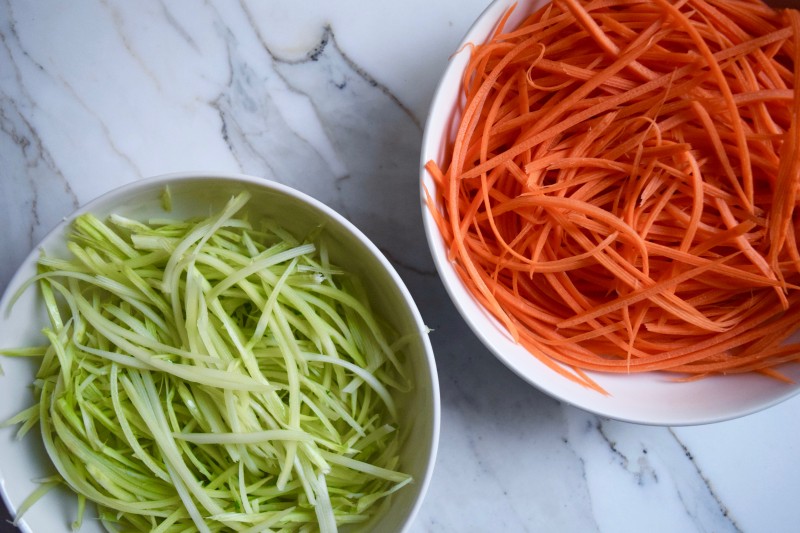 Shop These Ginger Veggie Wraps
Rice Paper / Spring Roll Wrapper
The star ingredient in my book, is the chewy, translucent spring roll wrapper, also known as rice paper. You can typically find these in the Asian section of your grocery store. Tapioca flour-based spring roll wrappers are great, too. They are fun to work with, although there is a little bit of a learning curve getting used to them, which is why I show you step-by-step how to do it below. Personally, I tend to overstuff mine (you know I can never get enough veggies!), but for a tight-restaurant-style roll, its best to not overstuff them.
You can find brown rice paper wrappers easily on Vitacost, for just a few bucks.
Julienne Peeler
As mentioned above, I love a good julienne peeler – it just makes prepping veggies so much easier, and also helps them cook faster. It's a great, low cost alternative to a spiralizer, too.
Veggies
I love to get my veggies fresh from the farmer's market whenever I can, but when I don't have time to make it to the market, I'd rather have them delivered then go to the grocery store from Amazon Fresh (they have the same produce, and even packaged items as Whole Foods!)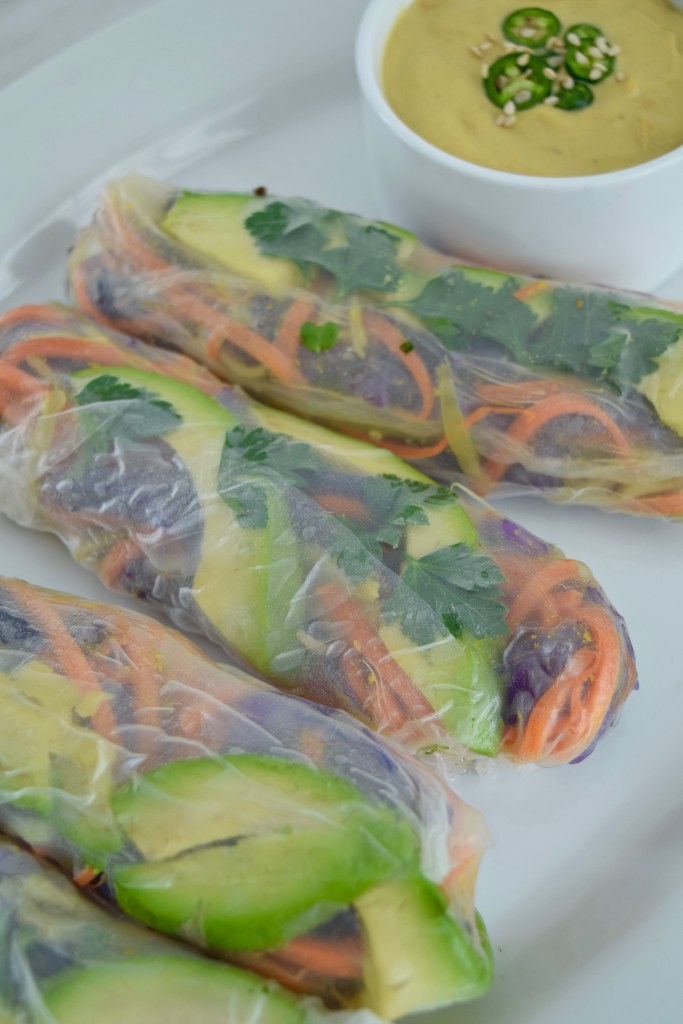 How to Make a Veggie Rice Paper Wrap (Step-by-Step)
Step 1: Submerge 1 rice paper at a time in hot water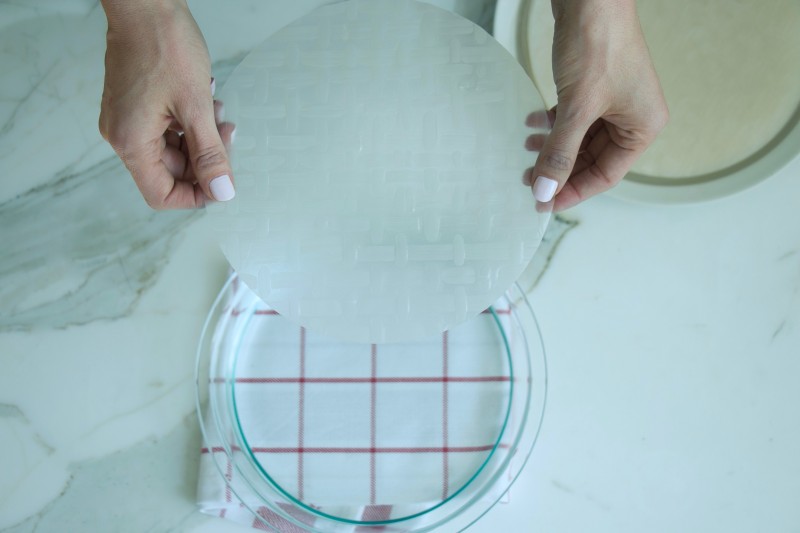 Step 2: Keep it in water for about 3 seconds, until it just starts to become soft.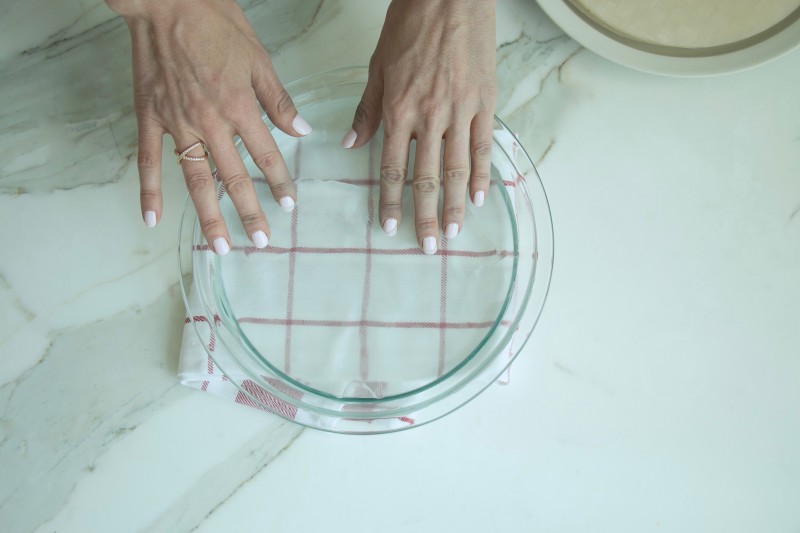 Step 3: Place it on a cutting board or other clean surface. It will continue to soften up and become more pliable.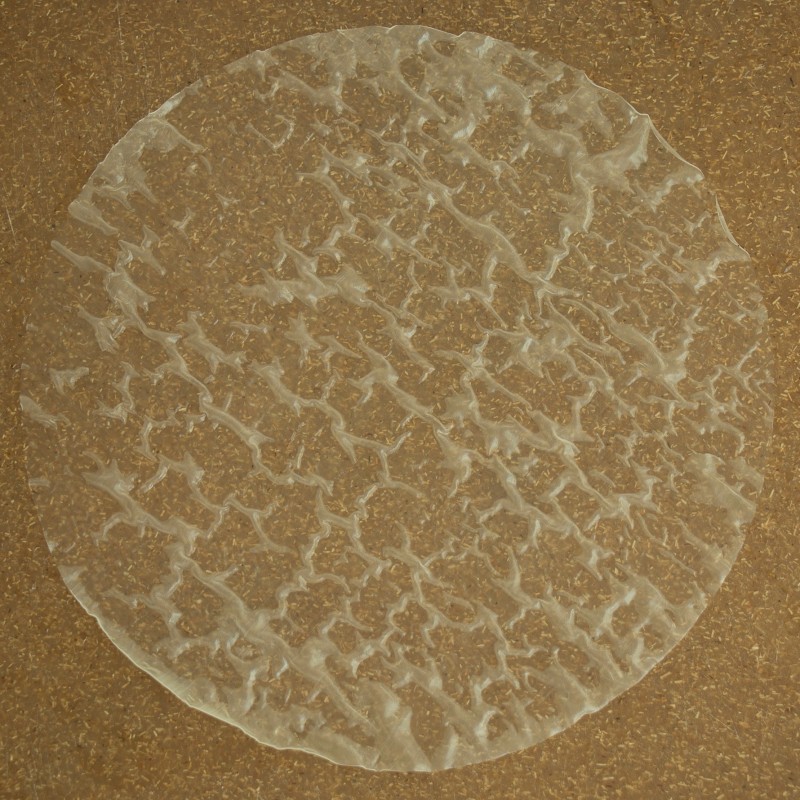 Step 4: Add your veggie filling ingredients in the center of the rice paper.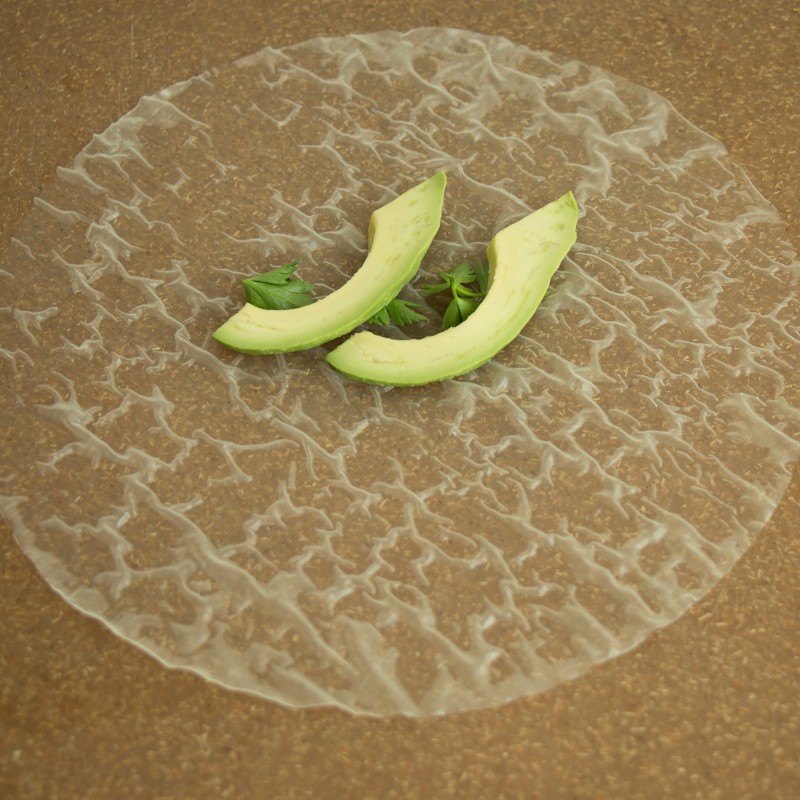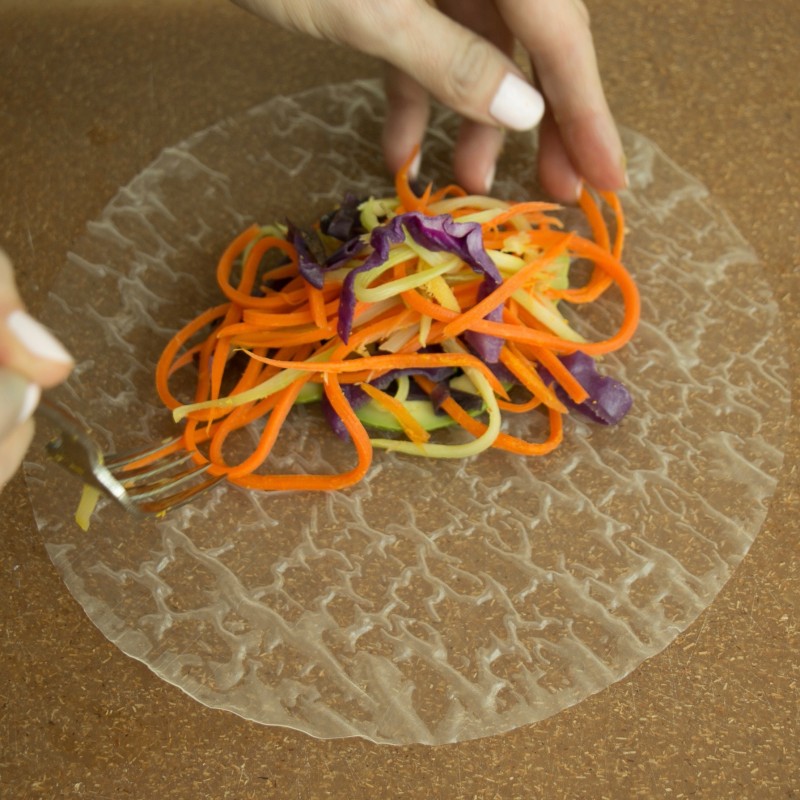 Step 5: Roll one edge of the rice paper over the veggie filling and press down to create a light seal.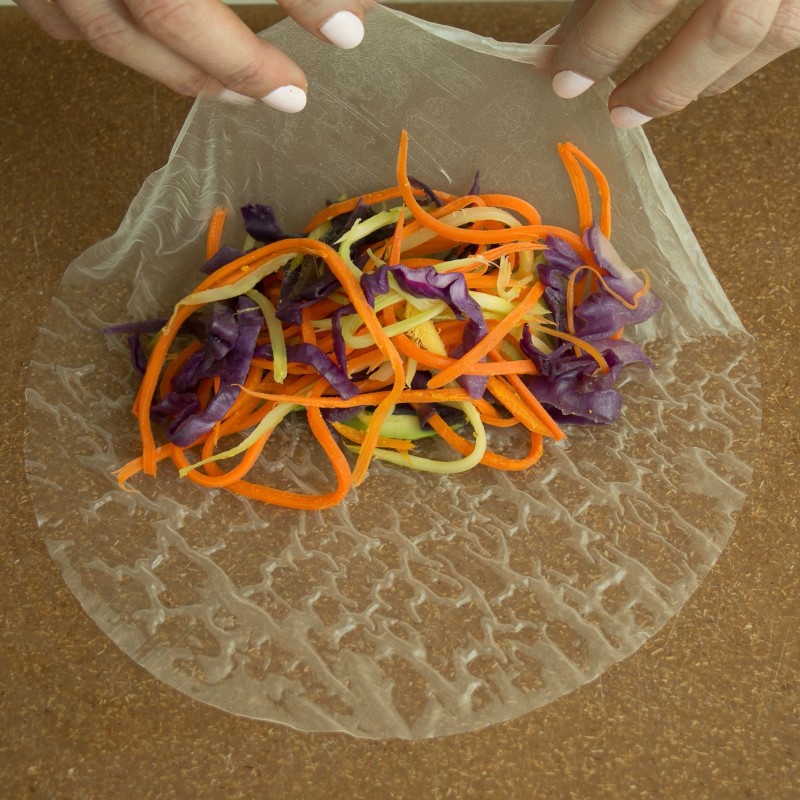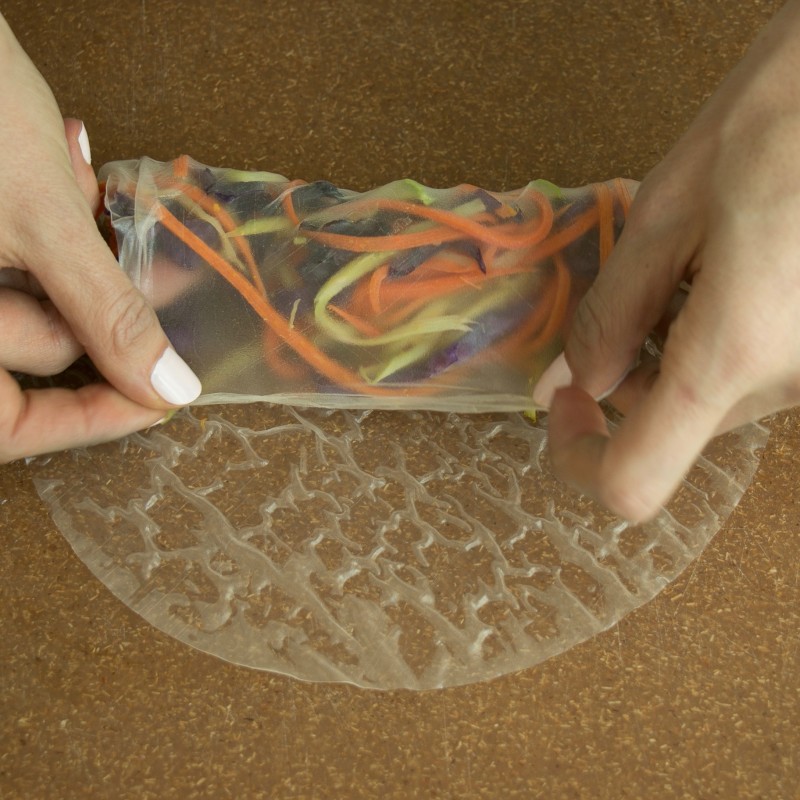 Step 6: Next, fold in the two sides, then tuck them under and continue rolling.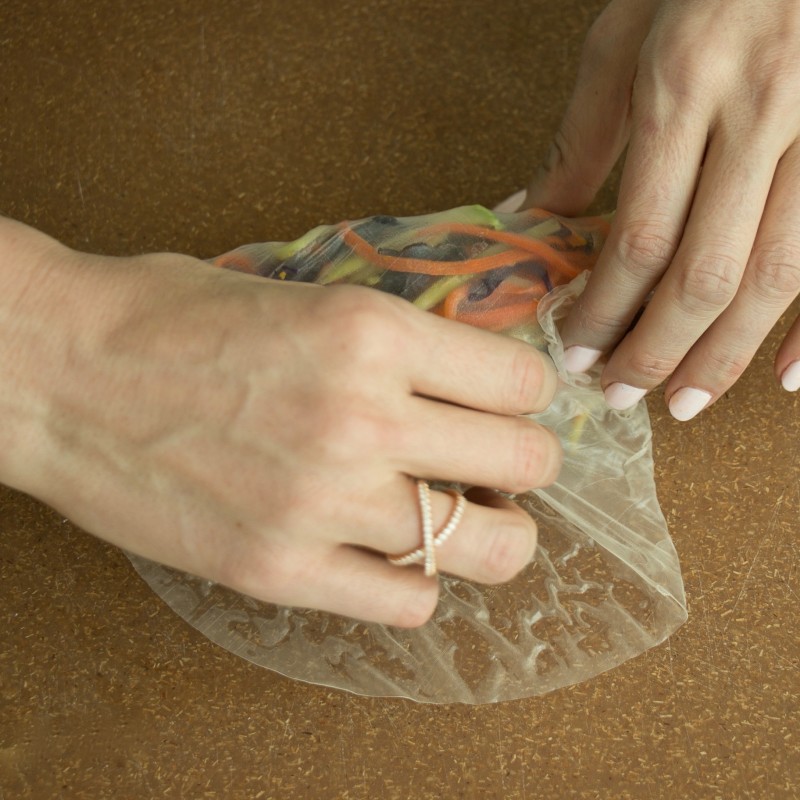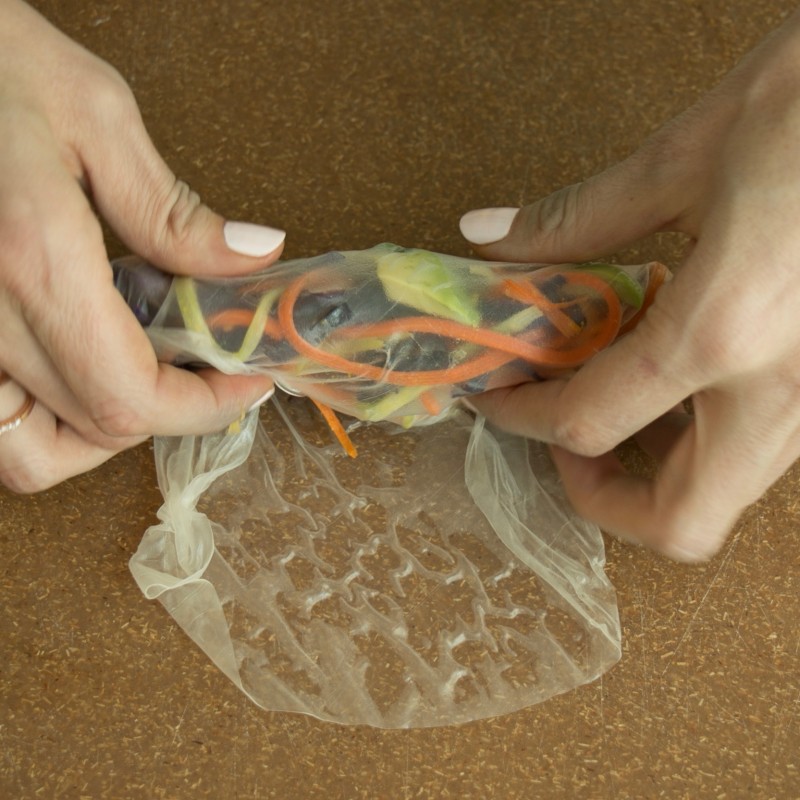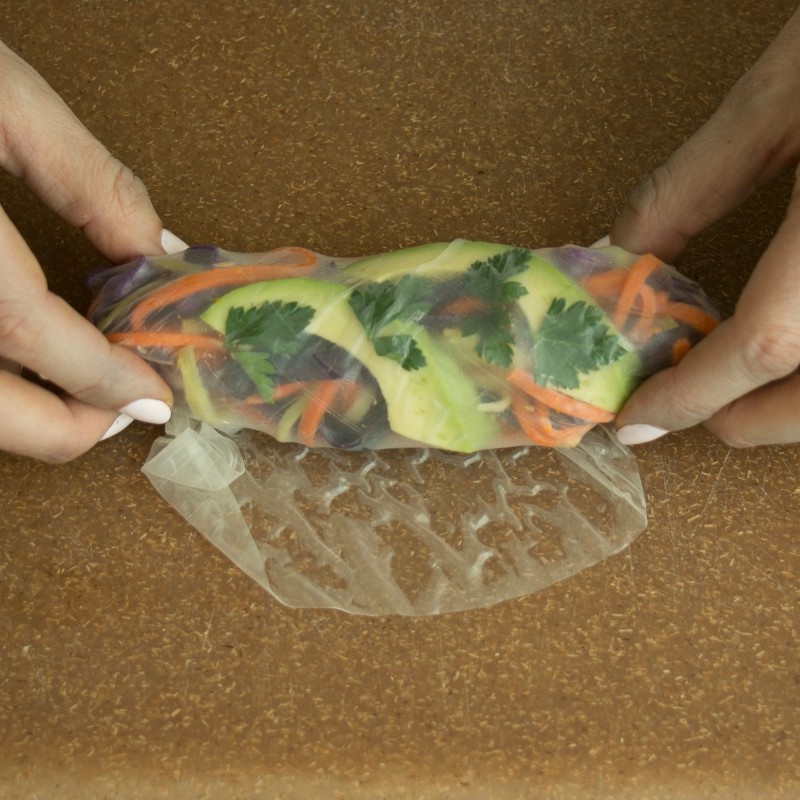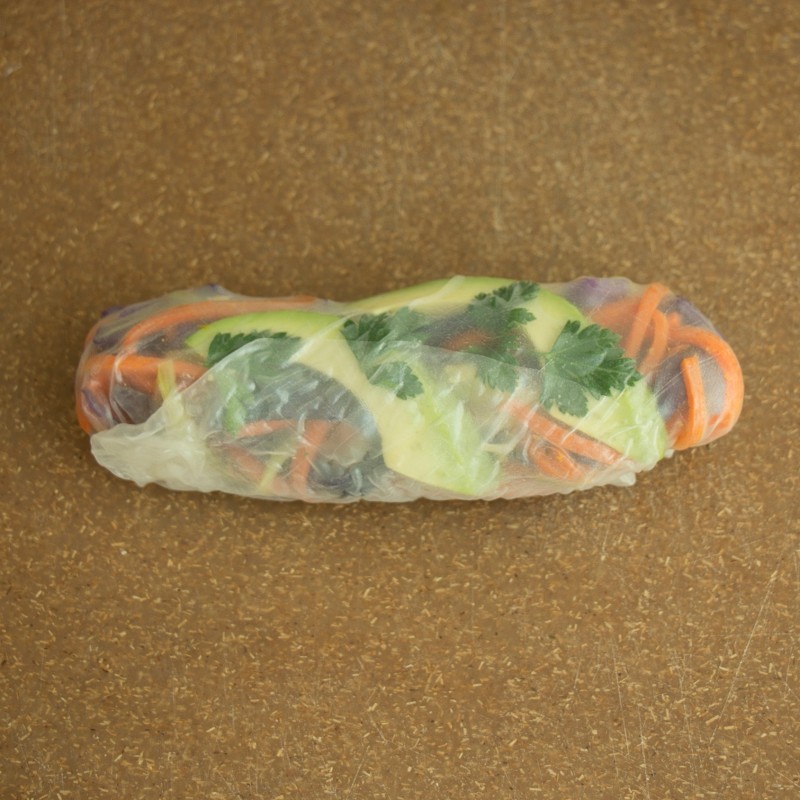 And voila! How simple was that?
Veggie Spring Rolls are are great for a fuss-free meal. They're also a fun way to make leftovers more exciting – simply wrap up last night's dinner in rice paper, and you'e got an easy fork-free lunch.
Try These Ginger Veggie Wraps
If you try this recipe, let me know! Leave a comment, rate it (by clicking the stars in the upper right of the recipe card, below), and don't forget to tag a photo @mariamarlowe or #mariamarlowe on Instagram or Facebook. I'd love to see what you come up with!
Ginger Veggie Spring Rolls
Instructions
First, make the gingered carrots and broccoli. Heat a large pan over medium heat, add just enough oil to cover the bottom of the pan, add 2 tablespoons of ginger, 2 cloves of garlic, and let cook for 1 minute before adding the carrots and broccoli stems. Cook for 7 minutes, then set aside.

Next, make the cabbage. Return the pan to the heat, coat the bottom with a thin layer of oil once again, add the remaining tablespoon of ginger, cook for 1 minute. Then, add the cabbage and cook for 7 minutes, stirring occasionally, and adding 1- 2 tablespoons of water about halfway through to help the cabbage cook. When done, remove from heat.

Meanwhile, you can make the tahini dressing. Add the tahini and water to a small bowl and mix with a fork until smooth. Then add the lemon juice, and mix well again. Finally mix in salt to taste. Set aside.

Once the veggies are all cooked, you can assemble the wraps. Place a large shallow dish or rimmed baking sheet in your sink, then fill with hot water from the faucet. Working one at a time, submerge one spring roll sheet in the hot water for 3-5 seconds, then quickly remove to a clean cutting board and lie flat. Place a few slices of avocado in the middle, and on top of that about ¾ cup of mixed veggies - including the cabbage, carrots, and broccoli.

Then fold the top and bottom in towards the center, then the left side, and then the right to create a spring roll or pocket type shape. Repeat with remaining ingredients, working one at a time.

Serve the ginger veggie wraps with the tahini dipping sauce. These save well and can be eaten cold.

Did you make this recipe?
Tag @mariamarlowe on instagram and hashtag #healthybymarlowe for a chance to be featured and win awesome prizes each month.
Clearer Skin in Just 3 Days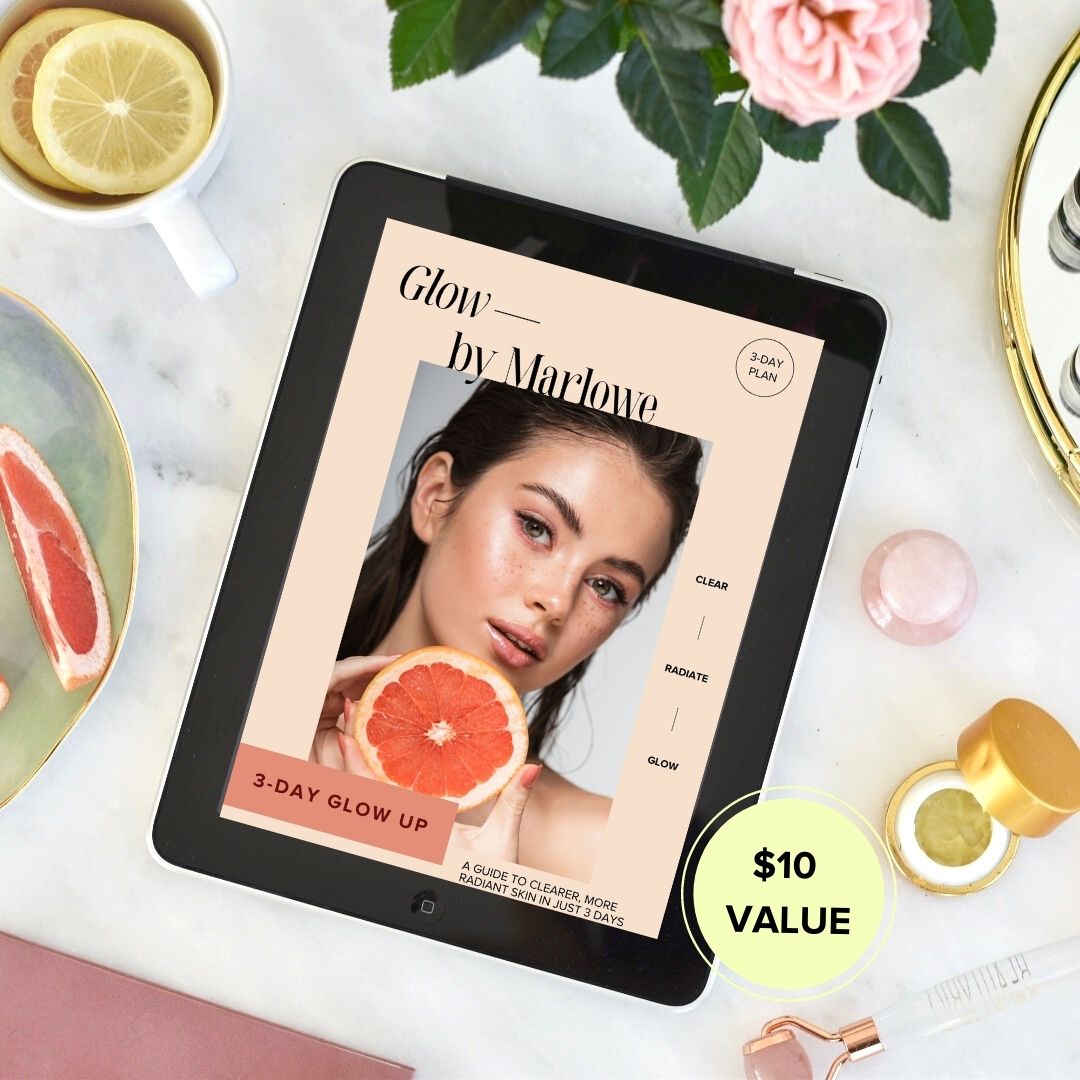 Sign up for my weekly newsletter to get the latest recipes, articles, & podcasts delivered to your inbox.

Plus, you'll receive The Glow Up Guide right away, a delicious 3-day meal plan to reduce redness and bumps, fast.