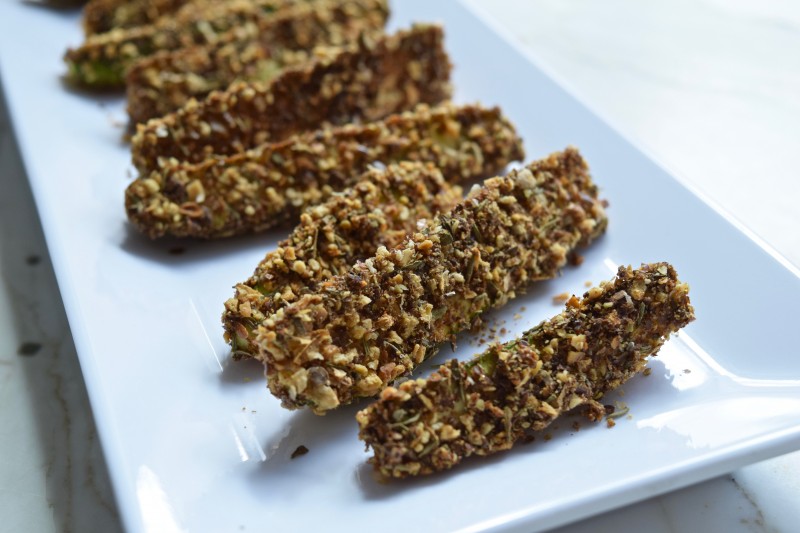 These crispy crunchy baked zucchini fries are breaded in a blend of spices and gluten-free chickpea crumbs then secretly baked, even though they taste like they're fried.
The Secret Ingredient to Crispy Baked Zucchini Fries
I recently discovered chickpea crumbs – a gluten-free version of bread crumbs made from baked, cracked chickpeas. And I'm obsessed. They make anything you coat them in taste like they are fried – even when you don't actually fry them. They give you that nice crisp crunch and texture. Plus, they add a serious boost of protein and fiber (5g and 4g per 1/8 cup, respectively).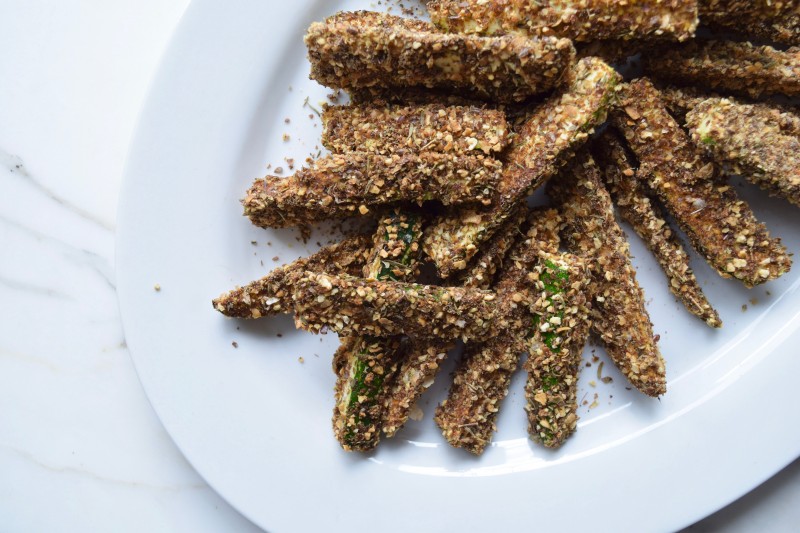 Shop the Recipe & Save
Organic Zucchini 
I recommend purchasing zucchini organic because conventional zucchini and summer squash are potentially genetically modified. Plus, choosing organic is the ideal choice as you not only reduce or limit your exposure to pesticides, but our environment as well. You can find it at your local grocer or farmers market, or get it shipped straight to your door by grocery shopping online, for example via Amazon Fresh. (<–Hello life-saver)
Organic Flax Seed
While you want to consume crushed or milled flaxseed in order to reap the benefits of it, for the freshest, most potent flaxseed, I recommend purchasing it whole and then grinding it fresh just before you're going to use it (or I sometimes grind enough for a few days or a week at a time).
You can get it whole or crushed at Vitacost for just $3-4 a pound!
Simply Organic Spices
I love this brand of organic spices, they are always the freshest, most vividly colorful and most flavorful. This particular recipe calls for oregano, basil, thyme, cayenne, and Himalayan pink salt.
Get them for 25% or more off at Vitacost.
Non-Toxic Parchment Paper
Parchment paper makes clean up so much easier – but conventional brands are bleached and could contain the toxic chemical dioxin, a result of chlorine bleaching of the paper. Dioxin is considered a known human carcinogen by The World Health Organization (WHO). According to the World Health Organization, once dioxins enter the body, they last 7-11 years because of their chemical stability and their ability to be absorbed by fat tissue, where they are then stored in the body, to take them out of circulation and away from key organs.. There is a theory, although not well studied, that having chemical buildup causes easy weight gain and makes it harder to lose weight, as your body holds on to the toxic fat is has stored until those toxins can safely be broken down and/or removed from the body without causing damage.
For this reason, I prefer to only use non-toxic chlorine-free parchment paper.
Making Crispy Baked Zucchini Fries in Photos
Slice the zucchini into thin sticks, about 3 inches by 1/4-1/2 inch.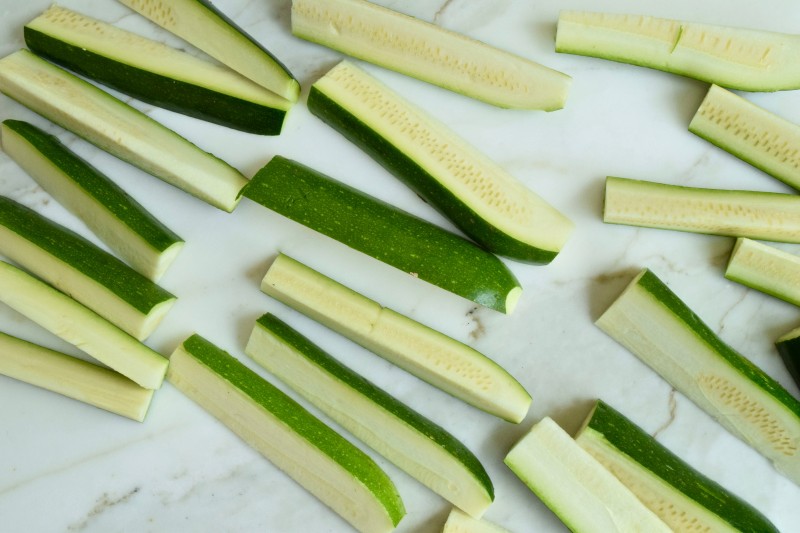 Make two bowls. One with a whisked egg, the other with the spices and chickpea crumbs. Then, dip each zucchini stick in the egg, strain excess, and dip in the spice mix. Press the spices into all sides until thoroughly coated, then lay on the parchment lined baking sheet.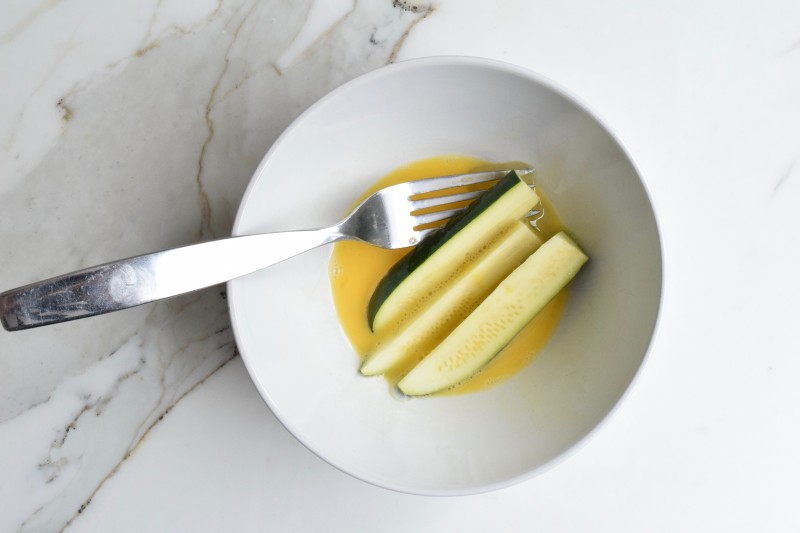 Try These Crispy Baked Zucchini Fries
If you try this recipe, let me know! Leave a comment, rate it (by clicking the stars in the upper right of the recipe card, below), and don't forget to tag a photo @mariamarlowe or #mariamarlowe on Instagram or Facebook. I'd love to see what you come up with!
Baked Zucchini Fries
Instructions
Preheat oven to 425 degrees Fahrenheit, and line a baking sheet with parchment paper. Set aside.

Cut the stem and end off the zucchini, then slice in half crosswise, so you're left with two pieces about 3-4 inches long each. Slice each of those halves into 8 "fry-like" sticks.

Crack the egg into a bowl and whisk with a fork. Set aside.

In another bowl, combine the dry ingredients: flax seed, chickpea crumbs, spices, and salt, and mix well until evenly combined.

Dip each zucchini stick into the egg, strain excess, and the place it in the bowl with the dry mixture, and coat all sides evenly, then lay flat on the parchment lined baking sheet. Repeat with all remaining zucchini.

Bake in the oven for 20 minutes.

Remove and serve immediately, as this tastes best hot.

Did you make this recipe?
Tag @mariamarlowe on instagram and hashtag #healthybymarlowe for a chance to be featured and win awesome prizes each month.
Clearer Skin in Just 3 Days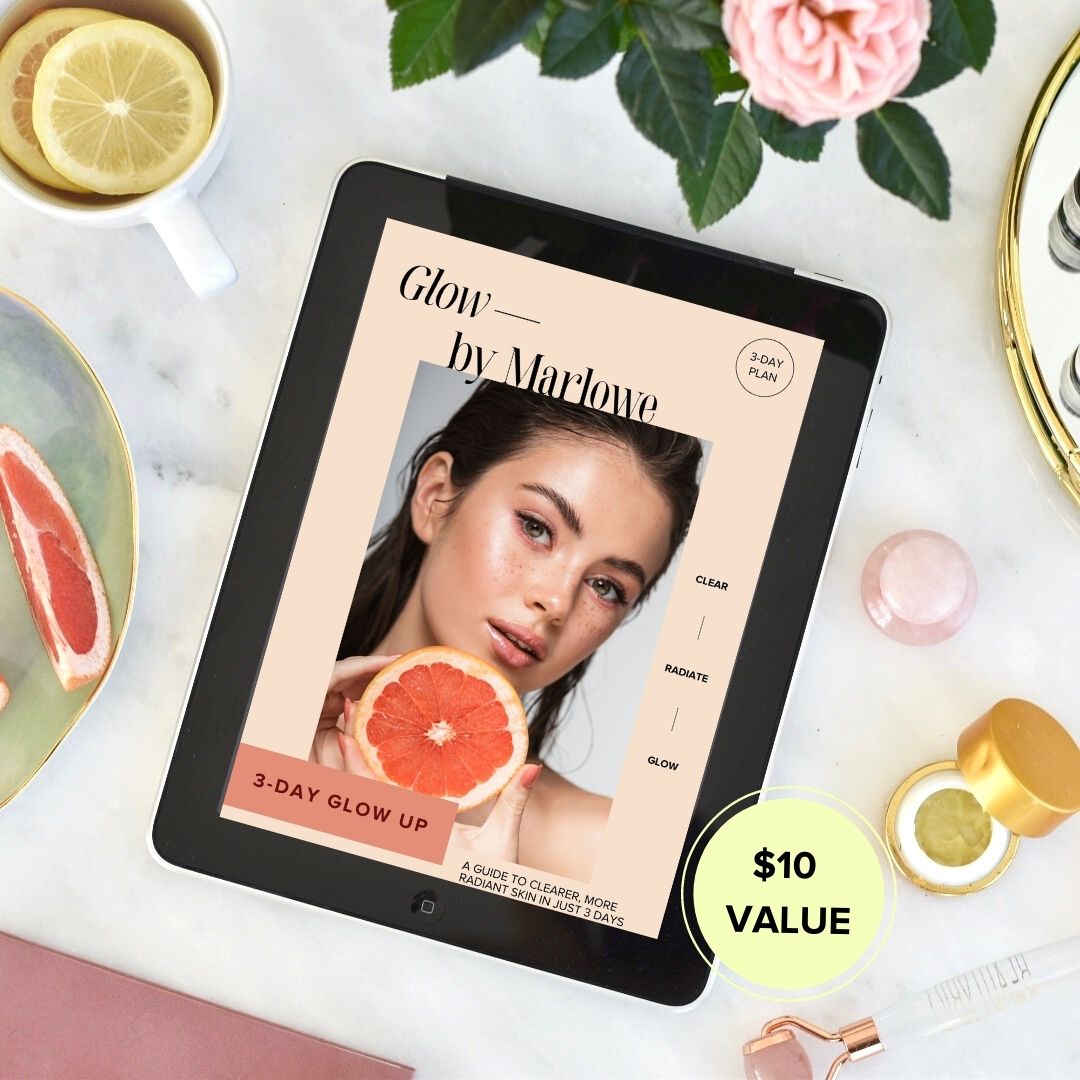 Sign up for my weekly newsletter to get the latest recipes, articles, & podcasts delivered to your inbox.

Plus, you'll receive The Glow Up Guide right away, a delicious 3-day meal plan to reduce redness and bumps, fast.