Plastic – even the BPA-free kind – wreaks havoc on our health and the environment. Here are 7 high-performing plastic alternatives for your kitchen.

What are the health concerns associated with plastic?
Plastic contains hormones-disrupting chemicals which are associated with a wide range of health concerns.
Some of the specific chemicals of concern include:
bisphenol-A (BPA)
BPS & BPC (which typically replace BPA in BPA-free products, and are just as harmful)
phthalates
These substances are believed to be endocrine disrupters, which means they interfere with the hormones (such as estrogen and testosterone) in our body, which produces adverse developmental, reproductive, neurological, and immune effects.
When absorbed in the body, an endocrine disruptor can decrease or increase normal hormone levels, mimic the body's natural hormones, or alter the natural production of hormones.
These could leach into the food or beverage from the plastic, whether or not it's heated.
While more research is needed, studies have shown links between BPA and:
cancer
diabetes
heart disease
reproductive issues
impaired fetal development
behavior issues (hyperactivity and aggression)
and a host of other illnesses
You don't have to change everything overnight – small steps add up over time!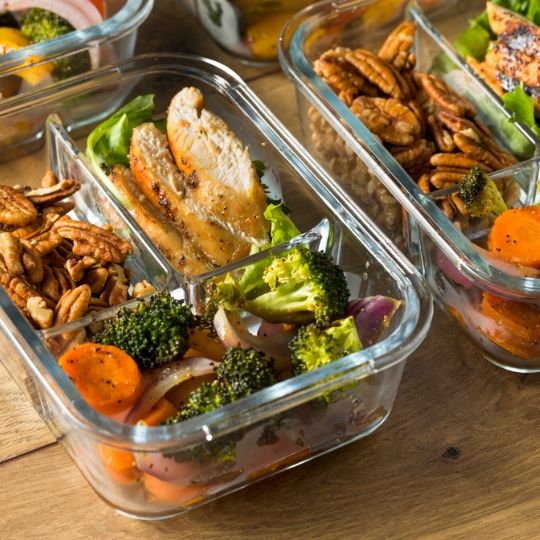 7 Top Plastic Alternatives for the Kitchen:
Plastic Food Container Alternatives
If you like to meal prep or save leftovers (who doesn't?!) then invest in a set of glass containers with locking lids and a set of wide-mouth, 1 liter mason jars, perfect for soups, sauces, and bring-to-work salad jars.
Plastic Produce Bags Alternatives
If you hate all the plastic used at the grocery store – especially the dozen or so plastic produce bags which end up in the trash each week, get yourself a set of organic cotton mesh produce bags. I absolutely love these. They keep your produce fresh and prevent it from drying out (compared to putting your produce in the fridge without a covering). When they get dirty, simply throw them in your washer and dryer.
Plastic Wrap Alternative
If you use plastic wrap, you'll love this reusable and sustainable alternative: organic beeswax wraps. Made from 100% GOTS certified organic cotton and coated in beeswax, these are extremely easy to use. You can use them to wrap your cut produce directly, or cover a bowl or plate. The heat of your hand molds them to whatever you put them on, and they come in a variety of shapes and sizes. I am constantly using these every day! Simply run under hot water and use a little soap to clean. They last for about a year.
Ziploc / Plastic Bag Alternative
Whether you use the gallon-size, sandwich-size, or snack-size plastic baggies, you can find a reusable silicone food bag alternative. There are some imposters on the market, so be sure to choose 100% silicone bags, instead of those made from cheap vinyl or PEVA, if you want to avoid potentially toxic chemicals.
Non-Stick Cookware Alternatives
Non-toxic cookware deserves a whole entire post (stay tuned!). Non-stick pans are coated with questionable chemicals that can end up in your food when the pan gets scratched. Non-toxic alternatives include stainless steel, glass or 100% ceramic cookware.
STAINLESS
Personally, I have used my stainless steel pots and pans for years. They are durable, long-lasting, and easy to clean. If food does get stuck on the bottom, simply put it in the sink, fill with water and let it soak for 10 minutes or so.
CERAMIC
More recently, I've also fallen in love with ceramic cookware. You have to be careful when purchasing ceramic, as there have been recent concerns with lead and other heavy metals in ceramic cookware, especially those that have more decorative motifs.
However, you can find 100% pure ceramic cookware that is tested to be free of heavy metals, so I'd advise avoiding ceramic unless they can prove it's heavy metal free. I particularly LOVE this ceramic wok with lid, which is perfect for quick stir-frys.
GLASS
Glass pots fascinate me, and although I don't have one yet, it's on my list! Glass is completely non-reactive, so there is no concern about anything leaching into your food. The draw back is they could break if dropped, unlike traditional stainless steel cookware.
Plastic Cooking Utensils Alternative
Instead of stirring hot soups or food with plastic utensils, get a durable and long-lasting set of utensils made from either, silicone, stainless steel, or wood – I especially love this beautiful teak wood utensil set.
Plastic Cutting Board Alternatives
Instead of plastic or nylon cutting boards, choose wood or silicone. When you chop, the knife makes little indents and scratches in the board, and if you're chopping on plastic, those tiny micro-shavings can get into your food.
Exposure to plastic is inevitable in our modern lives, but any little bit you can reduce it, is helpful. Small changes can make a large impact.
View this post on Instagram
For more tips like these, be sure to follow me on Instagram and subscribe to my weekly email newsletter.