In this episode we'll hear from gut health expert, Dr Vincent M. Pedre, author of Happy Gut, and Medical Director of Pedre Integrative Health, a private functional medicine practice in NYC.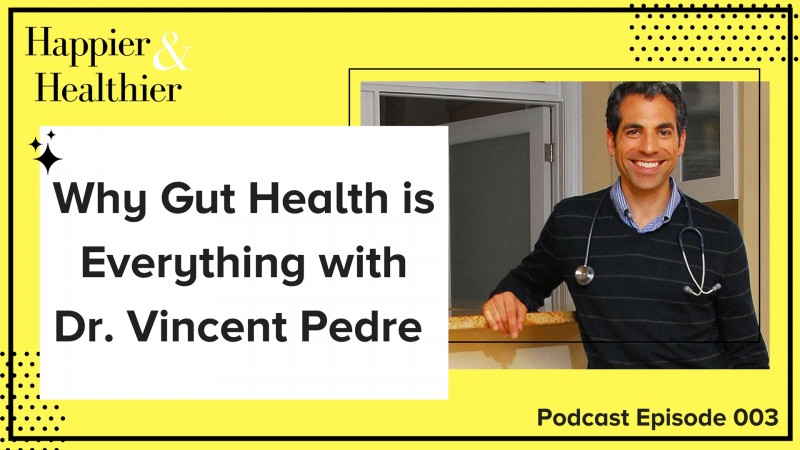 We discuss:
why gut health is the key to overall health
the healthiest way to consume probiotics
what you need to know about leaky gut (and why you probably have it)
why the key to healing any illness – especially auto-immune disease- starts with the gut
why wheat is problematic…for everyone, even if you are not celiac
how your favorite foods could be causing your digestive issues or even making you feel depressed
This is a MUST LISTEN. Dr. Pedre is a wealth of information. We met right before his Happy Gut book launch a couple years ago, and he has referred clients to me over the years. If you have digestive issues, I highly recommend you listen, check out his book, or go see him!
Listen on Your Favorite Podcast App
Listen to the podcast on iTunes, Stitcher, Soundcloud, Spotify, or wherever you listen to podcasts, and don't forget to subscribe so you never miss an episode!
If you enjoy it, leave a review on that platform, email info@mariamarlowe.com a screenshot and we will send you a free 3-day sugar detox meal plan (Here is a post on how to leave an iTunes Review – it only takes a minute or two!).
No iTunes? No problem! Listen to the episode here by clicking the pink play button below.
Key Quotables & Ideas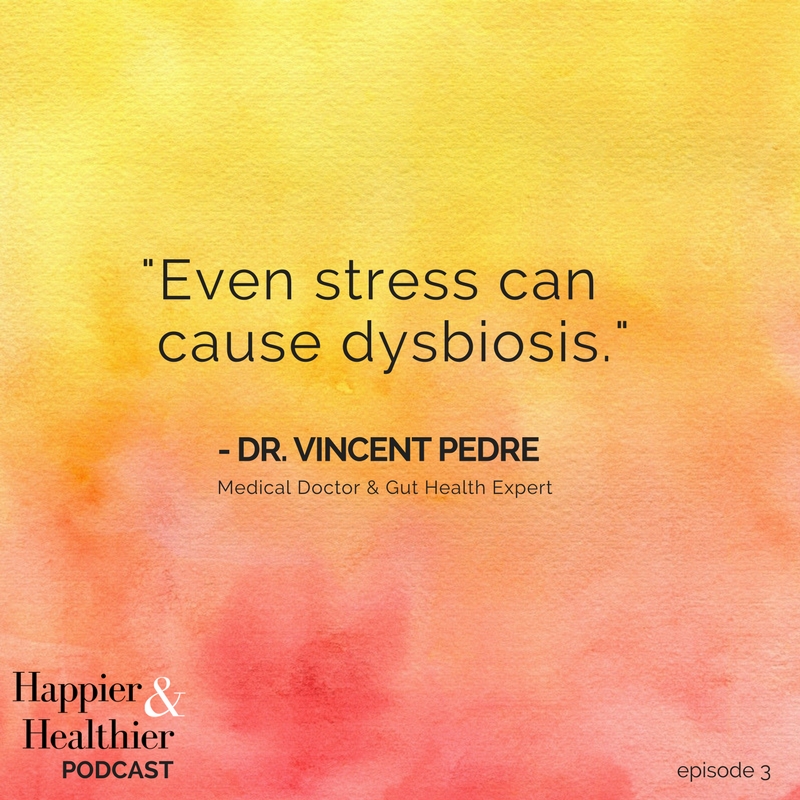 "Even stress can cause dysbiosis."
You may eat super clean, but if you're super stressed, that can throw your digestion…and health off track.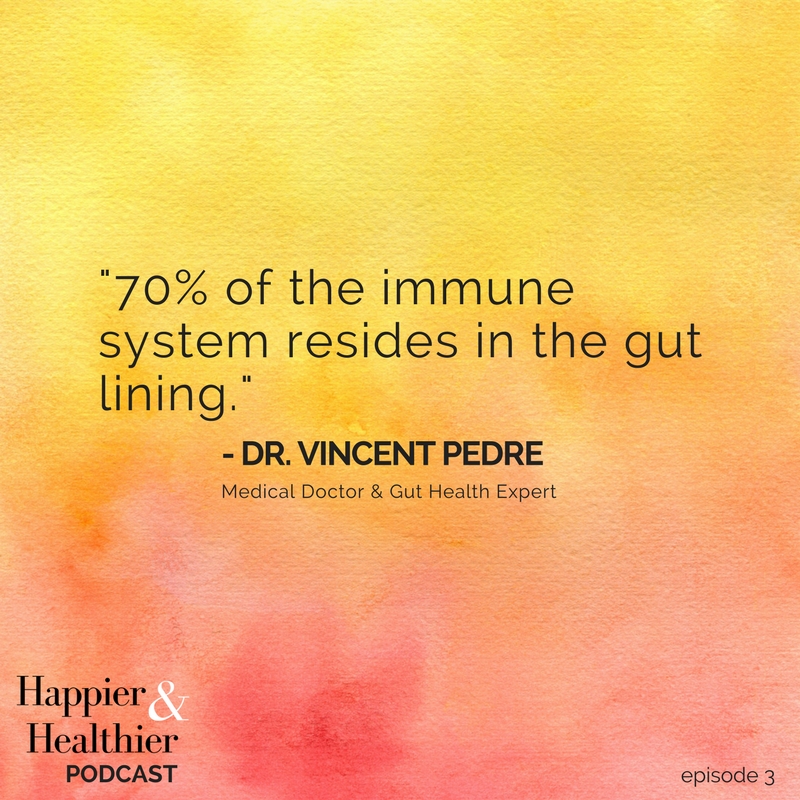 "70% of the immune system resides in the gut lining."
When your digestion is compromised, your immunity is lower, and you're more likely to get sick, compared to when you have a strong and healthy functioning digestion.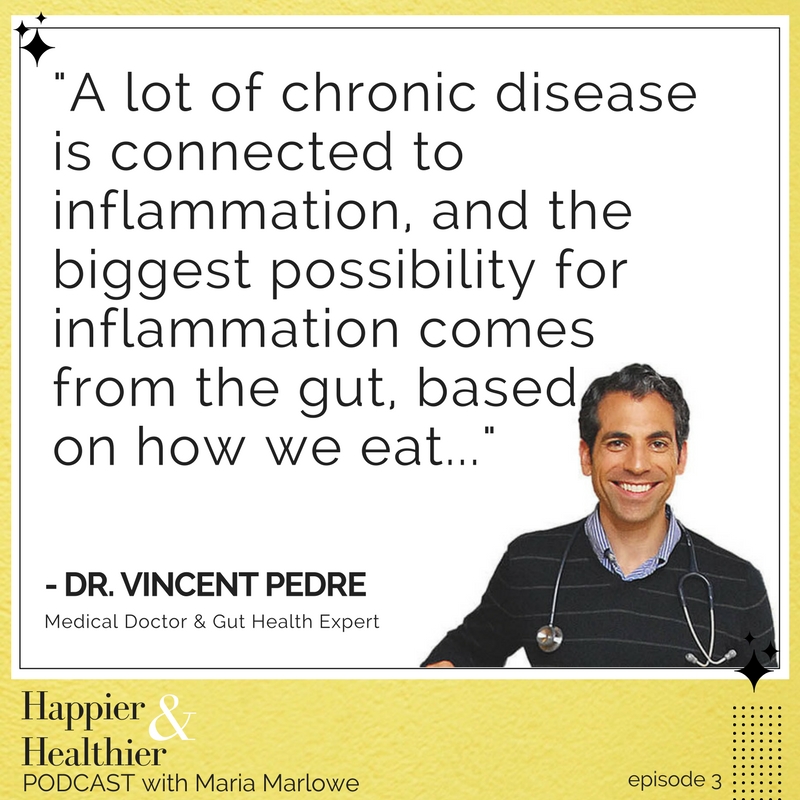 "A lot of chronic disease is connected to inflammation, and the biggest possibility for inflammation is the gut, based on how we eat…"
Food affects way more than our weight. Certain inflammation producing foods can also up our risk for all sorts of chronic illness and disease.
SUBSCRIBE
Like what you listened to? Subscribe to the podcast on iTunes so you never miss an episode.
CONNECT
More from Dr. Pedre
His medical practice in NYC: Dr. Pedre Integrative Health Practice
His book website and free Reboot meal plan: Happy Gut Life
Order his book on Amazon: Happy Gut
JOIN THE CONVERSATION
Come share your thoughts on this episode and connect with me on instagram @mariamarlowe
Or, head to the dedicated Happier & Healthier Facebook Group and let us know what action you're taking as a result of this podcast to live a little happier and healthier.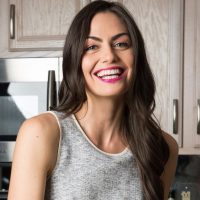 Maria Marlowe
Maria Marlowe is a holistic nutrition and wellness coach who uses real food to help her clients improve their health, weight, and skin. She offers a 28-day healthy eating meal plan that teaches you how to batch cook, as well as one to clear up acne. Her most popular program is EatSLIM, a 10-week online group glass that guides participants to develop healthy eating habits that stick – and lose weight, boost their metabolism, improve their digestion, and quit sugar.
She writes healthy and delicious plant-based recipes for her popular blog. She is also the author of the #1 New Release on Amazon, The Real Food Grocery Guide, the most practical guide to selecting the healthiest foods, without going broke, which has been praised by Dr. Oz and InStyle magazines. You can find her on instagram @mariamarlowe.