I've been getting tons of questions about oil-pulling from my clients, lately (I blame it on the GOOP effect) so I put together a short video of what it is and how I use it to whiten my teeth naturally and freshen my breath.
Oil-pulling comes from the Ayurvedic tradition, and sounds a little weird at first, but I promise you'll get used to it in a couple of days, and even enjoy doing it once you see the fast results.
Personally, it has become a part of my daily morning routine, just like brushing my teeth, and I enjoy doing it because I know it works.
Check out the video for the full scoop:
As mentioned in the video, you can use any oil, as long as it's not roasted, although I prefer unrefined coconut oil or sesame oil.
If you know someone who uses whitening strips or other products to whiten their teeth, share this video with them, for a natural, and gentler alternative that is just as effective (without getting sensitive teeth!).
Try oil pulling for a week, and then come back here and leave a comment below to let us know how it worked for you!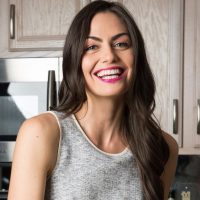 Maria Marlowe
Maria Marlowe is a holistic nutrition and wellness coach who uses real food to help her clients improve their health, weight, and skin. She offers a 28-day healthy eating meal plan that teaches you how to batch cook, as well as one to clear up acne. Her most popular program is EatSLIM, a 10-week online group glass that guides participants to develop healthy eating habits that stick – and lose weight, boost their metabolism, improve their digestion, and quit sugar.
She writes healthy and delicious plant-based recipes for her popular blog. She is also the author of the #1 New Release on Amazon, The Real Food Grocery Guide, the most practical guide to selecting the healthiest foods, without going broke, which has been praised by Dr. Oz and InStyle magazines. You can find her on instagram @mariamarlowe.