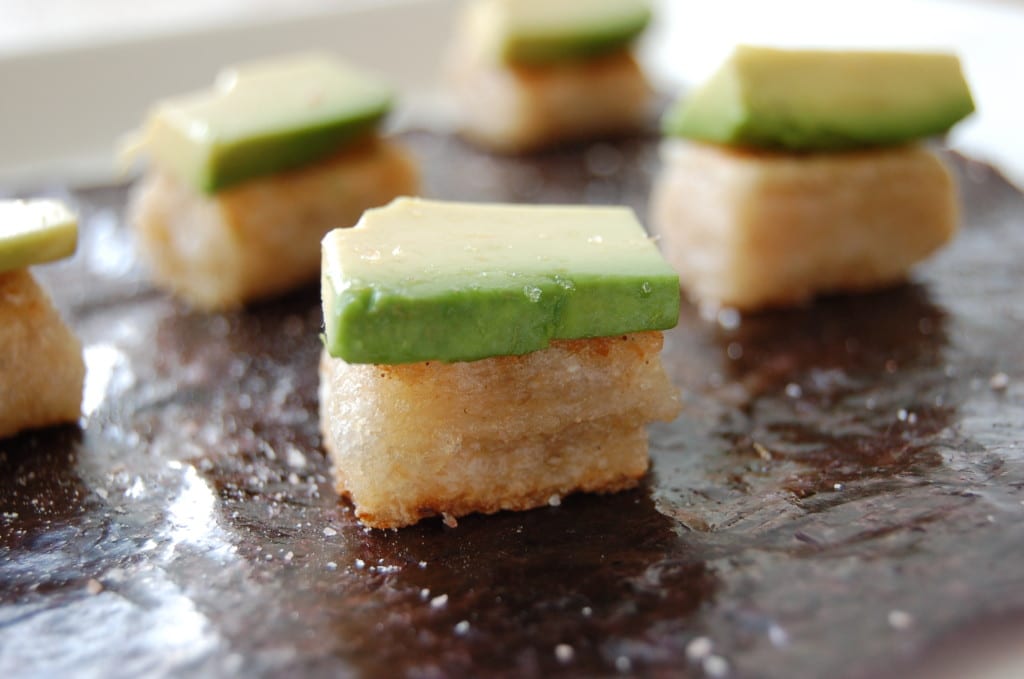 If you don't know what mochi is, prepare to be amazed.
At first glance, mochi is simply a brick of brown rice and water. But when pan seared, it forms a crispy golden outer crust while remaining ooey-gooey inside, and offers the palate an interesting new texture.
This recipe was inspired by a recent dinner at Jean-Georges, where they did a specially prepared 100% plant-based tasting menu. We had 7 courses of absolute deliciousness, but the one that stood out the most, was these little cubes of brown rice with spicy yuzu and avocado. It was so good, that after futile attempts to buy yuzu juice in Whole Foods or a regular grocery store, I found myself on a rainy Saturday night ascending the elevator to a small but bustling Japanese grocery in the East Village. Jackpot. I found my yuzu juice, and it may or may not even be organic! (Organic is the only English word on the bottle, so I'm hoping its higher price tag means it is actually grown without pesticides, but I'm not betting on it.)
Yuzu is a type of citrus fruit native to East Asia and typically used in Japanese cuisine. You may have had it before unknowingly, as it's juice is an ingredient in Ponzu sauce. Some describe it's flavor as a cross between a grapefruit, lemon, and lime. But really, it has a unique flavor all its own. Which is why the ponzu sauce at Whole Foods didn't suffice for me.
So, if you want to track down yuzu juice (you could also order it online) this makes a very interesting and different finger food. But, there are a million other ways you can use mochi, so fear not, more recipes are on the way.
What's more, you can even omit the yuzu dressing entirely, and just pan-sear the mochi on their own, in which case you'll have perfect little pillows of yumminess enveloped in a crispy golden crust.
If you have a favorite mochi recipe, please share it below!
Pan-fry mochi: Heat oil in pan over medium low. Place mochi blocks in pan, careful not to let them touch as they will stick together. Cook on both sides, 4 minutes each until crust forms. Use a spatula to remove to a plate.

Meanwhile, whisk all dressing ingredients together with a fork in a small shallow bowl. Brush or dunk the mochi cakes in the dressing to coat thoroughly, shake off any excess, and then put on serving plate. Top each with a piece of avocado and a pinch of salt.

Eat with your hands, or use chop sticks. Can use the remaining dressing as a dip.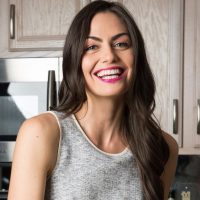 Maria Marlowe
Maria Marlowe is a holistic nutrition and wellness coach who uses real food to help her clients improve their health, weight, and skin. She offers a 28-day healthy eating meal plan that teaches you how to batch cook, as well as one to clear up acne. Her most popular program is EatSLIM, a 10-week online group glass that guides participants to develop healthy eating habits that stick – and lose weight, boost their metabolism, improve their digestion, and quit sugar.
She writes healthy and delicious plant-based recipes for her popular blog. She is also the author of the #1 New Release on Amazon, The Real Food Grocery Guide, the most practical guide to selecting the healthiest foods, without going broke, which has been praised by Dr. Oz and InStyle magazines. You can find her on instagram @mariamarlowe.