Baby Spinach is one of my favorite dark leafy greens. You can eat it raw, but pouring steaming hot quinoa over the tender leaves cause them to slightly wilt and brings out their sweetness.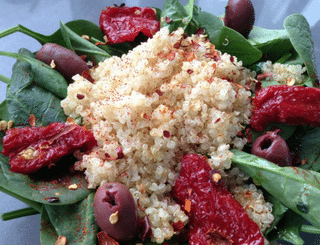 This is a super easy and filling salad, packed with high quality protein. Add in some extra fiber with chickpeas or beans if you fancy.
Place quinoa and water in a small saucepan. Bring to a rapid boil, and then cover and reduce heat to low, allowing to cook for 10 minutes, or until all water is absorbed and the germ (which looks like tiny spirals) separate from the rest of the seed.

Meanwhile, while that's cooking, soak the sundried tomatoes in a small bowl of filtered water and put to the side.

Place spinach in a large bowl.

When quinoa is done, immediately pour over the spinach.

Drain the sundried tomatoes, and toss those into the salad bowl along with the olives, seed mix, spices, and oil. Squeeze fresh lemon over it.

Mix well, and the spinach should start to wilt a little from the hot quinoa. Enjoy while it's warm. If having leftovers, you can eat cold or gently reheat in a dry pan.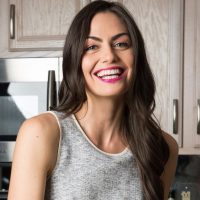 Maria Marlowe
Maria Marlowe is a holistic nutrition and wellness coach who uses real food to help her clients improve their health, weight, and skin. She offers a 28-day healthy eating meal plan that teaches you how to batch cook, as well as one to clear up acne. Her most popular program is EatSLIM, a 10-week online group glass that guides participants to develop healthy eating habits that stick – and lose weight, boost their metabolism, improve their digestion, and quit sugar.
She writes healthy and delicious plant-based recipes for her popular blog. She is also the author of the #1 New Release on Amazon, The Real Food Grocery Guide, the most practical guide to selecting the healthiest foods, without going broke, which has been praised by Dr. Oz and InStyle magazines. You can find her on instagram @mariamarlowe.