I made this recipe this weekend for a dinner party, after being inspired by the curried kale and chickpea dish at
V Spot Cafe
. It was a big hit, so I'm excited to share it with you…besides being super healthy, it's super fast to put together.
Before I give you the recipe, of course I have to explain the benefits:
Turmeric: Highly anti-inflammatory and known as a potent protector against many types of cancer.
Shitake Mushrooms: Excellent promoter of cardiovascular and immune health, they are also a great source of iron and B vitamins.
Kale: One of the most nutrient dense and anti-oxidant rich foods available, kale is a powerful blood and cell detoxifier.
Alright, here is the recipe:
1. Heat enough oil to cover the bottom of a pan over medium low heat.

2. Add the onion and garlic and cook for 1 minute before adding the spices. Let cook an additional minute before adding ginger, bell pepper, shitake mushrooms, and chickpeas. Cook for another 2 minutes, or until the mushroom get glossy and the peppers start to get soft.

3. Add in the kale and cover, for 1 minute. It will start to shrink and turn bright green. You may have to add in batches, as it starts off with a lot of volume, but quickly shrinks down. Stir the kale, and cover an additional 2 minutes or so, until all of it is uniformly bright green and soft. Remove from heat, add salt and pepper to taste.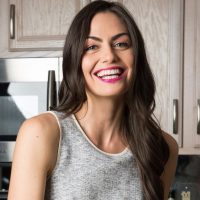 Maria Marlowe
Maria Marlowe is a holistic nutrition and wellness coach who uses real food to help her clients improve their health, weight, and skin. She offers a 28-day healthy eating meal plan that teaches you how to batch cook, as well as one to clear up acne. Her most popular program is EatSLIM, a 10-week online group glass that guides participants to develop healthy eating habits that stick – and lose weight, boost their metabolism, improve their digestion, and quit sugar.
She writes healthy and delicious plant-based recipes for her popular blog. She is also the author of the #1 New Release on Amazon, The Real Food Grocery Guide, the most practical guide to selecting the healthiest foods, without going broke, which has been praised by Dr. Oz and InStyle magazines. You can find her on instagram @mariamarlowe.