When it comes to salads, dressing can make it or break it. This hemp caesar dressing definitely makes it.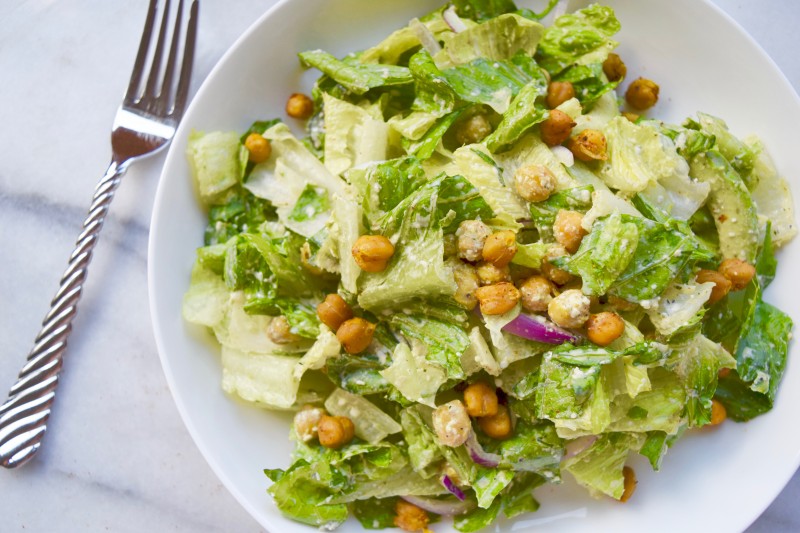 Hemp Caesar Salad
To get the white, creamy texture of caesar dressing, I used hemp seeds as a base, which come with added anti-inflammatory benefits. In place of croutons, I used chickpea croutons (crisp seasoned and baked chickpeas…which are insanely delicious and add a nice crunch).
Benefits
Hemp Seeds: Hemp seeds may be tiny, but they contain a massive amount of protein, including the sulfur-bearing amino acids: methionine, cysteine and cystine, which are used to build strong hair, nails, muscle and skin. They are also high in omega 3, an essential nutrient that provides anti-inflammatory benefits which can help bring down the redness and swelling of blemishes.
Chickpeas: Chickpeas are a superfood. One cup provides a hefty 12.5g of fiber, and whopping 14.5 grams of protein. This makes them filling and satisfying. They also provide iron (appx. 26% of our recommended daily intake (RDI) per cup) copper ( 29% RDI per cup) and manganese (84% RDI per cup), minerals that help keep our energy high.
Avocado: Avocado is a delicious source of not only healthy monounsaturated fats, but a variety of vitamins (Including Vitamin A, Vitamin E, and Vitamin K) and perhaps surprisingly, even fiber. Because fat is filling and increases satiety hormones that help you eat less overall, avocados are a great food if you're trying to lose weight. They will help prevent overeating, snacking, and sugar cravings. Inclusion of avocado in the diet on the regular is associated with better weight management, a smaller waist-circumference, and a healthier BMI. (1)

Try this Hemp Caesar Salad
If you try this recipe, let me know! Leave a comment, rate it (by clicking the stars in the upper right of the recipe card, below), and don't forget to tag a photo @mariamarlowe or #mariamarlowe on Instagram or facebook. I'd love to see what you come up with!
For the Chickpea Croutons
Preheat oven to 350 degrees.

Lay chickpeas out flat on a baking sheet. Use a paper towel to dry them. Add oil and spices and roll around until all are well coated.

Bake for 20 minutes, give the pan a shake to move everything around, then bake for another 20 minutes.
Prepare the salad: Place the chopped romaine in a bowl, and top with avocado, onion and chickpea croutons (or chickpeas).
Make the dressing: Combine all dressing ingredients in a blender (bullet blender works well), and blend on high until smooth consistency forms.

Pour dressing over the salad and mix well.
*If short on time, you can swap the chickpea croutons for regular chickpeas. Chickpea croutons can be made in a large batch in advance and stored for a few days in airtight container.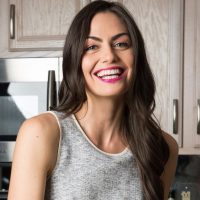 Maria Marlowe
Maria Marlowe is a holistic nutrition and wellness coach who uses real food to help her clients improve their health, weight, and skin. She offers a 28-day healthy eating meal plan that teaches you how to batch cook, as well as one to clear up acne. Her most popular program is EatSLIM, a 10-week online group glass that guides participants to develop healthy eating habits that stick – and lose weight, boost their metabolism, improve their digestion, and quit sugar.
She writes healthy and delicious plant-based recipes for her popular blog. She is also the author of the #1 New Release on Amazon, The Real Food Grocery Guide, the most practical guide to selecting the healthiest foods, without going broke, which has been praised by Dr. Oz and InStyle magazines. You can find her on instagram @mariamarlowe.