Come to momma.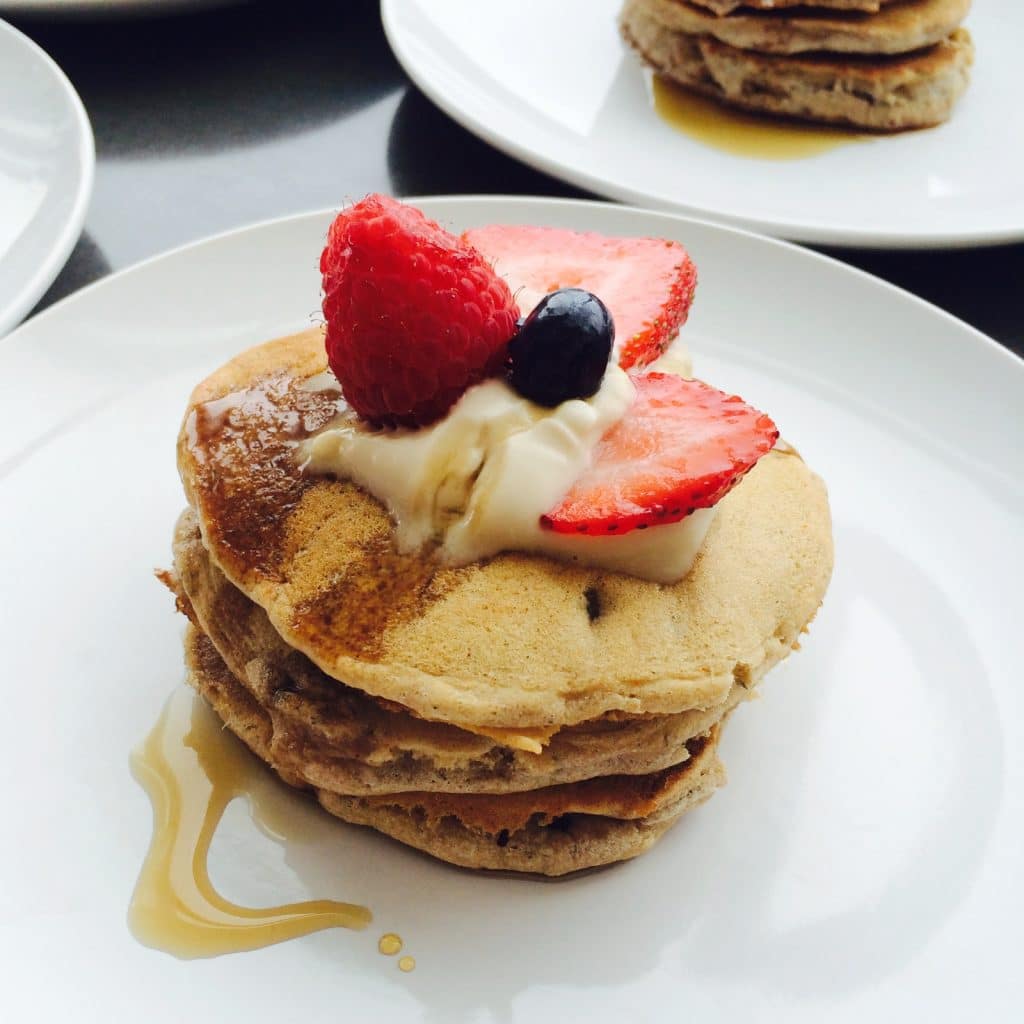 These red velvet pancakes with coconut whipped cream frosting were the star of my recent Beauty Food Brunch.
Light and fluffy, you'd never know they were both vegan and gluten-free, or the fact that some extra fruit and veggies were snuck into them, including banana and beets. (Shhh don't tell your kids!).
Now, are there healthier breakfast choices than pancakes? Yes, of course. But, I don't believe in restriction. I believe if you make your favorite foods with better for you ingredients, in this case, gluten-free flour, fruit, and vegetables, and indulge once in a while, say for Sunday brunch as opposed to every day, than they can absolutely fit into an overall healthy lifestyle.
So whip up this red velvet pancake recipe, from my friend Dorit Jaffe of WholeHealthyGlow and dig in guilt-free!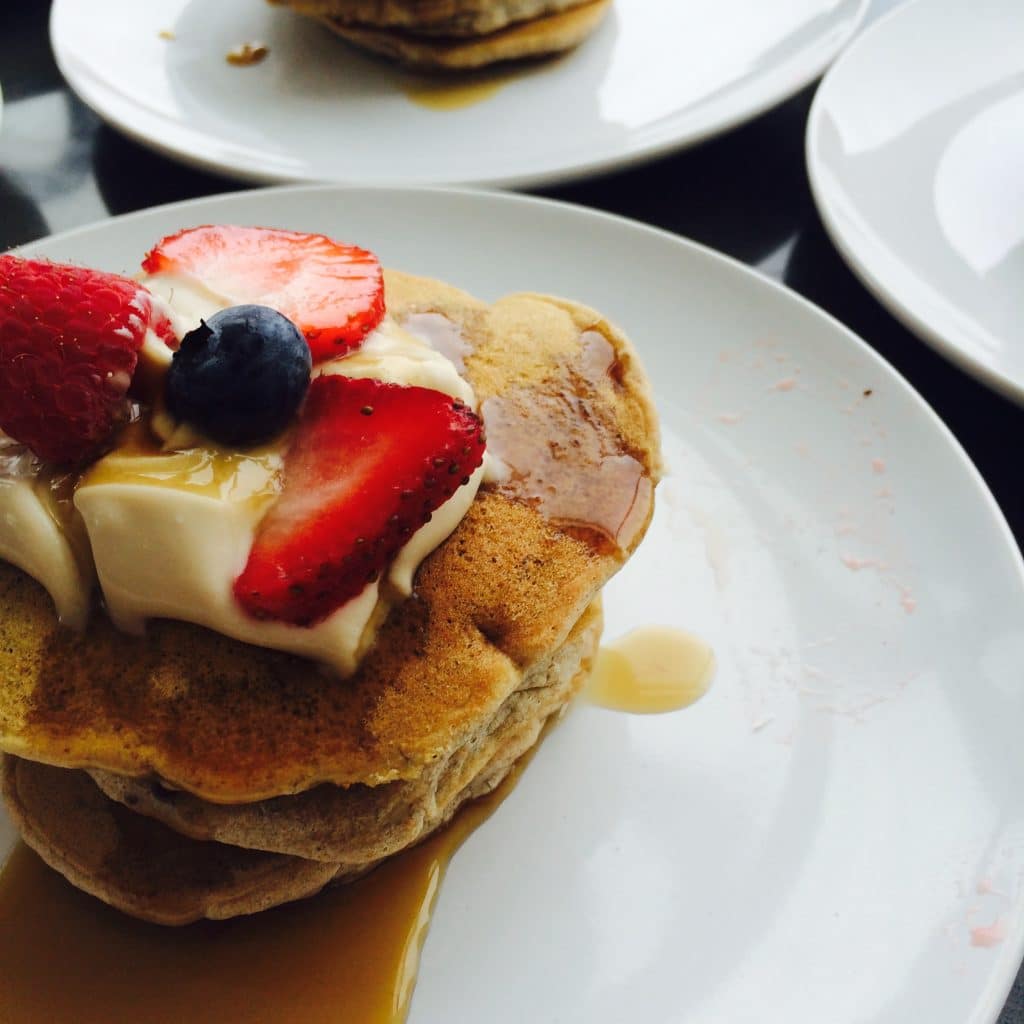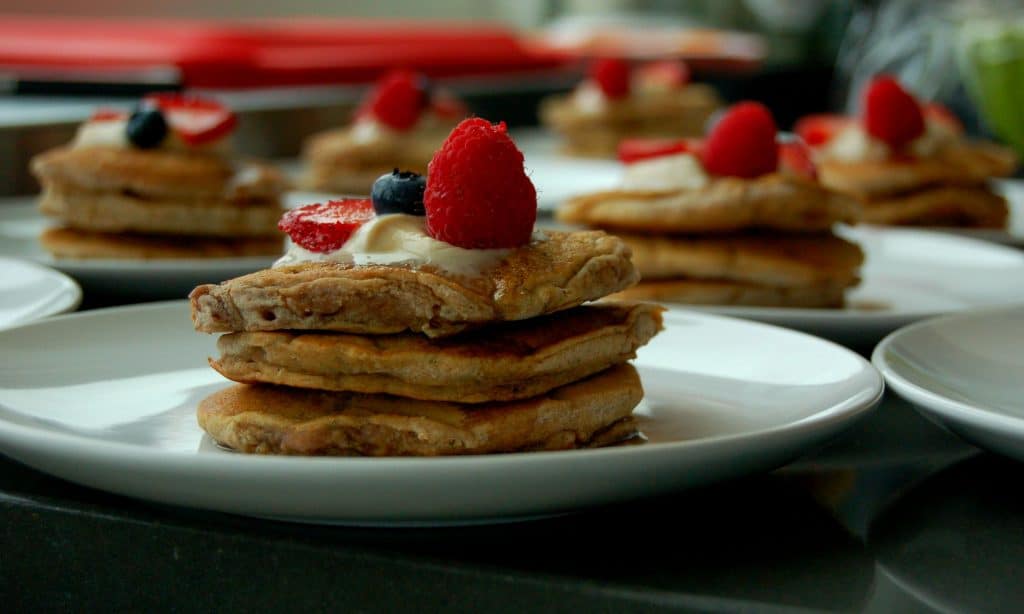 Preheat the oven to 400f. Peel two small beets and chop each one into 4 or 6 pieces. Place the chopped beetroot in a baking dish, together with a couple of tablespoons of cold water. Cover the dish with a lid or foil and bake in the oven for 20-30 minutes until they are cooked through. Check the beetroot a couple of times, adding more water so that they don't dry out. Or you can just use beets pre-cooked in a can.

Meanwhile measure out the other ingredients. Mash banana and mix together the maple syrup and vanilla extract.

Once the beetroot are cooked through, transfer them to a blender. Add the almond milk and blitz until the beets are completely blended with the milk and you have a puree consistency. Add this puree to the banana mixture and whisk until combined.

Finally, add the gluten-free pancake flour. Mix with a hand whisk until you have a classic pancake batter consistency.

Melt some butter or coconut oil in a frying pan over a low heat. Add some of the batter (the amount will depend on how thick or thin you want your pancakes to be) and cook for 2-3 minutes either side for thick pancakes.

To make the drizzle simply mix together the thick white part of the coconut milk (reserve the liquid for another use, such as a smoothie), maple syrup, and vanilla extract. Drizzle this on top of the pancakes and top off with seasonal berries. Enjoy!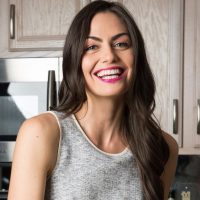 Maria Marlowe
Maria Marlowe is a holistic nutrition and wellness coach who uses real food to help her clients improve their health, weight, and skin. She offers a 28-day healthy eating meal plan that teaches you how to batch cook, as well as one to clear up acne. Her most popular program is EatSLIM, a 10-week online group glass that guides participants to develop healthy eating habits that stick – and lose weight, boost their metabolism, improve their digestion, and quit sugar.
She writes healthy and delicious plant-based recipes for her popular blog. She is also the author of the #1 New Release on Amazon, The Real Food Grocery Guide, the most practical guide to selecting the healthiest foods, without going broke, which has been praised by Dr. Oz and InStyle magazines. You can find her on instagram @mariamarlowe.