This exotic and flavorful coconut lime sauce pairs perfectly with red rice macaroni for an Asian-inspired meal (that also sneaks in some dark leafy green spinach!). The blistered tomatoes melt in your mouth and brighten up the dish.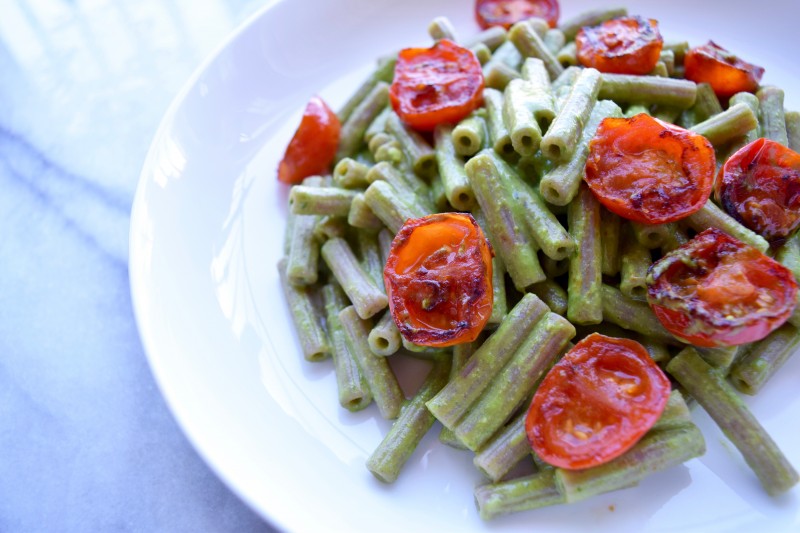 You can use whatever bean or lentil alternative pasta you like, but this coconut lime sauce goes particularly well with red rice pasta. It will probably taste great with chickpea pasta or black bean pasta, too.

Try This Red Rice Pasta with Coconut Lime Sauce & Blistered Tomatoes
If you try this recipe, let me know! Leave a comment, rate it (by clicking the stars in the upper right of the recipe card, below), and don't forget to tag a photo @mariamarlowe or #mariamarlowe on Instagram or Facebook. I'd love to see what you come up with!
Make the pasta according to package directions.

Meanwhile make the sauce: In a small pan, heat the coconut oil over medium low, and when hot, add the garlic. Cook for about 2 -3 minutes, until fragrant and golden, but not brown. Remove from heat. Add the remaining sauce ingredients to a bullet blender, and then carefully pour the cooked garlic and oil on top. Blend until completely combined, about 15-20 seconds. Set aside.

Make the blistered tomatoes: In the same pan you used for the garlic, heat another teaspoon or so of oil over medium low, before adding the tomatoes, cut side down. Cook for about 3-5 minutes, until tomatoes are soft, blistered, and fragrant.

When the pasta is done, drain and pour into a bowl. Top with the sauce and mix well. Add the tomatoes and serve.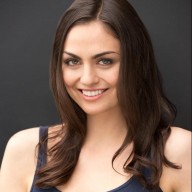 Maria Marlowe
Maria Marlowe is a holistic nutritionist and wellness coach who uses real food to help her clients improve their health, weight, and skin. She offers meal plans, ongoing group workshops both in NYC and online, and writes healthy and delicious recipes for her popular blog. She is also the author of The Real Food Grocery Guide, the most practical guide to selecting the healthiest foods, without going broke. Praised by Dr. Oz and InStyle magazine, it was a #1 new release on Amazon.