These grain-free, gluten-free Paleo Pancakes will hit the spot.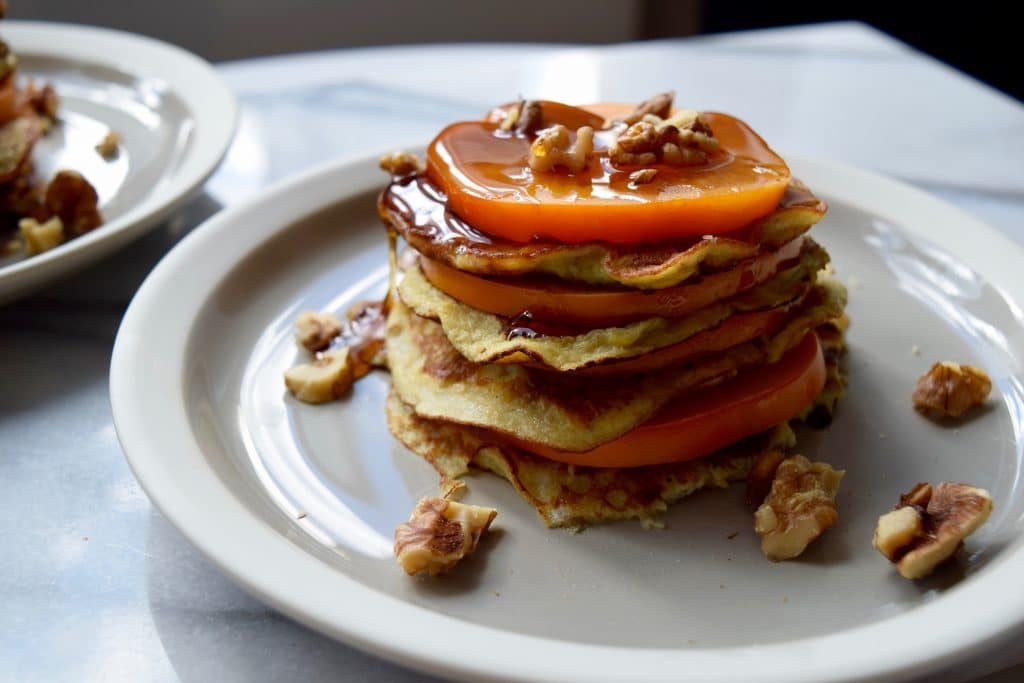 Made simply with egg and banana (and a few optional add-ins) these Paleo Pancakes come together quickly and easily.
I recently made a Pomegranate & Pistachio Paleo Pancakes version, but since I found the most beautiful persimmons at the market the other day, I swapped them in instead. Of course, you can make the pancakes on their own, without any additional fruit, and they are still delicious. However, in my opinion, persimmons are the most delicious fruit on the planet, so scoop them up when you find them, as they have a short season.
If you want something a bit more decadent, that does contain grains, you can try this recipe for The Best Gluten Free Pancakes ever.
Peel the banana and break it into 4 parts in a bowl. Use a fork to mash it thoroughly into a pudding like consistency, getting rid of any lumps. Add the extract and baking powder if using.

In another bowl, whisk the eggs together. Then, pour the eggs into the banana bowl, and mix well until thoroughly combined. It will be a very liquid-like consistency.

Heat a skillet or griddle over medium heat. Add a few teaspoons of coconut oil. Use about 2 tablespoons of batter per pancake. Cook for about 1-2 minutes, or until the edges firm up and the and it is easy to slide the flipper underneath. Flip and cook an additional minute on the other side.

Transfer the cooked pancakes to a plate, one at a time, and layer a slice of persimmon in between to create a tall stack. Top with walnuts and maple syrup.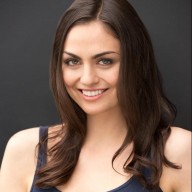 Maria Marlowe
Maria Marlowe is a holistic nutritionist and wellness coach who uses real food to help her clients improve their health, weight, and skin. She offers meal plans, ongoing group workshops both in NYC and online, and writes healthy and delicious recipes for her popular blog. She is also the author of The Real Food Grocery Guide, the most practical guide to selecting the healthiest foods, without going broke. Praised by Dr. Oz and InStyle magazine, it was a #1 new release on Amazon.