Delicious & easy weeknight dinner or bring to work lunch.
As an entrepreneur, I'm constantly running around to meetings all over the city. And when there is an hour or two break in between, I typically head to the nearest Le Pain Quotidien to grab lunch or a warm lemon, honey, ginger tea. It's absolutely my favorite chain cafe, as they have tons of healthy and even organic options. There food is extremely high quality, and you can taste it.
So, this little number here was inspired by one of my fave dishes off the menu, a quinoa tabouli salad. They serve it over a big bed of baby greens with chickpeas and avocado. (If you're there, order that or the lentil avocado salad, my other fave).
I love making large batches of quinoa dishes, as they save well, and can easily be served cold or reheated throughout the week. You can make this as an easy dinner, or as part of a salad jar to bring to work for the week.
Preheat oven to 450. Cut the greens off of the beets, leaving about 1 inch or so of the stems. Scrub well but leave skin on, and put into tin foil pouches.

(Cut a piece of aluminum foil, put 1 beet in the center then bring two ends of foil together, fold over, leaving some space between fold and the beet, and then twist the sides closed as well. You want to leave space within the packet, but make sure all the sides are sealed well so steam doesn't escape).

Bake for 35-40 minutes, or until a fork easily pierces the beet. The size of beet will determine cook time. Then, remove from oven. Ideally put on plastic gloves so you don't stain your hands. Open packets and using two pieces of paper towel, run the skin right off. Remove stem and dice. Set aside.
While beets roast, prepare quinoa. In a medium saucepan, bring water and quinoa to a boil. Cover and lower heat to low, allowing to simmer for 10 minutes, until all water is absorbed and the grains are puffed up and translucent. Turn off heat and keep in pot until ready to combine with beets.

In a medium size bowl, add the quinoa beet, parsley, mint, lemon juice, olive oil, salt and pepper and stir well until fully incorporated. The quinoa will turn a gorgeous shade of red.

Serve over a bed of baby greens, with chickpeas, and avocado.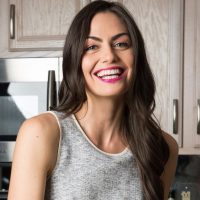 Maria Marlowe
Maria Marlowe is a holistic nutrition and wellness coach who uses real food to help her clients improve their health, weight, and skin. She offers a 28-day healthy eating meal plan that teaches you how to batch cook, as well as one to clear up acne. Her most popular program is EatSLIM, a 10-week online group glass that guides participants to develop healthy eating habits that stick – and lose weight, boost their metabolism, improve their digestion, and quit sugar.
She writes healthy and delicious plant-based recipes for her popular blog. She is also the author of the #1 New Release on Amazon, The Real Food Grocery Guide, the most practical guide to selecting the healthiest foods, without going broke, which has been praised by Dr. Oz and InStyle magazines. You can find her on instagram @mariamarlowe.