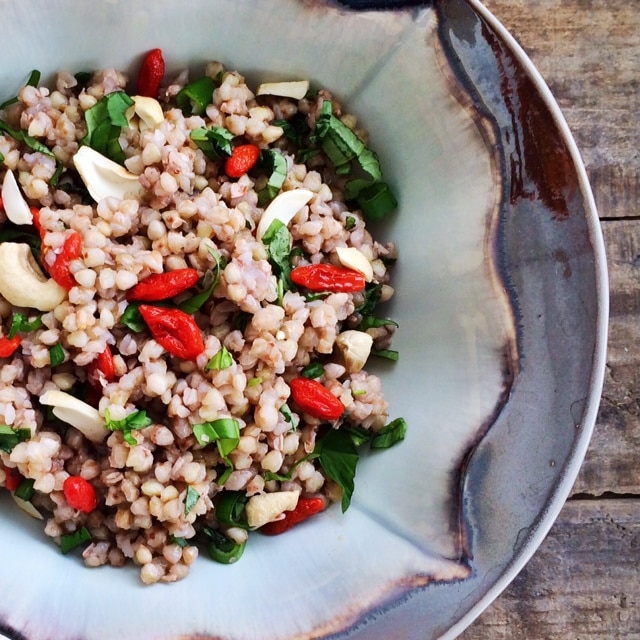 My newest breakfast obsession: buckwheat.
Apparently, other people love it, too, as Whole Foods was completely sold out of the stuff yesterday!
In an effort to come up with some alternative options to oatmeal, I have been experimenting with buckwheat lately. (See cinnamon almond buckwheat). It's pretty delicious, simple and fast to make, and can be made savory or sweet.
This flavor combo is based on a Navitas Naturals Goji Basil Cashews (which are out of this world, btw). Fresh basil is one of my favorite herbs, and I love adding it to just about everything.
Try this Goji Basil Buckwheat recipe and let me know what you think by leaving a comment below!
Place goji berries in a small bowl with just enough water to cover them. Set aside.

Bring water to a boil, add buckwheat and cook for 10 minutes over medium low until all water is absorbed. Remove to a bowl.

Drain goji berries, and add to buckwheat, along with basil, cashews, and salt. Stir well.
*You can increase water to 1.5 cups and cooking time to 15 minutes for an even plumper and softer grain.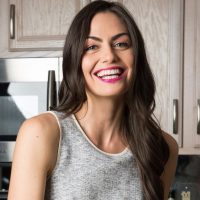 Maria Marlowe
Maria Marlowe is a holistic nutrition and wellness coach who uses real food to help her clients improve their health, weight, and skin. She offers a 28-day healthy eating meal plan that teaches you how to batch cook, as well as one to clear up acne. Her most popular program is EatSLIM, a 10-week online group glass that guides participants to develop healthy eating habits that stick – and lose weight, boost their metabolism, improve their digestion, and quit sugar.
She writes healthy and delicious plant-based recipes for her popular blog. She is also the author of the #1 New Release on Amazon, The Real Food Grocery Guide, the most practical guide to selecting the healthiest foods, without going broke, which has been praised by Dr. Oz and InStyle magazines. You can find her on instagram @mariamarlowe.