Veggies for breakfast? Yes, please! With this creamy carrot and coconut pudding parfait, you can squeeze in some veggies in the AM, along with filling healthy fats and protein.
I love unique and non-traditional breakfasts like this one, that don't include cereal, pancakes, or bread. You can make a few of these to grab and go throughout the week.
It's sweetened only with fresh dates, so no refined sugar here!
Shop This Recipe
Carrots
I love to pick up my fresh produce at the Farmer's market when I can, otherwise my local grocer or Amazon Fresh is super convenient…it's like having Whole Foods, delivered.
Coconut Oil
When using coconut oil, you always want to choose the unrefined version, as it is healthier than refined. I prefer oils bottled in glass, like this nutiva coconut oil from vitacost, as fats absorb toxins and chemicals readily from plastic. I always buy my oils online from vitacost, because they are so much cheaper than in stores.
Cashew Butter
Cashew butter turns any recipe you add it to into creamy heaven. It's great in smoothies, puddings, dressings, desserts, or simply smeared on gluten-free toast. It's less expensive than organic almond butter, and still adds that richness, yet is neutrally flavored, so goes well in a variety of recipes.
You can order Artisana Cashew Butter on vitacost for 20% off.
Dates
Whole dates are my favorite ingredient to naturally sweeten recipes. Because you use the whole date you get the added fiber and nutrients that comes with it. It also helps bind and hold things together, making it great for fruit and nut based desserts.
You can find them either in the bulk section of your grocer or sometimes they have fresh ones in the produce section (fresh ones tend to be more chewy and heavenly). Be sure to remove the pit. You can also find them on Amazon Fresh.
Simply Organic Cinnamon & Vanilla Extract
I love this brand of organic spices and extracts, as they are always the freshest, most vividly colorful and most flavorful.
Get them for 25% or more off at Vitacost.
Coconut Milk
For this recipe, I prefer to use canned coconut milk because it is super thick and becomes nice and creamy when whisked with a fork, although it couldn't hurt to try it with culinary coconut milk. Culinary coconut milk is thick, but its a little softer, so it doesn't hold shape as well, and you can't really whip it. It's great for sauces, soups, and smoothies because it adds creaminess without any dairy.
Both are 20-30% off on Vitacost.
Coconut Flakes
Coconut flakes add crunch along with filling healthy fats. They are great on top of parfaits, smoothie bowls, oatmeal, or desserts. A little goes a long way, and a $3 bag of them will last you for months.
Get the Coconut Flakes on Vitacost for 18% off.
Nuts
I always stock a variety of nuts in my pantry from Vitacost, as they have great prices on their organic nuts and seeds. They come in resealable zip-top pouches, which not only keeps them fresh, but makes them convenient and easy to throw in my bag when I travel or am on the go.
I love their almonds, hazelnuts, brazil nuts, walnuts, pecans, pumpkin seeds, and sunflower seeds. Get them here.
Try This Pudding Parfait
If you try this recipe, let me know! Leave a comment, rate it (by clicking the stars in the upper right of the recipe card, below), and don't forget to tag a photo @mariamarlowe or #mariamarlowe on Instagram or Facebook. I'd love to see what you come up with!
First steam the carrots. Add about an inch of water to a large pot with a steamer basket, and heat over medium heat until it boils.

Meanwhile, peel and slice the carrots into ¼-inch thick coins, and when the water is boiling, add them to the steamer basket, cover and cook for 10 minutes, or until carrots are easily pierced with a fork.

Remove from the heat, and add the carrots along with the remaining carrot pudding ingredients into a blender and blend on high for at least 1 minute, or until a uniform puree forms. Divide it into 3-4 bowls or mini jars.

Next, remove the coconut milk from the fridge.

Flip the can upside down, open, and pour out the liquid to reserve for another use. You should be left with thick white coconut cream on the bottom. Scoop that out into a bowl, and use a fork to whip it until soft and fluffy, about a minute or two.

Spoon a tablespoon or two into each jar. You may be left with some coconut cream, which you can reserve for another use.

Finally, top each bowl or jar with about 2 Tbsp of chopped nuts and a teaspoon of dried coconut. If you have an extra carrot, you can grate a little over the top of each for a pop of color.

If using mini mason jars, you can cover and keep refrigerated for up to 3 days.
*You can substitute 2 Tbsp. maple syrup or date sugar, or more to taste, 1 teaspoon at a time.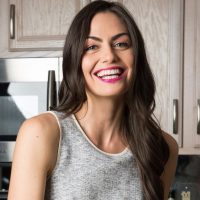 Maria Marlowe
Maria Marlowe is a holistic nutrition and wellness coach who uses real food to help her clients improve their health, weight, and skin. She offers a 28-day healthy eating meal plan that teaches you how to batch cook, as well as one to clear up acne. Her most popular program is EatSLIM, a 10-week online group glass that guides participants to develop healthy eating habits that stick – and lose weight, boost their metabolism, improve their digestion, and quit sugar.
She writes healthy and delicious plant-based recipes for her popular blog. She is also the author of the #1 New Release on Amazon, The Real Food Grocery Guide, the most practical guide to selecting the healthiest foods, without going broke, which has been praised by Dr. Oz and InStyle magazines. You can find her on instagram @mariamarlowe.