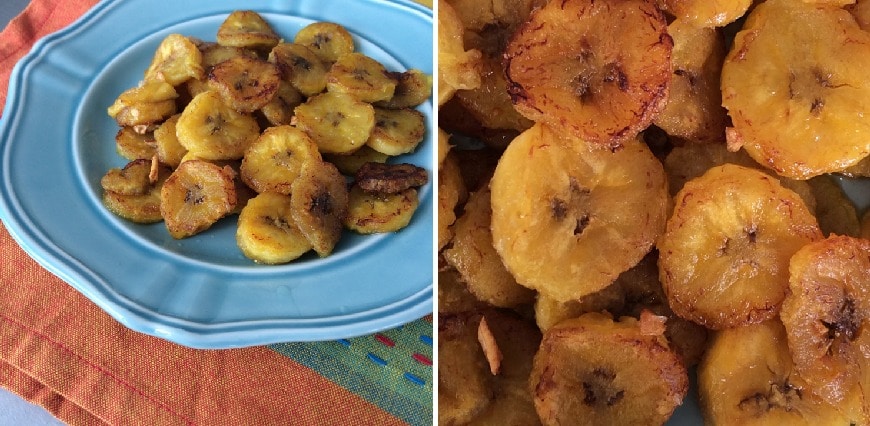 I was delighted to look at a bin of produce at Whole Foods recently and think…wow, thats really cheap!
At 69 cents each, plantains are nearly half the price of what a lemon costs at my favorite, yet admittedly overpriced, grocer. I have since realized that you can get plantains event cheaper (although not necessarily organic) at many other food stores… for as little as 25 cents a pop. Cheap and delicious plant based- vitamins? Count me in.
Plantains need to be cooked, and fried plantains are a staple in many Latin restaurants. Anything fried is generally a no-no, but, when you make these at home, you can have total control over the amount of oil and cooking time, so you can easily cut about a million calories by using a reasonable amount of oil by lightly greasing the pan as opposed to actually frying them in a pool of oil.
They are ready in less than 10 minutes, and have a caramelized sweetness to them. They are a good source of Vitamins A and C and even have more potassium per serving than their doppelganger cousin, the banana. Try them as a side dish next time you make Mexican, Cuban, Caribbean, or Latin-inspired food.
Heat pan over medium low and add oil.

Place plantains flat in one even layer in the pan, and cook for 2-3 minutes, until golden brown, before flipping to other side, and cooking another 2-3 minutes until golden brown.

Transfer to a plate and serve.
If you put too much oil in the pan, you can blot the plantains with a paper towel if there is any excess oil before serving.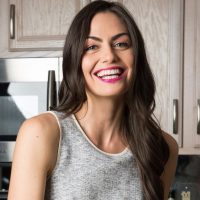 Maria Marlowe
Maria Marlowe is a holistic nutrition and wellness coach who uses real food to help her clients improve their health, weight, and skin. She offers a 28-day healthy eating meal plan that teaches you how to batch cook, as well as one to clear up acne. Her most popular program is EatSLIM, a 10-week online group glass that guides participants to develop healthy eating habits that stick – and lose weight, boost their metabolism, improve their digestion, and quit sugar.
She writes healthy and delicious plant-based recipes for her popular blog. She is also the author of the #1 New Release on Amazon, The Real Food Grocery Guide, the most practical guide to selecting the healthiest foods, without going broke, which has been praised by Dr. Oz and InStyle magazines. You can find her on instagram @mariamarlowe.