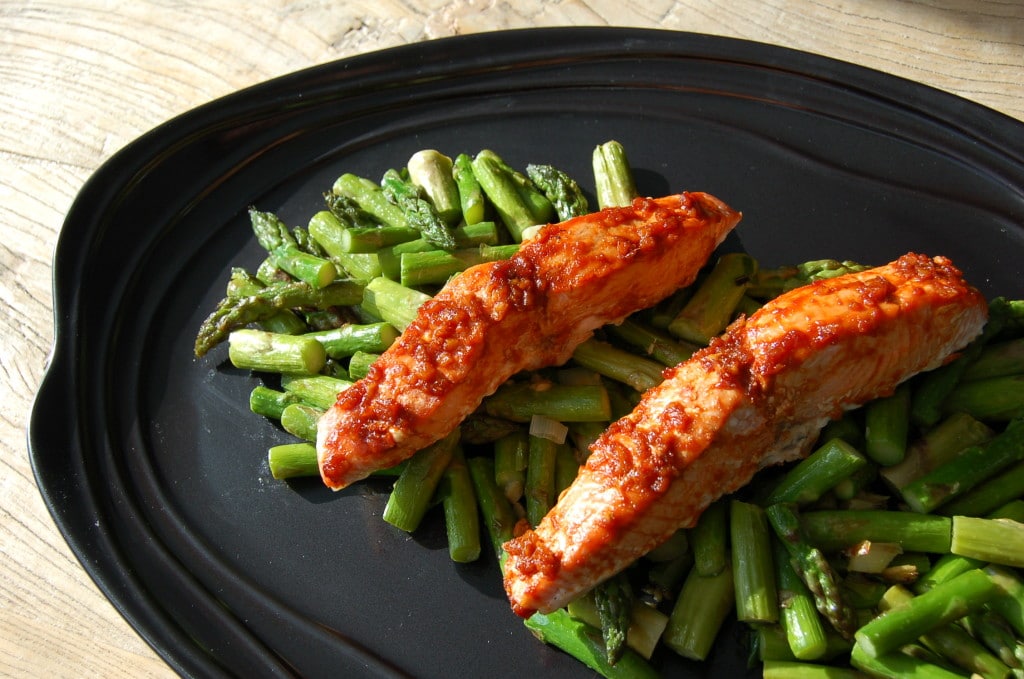 Sweet and spicy, this dish comes together fast, and may even help you get lucky 🙂
Shape magazine asked me to put together a few aphrodisiac recipes in honor of Valentine's day, so I decided on this delicious chili ginger glaze, which contains a few of the foods purported to put you in the mood.
Chiles: Chiles get your blood pumping, increasing circulation and stimulating nerve endings so that you feel more turned on.
Honey: This sweet and sticky nectar is filled with B vitamins, needed for testosterone production, and boron, which helps the body use and metabolize estrogen. Lore has it that the term "honeymoon" comes from an old tradition in which newlyweds drank a honey drink for 30 days after marriage to help them get acquainted in the bedroom, and thus set the foundation for a healthy marriage.
Whether or not the dish actually helps you score, I don't know, but it is a quick, easy, and delicious dish to put together for your Valentine.
Preheat oven to 425. Sprinkle salmon with salt, and bake for 8 minutes.

Meanwhile, In a small saucepan, combine all glaze ingredients, stirring to dissolve the honey, bring to a boil, lower heat to medium low, and let cook down for about 2-3 minutes until slightly thick.

Remove salmon from oven, brush thoroughly with the glaze, and put on top rack under broiler for 2 minutes.

Remove from oven and serve.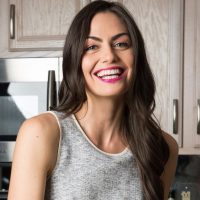 Maria Marlowe
Maria Marlowe is a holistic nutrition and wellness coach who uses real food to help her clients improve their health, weight, and skin. She offers a 28-day healthy eating meal plan that teaches you how to batch cook, as well as one to clear up acne. Her most popular program is EatSLIM, a 10-week online group glass that guides participants to develop healthy eating habits that stick – and lose weight, boost their metabolism, improve their digestion, and quit sugar.
She writes healthy and delicious plant-based recipes for her popular blog. She is also the author of the #1 New Release on Amazon, The Real Food Grocery Guide, the most practical guide to selecting the healthiest foods, without going broke, which has been praised by Dr. Oz and InStyle magazines. You can find her on instagram @mariamarlowe.