My kind of "instant" rice.
If you've been poking around the internet for healthy recipes, I'm sure you've come across cauliflower rice, an ingenious recipe that may just be better than the real thing.
First of all, cauliflower is of the cruciferous veggie family, which means it's sky high in glucosinolates, the powerful detoxifying and cancer fighting phytonutrients. It's extremely high in vitamin C (needed to keep your skin looking youthful and wrinkle-resistant) as well as anti-inflammatory Vitamin K, which supports bone and heart health.
Secondly, it's way faster to make than regular rice. Simply chop it up in a food processor or high speed blender and saute it, and boom, your "rice" is ready.
You can use this pretty much anywhere you'd use rice, such as in a burrito or with an Asian-style veggie stir-fry. Or, if you're like me, you can just eat is as a side dish.
It can also be a good way to sneak some veggies in a picky eater. As I always say, with food, it's all about texture, so you (or your little ones) may find you like certain vegetables or fruit much better when they're cut or prepared in a certain way (see my sweet potato spaghetti obsession or penchant for watermelon ice cream).
Give it a whirl! And let me know what you pair it with in the comments below.
in batches, put cauliflower in a food processor and pulse until broken down into rice-size pieces, then remove to a bowl. You can also use a Vitamix or regular blender on a low setting (nothing above 4). If using a blender, you will have to do it in batches about 1-2 cups at a time, and be careful not to over blend, or else you'll be left with puree instead of rice. You'll need to use the tamper. Remove to a bowl.

Next, heat a pan over medium heat, add oil just to coat the bottom, then garlic and cook for 1-2 minutes before adding the cauliflower rice. Cover with a tight fitting lid and let steam for about 10 minutes. Remove the lid, stir well, season with salt and pepper to taste, and let cook an additional 5-6 minutes until the moisture is removed and it resembles fluffy rice.

Serve warm or at room temperature.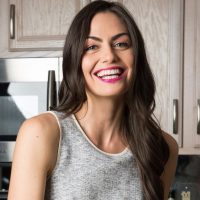 Maria Marlowe
Maria Marlowe is a holistic nutrition and wellness coach who uses real food to help her clients improve their health, weight, and skin. She offers a 28-day healthy eating meal plan that teaches you how to batch cook, as well as one to clear up acne. Her most popular program is EatSLIM, a 10-week online group glass that guides participants to develop healthy eating habits that stick – and lose weight, boost their metabolism, improve their digestion, and quit sugar.
She writes healthy and delicious plant-based recipes for her popular blog. She is also the author of the #1 New Release on Amazon, The Real Food Grocery Guide, the most practical guide to selecting the healthiest foods, without going broke, which has been praised by Dr. Oz and InStyle magazines. You can find her on instagram @mariamarlowe.