Who doesn't like hash browns?
I don't know about you, but I grew up on them. I can remember going through the McDonald's drive thru with my mom, getting 2 hash browns and a cheese danish in elementary school (I'm embarrassed to admit, but it's true), and more recently I used to love getting a side of home style hash when having brunch at a cute little diner near my old apartment in Hell's Kitchen.
Back when I was little, I really had no idea what I was eating, nor did I care, because it tasted good. When I was older, and became more cognizant of what I was eating, I'd always have a little twinge of guilt for the diner hash browns. You don't have to be a Health Coach to know potatoes are starchy, turn to sugar in the body, and can easily lead to weight gain. Not to mention, these were likely cooked in a tub of butter.
Now that I've learned my way around the kitchen, I'm happy to report, you can have your hash browns without the guilt. The funny thing with cooking is, you're really tasting the seasoning and spices, more so than the "main ingredient." So, even though these hash browns are made with butternut squash, they still taste just the same as regular hash browns.
I made this dish at my Williams Sonoma Class this past weekend, and it was a hit.
It tastes great hot, but I also like it cold as leftovers the next day. You can make it as part of a brunch, or side dish at dinner. It also a perfect side dish for Thanksgiving.
Is there a traditional dish you love, that you think can be made healthier? If so, share it in the comments, and I'll see what I can whip up!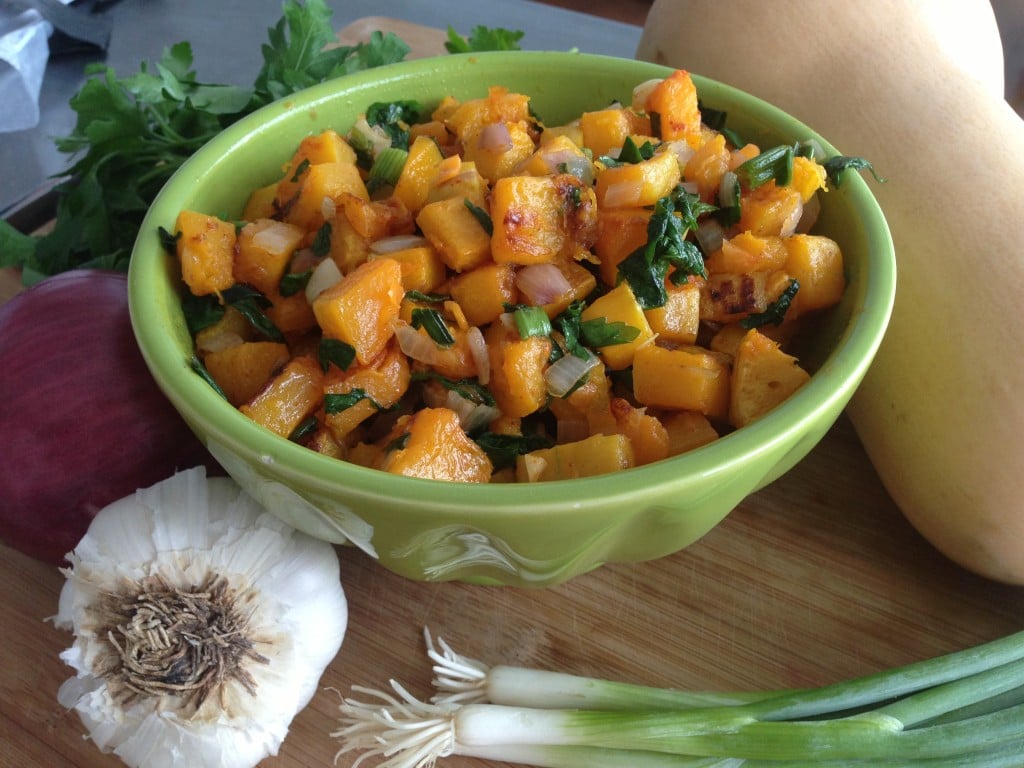 Preheat oven to 400 degrees.

Peel butternut squash, and cut in half crosswise, where the long neck meets the wider bulb. Cut each half in half lengthwise. Start with the seedless half, cutting into ½ inch matchsticks, then into ½ inch cubes. Scoop the seeds out of the bottom half with a spoon*, and repeat.

Put all cubes in a large bowl, and toss with a touch of olive oil, just to coat. Lay squash out in a single layer on a baking sheet.

Bake for 20 minutes, flip, and bake an additional 20 minutes, until lightly browned.

Meanwhile, dice red onion and green onion (including both white and green parts). Mince garlic, chile, and parsley.

About 10 minutes before the squash is done, heat a large fry pan over medium low heat. Add just enough oil to cover the bottom of the pan, and once glossy, add onions, garlic, and chile. Cook for about 5 minutes, until translucent, but not brown, reduce heat to low, add parsley, and continue to cook until squash is ready. Transfer squash to fry pan, mixing everything together and continuing to cook for a minute or 2. Season with salt, pepper, and paprika before serving.
*You can season and toast the seeds or sprinkle with salt and black pepper and eat them raw with a spoon.
*This recipe also works well if you replace the butternut squash and paprika with acorn squash and chipotle pepper (I'd only use 1 tsp. or less of chipotle, as it will be hot!)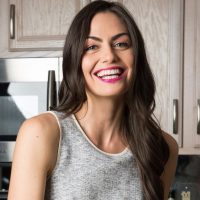 Maria Marlowe
Maria Marlowe is a holistic nutrition and wellness coach who uses real food to help her clients improve their health, weight, and skin. She offers a 28-day healthy eating meal plan that teaches you how to batch cook, as well as one to clear up acne. Her most popular program is EatSLIM, a 10-week online group glass that guides participants to develop healthy eating habits that stick – and lose weight, boost their metabolism, improve their digestion, and quit sugar.
She writes healthy and delicious plant-based recipes for her popular blog. She is also the author of the #1 New Release on Amazon, The Real Food Grocery Guide, the most practical guide to selecting the healthiest foods, without going broke, which has been praised by Dr. Oz and InStyle magazines. You can find her on instagram @mariamarlowe.